Top Features
3.9

Route Planning & Optimization

3.5

Customization Options

4.1

Import/Export Functionality

3.0

Platform Compatibility

3.8

Customer Support
Overview
Finding the best navigation app can be difficult with the abundance of options available. Among the options, inRoute stands out as a comprehensive navigation app with powerful features for optimizing your routes and planning trips effectively.
When planning routes, the app takes into account variables like elevation, weather conditions, and road curves to make sure you reach the destination safely.
Along your road trip, you can easily identify local facilities like hotels, gas stations, and restrooms using the app's easy search option. With inRoute, you can quickly add these points of interest to your map via contacts, search queries, or dropped pins, ensuring a smooth and trouble-free journey.
In terms of navigation, inRoute offers voice-guided directions so that you can keep your attention on the road. The app provides turn-by-turn directions, ensuring that you never miss a crucial exit or turn.
The capability of inRoute to import, share, and store routes is another useful feature. You can export routes to popular navigation applications, share your favorite routes with friends and family, and even save them for later use.
Additionally, the application allows for the smooth integration of your existing route data into inRoute. It supports the import of routes from a variety of file formats, including GPX, XLSX, and KML.
inRoute Review
Positive
Advanced route optimization that locates the fastest, most efficient, and best route between multiple stops.
Information about the weather conditions in detail, including temperature, humidity, wind speed, and precipitation, to help you plan your trips more effectively.
Interactive charts that show route elevation allow users to anticipate and prepare for changes in terrain.
The ability to search for nearby facilities along the route, such as gas stations, hotels, and restaurants.
For smooth navigation, export GPX files to well-known navigation applications like Google Maps, Apple Maps, and Waze.
Voice-guided, hands-free navigation with turn-by-turn directions makes for a convenient and safe driving experience.
The capability of saving, sharing, and importing routes makes it simple to share routes across devices or collaborate with others.
Users can import routes from multiple sources thanks to the support for a variety of file formats, including GPX, XLSX, and KML.
Seamless route syncing across devices in the Pro plan enhances convenience and flexibility.
Negative
The free version of the app offers limited functionality, such as allowing routes with only up to 8 stops, and lacks features like weather charts, custom routes, severe weather alerts, and route exporting/sharing.
Even the app's most basic features require users to switch to the paid version, resulting in additional costs.
The app is limited to iOS devices, such as iPhone, iPad, Mac, and CarPlay excluding Android users from accessing its features and functionality.
The app's interface can be confusing and overwhelming, especially for new users who may find it challenging to navigate and utilize all the available features effectively.
Users find it cumbersome and challenging to move and change pins on the map, hindering the customization of routes.
The app's customization options and functionalities are limited, making it inappropriate for users or businesses with complex logistics requirements who need more advanced features.
While the inRoute Pro plan allows for up to 150 stops, it may still fall short for delivery/pickup services or businesses with larger-scale route optimization needs.
The inRoute Pro for Families plan caters to family needs but may not meet the requirements of businesses or individuals seeking specialized logistics capabilities.
inRoute Basic Plan
Free
Per Month
Features
Create routes with up to 8 stops
inRoute Pro
$4.99
Per Month
Basic Plan Features+
Create routes with up to 150 stops
Sync between your devices
View weather charts & custom routes
Severe weather alerts during navigation
Export/share routes to others (GPX)
1-week free trial
inRoute Pro for Families
$6.99
Per Month Per Account
inRoute Pro Features+
Everything in PRO for 6 family members (Apple Family Sharing)
Assessing the Worth: Is Your Investment Worth the Price?
Now, let's assess the worth of your investment in route optimization software by exploring the key features and capabilities offered by inRoute.
By evaluating the extensive range of functionalities, customization options, and support features, you can determine whether inRoute meets your specific business requirements.
| | | |
| --- | --- | --- |
| Route Optimization | Up to 150 stops | |
| Sync & Share | Limited | Unlimited |
| Import Routes | | |
| Platform Compatibility | | |
| Platform Compatibility | | |
| Pickup and Delivery Options | | |
| Select Vehicle Type | | |
| Driver Notes | | |
| Expected Time to Arrive (ETA) | | |
| Proof of Delivery | | |
| Customer Notification | | |
| Custom API/FTP Integration | | |
| Set Stops Priority | | |
| Curbside Delivery | | |
| Reorder Routes | | |
| Contact/Address Book | | |
| Custom Fields | | |
| Detailed Reports | | |
| Customer Support | | |
Features inRoute Upper

Route Optimization

Up to 150 stops

Unlimited

Sync & Share

Import Routes

Platform Compatibility

Live Driver Tracking

Pickup and Delivery Options

Select Vehicle Type

Driver Notes

Expected Time to Arrive (ETA)

Proof of Delivery

Customer Notification

Custom API/FTP Integration

Set Stops Priority

Curbside Delivery

Reorder Routes

Contact/Address Book

Custom Fields

Detailed Reports

Customer Support

Try Upper for FREE No credit card required
What People Say About Upper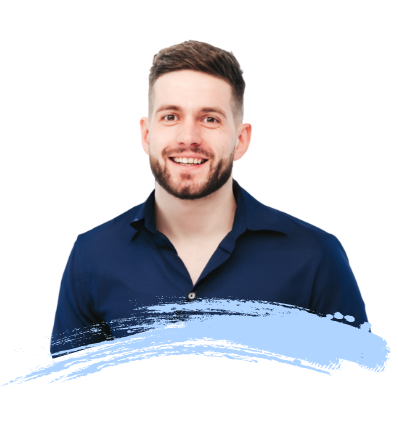 Saved 10 hours per week & delivering 3x more meals with Upper. It's easy to take proof of delivery, the speed is great, it's super super fast!

Ben Parker,
Delivery Manager of Flavors2Go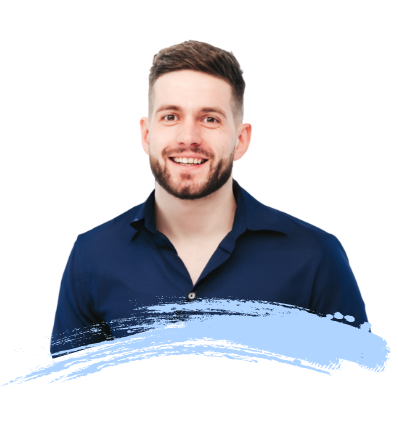 Key Features of inRoute
1. Route Optimization and Customization:
With inRoute's powerful optimization functionality, efficient multi-stop travel plans are simple to create for both individuals as well as businesses. InRoute quickly determines the most efficient route between up to 150 stops by examining factors including distance, traffic updates, and travel times.
Additionally, inRoute's customization features enable users to create customized routes. It takes into account their specific preferences, including scenic road trips, elevation avoidance, and considerations for weather and road conditions.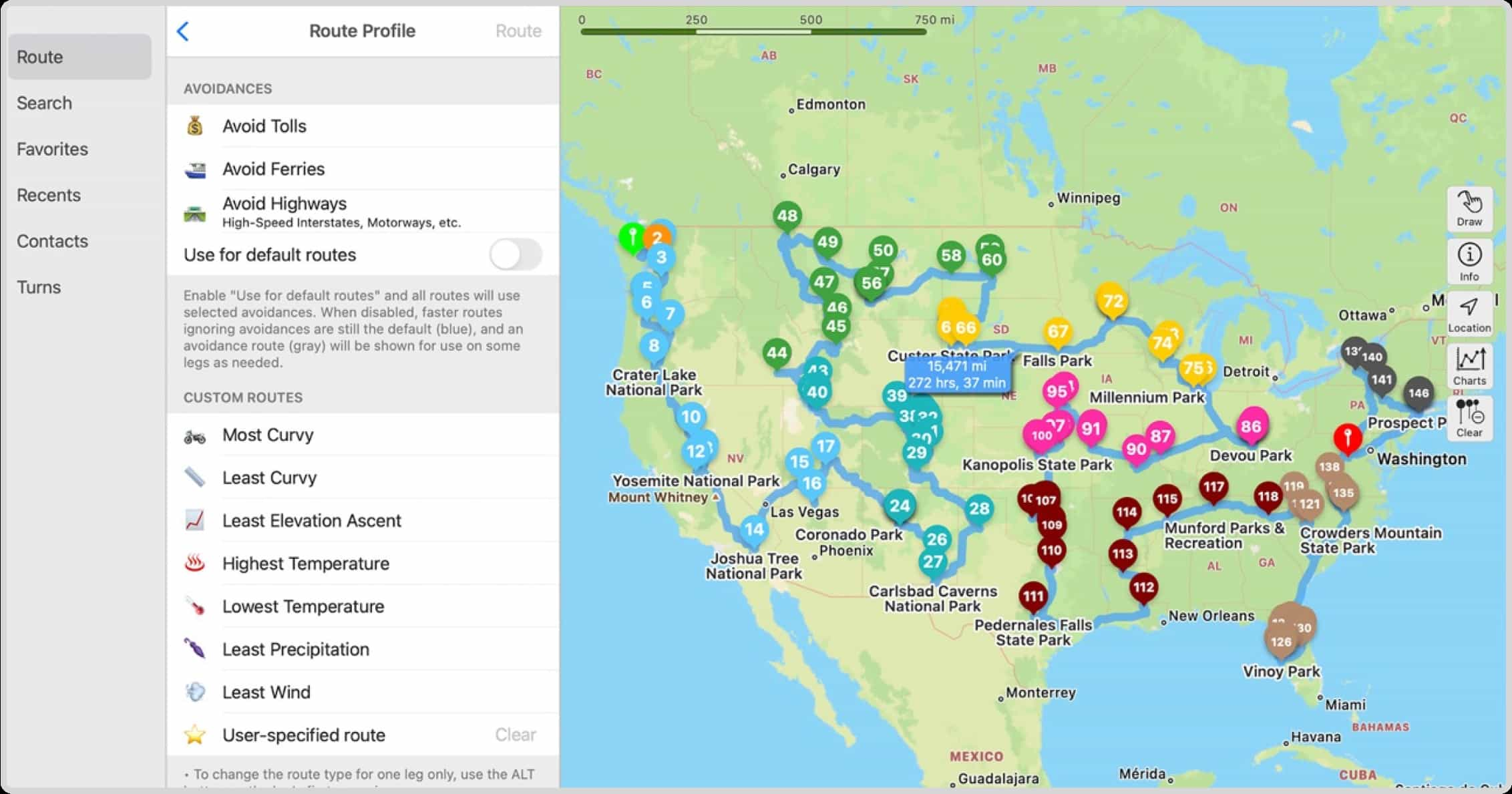 2. Search:
With the help of inRoute's search feature, you can easily locate important stops along your route.
You can easily find crucial amenities like gas stations, hotels, restaurants, and other points of interest by specifying the distance or number of hours that you're willing to stray from your initial plan.
This feature makes it possible for you to simply schedule required breaks, refueling stops, and locate necessary amenities during your route, all from inside the app.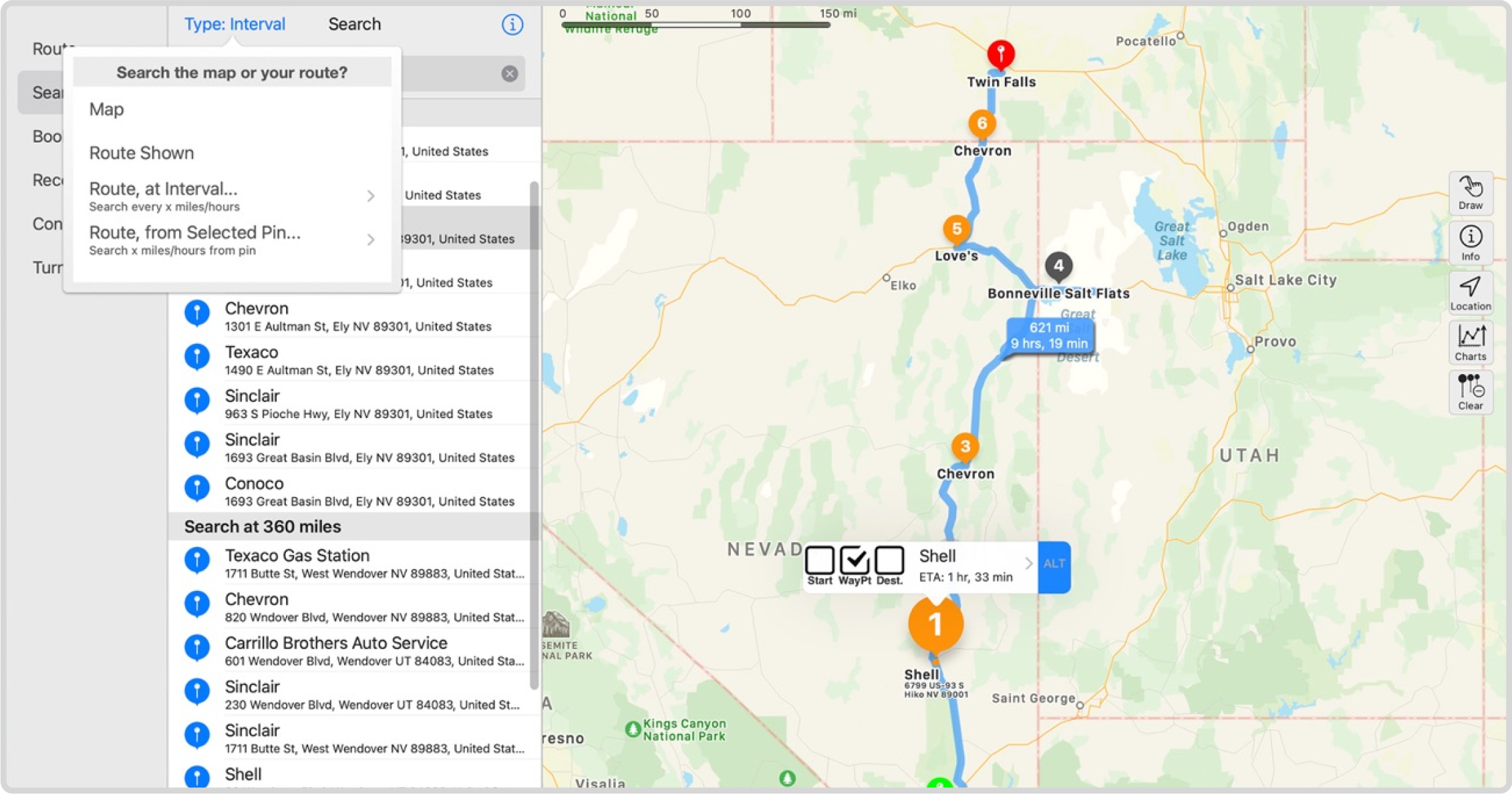 3. Sync & Share:
inRoute provides seamless device synchronization so you can access your route plans across various platforms. You can quickly sync your routes, pins, and other saved information whether you're using an iPhone, iPad, or Mac. This ensures that you have consistent and up-to-date data across all of your devices.
Additionally, inRoute enables you to share your routes with others. This makes it simple to coordinate with traveling companions, share directions, or provide recommendations to fellow road-trippers.
You can also choose to export your routes as GPX files, which can then be utilized by compatible GPS devices or shared with others.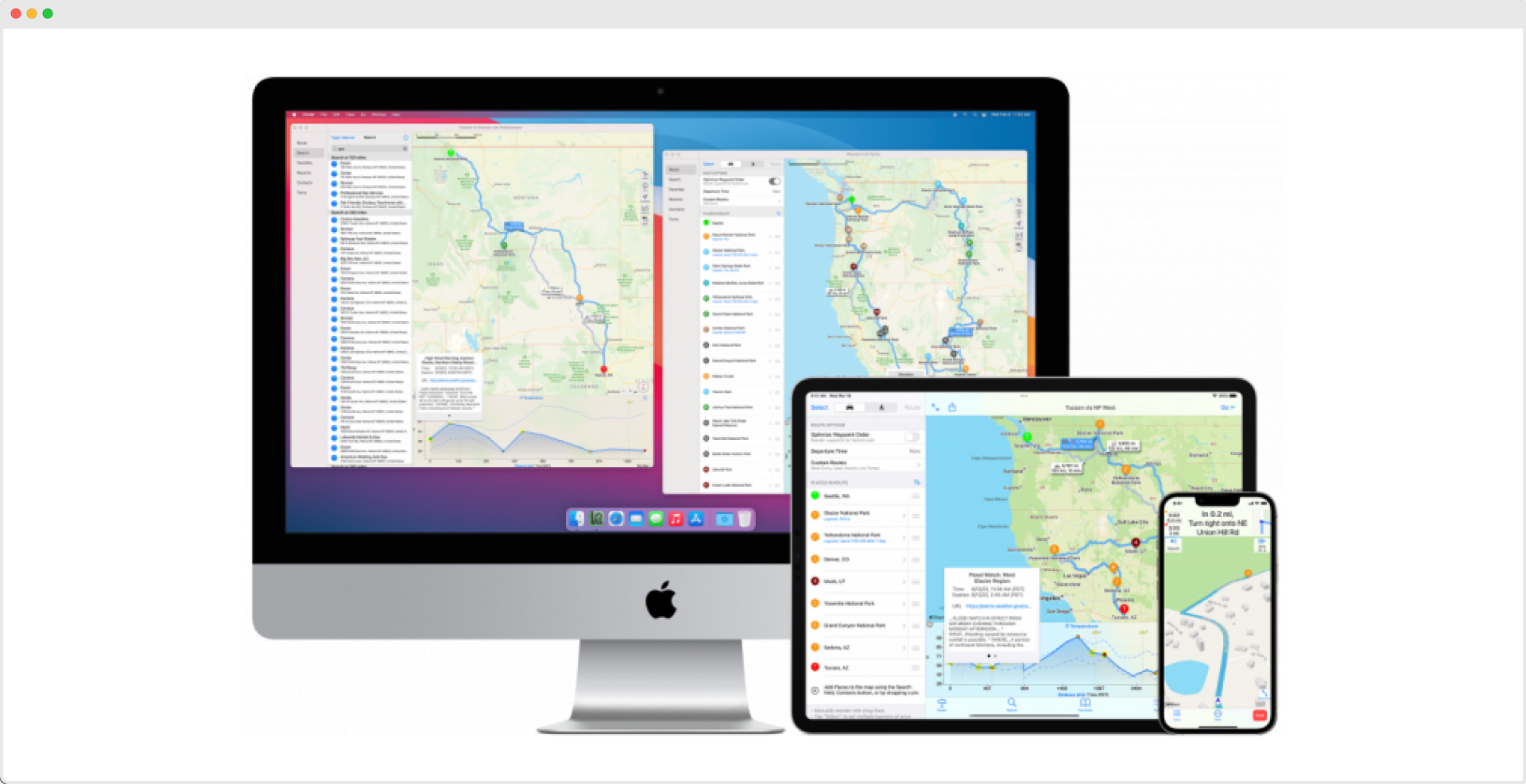 4. Import:
You can import routes from a variety of file types into inRoute, including XLSX, GPX, and KML files. If you wish to import routes from other sources or if you already have route data in other forms, this feature is useful.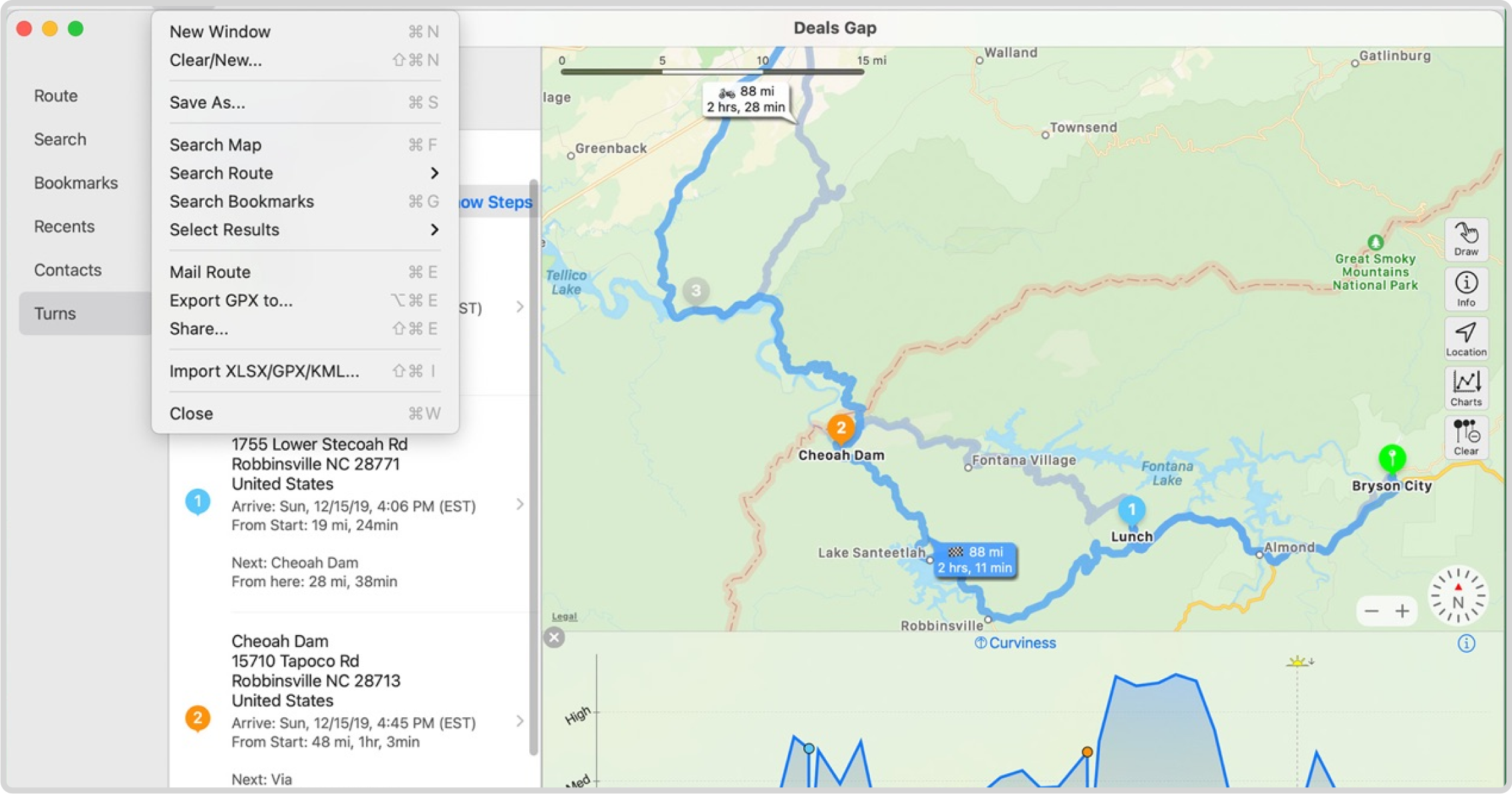 5. Navigate:
inRoute provides turn-by-turn voice-guided navigation, delivering a comfortable and stress-free driving experience. The application offers real-time directions, audible instructions, and visual cues to help you navigate your chosen route using your iOS device.
You can concentrate on the road while using this feature to get accurate and reliable navigational directions, which improves safety and convenience.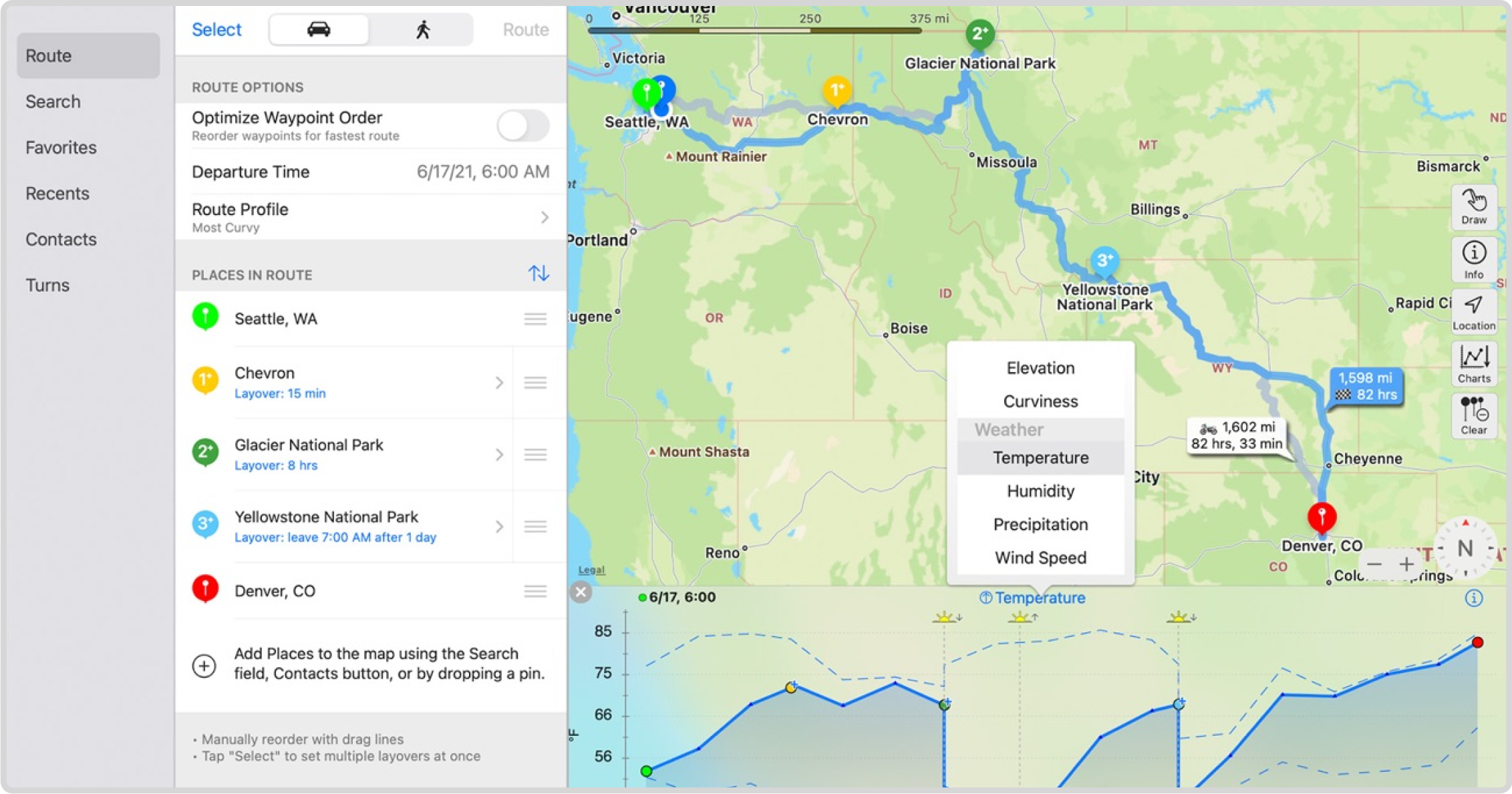 6. Set Layovers:
inRoute has a unique feature that allows you to designate layover points throughout your trip. This improves the accuracy of ETA predictions and ensures your travel remains smooth regardless of changing weather and road conditions.
By intelligently adding layovers, such as rest stops, tourist sites, or overnight stays, you gain a better understanding of your trip schedule, factoring in breaks and potential delays.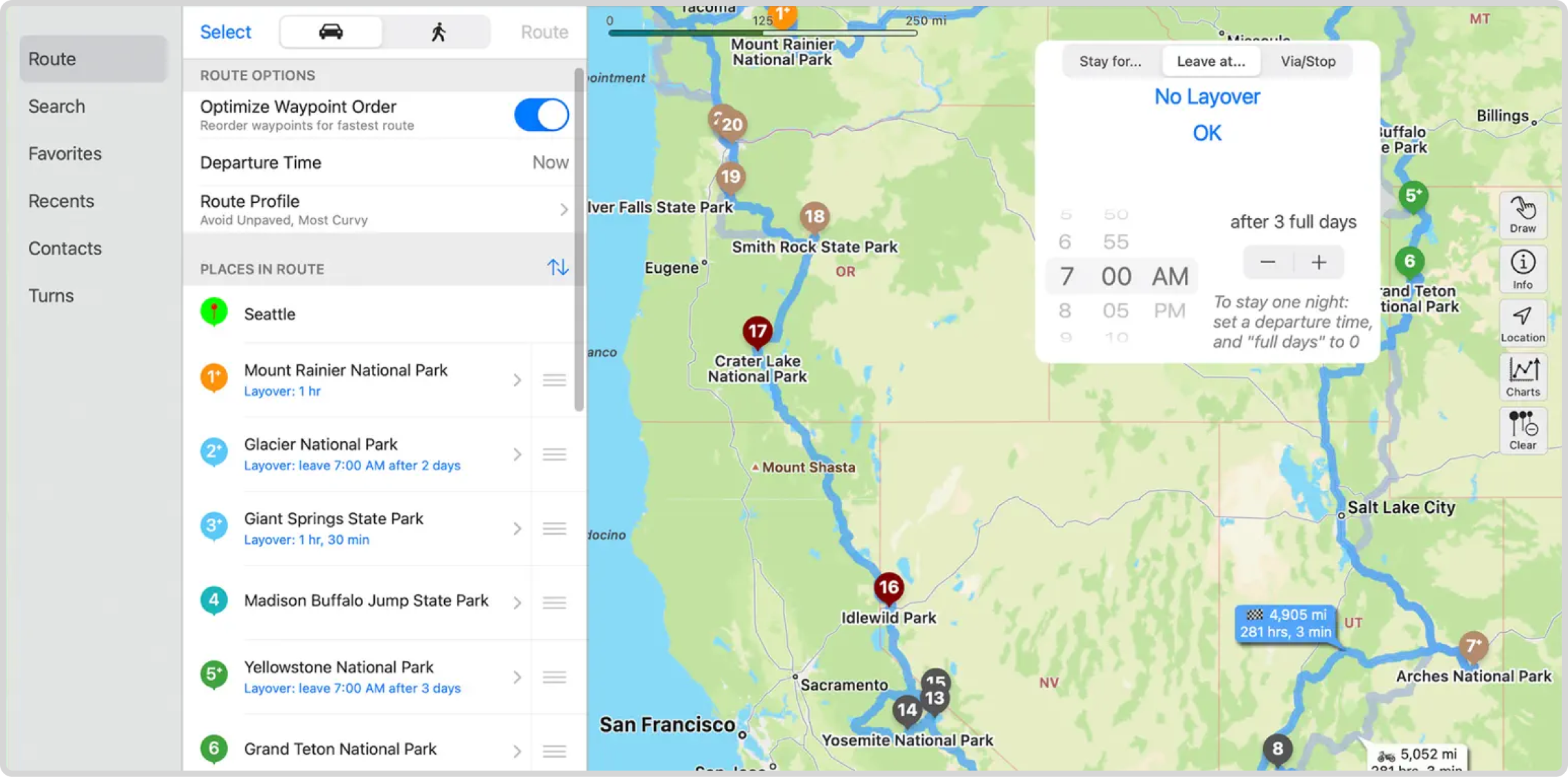 Is inRoute Right for Your Business?
When it comes to increasing efficiency and cutting down on travel time, inRoute's ability to optimize routes with up to 150 stops can be helpful for multi-stop trips. Customization features, such as weather-based routing and curviness preferences, provide personalized route planning.
However, it is important to keep in mind that inRoute may not be the ideal choice for businesses or individuals with advanced logistical requirements. In comparison to more specialized logistics software, the app's features and customization options are somewhat constrained.
You could find inRoute's capabilities to be insufficient if your business heavily relies on advanced features like detailed reporting and analytics, live driver tracking, digital proof of delivery, or custom API integrations.
A free version of inRoute is available; however, it has limited functionality and is better suited for basic route planning. The Pro plan, which requires a subscription fee, includes advanced capabilities, such as device synchronization, weather charts, and custom routes.
In the end, whether inRoute app is a good fit for your business will depend on your specific requirements and goals. It is advised to check the app's suitability for your needs, take into account its features, price, and limitations, and decide whether inRoute is compatible with your business's objectives and logistical needs.
A Perfect Alternative for You
Despite the fact that inRoute has a number of capabilities for basic route planning and navigation, there are many businesses that are seeking a more robust solution. This is where Upper steps in as a powerful alternative.
Upper is designed to fulfill not only the needs of individuals and small businesses but also of those large companies with sophisticated logistical needs. Thanks to its advanced features and customization options.
Let's look at some of the distinctive features that make Upper a powerful alternative to inRoute:
Route planning and customization: Upper offers sophisticated capabilities and a wide range of customization options that go beyond basic route planning. Businesses can effectively plan their routes, schedule multiple stops at once, establish stop priority, and set delivery time windows.

Additionally, Upper offers a wide range of customization options that let organizations set custom fields, define curbside delivery preferences, and align the software with their workflows. These functionalities provide businesses with the ability to improve efficiency and optimize their logistical processes.

Live driver tracking:With its live driver tracking capability, Upper stands out in the driver management domain. Businesses can use this feature to track drivers' activity, ensure timely delivery, and take proactive action in the event of any delays or unforeseen circumstances.

Extensive integration options: With Upper, businesses can easily integrate their existing systems. It provides custom FTP and API integration, enabling easy data transfer between Upper and other software programs, simplifying an efficient workflow, and eliminating manual data entry.

Advanced reporting and analytics:Upper offers thorough analytics and insightful reports that provide businesses with information about their delivery operations. From routing summaries to detailed reports, Upper enables businesses to make data-driven decisions and identify areas for improvement.

Customer communication and proof of delivery:Upper improves customer communication and offers a reliable record of successfully delivered packages. This is possible with features like customer notification through SMS/email and proof of delivery via digital photo and signature capture.

Technical consulting and dedicated support:Upper offers technical consulting services that give businesses expert guidance and support for implementing the software and efficiently using it. In addition to live chat and priority email assistance, Upper offers a dedicated support manager to handle any specific issues or requirements.
DON'T MISS OUT! LIMITED OFFER
Upper's Growth Plan now available @
$160/mo
Get the Best Cost-Effective inRoute Alternative & Speed up Your Deliveries by 3x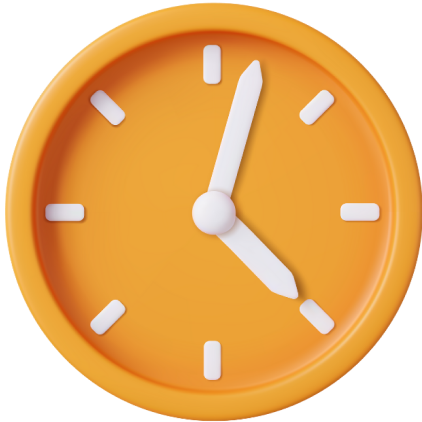 Conclusion
inRoute is a reliable navigation software with distinctive features like weather alerts and interactive maps. While it could be suitable for casual travelers and simple route planning requirements, businesses requiring sophisticated logistical capabilities might not find it enough.
As an alternative, you can use Upper, a comprehensive solution that provides advanced route planning, extensive customization options, and live driver tracking. To explore Upper's potent features and optimize your routing processes, take advantage of the 7-day free trial
Frequently asked questions
Is inRoute available on Android devices

No, inRoute is not yet available on Android devices. It is specifically made for Apple devices, including the iPhone, iPad, Mac, and CarPlay. However, you might want to look at alternate options like Upper if you're an Android user seeking a similar and more sophisticated navigation and route planning app. Upper is available for both Android and Apple users.

Can I sync routes between multiple devices using inRoute?

Yes, you can quickly sync your routes and pins between several devices with inRoute Pro. This enables seamless access to and management of your routes on your iPhone, iPad, Mac, and CarPlay.

How many stops can I plan with the free version of inRoute?

The free version of inRoute allows you to create routes with up to 8 stops.

How can I import routes from different file formats into inRoute?

You can import routes from various file formats into inRoute, including XLSX, GPX, and KML files. This functionality makes it easier to import previously developed routes or transfer existing routes.

What are the key features of inRoute for efficient route planning?

InRoute provides a number of essential features for effective route planning, such as the ability to search for stops along your route, the convenience of syncing and sharing routes across devices, the optimization of routes with up to 150 stops, and customization options based on weather, curviness, and elevation.

Is there a free trial available for inRoute Pro?

Yes, inRoute provides a one-week free trial for its inRoute Pro, which is only available on iPhone, iPad, Mac, and CarPlay. Before subscribing, users can examine the inRoute Pro premium features during the free trial.

Can I track my drivers' locations in real time with inRoute?

Unfortunately, inRoute's feature set does not include real-time driver tracking. However, consider using Upper if you are looking for live driver tracking functionality. With the help of Upper, you can keep track of your drivers' whereabouts in real time, ensuring that you have complete visibility and are able to manage your fleet effectively.