Top Features
RoadWarrior
by RoadWarrior
3.9

Planning & Scheduling

4.1

Route Optimization

4.0

Analytics

3.5

Team Management

3.9

Customer Support
Overview
RoadWarrior is a cloud-based multi-stop route planner specifically designed for route operations. It is a reliable copilot when it comes to arriving timely at your determined delivery destination.
It focuses on minimizing your unnecessary time wastage and miles per route on the road and helping you save your gas money. Right from planning efficient routes to optimizing hundreds of multiple stops, scheduling, and dispatching them to the drivers or professionals on the field, RoadWarrior is capable of doing it all.
No matter if you are a solo driver or handling a huge team of multiple drivers, RoadWarrior caters to all your business needs and requirements. RoadWarrior offers both a mobile app for drivers and the RoadWarrior Flex web app for teams, making it suitable for both individuals and businesses alike. The mobile app is supported on all iOS, iPad, and Android devices.
RoadWarrior's algorithms aim to offer flexibility for adjusting the directions depending on personal and job-related preferences. This will allow a driver and his dispatchers to add client availability, time windows, service time, customers' details, addresses, etc., helping them make wise and accurate decisions.
RoadWarrior for teams is solely available on a web app that can be effectively managed by dispatch managers. Through the web app, dispatchers can add multiple drivers easily, either restrict or lend them access, plan routes, optimize and dispatch them to drivers, and track divers' progress.
RoadWarrior Review
Positive
RoadWarrior's ability to avoid highways, tolls, and ferries ensures that you are directed to the most optimal and traffic-free roads, saving you time and minimizing the chances of getting stuck in traffic.
Can add or remove the dispatchers and drivers and can even manage access permission to specific routes or areas. This allows for better control and coordination within your team, ensuring that only authorized individuals have access to certain routes or areas.
FedEx integration enables you to import the daily manifests to your RoadWarrior account seamlessly. You can import all of your routes at once or send them out as they're ready to go.
Routes are planned and optimized in the best possible manner considering various factors, such as real-time route monitoring, traffic congestions, drop-off priorities, school zones, tolls, one-way trips, and much more.
API integration of RoadWarrior with apps such as Waze, Apple Maps, and HERE Maps are useful for route planning, whereas Glympse is for sending estimated times of arrival (ETAs) to clients.
It further enables you to configure a round-trip feature for closed loops and synchronize multiple modes of transportation.
Proof of delivery feature is available under RoadWarrior Flex. This means that your drivers can collect the photographs, add e-signatures as well as can add notes for dealing with future disputes regarding the deliveries (in case it arises). Through additional notes, customers can get informed about the successful completion or incompletion of the deliveries.
Paying individually for each driver can be costly, but with each additional driver pack, you will get as many as 1000 stops with each driver pack.
Negative
It restricts the user to import more than 200 stops at once, and the limit to optimize routes is up to 500 stops in a day.
Unlike some other software solutions like Upper, RoadWarrior does not offer a free trial. If you want to access the software, then first, you need to provide your credit card details and sign up for a paid plan. In case you forget to cancel the trial, it will automatically renew and charge you for the chosen plan.
Do not notify you of duplicate or incorrect routes. So, it is essential to carefully review and double-check your routes to ensure accuracy and avoid any duplicity leading to unnecessary time wastage.
The RoadWarrior pricing plan is quite complicated for large corporations having multiple team members. This is because it charges you $14.99/month/driver, and for every additional driver, you are required to pay $10/month.
Real-time delivery tracking is not available, leading to a potential lack of visibility and control over the status of your driver as well as scheduled deliveries.
Cannot send delivery notifications to customers. This can lead to missed delivery updates and potential customer dissatisfaction due to a lack of communication.
Routes cannot be easily exported to drivers. You can either mail them through the in-built email system or send them to their mobile devices. You can neither get the live URL, nor you can export it to PDF or CSV.
Apart from the product pricing, it further charges you additionally per driver at $10/month per driver once your trial period gets over.
Basic
Free
8 stops/route 50 optimize stops per day
Features +
Only on iOS and Android devices
Standard route planning features based on real-time traffic or availability.
Pro
$10/month
120 stops/route 500 optimize stops per day
Basic Features +
Only on iOS and Android devices
Data uploading
Reporting
Data syncing
Data backup
Flex
$14.99/month per team member
200 stops/route 500 optimize stops per day
Pro Features +
Route planning
Optimization, assigning, and dispatching
Dispatcher web app
Assessing the Worth: Is Your Investment Worth the Price?
Turning your investment into a profitable earning scope is essential though difficult. It requires complete precision while choosing the perfect product for your route operations. No route planning and optimization software can be entirely perfect. However, you should focus on near to perfect ones.
Near-to-perfect route optimization software will be able to serve you against what you paid. It will ensure that your investment does not become your liability but rather a fruitful, long-term, indispensable asset. Hence, to measure that perfectness, we are here with a fair comparison between two similar products working towards one goal, efficient route planning and the fastest route optimization for the users.
| | | |
| --- | --- | --- |
| Data Import with Excel and CSV | (Only Excel file) | (Both) |
| Stops | Limited | Unlimited |
| Route Optimization | | |
| Service Time | | |
| Time Windows | | |
| Add Driver | (Pay additional cost) | |
| Add Vehicle | | |
| Curbside Delivery | | |
| Driver's App | | |
| Export to Garmin | | |
| One-Click Driver Dispatch | | |
| Detailed/Custom Reports | | |
| Pickup and Delivery options | | |
| Select Vehicle Type | | |
| Reassigning Routes | | |
| Swapping the Routes among Driver | | |
| Export Routes | | |
| Stops Priority via Colour Coding | | |
| Proof of Delivery | | |
| API Integration | (Only with glympse) | |
Features RoadWarrior Upper

Data Import with Excel and CSV

(Only Excel file)

(Both)

Stops

Limited

Unlimited

Route Optimization

Service Time

Time Windows

Add Driver

(Pay additional cost)

Add Vehicle

Curbside Delivery

Driver's App

Export to Garmin

One-Click Driver Dispatch

Detailed/Custom Reports

Pickup and Delivery options

Select Vehicle Type

Reassigning Routes

Swapping the Routes among Driver

Export Routes

Stops Priority via Colour Coding

Proof of Delivery

API Integration

(Only with glympse)

Try Upper for FREE No credit card required
What People Say About Upper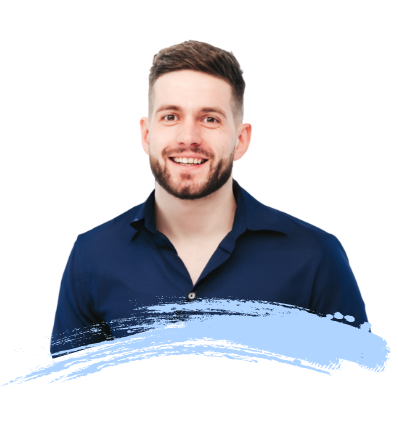 Saved 10 hours per week & delivering 3x more meals with Upper. It's easy to take proof of delivery, the speed is great, it's super super fast!

Ben Parker,
Delivery Manager of Flavors2Go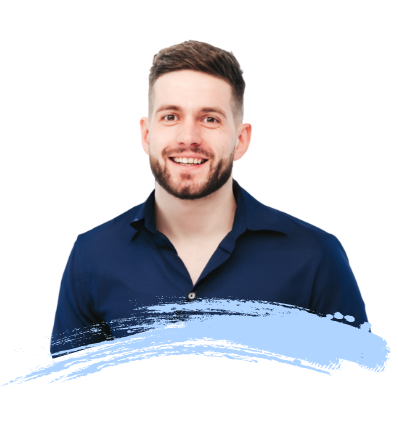 RoadWarrior Features
1. Search, Optimize, and Assign:
Rather than scattering all over the map, you can click on the search, optimize and assign options right in the header of the RoadWarrior Route Planner. This will protect you by saving unnecessary time wastage and resources.
Routes can be planned simply by clicking on the plus icon at the top right corner, which will ask you to either create a blank route, copy the active route or open the recent route. Other than this, if you already have the spreadsheet consisting of the planned route, you can simply tap on the uploads section in the left corner and upload the Excel sheet consisting of multiple stops.
Once a route has been created, you just simply have to click on the "Optimize the route" button, which will show you the travel time and the distance the route will cover through the pop-up box. After optimizing, the last option is to assign the route to the driver and send the update to the driver via SMS about the assigned route.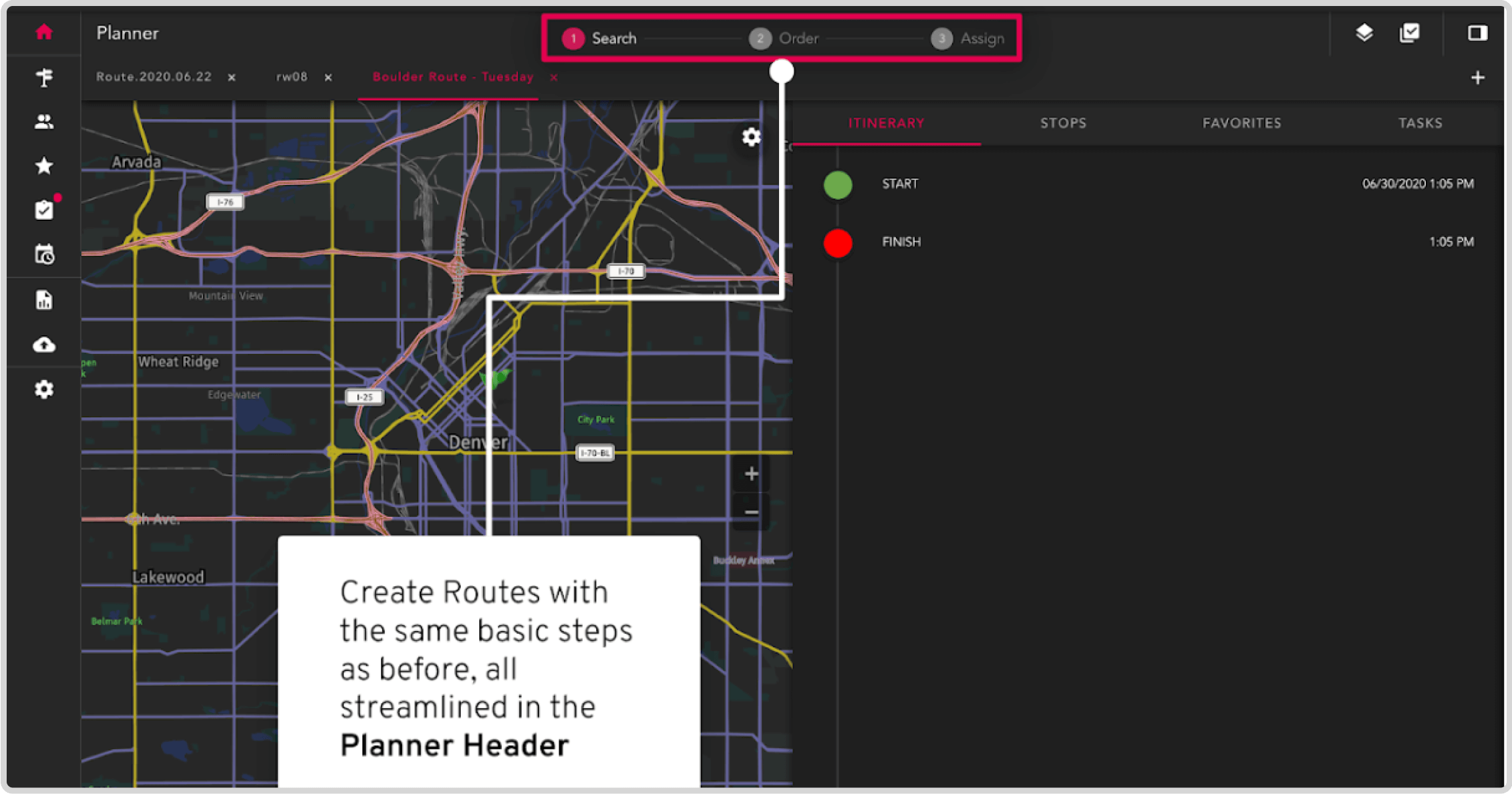 2. Track Route Assignment :
Routes are assigned to drivers after optimizing. Drivers get updated via SMS on their mobile devices that a new route has been assigned. After this, through the new integrated user communication between a dispatcher and drivers to track route assignment flow, drivers are facilitated to either accept or reject the route.
Route assignment status will show the status either as pending in case no action has been taken or rejected if the user did not accept the route. Accepted routes will appear regularly assigned.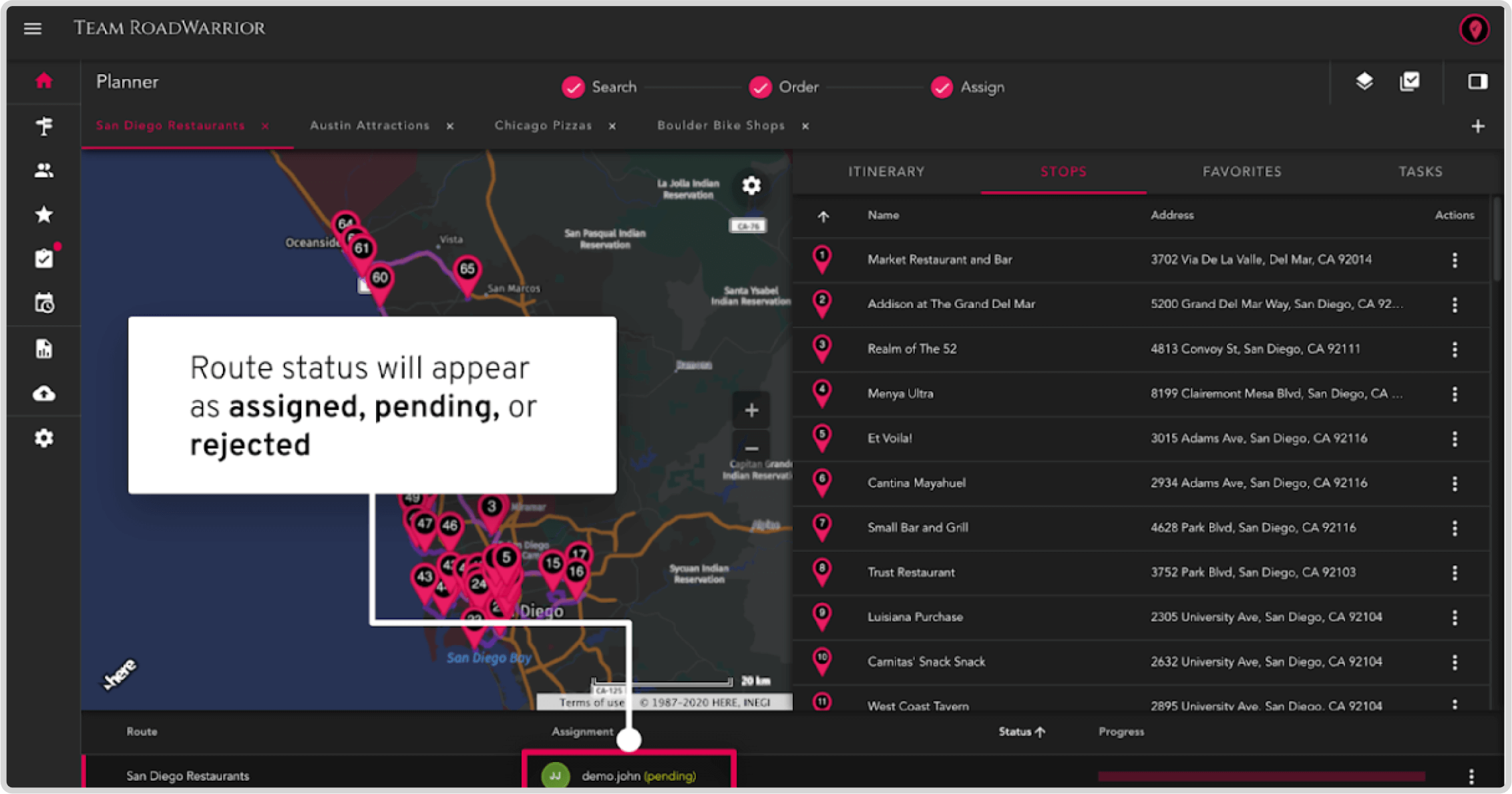 3. Panel View:
The multi-panel visibility option lets users navigate smoothly throughout their busy day. It enables the user to either serve the map view, list view, pin view, or status view, depending on the user's requirements.
Let's take an overview of these views featured in the panel view:
Map view: Entire route in a map, including any favorites or tasks assigned in a region.
List view: Entire route at a time as a list, with tabs including itinerary, stops, favorites, and tasks.
Pin view: Details of one pin at a time in the side panel.
Status view: Summary of all currently open routes and their assignment/completion status.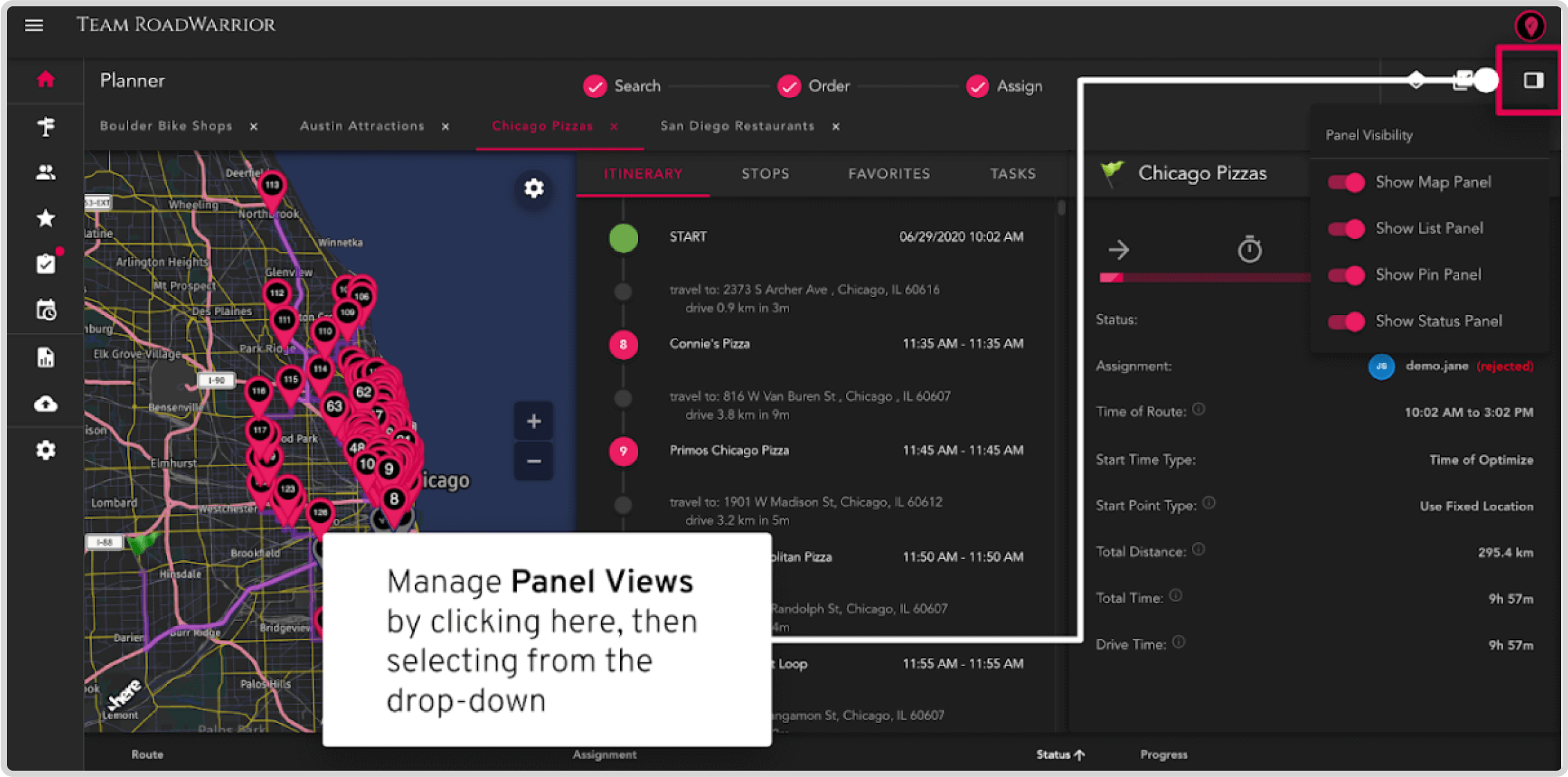 4. Multi Select and Lasso Tool:
Unlike previously, the multi-select mode and the lasso tool have been consolidated into one toolbar. Users now don't have any need to access them separately. They just have to click the checkbox button at the top-right of the planner to get started.
The same icon exists on every data view page for the same purpose and not just on the planner page. Switching between multi-select mode and lasso mode by clicking the map selection tool. The icon will change from a mouse to a lasso, depending on the current tool in use.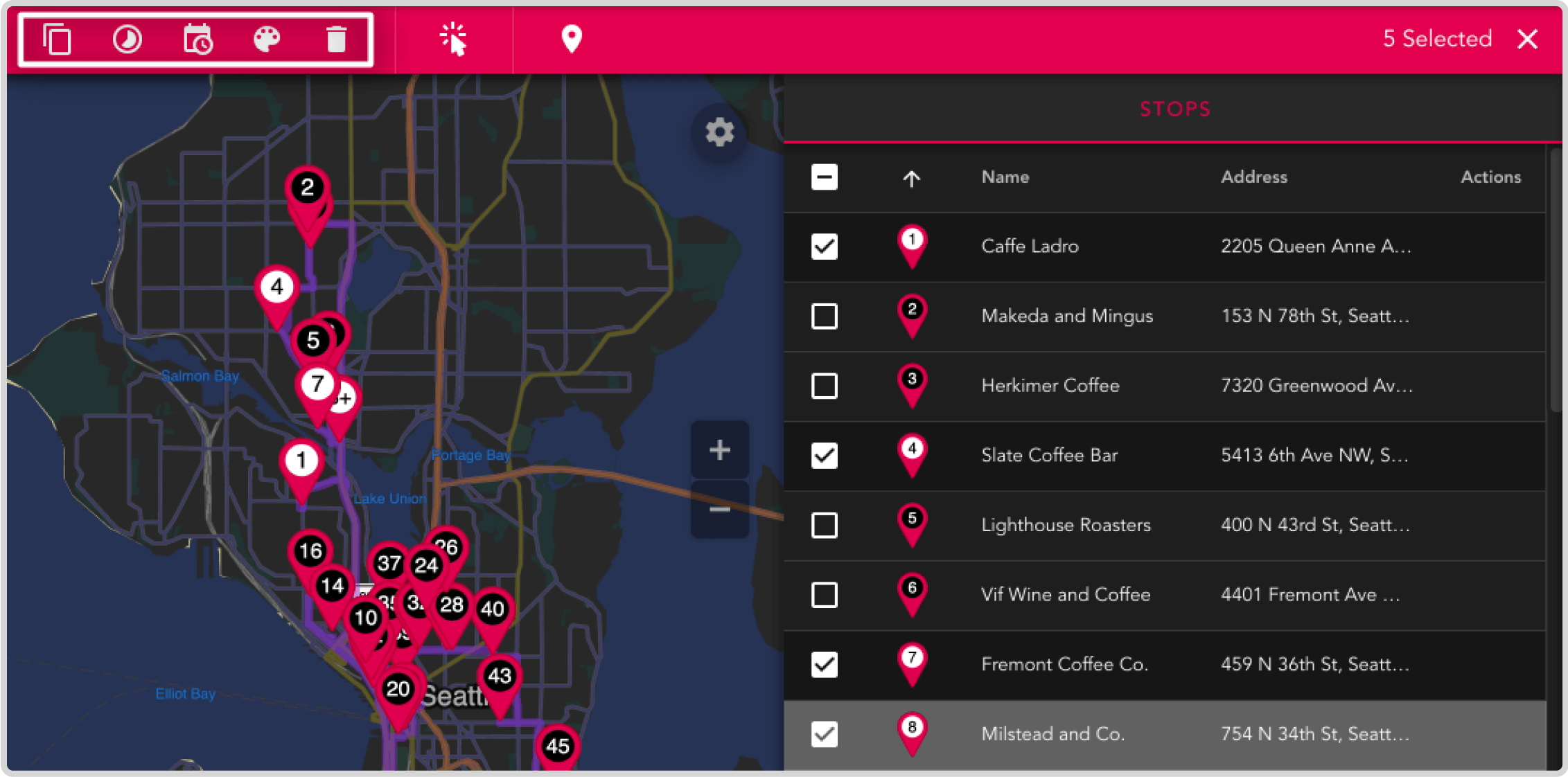 5. API Access:
The API integration with third-party apps – FedEx can facilitate the user to automate any daily tasks and get a driver to move with minimal effort. Byleveraging API access, users can tap into a wide array of functionalities and data provided by FedEx without having to manually interact with their website or systems. This integration streamlines processes, automates tasks, and enhances overall efficiency.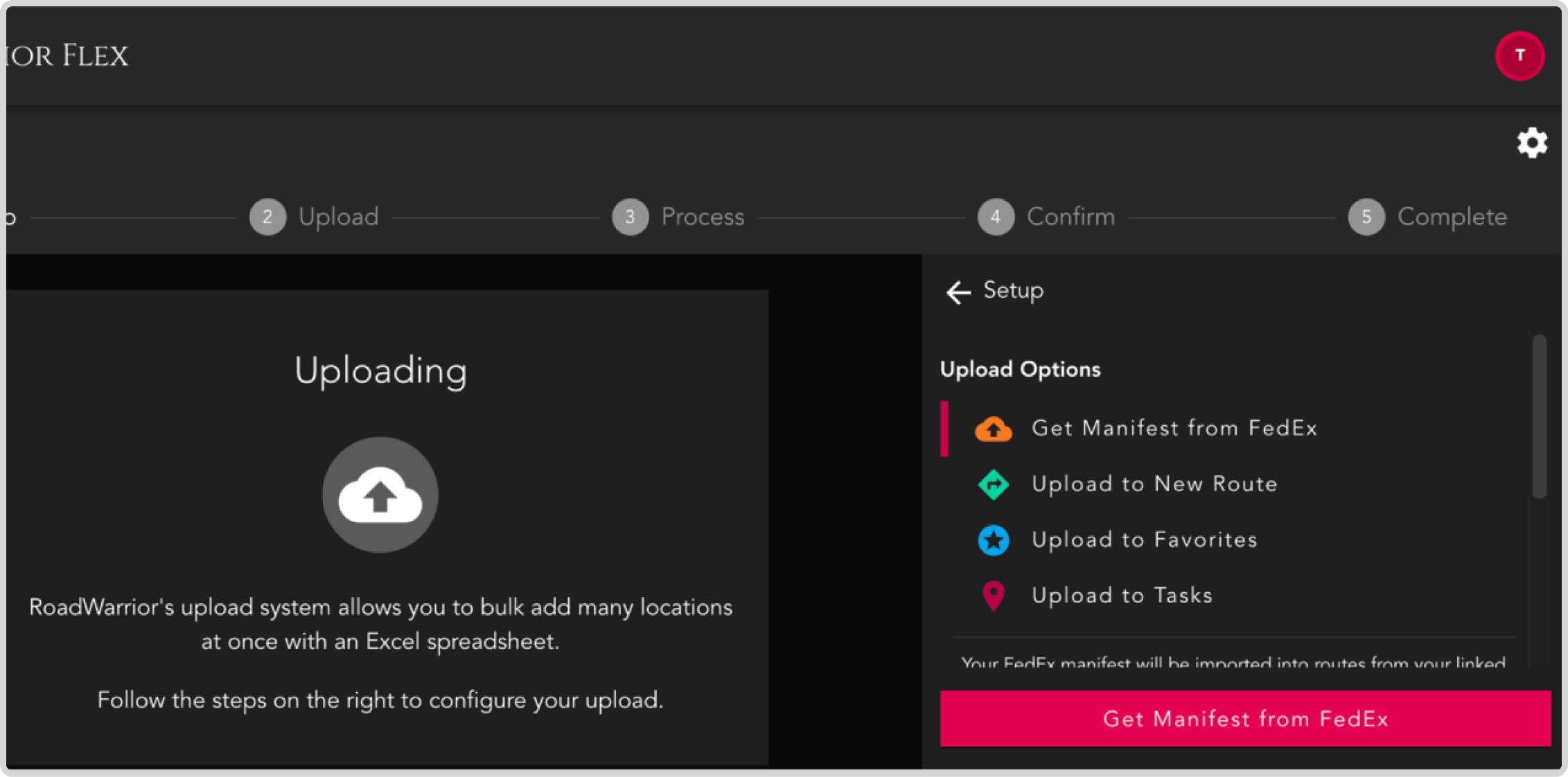 Is RoadWarrior Right For Your Business?
Acknowledging all the facts based on pricing, features, and functionalities offered by RoadWarrior, it may seem that RoadWarrior will not turn out to be a healthy option for you. Here's what you need to know and be aware of before opting for RoadWarrior:
The unavailability of a free trial with complete access makes it difficult to explore the software and evaluate its suitability for their business needs.
Ask for the credit card details in order to serve users with the free trial, which may create a barrier for potential users who are hesitant to provide their confidential payment details upfront.
Further, this requirement could also deter some users from trying out the software and hinder them from making an informed decision about its suitability for their business.
Also, the absence of essential features like detailed and summarized reports, route export, one-click dispatch, reassigning and swapping the routes, as well as adding vehicle types, is not available, leading to a lack of flexibility and efficiency in managing routes and optimizing operations. These features are crucial for businesses that rely heavily on route planning and logistics management.
It may not even be suitable for large corporations having multiple team members. This is because of the pricing plan of additionally charging $10/month per team member.
A Perfect Alternative For You
So, what's now? Is there any alternative available that can compensate for the needs, requirements, and aspirations of the users seeking RoadWarrior?
Yes, as they say, every problem comes with a solution. Everything in the world has a substitute available that can either partially or fully fulfill the needs of the users seeking RoadWarrior. In this case, a perfect alternative that can be considered is "Upper." Have a look at what Upper has for you over RoadWarrior.
Data Import: Both Upper and RoadWarrior allow uploading stops in multiple ways. However, with Upper, you can upload stops in Excel or CSV file format and up to the limit of 250 and 500 stops as per the Essential and Growth plans, respectively. However, with RoadWarrior, only Excel file format is supported, allowing the limit of 200 stops per route and not more than that. Custom fields can even be added if you want the address to be more specific and detailed.

Route Planning & Scheduling: Route planning and scheduling with Upper facilitates you to plan urgent deliveries, schedule pickups and deliveries together, allocate service time (either by default or individually) and time windows, get a record of delivered or skipped stops out of the total ones, and much more.

It also helps plan and schedule the routes in advance and assign them to the dedicated drivers. Stops can be specifically assigned to the drivers using a pre-assigned driver functionality. In case of any emergency, stops can be swapped among the drivers through the drag-and-drop feature and can also be reassigned to another one.

However, with RoadWarrior, these features are either restricted or not available.

Route Optimization: Upper optimizes the routes efficiently in a way that ensures that the driver takes the most efficient pathway to complete deliveries that, results in reduced fuel costs as well as time spent on the road. The time saved can be used to schedule other deliveries or pickups on the same day maximizing the business revenue. Planning deliveries as well as pickups can help you save time, energy, and fuel costs. However, this feature is missing in RoadWarrior.

One-day Dispatch: The planned and optimized routes can be sent easily to drivers in one click. They get regularly informed about their daily tasks. They can even get the scheduled delivery route via emails, texts, or URL shared. Those delivery agents who are not that tech-savvy can get the printouts of those dispatches. These facilities are restricted with RoadWarrior. Delivery agents either get an email or text when routes are to be dispatched.

Proof of Delivery: The evidence of the successful completion of the deliveries can now be captured via signatures and photographs. Drivers can even add relevant notes as additional information relating to deliveries. This feature is freely available under two out of three plans of Upper. While in RoadWarrior, it is only available under the Flex plan, which costs individually per driver.

Live Driver Tracking: Upper offers live driver tracking that enables the dispatchers or delivery companies to track the status of ongoing deliveries. They can monitor the real-time location of the delivery agents and also ensure that deliveries are being done as scheduled or not. This avoids the chances of missed or delayed deliveries resulting in improved customer satisfaction.

On the other hand, to track the progress while using RoadWarrior, dispatchers need to either go through the check-ins manually added by delivery agents while going from one stop to another, or they can check the status from the status panel available on the dashboard of the web app. Real-time delivery tracking is not available here.
DON'T MISS OUT! LIMITED OFFER
Upper's Growth Plan now available @
$160/mo
Get the Best Cost-Effective RoadWarrior Alternative & Speed up Your Deliveries by 3x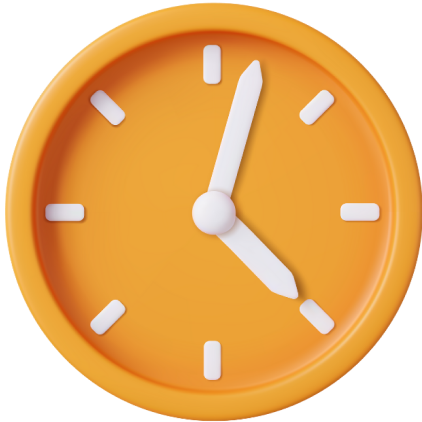 Conclusion
All the features, pricing plans, and pros & cons of RoadWarrior have been accurately kept before your eye. Now, it's totally up to you whether you want to continue your decision to go with RoadWarrior or want to acknowledge the RoadWarrior alternative given here.
If you are opting for the latter option, please feel free to try the 7-day free trial! offered by Upper. This way, you will have a chance to explore the features and functionality of Upper without any commitment.
During the 7-day free trial, you can test its capabilities, evaluate its suitability for your needs, and compare it with RoadWarrior. By taking advantage of the trial, you can make an informed decision and choose the route planning solution that best fits your requirements.
Frequently asked questions
RoadWarrior is a route planning and optimization software designed to help businesses efficiently plan and manage their delivery routes.

This multi-stop route planning and dispatching software is suitable for individual contractors and corporations.

How does RoadWarrior route optimization work?

RoadWarrior uses advanced algorithms to calculate the most efficient routes based on multiple factors, such as distance, traffic conditions, delivery time windows, and priority stops. It helps businesses save time and fuel costs and improve overall productivity.

Can RoadWarrior handle large numbers of stops and drivers?

Yes, RoadWarrior can handle a significant number of stops and drivers. However, it has limitations, such as restricting the import of more than 200 stops at once and optimizing routes up to 500 stops per day. These limitations should be considered for larger-scale operations.

Does RoadWarrior offer a free trial?

No, RoadWarrior does not offer a free trial. To access the software, users need to subscribe to a paid plan and provide their credit card details. It's important to remember to cancel the trial if you decide not to continue using the software to avoid auto-renewal charges.

Can RoadWarrior detect duplicate or incorrect routes?

No, RoadWarrior does not provide notifications for duplicate or incorrect routes. It is essential for users to review and double-check their routes manually to ensure accuracy and avoid wasting time due to errors.