Key Takeaways:
A landscaping company's productivity and efficiency can be improved with the use of the appropriate tools and equipment.
Online scheduling tools can facilitate planning and lessen administrative tasks.
Purchasing high-quality lawn mowers and trimmers can result in long-term financial savings, by lowering maintenance and replacement expenses
Safety equipment and training are crucial, for the protection of personnel and the reduction of responsibility.
Are you planning to launch your landscaping business? It's a good call because the market size of the landscaping industry has grown 5.3% between 2017 and 2022 and the number is expected to surge.
Also, this industry has witnessed more growth than the administration, business support, and waste management services sectors.
But do you know what can break or make your lawn and landscaping business? It's the tools and equipment.
This is why you must have professional landscaping tools ready while launching your business. After all, your customers will choose your service only based on your service, pricing, and offerings. Hence, you must give similar importance to equipment as well.
Here, you will find the most essential tools for Landscaping Business. So, let's get started.
20 Essential Lawn Care Tools for Landscapers
Here are the 20 different lawn care tools that every landscaper should carry in their toolbox for successful operations.
Landscaping hand tools
As the name suggests, the landscaping hand tools are manually operated, and mostly used as digging tools to till the soil and sow seeds or perform any other lawn care work that requires precision and hand work.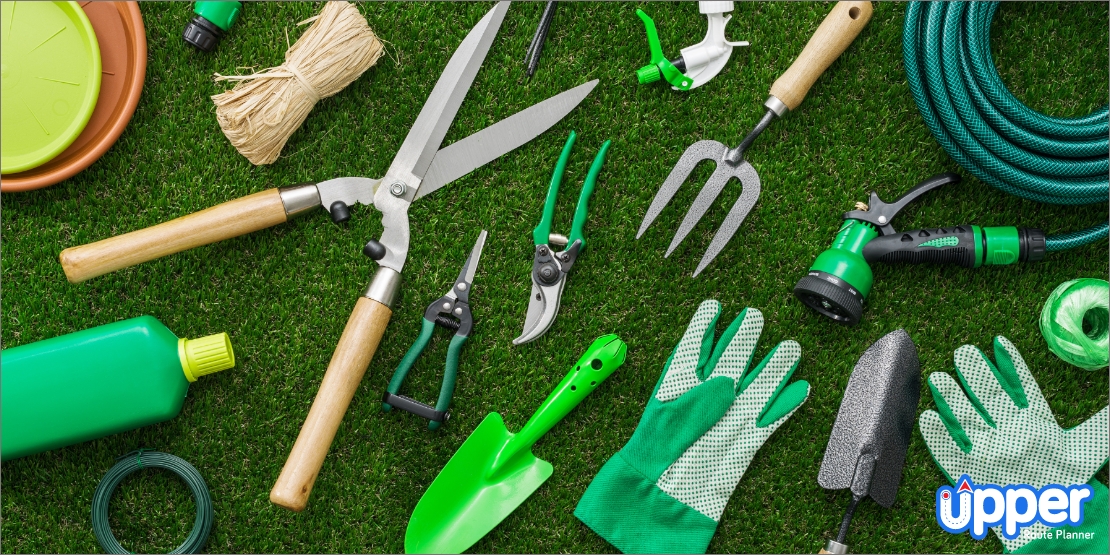 1. Rakes
One of the essential landscaping tools is a rake. Even if you can blow your leaves, you need a rake to clean the debris at some point because the leaf blower can't be used in certain places. There are two main types: leaf and steel rake.
Look for a steel rake if you have to move stones. Otherwise, a normal leaf rake is fine for cleaning leaves and small sticks.
2. Shovels
A shovel is a tool that comprises a broad blade with a curving tip and a long handle. There are different types of shovels, depending on the usage.
A handheld shovel is used for digging up weeds and plants and transplanting soil.
A scoop shovel helps remove large amounts of gravel, wood chips, and mulch.
A round-point shovel easily breaks through the compacted ground.
Professionals prefer a shovel with a steel or fiberglass handle for commercial purposes.
3. Trowel
Trowels play the same role as shovels. The only difference is shovels are larger than trowels. And the shovels are too big to create a small hole to plant a seed or pry stones up from the soil. So, choosing a durable trowel with a more comfortable grip is important to complete difficult tasks.
4. Spade
Did you just think a spade is a kind of shovel? Probably, many people think the same. Spades are different from a shovel. They have a square base and are designed to scrap hard surfaces such as concrete and sweep the debris. Only metal spades with an easy-to-grip handle can withstand tough jobs like moving gravel or concrete.
5. Wheelbarrow
This versatile tool is used to carry bulky and voluminous loads. In landscaping businesses, they are used to carry the tools to the work spot or move debris. Consider factors such as the material it is made from, the number of wheels, and the type of terrain it can easily navigate while looking to buy a wheelbarrow.
6. Shears
Have you seen arborists using some kind of scissors to trim gardens, bushes, small branches, and stems to get a certain shape? Well, those are called shears. To cut branches up to one inch thick, you will need hand-powered pruning shears. For anything larger than this, you need electric or gas-powered shears.
7. Lopper
This may look similar to shears, but the purpose is different. You will need a pair of long-handled pruning shears to help you reach into trees to prune the branches.
Pruning is not the same as trimming. Pruning is done to cut unnecessary branches, whereas the latter is done to help the plant or tree grow.
8. Tampers
Tampers are landscaping tools that help increase the density and level of sand, soil, gravel, and other materials by applying force to the surface of the material. Tampers are available as manual or power compaction tools. So, the force to be given must be delivered by hand or via a gas-burning engine.
Landscaping power tools
While hand tools are often used for basic work, landscaping power tools are known for electric works. It comes in types such as electric tools and gas-powered tools and is used for commercial purposes.
9. Lawnmower
When it comes to power landscaping tools, the first tool that comes to the list is a lawn mower. This machine comes with thin, hard, and sharp iron plates, which help mow grass or plants. The speed controls of self-propelled modes give you more control while using the mower in places with slopes.
It comes in three main types such as lawn tractor, zero turn mower, and rear engine riding mower, and each type is used based on the requirement.
10. Leaf blower
Imagine how much time it would take to pile up large quantities of leaves using a rake. This is why you need leaf blowers to move leaves and plant debris into a big pile without hassle.
Check if the leaf blower has a high mph output and a large cubic feet per minute range to blow the leaves with forced air. When compared to electric models, gas-powered models are often used for commercial purposes.
11. Lawn aerator
By aerating, you allow water, oxygen, and other nutrients to flow through the soil. Also, this is one of the best landscaping tools that keeps a lawn healthy. Though you can find hand-powered lawn aerators, a gas or electric aerator is used for commercial purposes.
12. Hedge trimmer
Also called a shrub trimmer or bush trimmer, this landscape equipment is used to trim, cut or prune hedges, shrubs and bushes. Since you have to hold the trimmer for a long time to do the work, it is often fatiguing. So, choose lightweight hedge trimmers with padded and ergonomic handles so that you get the comfort of holding them for a long time.
13. Chainsaw
To cut or trim large tree branches, you need chainsaws. Cordless chainsaws are much more user-friendly and can complete tasks quickly. While investing in one, check the weight and battery life, and safety features to prevent accidents.
14. Weed eaters
This tool is also called a weed trimmer and weed wacker. You may wonder why a weed eater is required when you have a lawn mower. The fact is that weed eaters can easily reach places a mower can't reach.
Commercial weed trimmers are available in electric, 2-cycle, and 4-cycle models and have more powerful engines than those used for residential weed trimmers.
15. Fertilizing equipment
Also called a spreader, it is a machine that spills tiny spheres of fertilizer in large areas. Most probably, you will use fertilizer spreaders on lawns and agricultural grounds. To dispense liquid fertilizer, you need a pressurized sprayer to spray liquid fertilizer on plants or garden beds.
Other essential landscaping tools
Apart from hand tools and power tools for the landscaping business, there are some additional tools that you must not miss.
16. Safety equipment
Whether using hand or power tools, you need to safeguard yourself from accidental injury. Some minimum safety gear must-haves are:
Gloves
Eye protection
Ear protection
Long-sleeved shirts
Steel-toed boots, especially while using heavy equipment
17. Buckets
Did you just think why buckets are added to the best landscaping tools list? Well, though they aren't exciting landscaping tools, they hold much importance. You need buckets to carry items, dispose of waste, clean up, and more.
Instead of buying metal buckets, go for heavy-duty plastic buckets because the former can easily rust or corrode. But buckets made of plastics can stay in shape even in wet conditions. Also, check if the bucket handle is sturdy and has an ergonomic section to help increase comfort when held.
18. Snowblower
Snowblowers hold a space in the landscaping equipment list because they are helpful if your lawn care business location gets a lot of snow. In fact, during winter, you won't have much business, so, you can easily opt for mowing lawns to clear snow.
However, if you are just starting your lawn care business, avoid investing in a snow blower because the lawn mower itself is expensive. So, when you earn profits, then buy this winter gear.
19. Route planner
Adopting a route planner is the best way to get rid of tedious route planning. Especially, when you have long-term projects, you just need a few clicks to find the best routes.
It allows the import of multiple clients' addresses so that you can carry out your job site. If the address is alien or if you want to find shortcuts to reach your site swiftly, you need lawn care routing software like Upper Route Planner. By optimizing your routes, you will cut down travel time, and reduce operational costs as well.
20. Field management software
Running a successful landscaping business is not a cupcake. So, you must manage multiple things, streamline operations and track your employees using reliable software. This is why it is necessary to invest in the best field management software.
This software can handle various business needs, track inventory, create invoices, manage your schedule, and a lot more things saving time and effort.
Along with these essential tools, you may also need the below tools for doing your job safely:
Push broom
Foam knee pads to plant in comfort
Extension leads
Watering can
Twine for tying up plants
Retractable safety knife
Gardening hose
Garden shredder
Ladders
Where to Find Landscaping Equipment?
The above-listed landscaping tools can be easily bought in any local hardware store or online. But, it is crucial to ensure you invest in the best tools wherever you shop.
To grab the best tools at an affordable price, consider shopping at businesses that offer discounts or other shopping perks.
Moreover, you can get reliable landscaping tools at an exciting price in large stores such as Home Depot or Lowes. It's known for its wide selection of goods, and most customers are highly satisfied with their purchases
Also, you can find an extensive selection of lawn care tools in A.M. Leonard and Grainger. They are industrial supply companies that allow their customers to shop in-store, online, or at any of their stores in North America. This is an excellent place to order the tools in bulk.
Follow Most Efficient Routes on Upper for Your Landscaping Works
Let's say you do two high-priority landscaping jobs at different places. Once you complete your work in one place, you must go to the other location. If the traffic, multiple routes, and time shortage are affecting your project deadlines, then you should follow efficient routes.
Following such best routes is easy when you have advanced software like Upper. You can generate routes using its unique features and get the job done as per the schedule
Also, you can set priorities for landscaping work that comes with tight deadlines. Thus, you can get to the job site via the most direct route, save overall mileage, and reduce fuel costs. The software helps you focus on offering a better customer experience and takes care of your on-field technicians.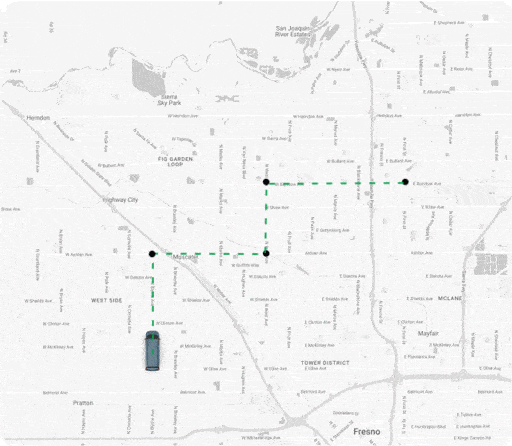 FAQs
Some of the most profitable landscaping services are:
Landscape architecture service
Lawn care
Interior landscaping
Weeding and pest control service
Hydroseeding
In order to avoid rusty landscapers tools, you must imply below factors:
Sand them down after use
Remove rust
Keep them clean and dry
Season with oil
Sterilize
Store them in a dry place
Some common tips for buying hand tools are:
Don't buy painted wooden handles. Because only low-quality wood will be painted.
Go for hand tools with steel or fiberglass handles that are stronger than wood.
Check the weight distribution before you buy it because the tool's weight influences how you use it.
Conclusion
All in all, you need the right lawn care equipment to carry out successful lawn care services. In fact, using the right equipment makes landscaper work more efficient and allows businesses to skyrocket by serving more clients.
Also, high-quality equipment will work more efficiently and come to a long life if maintained well. However, while investing in landscaping tools, ensure you buy only the necessary tools.
Choosing tools from renowned brands is important because you will find replacement parts easily. Along with tools, you should also invest in software like field management software and route planners. We recommend using Upper forget to save your route planning time while performing time-sensitive lawn care projects.