With the ever-increasing demand for lawn care businesses in residential neighborhoods, planning routes for every single stop can be a daunting task. This is why such a business might want to use lawn care routing software to do all the heavy lifting.
The lawn care business industry holds high potential as only around 40% of Americans with a yard employ lawn care professionals. This is an excellent opportunity for existing lawn care companies to optimize their current process to capture the market early.
Finding the best routing software can be a time-consuming and difficult process due to the sheer amount of options present in the market. Therefore, we have compiled this clear list of all the best lawn maintenance routing software to refine your judgment and make the best choice.
11 Best Lawn Care Routing Software
This list of the 11 best lawn care routing software was made with the intention of giving you software that is very reputed, offers a bunch of features, comes in at an affordable price, and is highly reliable.
That is exactly why we will start this list by looking at the best lawn care software for getting the most efficient routes in the fastest way possible.
1. Upper Route Planner
Upper is the ideal lawn care business software to get the best route planning ability for your service trips. It encompasses all the features that lawn care could ask for to reduce operational costs, deliver better customer service, and boost operational speed.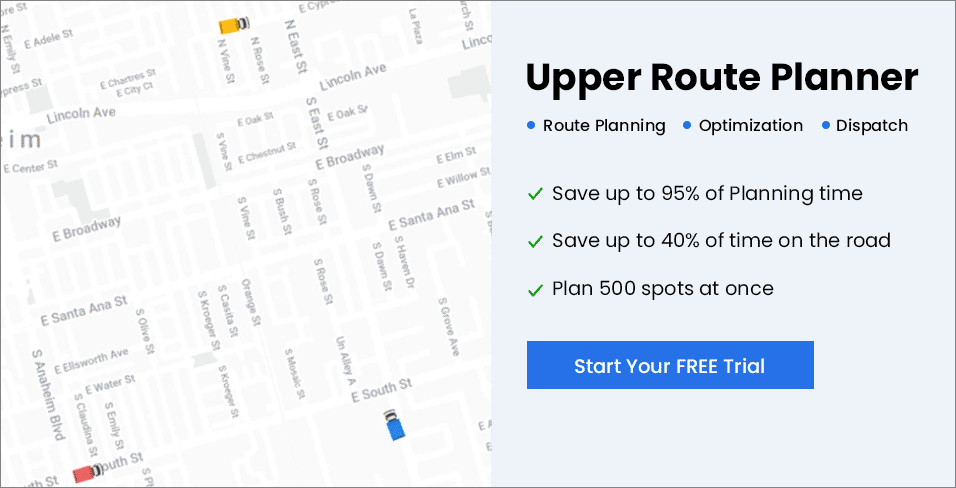 Suitable for all lawn care companies from both the residential and commercial sectors, Upper enables you to craft the most optimized service routes and dispatch them instantly within seconds. This coupled with other features such as proof of delivery, excel import, and more make Upper unbeatable as a route planner.
The ease of use and efficiency delivered by Upper make it a breeze for you and your team to surpass your competitors. Schedule routes in advance by importing all of your addresses in a flash, collect photos/eSignatures for proof of delivery, and more features all at once.
Pricing:
Essentials plan: $80 per month for 3 users
Growth plan: $160 per month for 5 users
Enterprise: contact us
Key Features:
Pros:
1. Ability to dispatch service routes in one click
2. Schedule routes for months in advance
3. More than 500 stops per route
4. Increases the efficiency of operations
5. Provides performance reports and analytics insights
Cons:
1. No street view
2. Only 30 days free trial
Do Lawn Care Route Planning Effortlessly
Optimized routes for your lawn care service trips are just a few clicks away. Hop on to the automated routing process and attain your clients on time.
Start a Free Trial

2. Jobber
Jobber is an app that is best suited for the lawn care company that wants a complete package offering everything from route scheduling to payment processing. It boasts a simple and user-friendly interface that makes app navigation a simple process.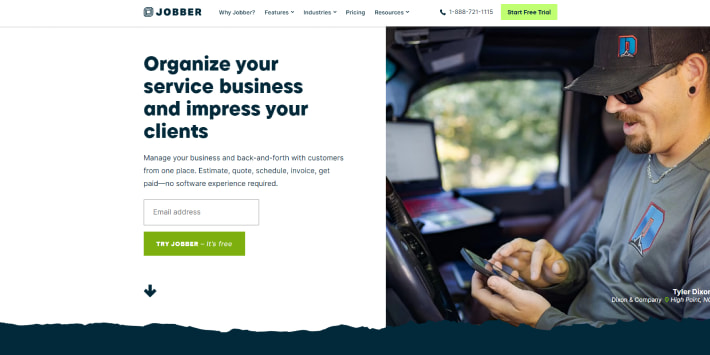 It is not software that is built specifically for a landscaping business but given its set of features, it can very well be used by such businesses. The features offered by Jobber serve a wide variety of purposes from customer satisfaction to improved operational performance.
Pricing:
Lite: $19 per month for one user
Core: $49 per month for one user
Connect: $129 per month for five users
Grow: $250 per month for fifteen users
Key features:
GPS tracking
Dispatching tools
Payment processing
Reports and analytics
Pros:
1. User-friendly interface
2. Affordable starting price
3. API integration
4. Invoicing capabilities
Cons:
1. Limited features in the lite version
2. Difficult assigning replacement staff
3. ServiceTitan
One of the best-known and respected apps in the world of field service is ServiceTitan. While they are not exclusively lawn care management software they are still very handy for all the regular activities of any lawn care business.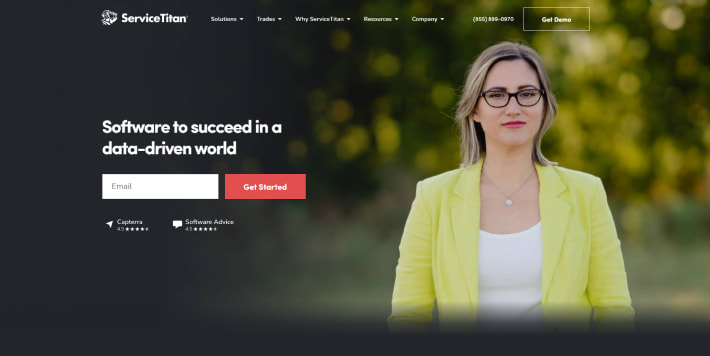 This is because they have everything from GPS routing capabilities to invoicing abilities. This makes it a fine option for landscaping businesses that are looking for a one-stop solution that optimizes small lawn care operations in some manner.
Pricing: Undisclosed, custom quote depending on requirements
Key features:
lawn care job scheduling
Route planning
Quoting & Invoicing
Inventory management
Pros:
1. Multifunctional tool
2. Cross-platform integration
3. Quick customer service
Cons:
1. Expensive
2. Complex user interface
3. Lacks customization options
4. Service Autopilot
Service Autopilot is a software solution that aims to automate the process that is usually done on paper and automate them instead. This includes creating lawn care invoices, getting optimized routes through route planning, and streamlining crew management.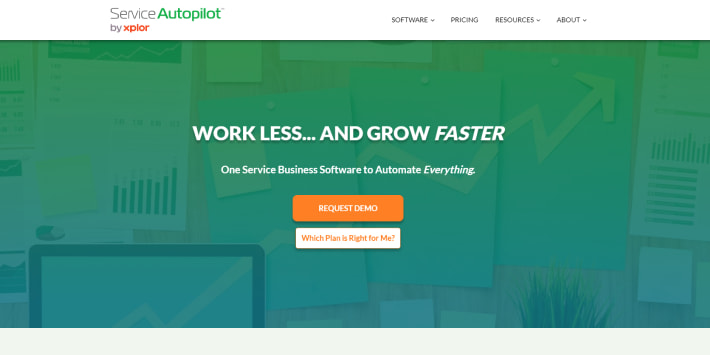 One advantage of using service autopilot for small lawn care businesses is that it is the cheapest option of its kind on the market. However, you must keep in mind that cheaper software programs will usually give you fewer features.
Pricing:
Startup: $49 per month
Pro: $109 per month
Pro Plus: $279 per month
Key features: lawn care billing software, GPS tracking, business reports, client history, QuickBooks integration
Pros:
1. 30-day return policy
2. Unique marketing tools
3. Integrated GPS tracking
4. Job scheduling for lawn care professionals
Cons:
1. Dated mobile app interface
2. Extra charges for additional users
5. Verizon Connect Reveal
Verizon Connect reveal is a route planner for large enterprise applications which means that it comes at quite a hefty price tag. It comes with proprietary tracking hardware that can be installed on trucks to look out for potential engine problems or to simply check performance.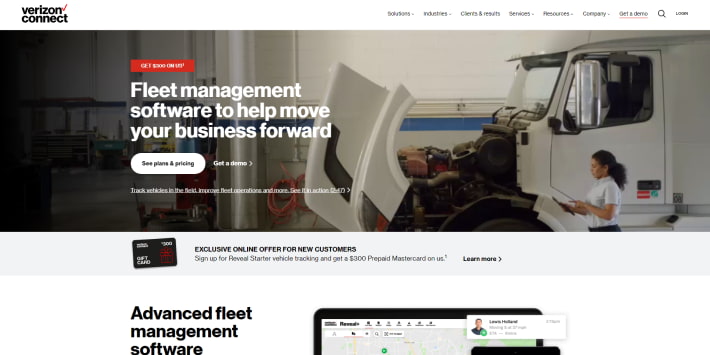 Because it offers such sophisticated features, you can choose to opt in or out of the features at your discretion. This means that you only have to pay for the features that you selected and will use in your business which reduces the cost dramatically.
Pricing: $45 standard price with additional charges
Key features: Fleet management, ELD & compliance, maintenance scheduling, performance reports, live tracking
Pros:
1. Amazing fleet management ability
2. Live performance tracking
3. Tracking hardware for free
4. Optional feature plans
Cons:
1. Some basic features are listed as optional
2. No support outside of weekdays and work hours
3. Long-term subscription plans
4. High final cost
6. Workwave Service
Workwave service is an absolute veteran in the industry as they have been in the business of optimizing field operations for over 40 years. This has given them a great reputation and loyal customer base which can attest to their service quality.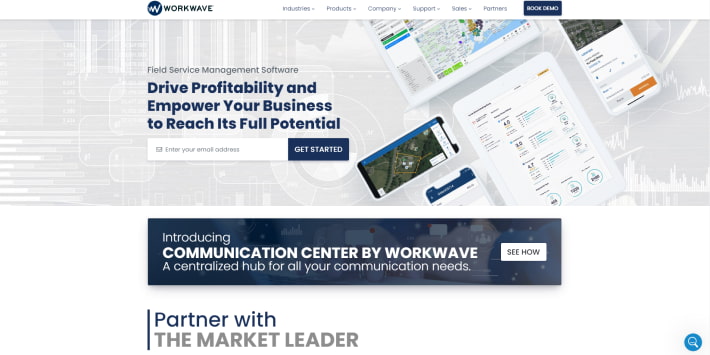 They have their very own route optimization software along with a whole bunch of other software solutions for field services businesses. Though they are best known for their marketing tools that are used by countless businesses.
Pricing: No pricing information made publically available
Key features: Route optimization, marketing insights, field service management, sales chatbot, pest control software
Pros:
1. Highly versatile use cases
2. Marketing applications
3. Dedicated route optimization engine
4. API integration
5. Long track record of service
Cons:
1. Not a dedicated solution for a lawn care company
2. Greater focus on marketing solutions
7. Yardbook
Yardbook is a rudimentary and simple bit of software for small lawn care operations that don't have high requirements. This is because of the amazing fact that it is free of cost making it the ideal solution for landscaping businesses that are just getting into the industry and need an affordable solution.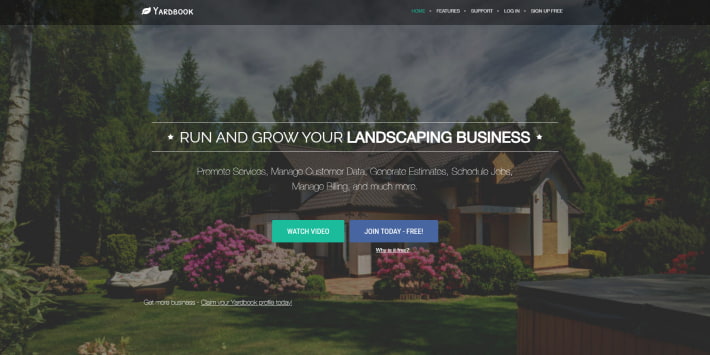 It covers all the basic functions of route optimization, invoicing, and fleet management. Features such as dispatching are not integrated due to their complexity however you could still purchase additional functions such as QuickBooks integration for a small fee.
Pricing: Free of cost
Key features: Invoicing, routing, GPS tracking, job scheduling, lead management, equipment maintenance scheduling.
Pros:
1. Free of cost
2. Simple user interface
3. Data gets backed up to the cloud
4. Inventory management abilities
Cons:
1. Quickbooks integration costs extra
2. Lack of dispatching features
3. Cluttered with advertisements
4. Limited customer support methods
8. Smart Service
Smart Service is a dedicated lawn care scheduling software that is built specifically to cater lawn care customers, unlike other software programs. It hopes to replace the pen and paper-based operations that are conducted with digital programs.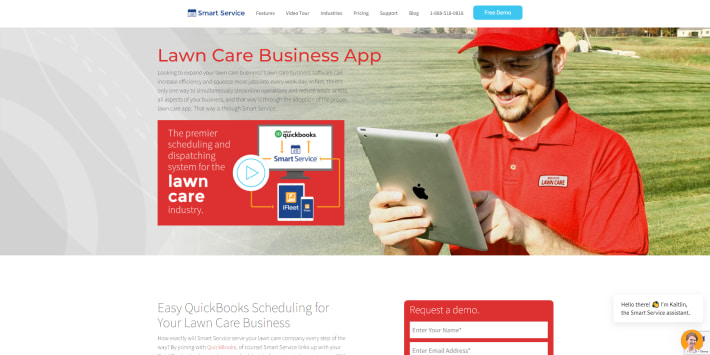 It encapsulates almost all the features that are needed by lawn care businesses such as invoicing, scheduling, and dispatching. However, the main feature that carries their brand name through the minds of customers is QuickBooks integration.
Pricing: Quote given upon request
Key features: Quickbooks integration, dispatching, scheduling, customer management, routing, time tracking
Pros:
1. Specialized for lawn care businesses
2. Wide variety of features
3. Seamless QuickBooks integration
4. Software training sessions
Cons:
1. Only built to work with QuickBooks
2. No dedicated mobile app
9. Badger Maps
Badger maps have been used extensively by workers in the field sales industry as it has been created for that very purpose. It is a type of field service management software for service businesses. This is why it can be extremely useful to new businesses that are looking to conduct customer acquisition trips around neighborhoods.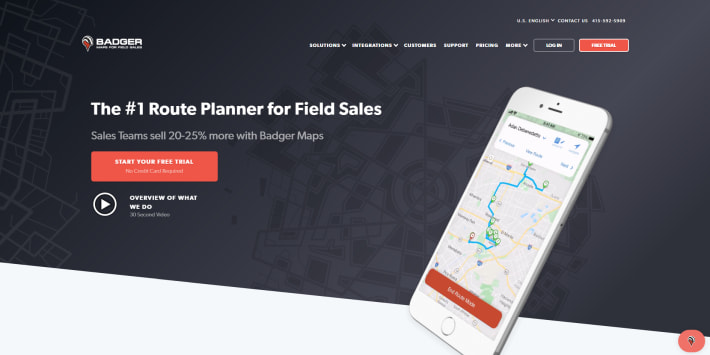 It allows for quick sales route planning and optimization and allows you to swap and reassign those routes between your sales executives. This is especially beneficial in the lawn care industry as going on customer acquisition trips is very routine.
Pricing:
Business: $49 per month, per user
Enterprise: $95 per month, per month
Key features: route planning, route optimization, scheduling, live team reports, CRM integration
Pros:
1. Optimized for field sales operations
2. Live progress tracking
Cons:
1. Expensive
2. Lack of features for lawn care businesses
10. LawnPro
If you are the type that would like to use a free version with limited features of any given software, then you should check out LawnPro. As the name suggests it is a dedicated solution for lawn care professionals as it encompasses almost everything that they might need.
This lawn care service software solution combines the marketing, operation, and customer management features that are seen in other apps and makes it available all at once with different packages. You could get started for the low price of free and upgrade it as you move along in your business journey.
Pricing: Basic version is free
Key features: Invoicing, bulk emailing, employee tracking, and inbuilt calculators for lawn care applications.
Pros:
1. Combines a lot of features from dedicated apps
2. Free-to-use basic features
3. Customized calculator for lawn care applications
Cons:
1. The free version is very limiting
2. Not many routing features
11. RazorSync
RazorSync is a multi-functional tool that helps lawn care businesses boost their operational awareness and efficiency. It does this by incorporating many field management and customer engagement features that allow it to shine when compared to other apps.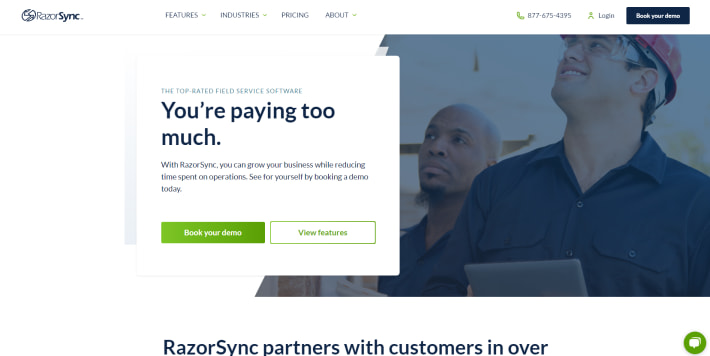 However, these features are not readily available to you as the software gives you tiers to choose from. Your list of features will mainly depend on the tier that you opt for. These tiers can get expensive making it an unfeasible option for smaller lawn care companies.
Pricing:
Solo: $85 per month, for two users
Team: $175 per month, for seven users
Pro: $360 per month, for fifteen users
Enterprise: Contact for a quote
Key features: personalized app training, route optimization, Inventory management, job tracking, QuickBooks integration.
Pros:
1. Wide pool of features
2. Tiered options for added flexibility
3. Dedicated crew app training
Cons:
1. Tier prices can rack up quickly
2. Customer support is only available on weekdays
Things to Consider While Opting for a Lawn Care Route Planner
Going with a bad routing solution can have devastating effects on your team's efficiency, whereas good routing software can be your business's companion for years. To give your business the best chances, it is advised to be as diligent as possible when choosing the best software for yourself by evaluating any routing software with the following metrics.
1. Features
In this crowded world of routing solutions, many prefer to offer basic features at high prices, and others bombard you with features for the sake of it. Such companies make it difficult to navigate the market as they all claim to be the best solution for route planning.
One thing that you can do to improve your process of getting the best routing solution is to analyze your needs and only go with options that fulfill those needs, eliminating options that do not meet your standards. Doing this gives you a clearer view of all the potential options that are best for you.
2. Return on investment
Some tools are just too expensive for some businesses and just do not deliver enough value to justify their cost. For a routing tool to be good for you it either has to help you save money on gas or accelerate the speed of your operations.
If it does not improve your operations then it should at least be packed with features that allow you to offer new services or improve existing ones so that you get to charge a greater amount. If a routing software is unable to meet any of the above-mentioned requirements, then you must abandon it and understand that it is bad at delivering a good return on your investment.
3. Customer support
If there is ever an incident where you need help with your routing software, then it is pretty normal to expect timely service. After all, it is standard practice to have a dedicated team of customer service executives to tend to any customer queries.
Unfortunately, there are still landscape companies that will outright deny resolving your queries if it is not within their fixed times of operation. To avoid facing a major backlog because of technical issues it is ideal to go with a routing solution that is known for its robust customer service practices.
Opt-In to the Best Routing Software For Lawn Care Today
Choose a routing software that is perfect for your business. Upper gives you all of the best routing features in the industry and more to enhance your business's performance.
Start Free Trial

FAQs
The skills required in the lawn care industry are very diverse and demand a high degree of conscious effort to master. Some of these skills that lawn care professionals must have include:
Industry expertise
Equipment safety
Timekeeping
Marketing
Landscaping
Botanical knowledge
Physical strength
The cost of lawn care software would primarily depend on the number of features that you opt for. That being said, typically you should be able to snag a nifty lawn care software for your business for under $100 per month if you are just starting out.
Routing software has a wave of benefits for businesses that perform regular service trips, some of which are stated below.
Faster operational speed of medium-sized businesses
Less gas spent because of poor routes
Accurate arrival times
Greater customer satisfaction levels
Reduced vehicle wear
Conclusion
All in all, finding the best lawn care routing software is indeed a stressful task when running your own business as you are looking for the best solution on the market. While most apps have the best interest of routing in mind for lawn care professionals, they fail to offer relevant features.
But going through the roster of features from all apps is a dreadful time-consuming process. This is why it is better to look at a list of all of the apps on the market in a blog such as the one you are reading. Such articles quickly communicate key information and save you hours of time.
Going through the entire article is not even necessary as the best solution for your business is already listed at the top which is Upper. The route planner from Upper does not disappoint in any regard as it has the best features on the market at your disposal 24×7. Try the true power of Upper for yourself with our 30 days free trial.