In a quest to serve the customers better, business owners associated with delivery services tried multiple ways to please the customer. Most of those techniques failed to resolve the delivery issues and they faced numerous calls asking for delivery status.
Eventually, those issues got resolved when delivery notifications came into the effect. So, instead of picking up every call and answering the clients, it was easy to provide them with real-time delivery updates.
These updates allow the customers to check out the exact location of the delivery crew. And since the clients are notified about delivery status and ETA, they can make themselves available. In this article, we will discuss automated delivery notifications benefits along with real-world examples.
What are Automated Delivery Notifications?
It is simple message that it send to the customers by the system regarding the delivery order status. Automated notifications are send via email or SMS messages to update the customers so that they can make themselves available at the time of delivery. 
The admin can even customize automated notifications before it reaches to the customer end. Such delivery alerts can help customers to know ETA of parcel. Ultimately, this automated notifications will keep them informed in such a way that they don't need to frequently call customer support.
Why Delivery Notification Matters?
Automated notifications do a great job of winning customer satisfaction. Well, who doesn't like to receive updates regarding the delivery process? These customer notifications will tell them how soon the driver will reach their location. Consequently, there would be no communication gaps and you might have less calls to answer.
These push messages sent by email or text messages are likely to grab the attention of your clients. After all, it's you who want to see consumers satisfied. These delivery notifications can help you like.
Sending instructions to the delivery driver
Finding the exact location of the shipment
Checking the remaining stops for the driver
Knowing the estimated time of arrival (ETA)
Developing communication with drivers
Benefits of Real-time Delivery Notifications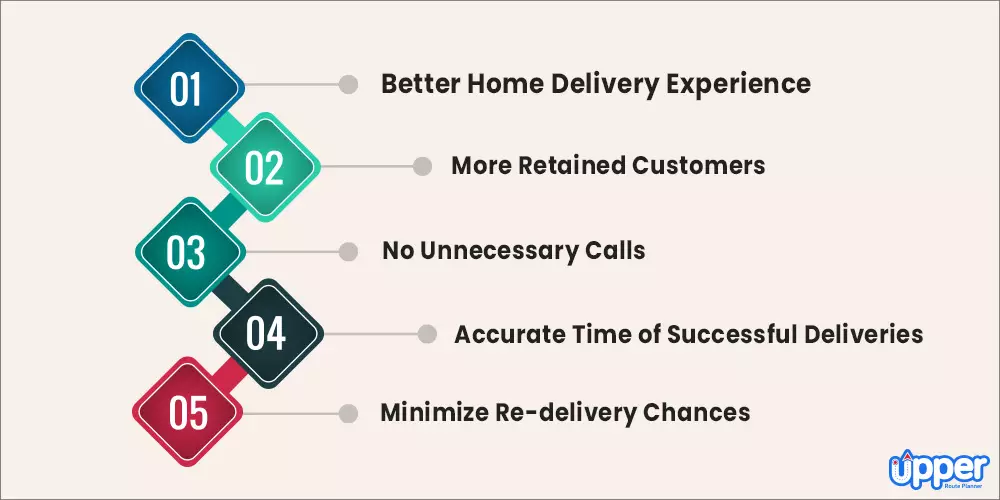 1. Better Home Delivery Experience
The customer getting delivery alerts means that they will have their eyes set on the shipment process. Whenever the driver leaves the depot, the buyer will receive alerts stating the ETA of delivery. In short, they don't have to look out for a customer care number to speak with the service provider for a delivery update. Hence, the overall delivery process will provide a improved customer experience.
2. More Retained Customers
Delivery notifications will keep customers informed about the arrival of the shipment and they won't be worried about their package. Such a delightful customer experience will leave customers pleased. Thus, they will stay connected with your business instead of looking for other service providers.
3. No Unnecessary Calls
Owners getting calls from clients are mainly due to customers being willing to know the delivery status. This would hamper your delivery operations as you would be busy dealing with clients over calls. To get rid of unwanted phones calls, it's better to enable delivery notifications and let them check the status of delivery on their own device.
4. Accurate Time of Successful Deliveries
Businesses operating without the delivery management system would not know whether the package is delivered or not. But, in case you have turned on the delivery notifications, you would get the time and date of the delivered item. Many routing software like UpperInc also automatically collects the delivery proof so that there would be no false claims.
5. Minimize Re-delivery Chances
As far as the clients are receiving delivery updates, they are likely to be available for collecting the package. This means that drivers will not have to return the package to the warehouse. Consequently, the delivery crew might not have to re-deliver the item. It will save delivery time for drivers and dispatchers in such a way that customers do not have any negative feedback.
How Does It Help The Buyers?
The buyers would have the upper hand as soon as they complete the purchase. He or she will stay in the loop till the rider handover the package to them as they will be frequently receiving real-time updates.
Moreover, the buyer will have an option to add important instructions, which will be directly sent to the driver. In case, if the customer has missed reading out the notification, they can open the list of web push notifications from the notification centre.
These automated notifications will remind the clients about the arrival of the package and help them track the driver's location by following a given link.
This smooth delivery process will lessen the chances of delivery exception or late deliveries. So, you don't have any disagreements post-delivery of the product. The reason for not having any such issues is the use of the right delivery management software.
Real-world Example of Delivery Alerts
Let's take an example of food ordering company Ubereats, which helps you get the food or grocery delivered at your location in a short time. They have enabled a live tracking option on their platform for users. So, the people would not be worried about their meals.
Similarly, it will allow customers to read the notifications like the food is prepared or not, the driver has reached the spot or not. They can choose the help button to directly call the rider if they want to give instructions. 
The idea behind choosing the automation delivery software is to provide a better user experience. Hence, sending delivery alerts can wipe off the extra burden from your shoulder.
How Does Upper Route Planner Automate Delivery Notifications for You?
At Upper Route Planner, the admin can customize the notification templates as per their requirements before sending them to their customer in a timely manner.  The advanced route planning and optimization software gives you complete visibility of delivery operations. 
With Upper, you can
Finding optimized routes in seconds
Keep your drivers updated via 'Upper for driver' app
Send customized automatic delivery alerts during the delivery process
Give instructions directly to driver via mobile apps
Capture proof of delivery post successful delivery
Why does your business need a route management system?
In the modern world, no one like to keep waiting for long when they don't have an idea about their package. Of course, they prefer to know every update about where the parcel is lying and how soon it will get delivered to their doorstep.
The right route management system is the answer to customer queries and it can help you get rid of customer phone calls as well. This is because it can send timely delivery notifications and keep customers engaged. Therefore, customers won't have to ask for help as they can easily get updated via system-generated notifications. 
Thus, a sophisticated delivery management system has multiple benefits as far as delivery businesses are concerned.
Send Timely Notifications Using Upper
Bored of answering phone calls to resolve clients' queries? Switch to Upper and reduce the unnecessary calls. Keep your clients updated regarding delivery all the time and receive thumbs up for your service.
Join Upper

FAQ
A push notification is crucial for user engagement as it can be used to grab the attention of clients and boost revenue. Mobile push notifications are also useful to strengthen the client relationship. Push notification campaigns keep your clients in the loop during the complete delivery process.
In simple words, it is the message that notify customers about the status of the delivery. These common delivery notifications keep the client informed whether the parcel is being shipped or not. Delivery notifications are also known as mobile alerts or marketing alerts.
For informing your customers, you just need the right delivery route planner to automatically send real-time delivery alerts. By doing so, your client will have an idea of where the parcel has reached and how soon it will get delivered. Thus, you don't have to send manual delivery alerts to update your client.
Basically, system-generated notifications are sent as soon as there is a delivery update via the parcel tracking system. It brings down the delivery cost and ensures outstanding delivery experience. Eventually, you have less calls to answer as far as clients are receiving delivery updates.
Not all the providers allow customizable notifications. But, you can customize delivery notifications on Upper Route Planner. The admin user can customize them as per their wish. Then, the system will send notifications via an automated process.
No, they need to call customer support center or give feedback post-delivery service. Following that, the delivery manager can send their message to the retailers.
Conclusion
Reading the aforementioned perks and real-world examples, we concluded that delivery notifications make the owner's job easier. Also, these delivery updates are useful to the customers as they give a crystal clear picture of when and where the package will get delivered.
Such automated delivery updates lessen the workload of owners as they do not have to engage in conversations with clients. This is how your businesses would bring customer loyalty. If you're planning to add more user-friendly features to your delivery business, we recommend you start a free trial at Upper Route Planner.