Good field service management is integral to any home or commercial service business that deploys in-field service workers. It's such an important topic that even BDC has a full article on the subject. While field service management has historically been done manually, advances in cloud-based technology have seen massive growth in this industry. Many of these software solutions perfectly suit the needs of small businesses in sectors such as cleaning, landscaping, painting, service/repair, HVAC, and more. With several field service management software options available, it can be challenging to determine which one is best for your business.
In this article, we'll take an in-depth look into the best Field Service Management Software for Small Businesses. We'll discuss the benefits of using field service management software, including cost reductions and improved efficiencies. We'll also outline the key features to look for when comparing options and specific considerations for small businesses. Finally, we'll provide the best overall field service software (known as FSM software). Field service management software can add immense value to field service companies and help you grow your operations. Let's take a closer look at how it can help your job management, help customers, and manage your work orders for your mobile field service technicians.
The Basics of Field Service Management Software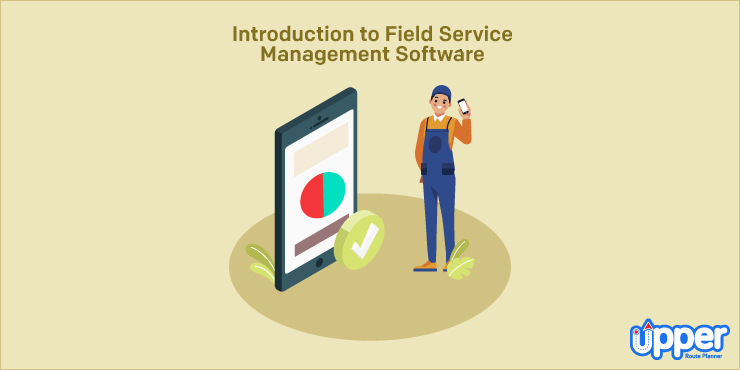 What is Field Service Management Software?
Field service management (FSM) software assists companies manage mobile work orders and their resources in the field (i.e., at clients' homes or businesses). Traditionally, field service management has been associated with businesses that offer installation, servicing, and repairs of systems/equipment at residential homes, businesses, and other client properties. Think in-home plumbing services, cable tv installation, landscaping services, mobile in-home care workers, and so on.
Field service tools can assist with many elements of field management from inventory to route planning, scheduling, customer payments, real-time updates for customers (no more waiting all day for the cable guy), and much more.
Field service software is generally in a cloud-based portal, so that field workers can easily access the software while on the job. Cloud technology has enabled the proliferation of work order management software that is affordable and valuable to businesses across several industries. With a good too, a manager can use a product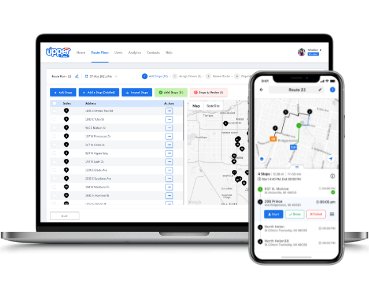 Upper Route Planner
A Simple-to-use route planner that every one is talking about.
Save up to 95% of planning time
Save up to 40% of time on the road
Plan 500 stops at once
No credit card details required
Who Can Benefit from Using Field Service Management Software?
Any business with a field service component to its operations can benefit from using field service software to improve efficiencies. This type of program ware can do project management, mobile app work order management, track and follow field technicians, communicate with the customer, manage job progress, reduce errors, and cut costs. Small and large businesses can both take advantage of field service software, and most field service apps give pricing according to the number of users.
Industries that often rely on field service management include:
Telecommunications, including cable installation, internet installation, etc.
Healthcare, including in-home care, mobile nurses, etc.
Manufacturing, mining and industrial activities (namely for service and repair)
Heavy industries, including heavy engineering, heavy machinery, etc.
Property management and maintenance, including cleaning, landscaping, etc.
Heating, ventilation and air conditioning, including installation of units, servicing and repairs
What are the Benefits of Field Service Management Software?
The benefits of using field service software include:
Reduced Costs. Field service software can help businesses cut costs substantially. Cost reductions happen when the user can better manage employee and field technicians, manage expenses such as fuel consumption, better manage operational costs, etc.
Improved Efficiency. Most of the costs saved through field service tools and mobile work order management software are due to improved efficiencies during each stage of the workflow. These stages include including better route planning, reduced delays, on-site payment options, reduced duplication of work, manage communications with field technicians via mobile app, manage relations with the customer, etc.
Higher Customer Satisfaction. In step achieved as a result of improved efficiencies and reduction in human errors that translate to faster and better customer service.
The above benefits are achieved through field service software's key features, which we will discuss in the next section.
Key Features of Field Service Management Software
How do field service and project management software help small and large businesses achieve improved efficiencies, reduced costs, and higher customer satisfaction? It does so through a combination of features that are automated and sophisticated. In other words, it does the job better than and
As a business owner, you want to identify each feature that helps field service and helps businesses the most. In other words, this software helps me in and that way. The key features that field service apps/software offer include: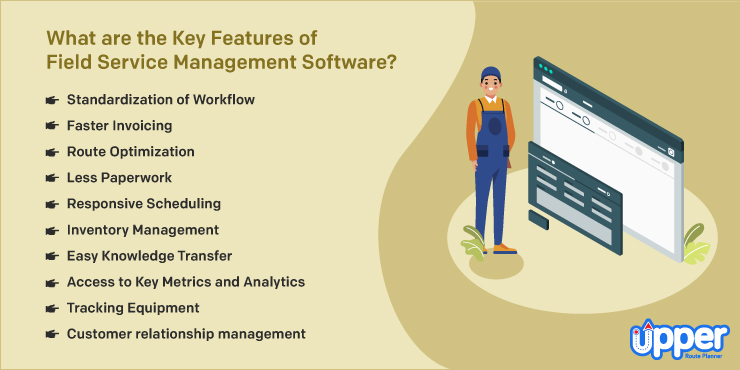 Standardization of Workflow
an inefficient business workflow can result in high costs and poor customer service. Field service management and project management enable the automation and standardization of the workflow from start to finish, including listing work orders, dispatching to complete work orders, routing, in-field client management, invoicing, and more.
Faster Invoicing
The costs of delayed and inconsistent invoicing can be detrimental to businesses that are field service-centric. Field service management software allows in-field technicians to quickly and easily capture all required data about their job, including time spent, parts/materials used, the client's signature, and pictures of the completed job. This flow enables an invoice to be issued immediately upon completion of the job and, in some cases, clients can send an electronic payment to the technician.
Route Optimization
Route planning and optimization is often viewed through the lens of last-mile delivery, but it is also essential within field service management. Technicians on service calls to multiple customers during a shift can use route planners to maximize their efficiency and also reduce fuel consumption and vehicle wear and tear. The result is reduced costs and an increased number of field visits.
Plan quickly, deliver faster, delight customers and get home early.
Everyone deserves to have simple and easy route planning.
Less Paperwork
Yes, in this digital age, the promise of 'less paperwork' is to be expected from every SaaS solution. Still, it's worth taking note of how valuable a paperless management system can be. For starters, by eliminating the need for paperwork, the physical space required to store paperwork is also eliminated, which can translate to cost savings and more organized office space. More importantly, the threat of data loss or theft drops when information is encrypted and stored electronically.
Responsive Scheduling
Field service management software (FSM software) provides real-time order management data that enables responsive scheduling based on changing needs and client work orders. For example, an urgent mobile work order for fieldwork requests can be communicated via a mobile app to the technician. At the same time, they are on their route, and their service plan can be adjusted accordingly. Such responsive scheduling enables technicians to maximize the efficiency of their shifts and can result in improved customer service. These are important components of any fleet management platform, and the schedule dispatch deployment.
Inventory Management
Many businesses that engage in field service work rely heavily on up-to-date inventory management to track parts and materials used by technicians. Historically, this inventory management would have relied on manual tracking by each technician. This fact results in delayed updating of inventory and many points at which human error could occur. With field service and project management tools, inventory can be updated immediately and electronically, enabling businesses to ensure they don't run out of stock.
Easy Knowledge Transfer
Field service software provides a knowledge base about the business's clients and all job histories. This feature enables an easy transfer of information to new employees and mitigates the loss of 'company knowledge' when a field technician leaves the company, retires, or takes sick leave.
Access to Key Metrics and Analytics
Field service software can provide plenty of valuable data regarding a business's operations, including time spent on the job, job completion rate (scheduled jobs vs. completed jobs), amount of idle time, and other key metrics. With this data at hand on their computer and mobile app, managers can identify weaknesses in their workflow and implement improvements that can enhance customer satisfaction, reduce costs, etc.
Tracking Equipment
Linking field service software (FSM software) with technology such as SIM cards can enable businesses to track the location of their field equipment in real-time on a mobile app. This tracking includes all aspects of the mobile field service, such as GPS tracking (or mobile app tracking), asset management, mobile apps, and so on. This can help reduce equipment loss in the field and ultimately reduce costs associated with in-field equipment loss.
Customer relationship management
This tool is for more than scheduling dispatch; it's for the management of communication with customers. Moreover, the tool can be used to manage appointments, contracts, types of buyers, as well as scheduling work. This is possible using all devices as well as integrations.
You may also want to read:
What is Fleet Management?
5 Things to Look For In FSM Software if You Have a Small Business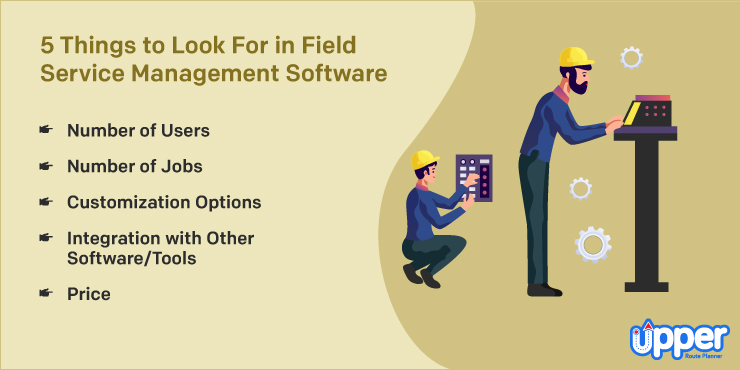 Ready to take your small business to the next level with the help of a field service management app? Here are some of the things to consider when shopping for an app that's suited to your small business
Number of Users
Many field service apps base their pricing on the number of users. When comparing apps, be sure to take into account the cost per user, based on the current number of users in your business as well as forecasted growth of users over the coming months/years. Some apps may be more cost-friendly at your current user base, but end up being more expensive in the long run (or vice versa).
Number of Jobs
Some field service apps use a pricing model based on the number of jobs per month rather than the number of users. Depending on how many jobs you currently manage per month and your anticipated growth, this pricing model may be more suitable for your business.
Customization Options
when researching potential field service management software solutions, look for ones with configuration/customization options that will suit the specific needs of your business. For example, the ability to customize invoice fields, create customized analytics reports, create custom workflows, customer relations, mobile work order management, and so on.
Integration with Other Software/Tools
Most businesses rely on a suite of different apps/software to manage various business functions. Make sure the field service software you choose is compatible/integrated with other software/tools your business is using or may want to use in the future. For example, field employees may wish to visualize the work orders on their mobile app. You may want to integrate with other management solutions and business software.
Price
Let's get real, price matters even if the software is sure to save you more than you are paying for it. The key is to find a software solution that suits your current needs/budget, but can also accommodate your growth so that you don't have to switch platforms in the future. There are many affordable monthly plans available – take some time to compare their value propositions and examine whether their features are a good fit for your business needs.
Which Field Service Management Apps Are the Best?
There are many apps available in the market, so it can be challenging to know which one(s) are the best for your business. We've selected our top Field Service Management software choices based on the field service industry reputation, available features, functionality, and price.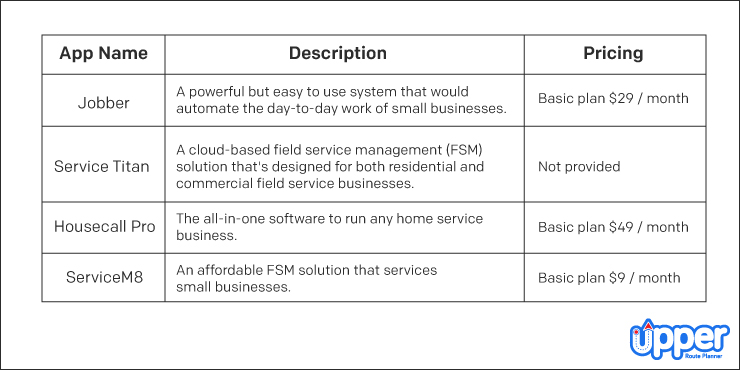 1. Jobber
Jobber is a field service software app designed specifically for field service small home service businesses. As their website states: "We wanted to build a powerful but easy to use system that would automate the day-to-day work of small businesses." They continue by adding "For us, success would be helping small business owners move more efficiently, survive changes in the economy, support their families and communities, and WIN at creating something on their own."
Jobber has established a solid reputation in the field service industry and garnered strong positive reviews from customers. They offer a free 14-day trial (no credit card required) and provide one-on-one training. Their customer service has also received praise from customers.
Their field service management software is customizable to a wide variety of industries and businesses. Jobber serves over 50 industries, including landscaping, locksmithing, painting, appliance repair, handyman, and commercial cleaning.
Jobber is also very affordable and was a top contender for our 'Best Value' pick.
Jobber's features include Client Management, Scheduling and Dispatching, Route Planning/Optimization, time tracking, Invoicing and Follow-ups, Mobile App, Online Booking, Client Hub, Client Notifications, Job Forms, Quoting and Follow-Ups, Credit Card Processing, and Reporting.
Pros
A full suite of features
Free trial
Simple set-up
1-on-1 training
Open API for integration with other tools/software and mobile app.
Cons
Doesn't offer analytics
Only syncs with Quickbooks for accounting software
May not suit the needs of al larger companies so that an expanding company may outgrow the software.
2. Service Titan
Service Titan is a cloud-based field service management (FSM) solution that's designed for both residential and commercial field service businesses. Their SaaS offers a full suite of field service management features, including billing and invoicing, contact database, inventory management, online time clock, routing, scheduling, service history tracking, mobile work order management, and more.
The software also includes features tailored to the needs of specific service businesses, including carpet cleaning, electrical contractor, garage door installation/repair, HVAC, maid services, roofing, and plumbing.
The company has a strong reputation for its field service management (FSM software) solution and has earned many positive customer reviews. They offer in-person training, live online support, and webinars. Businesses must contact Service Titan for pricing details. The company offers a free demo.
Pros
Available on Cloud, mobile phone iPhone /iPad, and Android, mac supported (via web)
A full suite of FSM features
Live online support
Cons
Must contact company for a quote
3. Housecall Pro
Housecall Pro touts itself as 'the all-in-one software to run any home service business.' It specializes in field service maintenance management, Garage door installation or repairs, HVAC, and plumbing estimates. It features a web-based cloud application, as well as iPhone and Android options. The FSM feature set is fairly comprehensive and includes billing & invoicing to contract management, mobile access, electronic signatures, scheduling, work order management, and much more.
In terms of pricing, the pro software starts at $49 a month. In this plan, users can access many features such as online booking, easy estimates, dispatching, digital invoicing. Each additional user on this plan is $30 a month. The "grow" pricing plan is $109 a month. This plan is for teams of one to five people. This plan includes all the features from the "Start" plan and includes other features such as employee GPS tracking, customizable text notifications. Each additional user costs $30 each. Finally, there is the "Manage" plan, which costs $199 a month. Additional users are $30 a month here too. The "Manage" Plan includes all features from "Grow" and simply allows more users. Finally, there are XL options for larger companies. For the first three options, there is a free trial option, which will enable users to manage field operations and test before they select the option.
Customer reviews are generally positive; the average on Capterra is 4.7 stars out of five. These reviews show the robustness and reliability of this application.
Pros
Free trial
GPS positioning features
Excellent Customer Support
Affordable plans to suit small businesses at every stage (new, growing, established)
Available on iPhone and Android.
Cons
Limited staff/users
Some bugs and user errors in some features
Issues with some of the text messaging
No ability to manage inventory tool;
4. ServiceM8
ServiceM8 is an affordable FSM solution that services small businesses. Its features include billing and invoicing, dispatch management, mobile access, routing, scheduling, payment collection in the field, quotes/estimates, mobile work order management, and more. The software also provides several features designed explicitly for electrical contractors, plumbing businesses, HVAC companies, pool service companies, and pest control businesses.
Their pricing model follows the number of jobs per month rather than the number of users. All their pricing plans allow for an unlimited number of users. Small businesses with 50 jobs or less per month can take advantage of the Starter plan at $29/mo, while those with a large number of jobs/month can take advantage of their $79/mo plan (up to 150 jobs) or $149/mo plan (up to 500 jobs).
Customer reviews for ServiceM8 are very positive, with users highlighting the positive (easy) user experience, a strong suite of features, and affordability.
Notably, the software is for small service businesses, and its ability to serve the needs of larger firms is limited. Currently, the software is limited to use on iPhones/iPads and web-based applications.
Pros
Free trial
Free accounting integration
Unlimited staff/users
Unlimited storage
24/7 Support
Affordable plans to suit small businesses at every stage (new, growing, established)
Cons
Only deployed on iPhone/iPad and cloud-based solution. Not available on Android
No ability to manage inventory tool;
---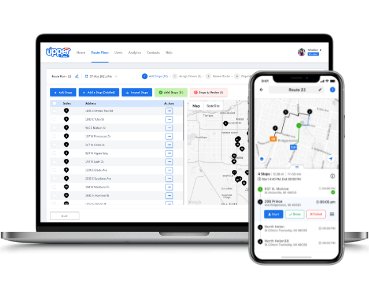 Upper Route Planner
A Simple-to-use route planner that every one is talking about.
Save up to 95% of planning time
Save up to 40% of time on the road
Plan 500 stops at once
No credit card details required
FAQs
Field service management is associated with businesses that service, install or do repairs of system and equipment. Field service management (FSM) software intends to help these companies create job quotes, manage workflow, track and monitor their mobile workforce, and communicate with the customer.
The answer to this question is, as always, "it depends." To choose the software that will give the return on investment. How to select this depends on several factors such as the number of users, the work requirements, e.g., total customer and job count, integration options, and of course, pricing.
---
Get Help of a Field Service Management Solution
In conclusion, our hope is that this article is useful to you in trying to know how to manage each job and customer work order for any small business in field service. In the end, every right field service management solution or service solution depends on many factors and features like the ones we outlined above. The number one factor in selecting the right field service solution for you depends on company size, office staff, the type of field services, and task management that you do. We hope this article allows users and businesses to manage their office and field service business more efficiently. As always, if there are any questions, please feel free to reach out to us, we are always there to serve enterprises to help them increase productivity and sales.