Key Takeaways:
For a good furniture delivery experience, clients must be spoken with and treated with transparency.
Giving delivery staff the proper training can enhance the level of service and reduce potential damages.
Providing various delivery choices, such as weekend and evening appointments, helps meet consumers' schedules and boost convenience.
The total client experience can be improved by making sure that furniture is handled, assembled, and installed properly.
The furniture industry is one of those business sectors that did not falter even during the pandemic. In addition, the industry is expected to grow at a rate of 4.79% per annum till 2026. All this increased demand is fueled by increasing disposable income and a consistent rise in living standards. 
But along with this, the need for convenient shopping and furniture delivery from online furniture retailers is also rising. In-home delivery service motivates customers to buy furniture and not worry about making pick-up arrangements. Here are five ways to improve in-home furniture delivery to help you implement the delivery service correctly.
About In-home Delivery
Amazon pioneered in-home delivery, but there's no patent on it. So, you are free to adopt it into your furniture business strategy. In normal deliveries, the online furniture companies leave your packages on your porch or outside your door if you cannot receive them personally. The risk of the packages getting stolen tremendously increases.
But with in-home delivery, the delivery person gives a call to the customer and notifies them about the delivery of their package. Then, they hand over the package directly to the person or put it inside their front door.
In the case of furniture deliveries, the delivery person places all the parts of the new furniture inside their client's home. Now, the clients can either assemble it themselves, like Ikea furniture. Or wait for the company people to come and assemble it.
5 Ways to Improve In-home Furniture Delivery
Here are 5 quick ways to start improving your in-home furniture delivery.
1. Use a route planning software
Route planning software will increase the productivity of your business by manifolds.
To begin, route planning software

automatically plans your routes with a single click. It can also prepare alternate routes in case there is high traffic on the main roads.

Along with route planning, most software companies

also offer route optimization. Essentially, route optimization finds the perfect route where the driver can make the most deliveries while traveling the least distance. Consequently, it saves money on gas and shipping costs, and increases the ROI of your business.

Dispatchers get the ability to accommodate

high-priority deliveries into their daily schedule with ease.

The drivers can directly update the status

of the delivery through the software. This real-time data provided helps you make better decisions regarding your delivery strategies.

Choosing the right route planning and optimization software can get overwhelming, but we've got you sorted. Upper route planning and optimization software for your furniture delivery offers all of the above benefits and more. Upper also offers a proof of delivery feature using which drivers can collect signatures and capture photos of all successful deliveries.
2. Rethink your pricing strategy
Before you start offering in-home delivery, you must rethink some of your prices. Remember, in-home deliveries are a premium service and should be priced accordingly. These strategies will give you powerful pricing insights and new way to approach delivery pricing.
You can offer free in-home delivery as a perk

to repeat customers and to those with higher cart values (who order a brand new sofa, for example). Customers who are buying smaller furniture will have to pay significantly (offer paid shipping) for in-home deliveries to balance out the high shipping costs.

Online furniture retailers must automate furniture shipping rates

using a shipping pricing tool for displaying real time shipping costs. By doing this, customers do not have to reach out to understand shipping options and shipping estimates. Integrating shipping pricing tools that instantly displays shipping fee helps customers checkout faster, especially for high value item. Such integrated checkout options enhance the delivery experience.

Your shipping fee should also be dynamic,

meaning delivery companies should not keep the same shipping cost for all customers. For example, customers buying small furniture should pay lower delivery charges than those with bigger purchases. This will encourage them to opt for in-home deliveries without worrying about overshooting their budgets and have more efficient, satisfying experience.

Furthermore, the more unique your product is,

the more likely your customers will select in-home deliveries. First, they become sure that such products are not available elsewhere. Second, they do not want to damage such unique products while transporting them themselves. So, you can get more value from your customers by creating unique products and having transparent shipping prices.
3. Adopt Room-of-choice delivery
Seasoned retailer e-commerce platforms like Amazon sure did pioneer the in-home delivery feature, but Walmart took it to the next level. Walmart introduced farm-to-fridge delivery, wherein the delivery person enters your kitchen, opens your fridges, and arranges all your freshly bought groceries.
However, this feature does require the customer to have smart home devices capable of unlocking and locking doors. Using the same tech, Walmart customers could also request to drop the groceries in their garages.
As furniture sellers, you can also deploy a similar delivery process. When customers are paying for in-home deliveries, they are paying for the convenience of not doing it themselves.
Therefore, leaving new furniture in their living room or, worse, apartment building while they were meant for bedrooms can introduce friction that prevents the customer from revisiting your store. You can circumvent this by offering room-of-choice delivery.
With room-of-choice delivery, the customers can select where they want the package delivered. Naturally, you can charge extra for these services. But customers will surely enjoy the convenience that comes with it.
4. Optimize your last mile delivery techniques
As furniture sellers, optimizing your last-mile delivery technique can save a significant amount of money for your business. In fact, a study suggests that last-mile delivery accounts for 53% of all your shipping costs in the logistics industry. But what exactly is last-mile delivery?
Last-mile delivery is the final stretch of the delivery process, where the package is collected from the main hub and reaches the customer. If not optimized, the driver has to search for the customer's address while increasing delivery times for all the other packages. Last-mile delivery and efficient route planning software such as Upper is a more reliable delivery solution that focuses on rectifying this.
Along with efficient route planning and optimization to improve last-mile delivery, you should also send constant updates to the customer about their package. It gives them a heads-up and makes them stay prepared to collect the package. This reduces the backtracking of packages and reduces fuel consumption.
5. Pre-plan deliveries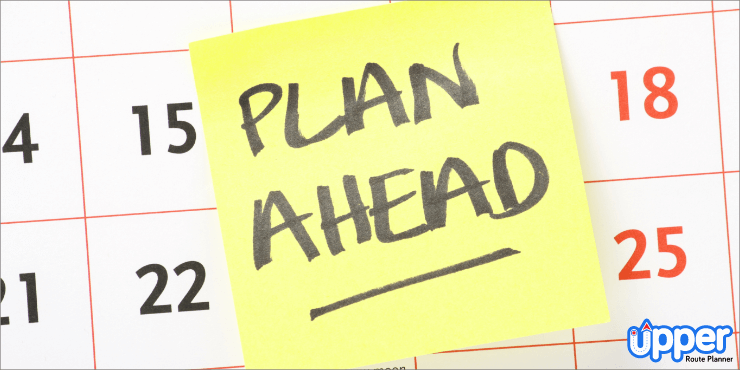 Needless to say, preparing a delivery schedule for your delivery teams well in advance helps you stay on top of sticky situations. In addition, pre-planning will help you predict uncertainties and make crucial changes to the delivery schedule.
Again, having a route planner software where you can enter the delivery dates will be helpful.
This way, you can automate the entire process. The software will automatically prepare the schedules every day for your drivers. You just have to load the truck with the right furniture pieces, and that's it. No more manual dependencies and time-draining activities.
Improve Your In-home Furniture Delivery Efficiency with Upper
Pre-planning the routes to maximize the number of deliveries per day can be quite challenging. Additionally, you have to set up an automated system that sends regular notifications to the customer regarding the delivery status of their new furniture. Thankfully, Upper Route Planner offers both of these amazing features and more.
Here are some of the top features of Upper to improve your in-home furniture delivery.
1. Proof of furniture delivery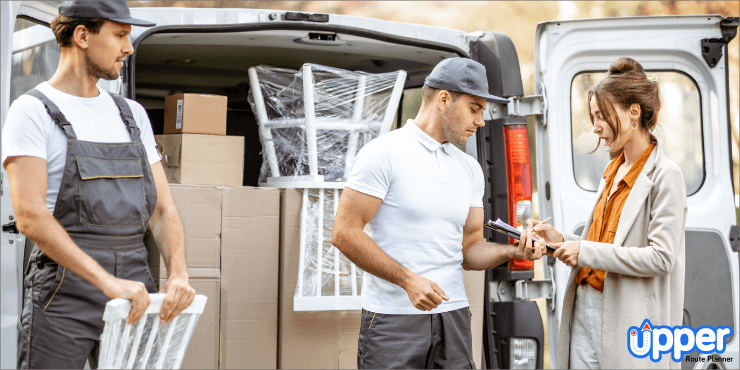 Upper e-Proof of Delivery feature helps your drivers collect signatures and capture photos of all successful deliveries. This improves drivers' accountability and reporting. It also eliminates manual delivery paperwork. This also helps dispatchers view all the delivery information once submitted and keeps everyone in the loop.
2. Furniture package tracking
The package tracking feature automatically sends notifications to the customer. This prepares the customers to let the delivery persons in and place the new furniture. If the customer is not home, they can either leave specific instructions or reschedule it by clicking on the notification.
3. Route optimization for furniture delivery
Upper's real-time routing technology helps you reduce the number of miles traveled, thus reducing up to 40% of your expenditure on gas and per-item shipping costs. You can quickly remove or add unplanned deliveries with ease.
4. Automated scheduling
With Upper, you can schedule your deliveries months in advance. The automated scheduling feature is designed to reduce the load on the back-office workers by about 6 hours.
Try Upper Route Planner's 7-day free trial today.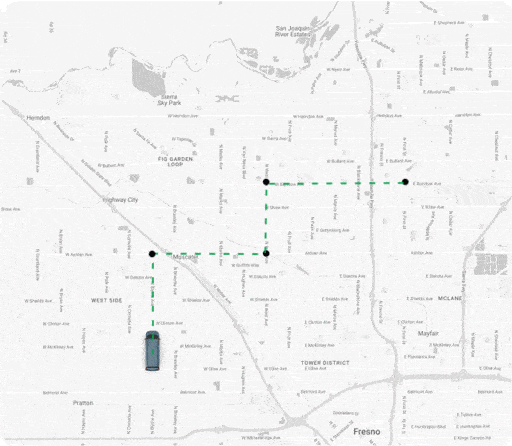 FAQs
Inspite of adopting the top pricing strategies and pre-planning your deliveries, you must ensure you have a seamless last-mile delivery process in place. Not optimizing final mile deliveries results in delayed deliveries and added costs, spoiling the entire delivery experience.
Yes, a route planning and optimization software like Upper, for example, automatically plans and optimizes efficient routes for your drivers to complete maximum deliveries per day. You also get access to features like proof of delivery, automatic ETA notifications sent to customers, and scheduling deliveries months in advance to further enhance the delivery experience.
The major challenge faced by in-house delivery businesses is logistics issues. Planning and preparing multiple stops route can take whole days. However, all these problems can be easily solved with smart solutions like Upper's automated route planning software.
Conclusion
Delivery of valuable items like furniture requires you to follow a smooth process. Customers choose the in-home delivery option for utmost convenience, so make sure your delivery process prioritizes that. Most of the challenges faced by in-home furniture delivery include using outdated route planning and documentation methods.
Simply getting new software to aid your drivers and back office should help you massively boost your operations. Along with a tech upgrade, follow the five tips mentioned above to improve your new furniture delivery business. Try the Upper 7-day free trial today.