Key Takeaways:
Starting a delivery service for furniture can be a lucrative business idea, considering how popular online furniture shopping is becoming
For the safe and effective delivery of furniture, a dependable and well-maintained delivery truck is essential.
Creating a credible online presence through social media and a website can assist in attracting new clients.
Adding more services, such as furniture installation and removal, can boost earnings and give the business a competitive edge.
The pandemic negatively affected multiple businesses, but that's not the case with every industry. Many business sectors saw a rise in their growth numbers.
And one such promising business industry is the online furniture delivery business. During the pandemic staying at home became a compulsion for everyone, leading to the increase in demand for multi-functional and versatile furniture products.
Here's the proof: The online furniture delivery and assembly business is estimated to grow by $84 billion between 2020-2024.
Now consumers want their furniture to be delivered to their home safely and assembled by professionals.
There are a lot of opportunities up for grabs in the furniture business delivery segment, and if you are looking to pounce on the opportunity, you are at the right place and at the right time. Since you want to know how to start a furniture delivery business, we have answered this question in-depth in this blog post.
Trends Showcasing the Increased Demand for Online Furniture Delivery
COVID-19 has disrupted the online furniture assembly business, including furniture delivery. People are switching towards buying furniture online without physically visiting the stores. We have spotted vital trends in the industry that can help you plan out your online furniture delivery strategy.
1. Rise in transactional searches
During a recent data source collected from Searchmetrics. People primarily use transactional keywords for the furniture sector than informational and navigational.
It states that the two-thirds majority of searches are focused on buying a furniture product online. It points towards the fact that the customers are aware of the problem and are looking for tailored solutions online to fulfill their rising furniture needs.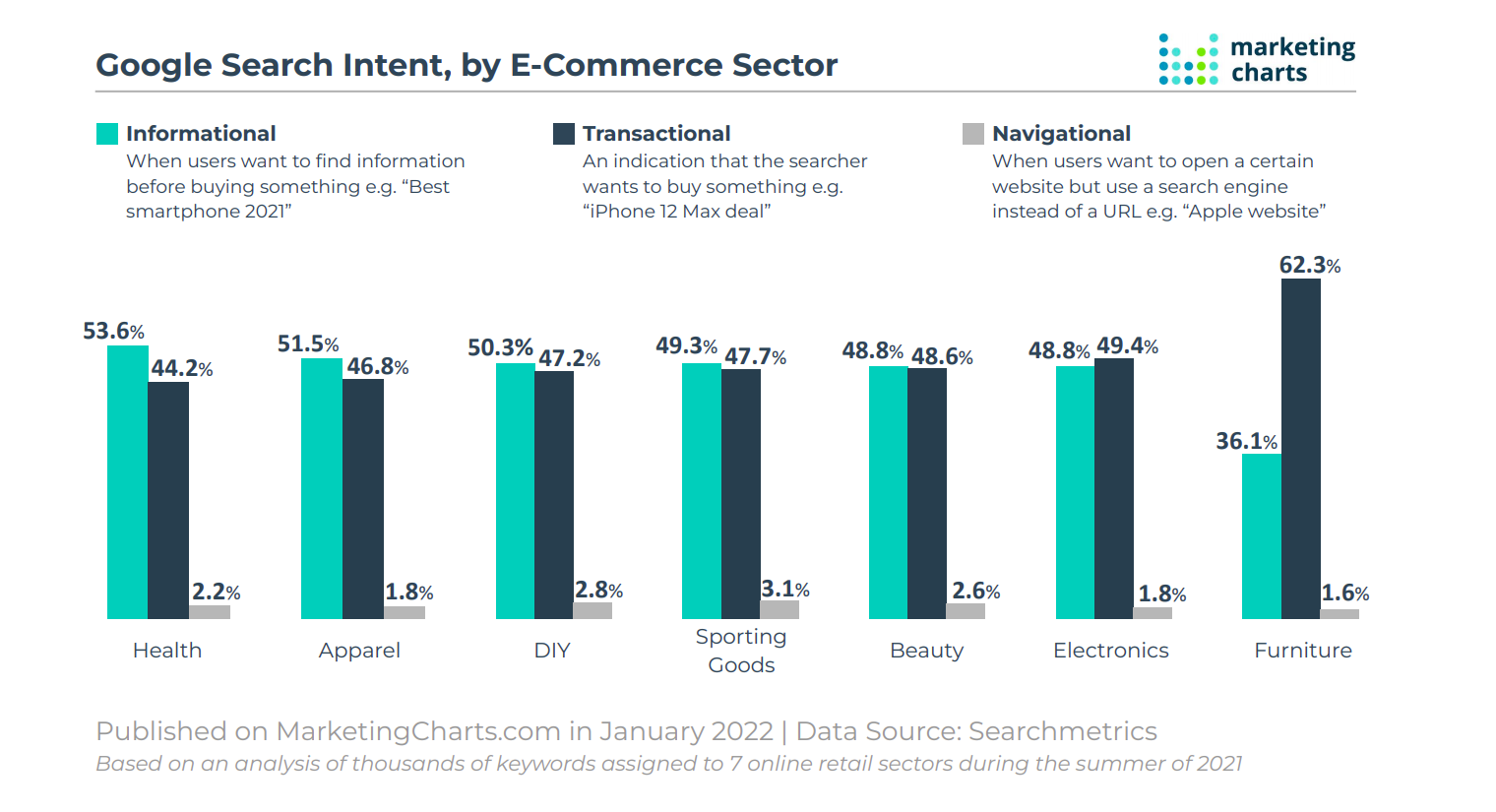 2. Changing consumer demands
Furniture segment is shifting towards ready to assemble (RTA) furniture over fully assembled furniture. A recent report from Statista states that consumers prefer RTA furniture because of its cost-effectiveness as the fully assembled furniture is 20% more expensive because of the assembly cost and high labor.
The opportunity arises in the cost-effective delivery and assembly industry, focusing on delivering RTA furniture with experts on board for smooth delivery and assembly.
Furniture business giants like IKEA have recently launched a new assembly service TaskRabbit, that delivers results at a $36 per item flat rate.
3. Last-mile digital transformation
With the global supply chain capsized due to the COVID-19 pandemic, the last-mile delivery and logistic business were not prepared for the rise in demand for furniture goods.
But slowly, as things normalize, digital transformation is being witnessed in the furniture delivery segment. Integration of new technology and strategies are being implemented by most businesses to tackle the demands of both the new customers, and old, and to deliver fast and secure furniture goods.
But still, 36% of the businesses believe their most significant pain point is tracking real-time visibility. Over 98% believe that on-time furniture goods delivery is a troublesome task they find hard to accomplish.
There are multiple segments that need to be improved with the end-to-end modern-day furniture assembly business. It's up to you to spot the lags and develop a polished furniture delivery workflow.
Now that you have understood the trends and changing furniture industry shifts, let's discuss the basics you need to understand before starting your business.
Basics on How to Start a Furniture Delivery Business
We have highlighted the most significant factors to help your bypass future hiccups:
1. Competitor and industry check
Understanding your competitors' approach and new business tactics will help you learn how and what can be done to improve your furniture delivery.
Check out the market leaders like IKEA, Alibaba, eBay, among others, and try to learn every detail about their business operations, furniture business services, their advertising and equipment, and products in their offering.
Understand the consumer and industry trends for better future projections and analysis. It will help you strengthen your foundational planning of the furniture business structure.
2. Planning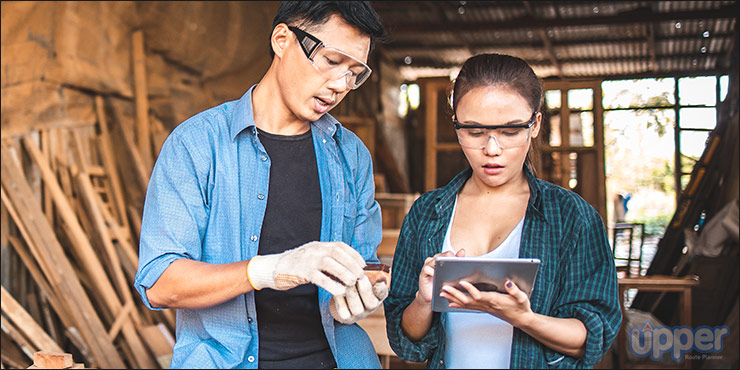 The research sets the tone for a robust business plan. You need to decide the niche you want to choose in the furniture moving industry. Also, highlighting the legal entity of your business is equally important than whether it is a partnership or sole proprietorship business.
Understand your strengths and weaknesses and select a preferred business model like D2C, B2B, B2C, among others. You also need to finalize whether you want to include the assembly services with your delivery part or not.
3. Detailing
Once you are done with the planning, you need to get into the detailing part of your furniture delivery business. In this, you need to apply for a Tax ID and cargo insurance, liability insurance of your company.
Select a catchy brand name that your customers can relate to and recall when they think of a quality online furniture store.
4. Storage and transportation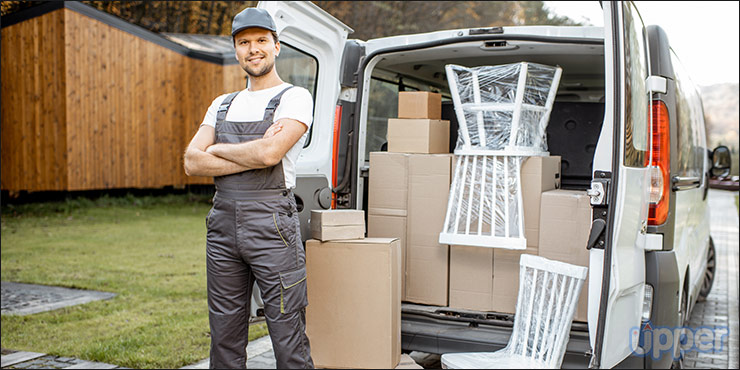 Thoroughly think about your warehouse management and the safe and secure order processing of your furniture goods. You need to tailor your goods for secure transportation and delivery.
Adapting to the RTA furniture is the need of the hour, and channeling your furniture delivery company towards transportation and ready-to-assemble products helps you adapt to the changing industry.
5. Online store setup
Creating your presence on the internet for easy accessibility for your target audience is crucial to digitizing a furniture delivery business. Develop an intuitive, fast, and customer-focused platform to enable your audience a quick buying experience.
Integrate a reliable customer support system to address your high-intent buying audience's pain points and queries to simply their buying journey. Hire professional designers and developers to deliver a quality user experience to your buyers.
Allure the young buyers with an excellent mobile app portal to help them connect with your brand with a button click.
6. Branding and marketing
Create a solid presence on social media platforms and strengthen your marketing efforts with impactful strategies. Build a reputed furniture delivery brand and compete with the leading brands in the industry with the help of your USPs and strengths.
Educate your audience why your furniture delivery brand is unique and what extra services you offer to your audience. Connect with your potential customers and create a vast audience base of happy and satisfied customers.
Focus on omnichannel marketing and channel your target audience on your online furniture portal for increased ROI and conversion rate.
7. Smooth buyer experience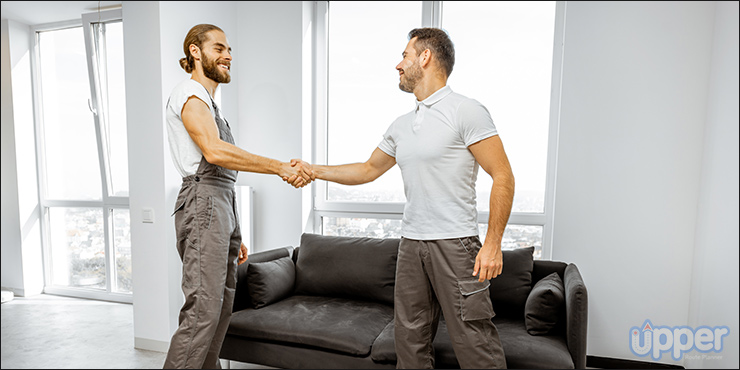 Create an ever-lasting buying experience for your visitors that you attract from solid marketing and branding on different platforms across the web. Remove all the buyer journey leaks, minimize the bounce rate, and improve the conversion rate.
Reduce the buyers' journey of the customer and enable them to purchase their desired furniture goods with minimal clicks on your platform.
Provide them detailed purchase information and tracking code for easy delivery tracking to enhance the user experience.
8. Delivery route planning and assembly management
The most critical stage of your furniture delivery business is bypassing the pain points many business owners face in the post-pandemic world. You need to deliver your customer orders safely and on time.
You need a robust delivery route planning and assembly management system to deliver a packaged modern-day furniture purchase experience.
People want to get quick, secure delivery and assembly service from furniture brands as they shift from physical store purchasing and fully assembled furniture goods.
Hire a talented team of assemblers that can help you deliver your customers a cost-effective assembly service. But it's up to you to include this into your business model.
And planning out delivery routes in advance and enabling your drivers with the latest technology is the thing you can't avoid in the modern era.
Why?
Let's find out.
Why is Route Planning and Optimization Important for Your Furniture Delivery Business?
Effective route planning is the most time-consuming aspect of making quick and secure deliveries to your target audience. In the case of furniture businesses where the transportation of goods is in large volume, you don't want your drivers to drive in a hurry and harm the delivery of consignments.
You want pre-built route planning, optimization strategies, and tools for smooth order processing and delivery.
But multiple businesses use Google Maps or Waze as their go-to route planning tool, but once the number of delivery orders increases, the efficiency of delivery decreases.
Google Maps is not equipped to handle multiple order deliveries and help you get the most optimized and shortest path for those deliveries.
It doesn't sync with Excel sheets and doesn't create a robust communication ecosystem with your logistics and transportation team.
So if not Maps, which route planning tool is best for your business?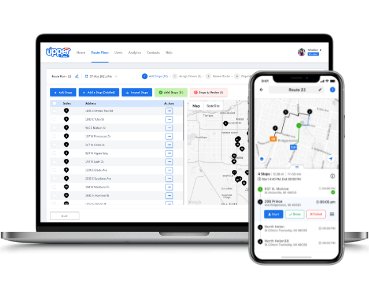 Upper Route Planner
A Simple-to-use route planner that every one is talking about.
Save up to 95% of planning time
Save up to 40% of time on the road
Plan 500 stops at once
FAQ
The success of the furniture delivery business depends on how good your fundamentals are. You need to understand the market leaders and consumer behavior, figure out the storage and transportation process, and strategize an advanced delivery and assembly process.
You need to have robust transportation and logistics operations to start a pickup and delivery business. You need to get the required approvals, licensing, and permits from the local government to avoid any hiccups with your truck and cargo van operations. Establish a robust marketing plan and increase your clientele to achieve desired business outcomes.
Yes, the furniture delivery business is a profitable venture. The prime reason behind the success of the furniture delivery business is the changing customer behavior towards ready to assemble furniture over fully assembled furniture. With the penetration of the internet and mobile phones and the impact of COVID-19, the shift in the furniture segment is excellent for the furniture delivery business.
According to the recent trends and the changing approach of the market leaders in the furniture industry, a cost-effective assembling service is an excellent service to add to your furniture delivery business. Now, people prefer ready-to-assemble furniture to assembled furniture, so there is a need for professional assemblers that can get things done cost-effectively.
The cost to start an online furniture delivery business is between $2000 to $10,000, depending upon the scale of your business, target audience, industry niche, and multiple other factors. The majority of your spending will be on your furniture delivery business's product procuration, logistics, and delivery segment.
Upper Route Planner Got You Covered
Upper Route Planner is a simple to use route planning platform that can help you increase your orders and productivity by 40%. With an intuitive design and powerful functionalities, you can use Upper Route Planner for your furniture business to:
Remove delays in multiple order delivery.
Monitor and optimize plan routes for quick and secure furniture goods delivery.
Integrate AI-powered software in your existing business ecosystem to get an extra edge over your competitors.
Get digital record proof of every delivery.
Get access to Upper Route Planner, enabling you to deliver the best delivery experience in the last-mile delivery industry.
Scale up your deliveries and handle your driver schedules with finesse from now on. Get a free 7-day trial to get a hands-on experience of the tool before purchasing.