Key Takeaways:
A memorable and unique name for a recycling business is ideal.

While selecting a name, it's crucial to take the target market and location into account.

Although creative and memorable names can be beneficial, they should also be appropriate and professional.

Avoid names that are too generic or too similar to those of other successful businesses within the industry.
Recycling businesses are gaining huge significance in today's world. With more people becoming environmentally conscious, new businesses are emerging to help save the planet. The waste management market was estimated to around USD 989.2 billion in 2021. So, the industry is vast and worth investing in, given the increasing number of waste produced around the world.
If you're wondering how to start a recycling business, there are several crucial aspects to consider. Apart from buying the necessary equipment and planning strategies, choosing the right name plays a significant role. In our blog, we've compiled the best practices and recycling business names in various categories, taking into account factors like uniqueness, creativity, and domain name availability to assist you in this endeavor.
Best practices for Recycling Company Name Ideas
The name of a recycling company generates the first impression, hence, it is crucial to choose a name that properly reflects the core values and mission of your business. If you've already decided on your waste management business idea based on recycling trends, here are the best practices you can follow to name your business:
Do's and don'ts while naming your business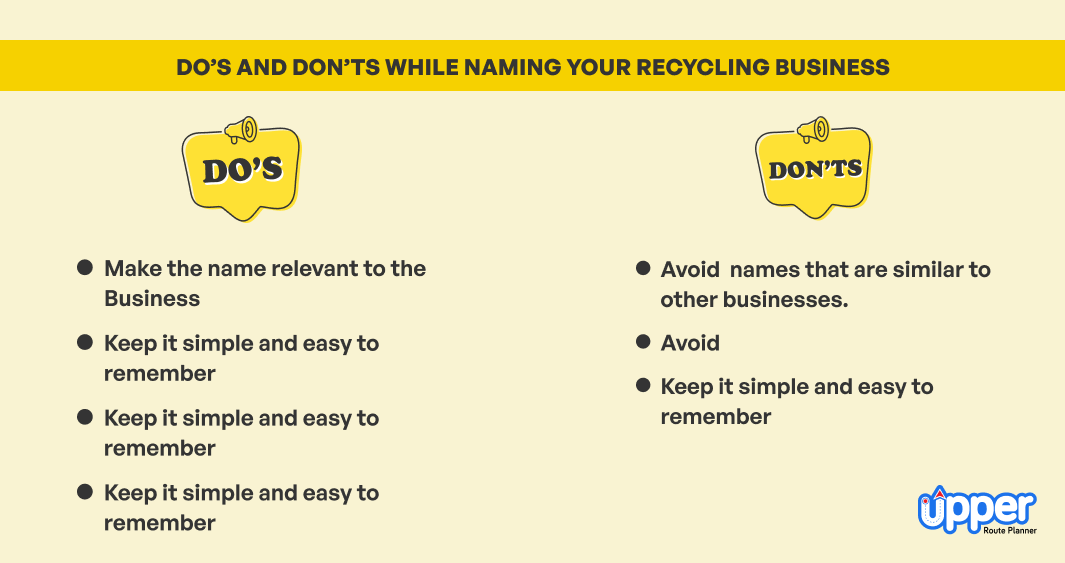 How to finalize a catchy recycling company name
Conduct a deep trademark search before choosing your name. It is a necessary step to check the availability of the name and avoid legal issues.
Have a second opinion from your friends, family, and target customers to know the feasibility of the name.
Check the availability of the domain name to ensure that it is easily accessible.
Choose a name that is future-ready and has room for growth as your business will eventually expand.
Top Recycling Company Names You Must Check Out
Whether you are starting a new business for sustainable life recycle waste or rebranding an existing one, the below recycling company name ideas will help you choose a name that accurately represents your business and sets it up for success.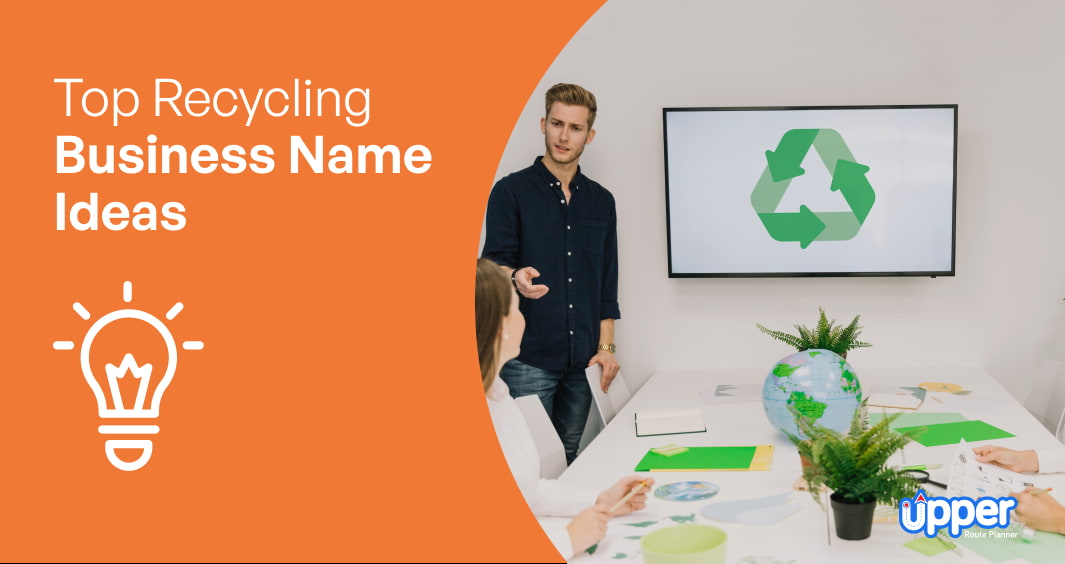 Unique recycling business names
Recycle Ranger
Renewal Cycle
Reclaim Waste
Second Chance Cycle
Sustain Cycle Company
The Circular Collective
The Eco Alliance
The Reuse Rebel
Up Cycle
Waste Less Corp
Eco Cycle Properties
Green Cycle Global Group
Recycle Rise Co
Zero Waste Nationwide
Clean Cycle Corporation
Earth Cycle Enterprises
Green Cycle Now Inc
Recycle Ready Corp
Reuse Cycle Incorporated
Sustain Cycle Now LLC
The Eco Collective Group
The Green Collectors Inc
The Waste Warriors LLC
Trash Disposers Co
Waste Wise Company
Zero Waste Collective Inc
Eco Cycle Company
Recycle Right Co
Waste Less Worldwide Corp
Eco Collect Inc
Green Cycle Group
Recycle Now LLC
Reuse Waste Co
Refuse To Lose
The Collective Inc
The EcoCycle Corp
The Green Waste Company
The Recycle Co Incorporated
Up Cycle Now LLC
Waste Free Inc
Eco Cycle Global Company
Recycle Right Now Corp
Waste Less Life LLC
Zero Waste Company
The Cycle Crushers Inc
The Eco Era Enterprises
The Green Guru Group
The Reuse Revolution LLC
The Waste Wanderers Corp
Trash Transformers Company
Fine Recycle LLC
Waste Less Worldwide Inc
Eco Cycle Creative Corp
Green Cycle Gurus Inc
Recycle Rebel LLC
Reuse Cycle Revolution Co
Treasure Cycle Solutions Inc
The Eco Explorers LLC
The Waste Warrior Company
Eco Cycle Intelligence Group
Green Cycle Genius Corp
Recycle Brain LLC
Reuse Cycle Think Inc
The Eco Intelligentsia LLC
The Green Genie Group
The Recycle Savants Inc
The Waste Wise Corp
Upcycle Minds LLC
Clean The Mess Company
Eco Cycle Thought Corp
Green Cycle Brain LLC
The Cycle Conservators
The Eco Innovators
The Green Innovators
The Reuse Revolutionaries
The Waste Wise Ones
Trash Transformations
Upcycle Originals
Waste Less Warriors
Eco Cycle Innovators
Green Cycle Pioneers
Recycle Revolutionaries
Reuse Cycle Innovations
Sustain Cycle Pioneers
The Eco Cleansers
The Green Revolutionaries
The Recycle Visionaries
Recycle Revolution
Renew Cycle
Re Waste
Second Life Cycle
Sustain Earthcycle Co
The Circular Collectors
The Green Collective
The Reuse Rangers
The Waste Wizards
Upcycle Hub
Waste Less Co
Zero Waste Nation
Litter Removers
Recycleme
Wasteland Company
Recycle Turn
Trash Diaries
Waste Recyclers
Recycle Police
Recycle Pond
Bottle Junkies
Catchy recycling business names
Earth Treasure Cycle
Reinvent Recycle
Just Recycle
Cycle Sustain Now
The Eco Collective
The Green Collectors
The Waste Fighters
Waste Wise Co
No Waste Collective
Eco Cycle Co
Recycle Right
Waste Less World
The Green Team
Waste Not Co
Zero Waste Zone
The Eco Warriors
Recycle Rockstars
Trash Turnaround
Waste Wise Wizards
Clean Cycle Company
Waste Less Wonder
Green Cycle Gang
Recycle Revolution
The Eco Elite
The Reuse Rebels
Waste Wise Warriors
Zero Waste Heroes
Recycle Rising
Green Cycle Gods
Recycle Rangers
The Eco Enforcers
The Reuse Rulers
Waste Wise Wins
Eco Cycle Elites
Recycle Rebels
Revolutionary Recycle
The Reuse Rebellions
Waste Wise Winners
Recycle Rescuers
Green Cycle Generals
Recycle Realists
The Eco Empires
The Reuse Rebirths
Waste Wise Wits
Trash Talkers
Null Waste
Eco Cycle Empowerment
Recycle Ravagers
Waste Less Wonders
GreenCycleGlory
ReCycleRealms
The Eco Enlightened
The Reuse Rebuilders
Waste Wise Wonders
Zero Waste Zenith
Ecocycle Setters
Recycle Radicals
Green Cycle Glorious
Recycle Renewed
The Reuse Rebounders
Trash Takers
Zero Waste Zones
Ecocycle Empowered
Recycle Rebounders
Recycle Vision
The Reuse Rebooters
Zero Waste Zealots
Eco Cycle Experts
Recycle Rebooters
Waste Less Warriors
Green Cycle Gladiators
The Eco Enthusiasts
The Reuse Rebel
Zero Waste Zeros
Ecocycle Empowers
EastSight Recycle Co.
Progressive Waste Solutions
Metro Transload
Remix Reuse
Transformers Recycling
Mineral Recycling
Cutting The Crap
Restless Recycling
Kickster Recyclers
Cycle Trail
Omitted Waste
Green Trash
Crashify
Recycli Bag
Re Chemicals
Sustainable Streamers
Green Wire Cycler
Junk Minions
Oracle Of the Recycle
Paper To Paperless
Waste Daddy
Recycle Healthy Minds
Modern Trash Dudes
Fineline
Recycling Works
Recycle Technocrats
Drive Recycling
Supply Scrap Mart
Rewind And Reuse
Renergy
Power Scrubber
Trash Removers And Recyclers
Bin-Trash Diving
Planet Cycling
Simple recycling business names
Greener Tomorrow
Recycle Works
Easy Recycling
The Green Solution
Sustainable Solutions
Reduce, Reuse, Recycle
Green Planet Solutions
The Recycling Solution
Waste Not
The Eco Company
Planet Protectors
Green Waste Solutions
Simple Recycling
Green Blenders
Recycling Revolution
Recycle It
Waste Wise Solutions
Waste Reduction Solutions
Greener Tomorrows
Simple Recycling Solutions
The Recycling Experts
The Green Machine
Waste Management Innovations
Greener Paths
Easy Recycling Solutions
Clean Planet Solutions
Reduce, Reuse, Recycle Co.
Recycling Solvent
Green Mergers
Planet Protectors Co.
Eco Cycle Innovations
Waste Reduction Innovations
Greener Tomorrows Co.
Simple Recycling Innovations
The Recycling Magis
The Green Mechanics
Rewaste Creators
Waste To Best
Zero Waste Degree
Zero Degree Waste
Excellent Recyclers
Green Blends
Repositive Reuse
Disposal Solutions
Nourish Green
Exchange Biz
Unified Recycling
Recycle Union
Redirect
Worthy Waste
Waste to Worth
Reinvent Recycle
Eco Void
Earth Care
Eco Caretakers
Reuse Earth
Fertile Earth
Junk Recyclers
Fast Recycling
Resources Recovery Inc.
Envirofuel Recycle
Scrap Processors
Green Corners Hauling
Green Envirotech
Friendly Energy
Meridian Trash
Mighty Recycling
Paperless Corp
Recycle Plastic Depot
Snowman Recycling
Global Materials Recovery Services
Global Resource Corp.
Metro Alloys
Aevitas Recycle Co.
Shed Disposal UK
Butler Paper Recycling
Waste Connections 1st Place Recycling
Desert Recycling
Suburban Miners
EddyMade Recycle Co.
Urbeno
Forerunner Computer Recycling
Big Iron Recycling
Clean the World
Genesis Electronics Recycling
College Hunks Hauling Junk and Moving
Bulldog Tire Recycling
Recycled Furniture
Appliance Recycling Centers of America Inc.
International Paper
Bestway Recycling
Green Fiber
Ace Intermountain
Zero Waste
Dump Removal Services
Rescrap Enterprises
Waste Pros
The Center for Recycle Materials
Trademark Trash Recycling
Grassy Recyclers
Pure Earth creators
Modern Recycling Center
Scrap Recycling
Capital Rescrap Metals
Recycling Services of America Inc.
Rebel, Recycle, Auto Salvage
Tank's Recycling And Roll Off
American Metal Warriors
Creative recycling business names
Re Generate
Green Genie
Repurpose Solution
Eco Renew Green
Earthly Recrystal
Recycle Biz
The Recyclartists
Re Earth
Upcycle Artistry
Wellness Cycle
Green Bio Logic
Revamp
Dispose To Repose
Waste Crafters
Second Chances Recycling
Clean Green
Planet Preservers
Green Artisans
The ReUse Creatives
Simple Sustain
Trashy Treasures
Scrap Recycle
The Green Genies
Recycling Renaissance
Biomagic
Life Restore
Recycle Laundry
Easy Eco
The Green Masters
The Green Catalysts
Reduce, Reuse, Recycle Designs
Green Planet Innovators
The Recycling Masterpieces
Waste Less Wonders
Rethanol
Recomodel
Recyclope
Plastic Recycle
The Reuse Masterpieces
Simple Sustain Designs
Repurpose Recycle
Purposely Recycle
Red To Green
Recycling Revolution Designs
Eco Recycle Vision
Earth Rewise Innovations
Clean Planet Vision
Eco Fix Cycle
Greener Tomorrow Designs
Biz Waste Recycle
Waste Wonders
Artsy Cycle
Reconditioned
UpCycle Masterpieces
CleanCycle Innovations
Waste Management Masterpieces
Second Chances Designs
RecycleRight Innovations
The Waste Solution Designs
Greener Path Innovations
ReCycle Artistry
Easy Eco Designs
The Green Solution Designs
Sustainable Style Innovations
Clean Planet Artistry
Reduce, Reuse, Recycle Masterpieces
Green Planet Designs
The Recycling Artistry
WasteLess Innovations
The Eco Creatives
Planet Protectors Masterpieces
Green Waste Designs
The ReUse Innovations
Simple Sustain Masterpieces
Waste Wise Masterpieces
The Eco Artists
Green Cycle Designs
Recycling Renaissance Designs
ReCycle Wonders
Waste Wise Designs
Clean Planet Designs
EcoCycle Innovations
The Reuse Revolution Innovations
Waste Reduction Designs
Greener Tomorrow Masterpieces
Simple Recycling Designs
Zero Waste Artistry
The Recycling Innovators
The Green Machine Masterpieces
Sustainable Style Masterpieces
CleanCycle Designs
Waste Management Designs
Second Chances Innovations
Recycle Right Designs
The Waste Solution Masterpieces
Greener Path Designs
Recycle Innovations
Easy Eco Masterpieces
The Green Solution Masterpieces
Sustainable Style Designs
Enviro Recycle
Full Cycle
Dynamic Recyclers
American Recyclers
Computer Recycle Green
Green Town Recycling
Urban Mess Recycling
Intelligent recycling business names
Eco Brain
Mind Green
Think Zero Waste
Waste Intelligence
Genius Green Cycle
Recycle Genius
Reverse Trash
Upcycle Intelligence
Trash Transformation Intelligence
Waste Wizardry
Eco Artisan Solutions
Green Cycle Intelligence
Trash Reversal
Recycling Revolution Solutions
Greener Path Solutions
Easy Eco Solutions
Green Solution Innovations
Sustainable Style Intelligence
Smart Trash Recycling
Scrap Trading Intelligence
Spin Trash
Trash Spin
Switch Green
Smart Trash Brain
Ingenuity Recycling
Limited Waste
Dump Reverse
U-Turn Trash
Trash Recycle Champs
Recyclably Yours
Sustainable Intelligence
Smart Earth Caretakers
Green Care Solutions
Neat And Green
Neat Yard Solutions
Scrap Doctor
Mess Soother
Healing The Mess
Mess To Marvel
Terra Recycling
Recycling Forever
The Power Of Recycling
Infinite Times Recycle
Dark To Light Recycling
Heavenly Cleanse
Purify Map
Replastica
Extreme Detox
Deep Cleanse
Turn Around Cycle
Planet Recology
Ace Green Zone
Plastic Terra
Repurpose Purify
Aqua Junk Shred
Mineral Might
Repaper Works
Eco Organics
Recycle Fashion
Factory To Recycle
Plastic Myths
Plastic Haulers
Onyx Recycling
Total Recycle
Inter Trash Yard
E-waste Removal
Vibe2Recycle
Star Trash Removers
Helpful Hands
Ecycle America
Egreen
Opticycle Green Makers
Recycling Holistics
American Recycling Intelligence
Ecolab Green
Recycling Bits
Bits and Pieces
Scrap Collectors
Green Vibes
Debris Recycle
Particles to Treasure
Sorting Trash
Disintegrators
Reusista
Reconcile Junk
Regroup Chemicals
Chemicycle
Bio Green Innovators
Green Faces
Healthy Eco Creations
Polish Resin
Posh Recyclers
Tectonic Wombox
Rematter Scrap
Scrapster
Dumpster Recycling
Posh Disinter
Recycle Solid Waste
Waste Recycle Theory
Bio Waste Management
Resincraft Renewal
Polished Junk
Matter To More
Rematter Repurpose
Substicycle
Solid Rethink
Reimagining Waste
Cool recycling business names
Re Cycle Rocker
Eco Reuse
The Trash Turners
Waste Waves
Upcycle Urbanites
Green Globe
Sustainable Shapers
Trash Tribes
Reuse Rave
Eco Elevate
The Waste Wranglers
Green Grit
Upcycle Universe
Universal Recycle
Sustainable Sonic
Trash Tropics
Reuse Riff
The Waste Warper
Green Captains
Green Groove
Upcycle Utopia
Zero Waste Zen
Sustainable Sonic Boom
Trash Trailblazers
Reuse Setters
Eco Expand
The Waste Wormhole
Upcycle Unleashed
Zero Waste Zigzag
Mess Cleansers
Sustainable Shimmer
Trash Trekkers
Reuse Rhythm
Eco Evolve
The Waste Warp
Green Galaxy
Upcycle Upbeat
Zero Waste Zing
Sustainable Spark
Trash Touche
Reuse Rhapsody
Eco Excel
Green Glimmer
Upcycle Uptown
Zero Waste Zap
Sustainable Shine
Trash Trail
Recycle Rhythm
Green Glow
Green Earth Creators
Infirecyle
Trash To Cash
Cashify Trash
Remedy Recycle
Carbon Recycle
Redeem Waste
Nullify
Space Zero Recycle
Redeem And Revive
Refine and Redeem
Trash Trail Breaker
Waste Remover
Amplify Green Energy
Messy Hands
Clean Gurus
Green Beasts
Green Wave Waste Management
Take Trash Back
Garbage Out
Earth's Sustainers
Mobile Trash Cleaning
Cleaning On Wheels
Trashify
Green Central
Green Recycling Ship
Green Rocket
Earth Healer
SpaceO Green
Green Ship
Greenify
Recyloservice
Serving The Earth
Earth Recycle Heros
Recycle Magnets
Recreate Recycle
Reuse Recreate
Plastic Recyclers
Green Acclaim
Recycling
Green Disposal Services
Rubbish To Reserves
Recycle Giant
Green Recycle Factory
Green Heart Healer
Aqua Manage
Ocean Recycle
Tidy Earth
Healing Earth
Higher Recycling
Power Green
New Energy
3D Renewal
Recycle Experts
Urban Recycle
Fit Earth Recycling Plant
Recycling Plant
Creative Reuse
Recycle Magicians
Next generation recycling business names
Next Gen Waste Warrior
Waste Wise World
Eco Era
Next Level Reuse
Waste Wise Nexus
Recycle Rise
Eco Edge
Next Gen Waste Ways
Future Cycle
Waste Wise Waves
Renew Reuse
Next Level Waste
Recycle Reset
Eco Emerge
Next Gen Waste Wizards
Future Sustainability
Waste Wise Web
Renew Restore
Eco Empower
Recycle Reboot
Eco Emergence
Next Gen Waste World
Future Sustainables
Renew Regenerate
Next Level Waste Warrior
Sustain Future
Waste Wise Wasteless
Eco Elites
Renewed Reality
Fighting Waste
The Upcycle Underground
Planet Protectorate
The Reuse Heros
The Recycling Renegades Co.
Second Chances Unlimited
Zero Waste Warriors
Trash Renewal Rangers
The Reclaimed Revolution
Pure Planet Power
Green Globe Innovations
The Reuse Dumpster
Earth's Edge Enterprises
The Recycling Renaissance Co.
Junk Jumpstart
Dump To Treasure
Renew and Rebuild
The Clean Planet Collective
Eco-Enterprising
The Next Gen Recycling
The Recycling Roundabout
The Reclaimed Resource Renegades
Waste Conserve Worldwide
The Reuse Factory Inc.
Revive Renaissance
Eco-Empires Inc.
Pure Planet Pioneers
The Reclaimed Revolutionaries
Green Life Innovations
The Reclaimed Planet Collective
Renew and Rebuild Resources
The Recycling Takers
The Clean Planet Community
Second Chances Inc.
Recycle Rain
Revolution Reclaimed
Pure Planet Partners
Go Green Innovations
Edge Recycling
Junk Cleanse
Dump to Trendsetters Inc.
Renew and Rebuild Group
Future Group Recyclers
Ecomix
The Next Gen Recyclers
Eco Pioneers
Recycled Reclaimed
Green Life Group
Sustainable Planet Collective Inc.
Renewbuild Resources
The Green Crusaders
Second Chances Group
The Renewal Rangers Group
Recycling The Future
Reuse Reclaimed
Green Globe Group
Reuse Revolutionista
Earth's Group
Junk Jumpstart Group
Trash to Trendsetters Group
Rebuild New
Eco-Enterprisers
The Ultra Gen Recycling
The Roundabout Group
The Renewal Roundtable Inc
Magi Recycle
Swap Trash
Green Dudes
Futurista Recycle
Equinox Recycling Company
Dimensional Recycling
Optimal Future Recycling
Happy Waste Recycling
Recycle Matrix
Recycle Marvel
Recycling Trash
Junk Removers
Green Quest
Waste Wave Blend
FAQs
Here are a few of the waste management industry trends:
Circular economy
Advanced recycling technologies
Data and analytics
E-waste management
Here are a few companies that are known for their recycling operations:
Waste Management Inc.
Republic Services
Veolia
Clean Harbors
Yes, recycling can definitely be done as a side hustle. You can start selling recyclable materials to recycling units, upcycling or repurposing old items, or have your own recycling business to address recycling problems. However, you must have proper knowledge and passion to fulfill your daily operations with efficiency.
Conclusion
A great business name does a lot more than you can imagine! Along with attracting new customers, it helps establish a worthwhile brand reputation and make you stand out. However, you can't make it to success with the name alone, while you are still stuck in manual route planning. To get a competitive edge, you need a smarter way to schedule your waste management services.
Upper Route Planner is the right and perfect solution that removes all the hassles from your daily route dispatch operations. You can create your waste collection routes within a few seconds and assign them to multiple drivers for faster task completion. All you need is to import multiple addresses from your spreadsheet, verify your stops and simply get optimized routes with a single click.