Key Takeaways:
Understanding your target audience and their needs before implementing marketing efforts will lead to desired outcomes.

Get an edge by developing a unique selling proposition to stand out from your competitors.

Measuring your results to identify areas of improvement is key to optimizing your campaign for better results.

Use SEO, social media tools, local ads, content marketing, and Google ads, to promote your brand effectively.
As a business owner, your main requirement will be a stable growth in the business. Isn't it? So, whether you are just starting your recycling company or already running an established business, having an effective marketing strategy will ensure that you are always on the path to growth.
How? A proper marketing strategy helps you stand out and positions your recycling business as an authority in front of your target audience.
This is why, here, we have listed 8 recycling marketing strategies that you can implement right away to boost your business.
8 Recycling Marketing Strategies for Growing Your Business
To catch up with the amount of waste we are producing every day, more and more recycling businesses are opening up.
Even though this means a bigger market, the concern is making a place for yourself among competitors. And this is where marketing comes in. Alright then, moving on quickly to 8 recycling marketing strategies.
1. Search engine optimization (SEO)
Ever wondered how search engines like Google figure out which webpage to keep higher for a specific query? It's all search engine optimization. Here is an example: –
The reason why our blog post ranks on top for the search term "recycling business ideas" is that we have optimized it to rank higher along with writing quality content.
How does SEO benefit your business?
By optimizing your website, you can improve your visibility to potential customers who are searching for recycling services in your area. This ultimately generates more leads and sales.
How to implement it?
Firstly, start by conducting keyword research to determine the terms your potential customers are searching for.
Optimize your website by including these keywords in your page titles, meta descriptions, and content.
Ensure that your website is mobile-friendly, fast-loading, and easy to navigate, as these factors can impact your SEO rankings.
As far as SEO is concerned, we are just scratching the surface here as it is a very vast topic. So, here is a great SEO guide from Hubspot if you want to know more.
2. Social media
Do you know?
71% of small and mid-sized businesses use social media for marketing themselves as per the data from BusinessDIT.
Yes, that's right. 71% of small and mid-sized businesses are using social media. But, ever wonder why? Because their target customers are hanging out there.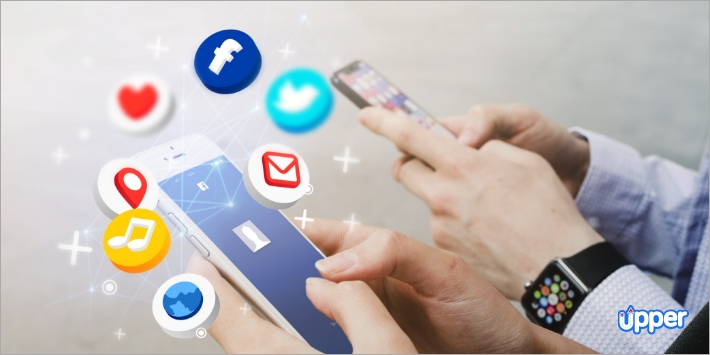 So, with billions of people using social media, most likely, your potential clients also are spending their time on social media. Then, why not use this opportunity and connect with them at a place they love?
Social media is an excellent tool for promoting your recycling business and engaging with potential customers. By creating a social media presence, you can connect with your audience, build relationships, and generate leads.
What are the benefits of opening social media accounts?
Increases your brand awareness.
Helps you build a relationship with your potential customers.
Drives traffic to your website.
Generate potential leads for you.
Steps to implement the process
One needs to create social media accounts for free. Then, come up with a social media strategy that outlines your goals, target audience, and the platforms you will use.
Later, add engaging content, such as infographics, photos, and videos that highlight the importance of waste management and showcase your services.
As you continue, engage politely with your audience by responding to comments, messages, and posts. In case you need more help, here is HootSuite's guide to creating a social media strategy.
3. Local ads
It is a quick but paid way for local businesses to get in front of people in their region. By advertising your recycling services in local media outlets, such as newspapers, radio, and TV, you can generate awareness and attract new customers.
How do local ads benefit your business?
Social media and SEO are effective but may take time to give you results. So, if you are in a hurry, local ads are great to spread the word quickly for your business.
How to run local ads?
Identify the local media outlets that your potential customers consume. 
Create a compelling ad that highlights your unique selling proposition (USP) along with your contact details. 
Track the performance of your ads and adjust your strategy accordingly.
4. Local SEO
Well, before you ask the difference between SEO and local SEO? Here it is – Unlike SEO, local SEO is focused on improving your visibility in local search results.
To give you an idea, here is the local search result that pops up for the search term "recycling businesses in Chicago."
What benefits your business will achieve?
By optimizing your account Google My Business and Bing Places for local search, you can attract more people looking for your services in your area.
In other words, proper implementation of local SEO improves your visibility to potential customers in your region, generates leads, and drives foot traffic to your office.
How to start local SEO?
Create accounts for Google My Business and Bing Places and fill them with up-to-date information about your business.
Then, you need to collect reviews from your clients. The more the reviews and better the quality of reviews, the more your chances of coming higher.
Getting more customers means that you will need higher efficiency in your daily business operations.
Optimize Your Multi-stop Routes Instantly on Upper
Now get faster routes in the click of your finger and share them with your drivers to wrap the waste collection process early.
Start a Free Trial

5. Industry directories
Directories are a quick and easy way to promote your business. You can find many directories online related to the recycling industry that allows you to register your business in them.
However, you don't need to be limited to industry-specific directories. There are even general ones in which businesses of various industries come to promote their business.
How will it benefit your business?
These directories are where a lot of people come to find service providers for their needs. So, being registered there means you can improve your online visibility, generate leads, and drive traffic to your website.
How to add your business to industry directories?
Identify the industry directories that are most relevant to your business. One such example is Waste Advantage Magazine.
Create a profile for your business that includes accurate and up-to-date information about your services.
6. Content marketing
When talking about marketing, you cannot ignore content creation. It is one of the best strategies for establishing yourself as an authority.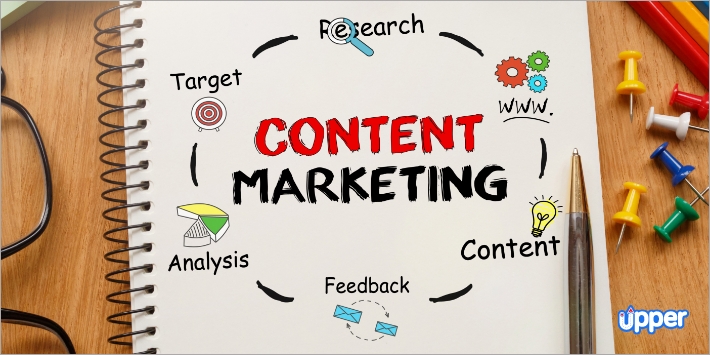 Thus, by creating informative and engaging content, you can position your business as an authority in the recycling industry and attract more customers.
Does content marketing benefit your business?
The benefits that content marketing brings you are immense if done consistently right. It not only helps you improve your SEO to boost your brand awareness but also establishes your credibility as an expert.
This, in turn, means more leads and sales coming your way. And by the way, all this is free to do.
How to do it rightly?
This is a huge topic in itself and can easily take a book to cover it fully. But to get you going:
Start by identifying the topics that your potential customers are most interested in. 
Create high-quality content, such as blog posts, infographics, videos, and e-books, that addresses these topics. 
Finally, promote your content through social media, email marketing, and other channels to reach a wider audience.
Here is a guide for content marketing from Search Engine Journal if you want to dive deeper into it.
7. Local events
Have you ever thought of promoting your business at local events such as trade shows, fairs, and community events?
If not, you are missing out on a great way to promote your recycling business and connect with potential customers in person. By participating in local events, you can build relationships and generate leads.
How you can make the most of local events?
Even though it can cost you some money, participating in local events can put you in front of people with a similar interest such as recycling waste materials and waste management.
This can not only help you find the right clients but also build relationships with potential customers and even other businesses similar to yours.
What is the procedure?
Find local events that your potential customers are most likely to attend.
Create a compelling display that showcases your services and unique selling proposition (USP). 
Provide promotional leaflets so that people can contact you whenever they need your services
8. Google Ads
With Google Ads, you can create ads that appear on the search engine results page for your target keyword. If you want to spread your promotion further, going for display ads is also an option.
In this process, Google shows you banner ads on others' websites whenever it deems relevant as per your needs.
How Google Ads can promote your business?
Google Ads is a quick way to bring highly targeted traffic to your website. So, by creating compelling ads, you can attract potential customers who are searching for recycling services in your area.
How to run Google Ads?
Do keyword research to determine the search terms your potential customers are searching for.
Create compelling ad copy that highlights your unique selling proposition (USP) and compels people to take your desired action like booking your services.
Set a budget for your campaign, and monitor its performance closely to adjust your strategy as needed.
These were 8 strategies for marketing that are easy to implement and reach the right customers. However, you may need extra to expand your business network and establish loyal customer base. For that, let's check out the next section.
How to Make Your Marketing More Effective?
Strategies are actionable and great, but it may not work if you follow them mindlessly. They will only result in the expense of time, effort, and money with little to no business growth.
Nonetheless, here are 3 things you need to do as you start promoting your business to make your efforts more rewarding and worthwhile.
1. Understand your target audience
This is the biggest and costliest mistake people make when promoting anything – they don't even know whom to convince.
Ignoring this makes your effort so scattered that you barely get your desired results, if any. Instead, if you know who you are trying to connect with, you can customize your campaign as per their needs. This greatly increases your chances of conversion.
So, what's the solution?
Brainstorm who you are trying to target or who actually needs your service.
Conduct market research to gain insights into the pain points, motivations, and behaviors of your target audience.
Then, use this information to create buyer personas that represent your ideal customers. 
With this information, you can create marketing campaigns that speak directly to their needs and preferences.
2. Develop a USP
Your unique selling proposition is what sets you apart from your competitors. It basically gives your target audience the reason why they should choose you for recycling services over others.
How to develop it?
The first step is to identify your strengths and weaknesses as a business. Here, knowing yourself is important to find your USP.
Next, is monitoring your competitors to see how they are positioning themselves in the market. Ask yourself if they are trying to be the most affordable, reliable, balanced, or anything else.
Now, look at the insights you have gathered to come up with something that sets you apart.
Pro tip: USP should make you stand out in a way that the targeted audience desires. Being different from everyone but undesired is a poor USP to have.
For example, positioning your business as "High-end yet unreliable" is unique but may not be useful because no one wants to work with such a company.
3. Do frequent check-ups
Measuring and analyzing the results of your marketing campaigns is essential for understanding what is working and what is not. With this, you can tweak your approach as you move along the path of marketing.
How to do the analysis?
Set clear goals and KPIs for your marketing campaigns.
Use analytics tools to track your progress and measure your results. 
Analyze this data regularly to identify trends and areas for improvement.
Use this information to make data-driven decisions and optimize your effort for better results.
FAQs
Marketing is essential for any business, not just recycling businesses. Below is why marketing and advertising is essential:
Increases your brand awareness
Attracts new customers
Builds loyalty with existing customers
Makes you stand out from your competitors
Creates a strong presence in the market
Simply you can take help from digital tools you use during your marketing campaign to track the results. For example, use Google Ads to determine the effectiveness of your currently running ads. Social media sites also have analytics in place to show you how your posts are performing. In case of SEO, you can invest in a paid tool such as Semrush, Ahrefs, or some other.
Yes. But it is totally up to you. If your budget allows, you can take advantage of the expertise of a marketing agency rather than beating around the bush by yourself. This will save you a lot of time. However, it isn't a total necessity. You can do it yourself and even succeed if you have the willingness to learn. And, just in case, if you don't, the doors to a good marketing agency are always open.
Creating a business plan for your recycling business is helpful to guide your efforts in the right way. Here are the steps that you need to follow one-by-one.
Create an executive summary
Write company's description
Make financial projection
Comply with regulations
Include offered products & services
Develop SOP
Conclusion
We understood that effective marketing isn't just about selling your services, but also about educating and inspiring your audience to make a positive impact on the environment.
The more you inspire them, the better you will be known for. So, the best marketing strategy doesn't target the wallets of people, instead it wins their trust as well. Ultimately, it results in more customers that can lead to profitable business.
On the ending note, we recommend you try Upper to reduce the time taken for waste pickups. The route planner is equipped with some unique routing features, which help you stay on top of your business. Avail a 7-day free trial now.