The trucking industry market has been steadily growing in recent years as a result of the improved economic demands for inland freight transportation in the United States.
The entire market size of the trucking industry in the United States was estimated to exceed 212 billion US dollars by 2021.
These numbers surely convey the industry demands rightfully, don't they?
And that is why to scale your business further and satisfy industry demands, you need a proper and long-term solution to streamline your business operations.
A truck scheduling software automates all work processes for your transportation or delivery business company and its employees. Whether scheduling tasks, compliance, customer communication, or task management, you can get them all done in a matter of moments.
But how to find the ideal one that will suit your company's business needs, reduce operational costs, and increase profitability?
According to the American Trucking Association, freight tonnage will increase by 24% in 2022, resulting in a 66% increase in industry revenue.
To be on the list of reigning companies in the industry, you need to invest in an ideal software.
And to help you with this, we have created a list of some of the best trucking dispatch software in 2022.
But first, let's understand what truck dispatching software is and how it works.
What is a Trucking Dispatch Software?
A trucking dispatch software is a technological solution that helps trucking companies reduce their business operational costs.
It is also an impressive management software that supports trucking companies by managing and tracking their assets and inventory and optimizing delivery routes.
This software also helps schedule and assign tasks and reduce risk factors associated with the freight and logistics industry.
How Does a Trucking Dispatch Software Work?
A trucking dispatching software helps trucking companies pair delivery drivers and their fleets with shipment items that need to be delivered.
The truck dispatch software technology can assist in managing all stages of the supply chain. Many systems are integrated with retail technology and other software used in the logistics and trucking industry.
Another remarkable feature of this technological solution is that it can offer customers increased transparency. Customers can track their packages at every stage of the delivery operation. They appreciate being able to track shipments through web portals using their smart mobile devices.
By eliminating confusion and perhaps preventing assigning the wrong staff to a certain work, dispatching the right delivery driver will decrease expenses and boost driver satisfaction ratings. Once drivers accept the task, they will see precise route planning instructions, making the delivery procedure incredibly simple.
Managing all deliveries with a trucking dispatch and schedule software system can also help you satisfy all delivery timetable assurances and maintain your company's reputation.
Based on the software solution you choose, you might be able to access the following features and facilities:
Dispatching based on priority and operations logic
Automated scheduling
Option to automate or manually handle dispatch
Route optimization
Integration with third-party software solutions
Custom workflows
Increased visibility and improved collaboration for all parties involved
Access to analytics and data
Choosing a truck dispatch software solution should be a simple process; however, you must also look at some important factors before making the final decision.
Factors to Look for in a Truck Dispatch Software
Choosing an appropriate truck dispatching software will allow you to get the most out of the benefits it offers. Before you begin assessing your choices, make sure you understand the most crucial aspects to look for in a software system of this category.
1. Operational aspects that are reliable
Several software systems lack critical functions that enable trucking business companies to manage their operations efficiently, such as order processing and driver assignments, as well as updating clients about successful deliveries.
Ascertain that the trucking software system you choose has the following operational features:
Planning and dispatching
Task administration
Effective communication
2. Support for your work of specialization
Based on your trucking business company's specialization, choose a software system that offers the best capabilities and flexibility. If you specialize in retail delivery services, for instance, you'll want a system that integrates with the major retail software solutions and eCommerce platforms.
3. User-friendly
The more complex the software technology is, the less likely your staff will be able to take advantage of its capabilities and benefits. Choose a software solution that is simple to navigate and set up so that your entire workforce engages with it and makes full use of it.
4. Excellent customer service
Even if you use the best truck dispatching software, you may run into instances where you require help from the software vendor. Prepare for these possibilities by using software that offers excellent customer service and support. That way, the software company will be able to resolve any issues you may have at a time when you require their support and assistance the most.
Let's take a look at the top trucking dispatch software solutions available on the market right now. Choose what's ideal based on your company's niche and specific demands.
List of 6 Best Trucking Management Software in 2023
These are the top dispatch software options for your small business:
Upper Route Planner
TruckLogics
ITS Dispatch
Axon Trucking Software
Samsara
ProTransport
1. Upper Route Planner
Upper Route Planner is a trucking dispatch software that improves your delivery process by optimizing routes efficiently and dispatching all delivery tasks even faster.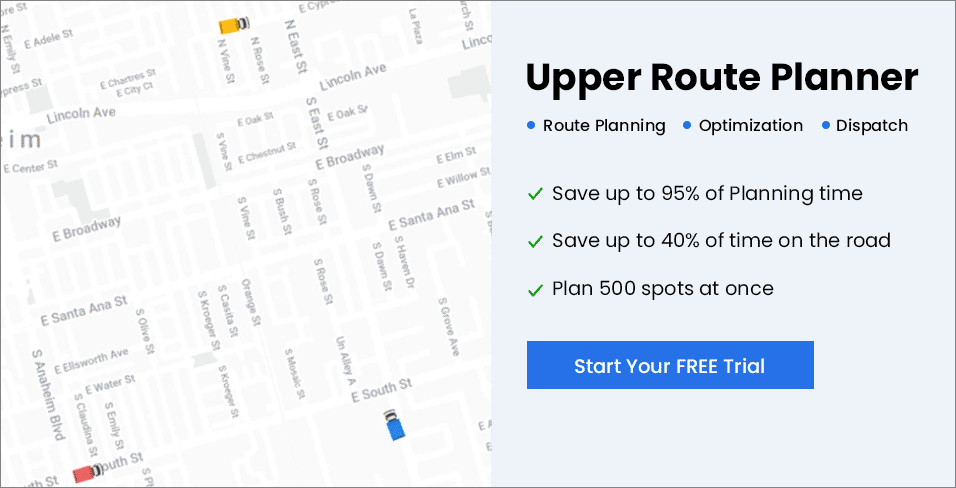 It integrates the route optimization solution with an advanced scheduling program to improve operational efficiency. With such a robust trucking software solution, optimizing and scheduling routes has never been easier.
Our dynamic route scheduling algorithm enables fleet managers to change or rearrange delivery routes, optimize and balance driver responsibilities, and organize weekly pickup and delivery schedules many months ahead of time.
Your drivers can get their everyday delivery routes by text and email. If a driver is unavailable or unreachable due to an emergency or an unforeseen situation, you can quickly reassign the same route to another driver. This technique ensures that you easily complete your daily shipment target without any delay or hassle.
Using Upper Route Planner, you can also improve the overall visibility of your transportation business operations with live tracking links and gain your clients' loyalty. Our software solution also aids in increasing client satisfaction and client retention.
Looking for a Simple Truck Dispatching Software?
Try Upper Route Planner, an all-in-one truck management software to meet all your needs. Automate every process from routing and scheduling to dispatching with Upper.
Try Upper for Free

Benefits of using Upper Route Planner:
Import and plan up to 500 delivery locations at once with ease.
Optimize each delivery location along the route by including delivery parameters, such as time windows, service time, and doorstep delivery.
Optimize hundreds of delivery stop locations in less than 5 minutes.
Provide safety and comfort to your clients by sending delivery notifications via email and SMS at every stage of the delivery process.
Generate electronic proof of delivery by photographing the package, recording the customer's signature, or adding notes to confirm successful delivery.
Provide an overview of daily, weekly, or monthly reports to fleet managers and dispatchers to reflect on the daily delivery duties accomplished.
Resolve issues hassle-free with a diligent and reliable customer service team.
Pro Tip: Enjoy the benefits of our 7-day free trial and learn about Upper Route Planner and its remarkable key features better.
2. TruckLogics
TruckLogics is a fleet management software solution designed for small- and medium-sized full truckload (FTL) and less-than-truckload (LTL) companies.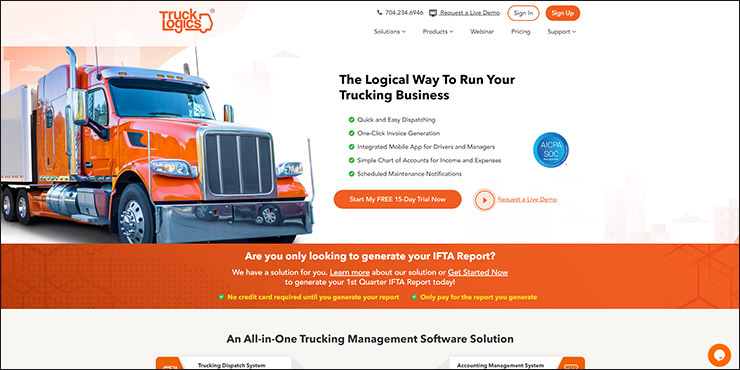 TruckLogics provides traditional fleet management services, such as route planning and optimization, dispatch, shipping brokerage, and pricing. It also offers load optimization, quote management, compliance management, and fleet maintenance.
TruckLogics also includes barcoding, fuel accounting, inventory tracking modules, and international shipping assistance. Users of TruckLogics can also keep track of fuel usage and vehicle history.
TruckLogics is a cloud-based system that works with both Windows and Mac-based devices. It is also available on iOS devices as well as Android smartphones, allowing users to access their business activities from anywhere.
3. ITS Dispatch
ITS Dispatch is a cloud-based trucking dispatch software that was developed for small to medium-sized fleets and freight shipping organizations.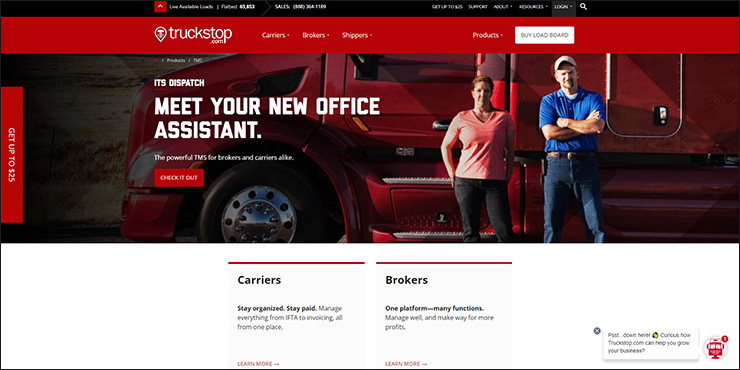 It includes a range of fleet management solutions, such as planning, dispatch and scheduling, freight brokerage, GPS tracking, and pricing and quote administration.
With ITS Dispatch, users can view and handle all ongoing shipments, as well as create invoices with a single click. It also includes a detailed reporting tool that provides the user with key metrics. It is best suited to fleets of approximately 25 trucks with 20 or fewer users at the same time.
ITS Dispatch is available as a monthly subscription with two rates depending on the number of trucks. It works with both Mac- and Windows-based systems.
4. Axon Trucking Software
Axon Trucking Software is an on-premise and cloud-based system that assists small to large transportation businesses. It is a great trucker dispatch software that aids in the monitoring and streamlining of fleet operations such as dispatching, invoicing, fleet maintenance, and fleet accounting.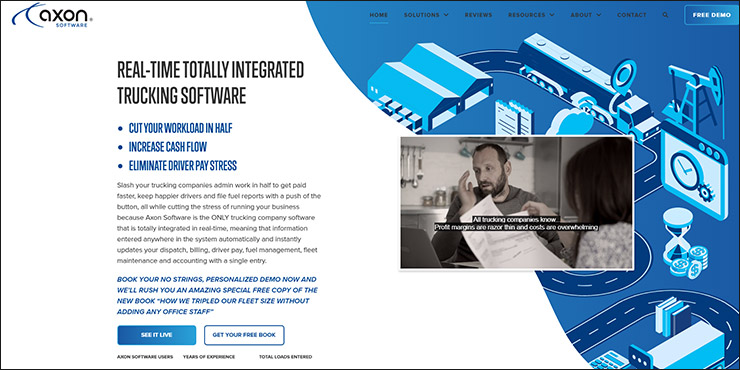 It allows its users to track inventory and receive proximity notification alerts when entering and exiting important places with the help of its equipment mapping feature.
Some of the key features of Axon include warehouse management, KPI monitoring, barcode scanning, invoicing, and inventory control.
Axon Trucking Software also has an International Fuel Tax Agreement (IFTA) calculator. This tool enables fleet managers to measure mileage with an in-cab satellite interface and report and record revenue or expenses as needed.
5. Samsara
Samsara is a cloud-based trucking management software solution that includes trailer tracking, dashboard camera, GPS tracking, routing and dispatch, reefer monitoring, and other capabilities.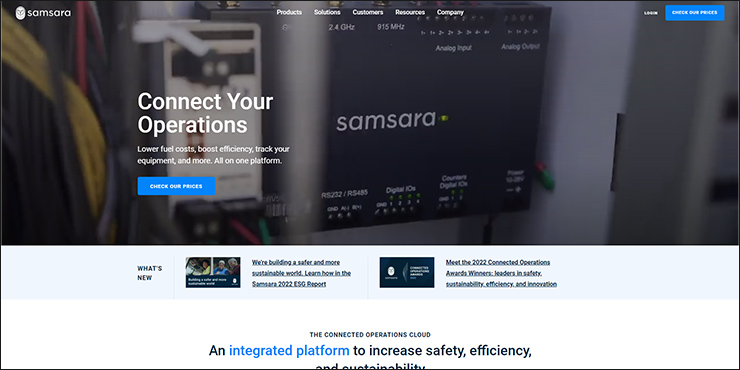 It is intended to assist small and mid-sized transportation business operators in tracking the precise geolocation of their fleets. Samsara also assists in monitoring drivers' conduct in order to ensure compliance with ELD and FMCSA rules.
Drivers can access real-time traffic information and the best available route thanks to the GPS device that has been installed. It also sends data to back-office supervisors on vehicle performance, unnecessary halts, vehicle breakdowns, and fuel wastage.
The system integrates the GPS tracker with 'Hours of Service', and other sensors put in the vehicle to track and record the driver's working hours for HoS logging and the ELD regulation.
Samsara charges a subscription fee per device per year, which includes phone-based technical assistance. This solution is suitable for trucks, school buses, delivery vehicles, etc.
6. ProTransport
ProTransport is a dispatch software and a fleet management solution suitable for trucking fleets of any size. Its key features include dispatch, safety management, accounting, reporting, GPS tracking, and driver communications.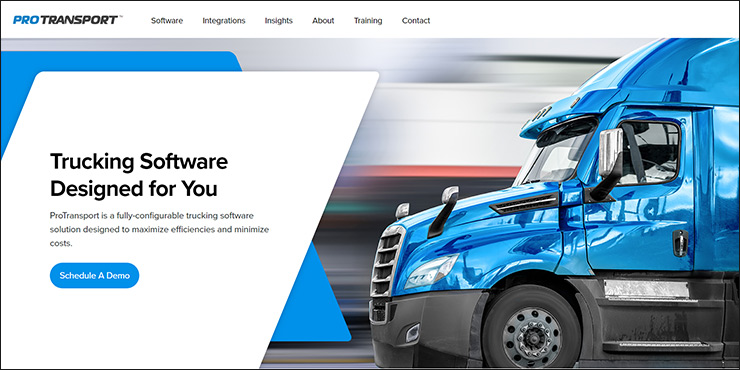 ProTransport offers a live dispatch board, vehicle tracking with GPS, integrated two-way messaging through texts, scheduling, ETA notification alerts, and geofencing. The accounting feature of the system supports accounts receivable, accounts payable, petty cash, billing, and revenue.
It also accommodates larger overviews such as cost analysis, overall productivity, and revenue control. This software allows users to make billing invoices, prepare statements, enter fuel card data, and compute taxes.
The document upload manager feature in ProTransport allows users to save all driver, truck, and trailer documentation and receive notifications when documents expire or are about to expire.
Users can set mileage or time-based alerts for their entire fleet. Drivers can also keep track of vehicle maintenance schedules and generate reports by date, type, unit, amount, and other criteria.
Need a Truck Routing Software?
Try Upper Route Planner, an all-in-one truck management software to meet all your needs. Automate every process from routing and scheduling to dispatching with Upper.
Try it Now!

FAQs
The truck dispatch system connects the truck dispatcher with available drivers in the pickup and delivery area. This reduces turnaround times and improves overall performance, and increases customer satisfaction.
Freight brokers operate with both shippers and carriers, but they do not represent either of them. When negotiating freight, the dispatcher simply represents the carrier. On the other hand, a dispatcher may not deal with shippers directly on their behalf. They must act as the trucking company's or owner operator's agent.
Dispatch management is the process of planning, scheduling, and optimizing delivery; fleet maintenance; and delivery workers' schedules and routes. You can choose any software system, such as trucking dispatch software. However, most businesses choose cloud-based solutions to allow their workforce to be as flexible as possible.
Upper Route Planner is the Best Choice as a Trucking Software Solution!
With an appropriate trucking dispatch software, you can monitor, track, and manage dispatch operations from a single interface.
To make the best decision, carefully analyze the trucker dispatch software solutions we listed above. But if you ask us, we recommend you to go for Upper Route Planner!
Upper Route Planner is a robust truck dispatch software with advanced capabilities and a fleet management system that will address your company's business needs with ease. It will help streamline your fleet managers' jobs efficiently and boost productivity, save time, retain clients and increase revenue.
Sign up for a 7-day FREE trial of Upper Route Planner today and have instant access to premium features.