Key Takeaways:
For shipping the plants it is important to choose the right packaging and handling techniques to ensure that the plants arrive at their destination in good condition.
Special procedures like heat packs should be incorporated to protect the temperature-sensitive plants during delivery.
Reducing transit time and stress on the plants can be accomplished by choosing the right shipment method and carrier, such as expedited shipping.
Businesses may stay compliant and uphold high standards by staying current on industry laws and best practices, such as those from the United States Department of Agriculture (USDA) and International Plant Protection Convention.
If you own a business that ships plants and other horticulture products, it's essential that you know what steps to take so they arrive safely at their destination.
The horticulture and agriculture industries are among the most prominent worldwide, and many people buy plants as gifts. The US alone is a $15 billion market for these products. If you are in the business of selling plants, it's a non-negotiable to protect your inventory from damage and loss during shipping.
In this article, we'll discuss how to ship plants and the steps you can take to ensure their safe arrival.
What Do You Need to Ship Plants Across the Country?
Here is the list of materials and resources that you will require to ship plants across the states or country:
Partitioned corrugated packaging with dividers or plastic plant shipping boxes
Corrugated dividers are ideal for packing plants.
Pots made of light plastic
Potting soil that has been sterilized
Shredded tissue paper, newspaper
Packing paper, or packing material
Bubble wrap/ bubble paper
Flea collars
Plastic bags / Plastic wrap
Rubber bands or ties
Paper towels
Scrap paper
Strong packaging tapes
Plastic mesh
Cable ties or bands
Scissors ​
Polymer moisture crystals
Kraft paper
How to Send Plants in the Mail?
​​The following are 7 steps that will help you understand how to ship plants in the mail.
1. Do a detailed analysis
Before you ship plants, do enough research by going through the National Plant Board website; it's an excellent resource for your live plants and their care. Also, it will help you to solve your queries about delivery as plant parents or delivery providers.
You can also reach out to their representative if you have questions regarding your particular plants. Moreover, find out if you can send that specific plant to another state or country.
2. Pick the right packing and shipping supplies
Packing a plant for shipment is easier than you might think. Just use a corrugated cardboard box, rubber bands, heavy packing paper, and newspaper; maybe bamboo stakes if the plant is bigger or needs more support.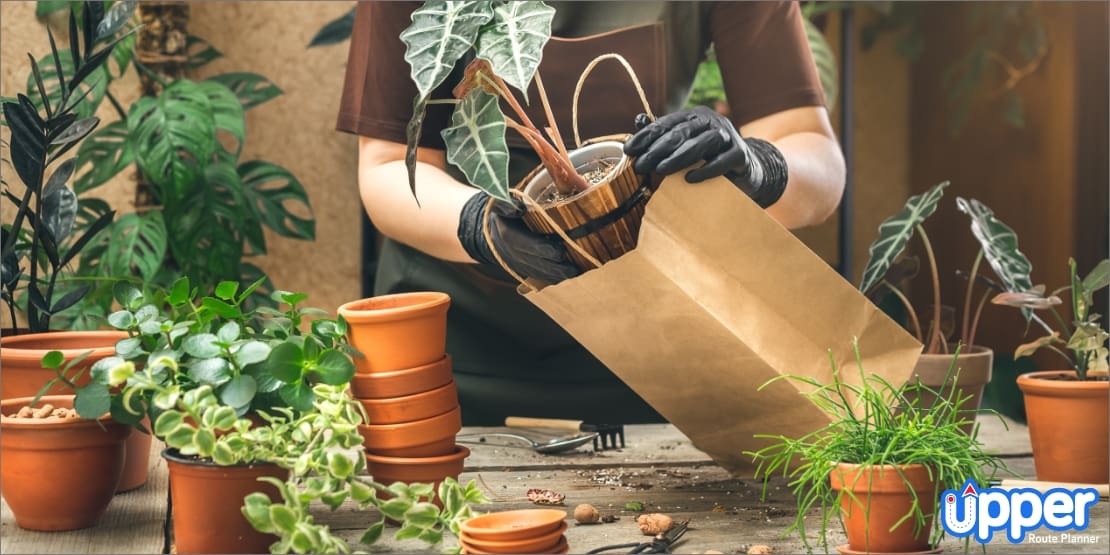 If you want to be extra careful with perishable items such as live plants, add small pieces of Styrofoam around the base so that it doesn't shift inside the box. Moreover, if the journey is long, add a few drops or teaspoons of polymer moisture crystals to keep plants fresh.
3. Avoid using wrong packing materials
As a business owner, you must avoid wrong packing materials such as hard-to-recycle plastic, which is a damaged packaging material for your plants. The type of plant container works well when most of your live plants are the same size and shape. Use only the tape to seal the box.
4. Assemble carefully
Placing live plants in a pot before shipping them is a great way to keep them safe during delivery.
If you're sending bare-root plants, you will want to wrap the roots in padded material to keep the plant's roots from being damaged during minimum transit time. Consider putting your entire plant in a larger container than it needs and then adding excess soil or other materials around it to give it some protection.
If you are concerned about the weight of your package, we recommend keeping the plant together with its pot and then moving that piece in one direction while moving the pot in another direction. This way, you'll be able to avoid shifting around too much dirt, which could damage roots or cause other issues.
5. Protect temperature-sensitive plants
Heat packs are a great way to protect temperature-sensitive plants during delivery. It will keep the temperature regulated so that it won't get too hot or too cold.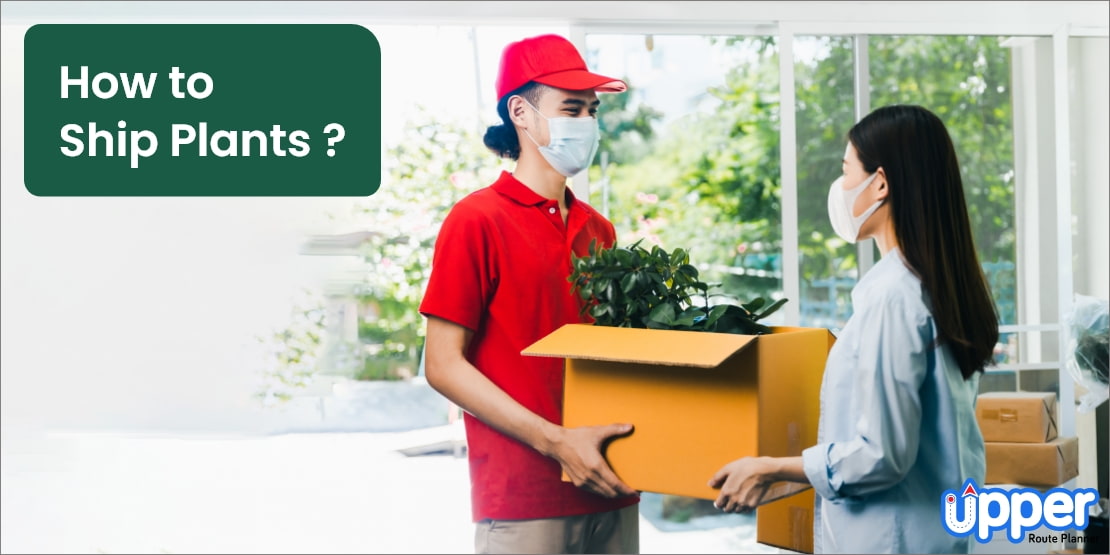 Extreme temperatures will cause plant breakage. It can happen whether you're shipping in the summer or winter because plants are sensitive to changes in temperature.
You can ship the plants with careful packaging to protect them from extreme weather temperatures.
6. Manage your shipping options
How long can you keep a plant in a box without it wilting? It depends on the delivery situation. If you deliver your plants immediately with less shipping time, they will be fine for a few days.
If you want them to go longer, consider adding drops of polymer moisture, water and light to the box, so they don't wilt on the way. If you want your business to be successful, you need to deliver a healthy plant to your customers without damaging it.
7. Recommend customers to take care of the plant
The shipping business does everything possible to ensure the plant reaches the customer's door healthy and happy. Even if everything's done flawlessly, plants require additional care, which implies abundant water and sunlight. Occasionally plants need tender loving care (TLC) upon arrival. So, do not let it suffer from plant disease or harmful pests.
Shipping Plants Domestically Vs Internationally
Whether you are shipping plants domestically or internationally, you have to follow rules and regulations as per the shipping guidelines. However, there are a few challenges and restrictions while shipping plants domestically and internationally.
Additionally, you can approach courier companies such as FedEx, UPS, and USPS helps to deliver plants. If you are a delivery company or shipping service, you can follow the below-mentioned tips before shipping plants.
Things to consider while shipping plants local
First, check the United States Department of Agriculture (USDA) to ensure that it matches your shipment requirements. For instance, shipping citrus plants are restricted in California. Moreover, it keeps on changing as per the state's regulations and plant type.
But ensure that you follow the rules and regulations otherwise, you might end up in trouble because of legal matters. Also, shipping plants local will be less time-consuming and affordable.
Things to consider while shipping plants internationally
If you're planning on shipping plants internationally, most countries have specific shipping restrictions when importing plants. For example, when you ship plants internationally to France, they demand a plant health certificate due to the risk of environmentally damaging invasive species.
Similarly, international shipments have regulations for shipping for plants to the UK (destination country) and demand import permits. Moreover, you will require a phytosanitary certificate from that specific country to ship plants to foreign countries.
Tips on How to Package Plants for Shipping
Knowing how to package shipping plants is essential because you need to transport and deliver without damage. Plants need the right amount of food, clear instructions about how to care for them during transport, and careful handling to remain alive.
Send bare roots

You can ship plants by minimizing the soil. First, you need to remove the plants from the soil and eliminate excess dirt from the roots. However, ensure that you do not fall off nutrients from it. Additionally, this method is affordable and has less risk of damaging plants.

Utilize the smallest box feasible

When shipping plants, make sure to place the potted plant in a box that's just barely larger than the plant, especially for small plants. Otherwise, it can get shaken around and may be damaged. Also, you need to bundle it inside a plastic bag so it has water during shipping.

Give the plant a cushion

To cushion your plant, use packing peanuts or crumpled paper. Place these materials around the plant after tucking it inside the box. Extra cushioning material can prevent the plant from moving around inside the box and slamming into its sides.

Include a "handle with care" warning

When shipping plants, use a "handle with care" tag to let the delivery person know to handle it gently. This standard shipping label will assist in keeping the plant upright throughout shipping and ensure its safe arrival to your consumers.
How does Upper Route Planner help in Plant Deliveries?
Planning delivery routes for self-delivery instead of relying on a private shipping company/couriers for shipping live plants is the correct choice and will definitely save you costs. But efficiently shipping plants will require you to stay on top of your orders, but it doesn't have to be challenging or time-consuming. Upper's route optimization software helps you automate the process while taking advantage of delivery route planning and optimization.
Upper adds to the convenience of your plant-delivery service that helps ensure your customers get the freshest plants possible.
Upper plans and dispatches routes, saving up to 10 hours of your planning time. Its efficient automated multi-stop route planning makes sure delivery drivers and your plants spend less time on the road and get delivered quickly.
Additionally, it guarantees on-time delivery to your customer's doorstep or at the shipping address. It records proof of delivery via digital signature and photographs for each order supplied, assuring you that plants won't waste too much time on a delivery truck.
With Upper, customers also receive automatic notifications of delivery status + ETA so they are present at the time of delivery and your plants are not wasted during back-and-forth deliveries.
To learn more about how Upper can help you automate your plant deliveries, sign up for a 30 days free trial today!
Utilize Upper for Shipping Potted Plants
Minimize your shipping efforts using a delivery route planner like Upper. Get the fastest routes within seconds and deliver temperature-sensitive plants in a timely manner.
Try Upper for Free

FAQs
Certain plants can survive in the mail for about a week, but every plant has its own unique needs when it comes to staying healthy. To ensure that your plant survives the trip through the mail, you'll need to research what it needs, and ship live plants on delivery committment time. Such as shipping a live plant that needs semi-dry soil, lots of water, and direct sunlight in two business days.
Yes, you can ship live plants through the mail. While shipping live plants don't wipe off all the dirt as it is better for the roots to have a bit of moisture and microbes
It is possible given that you adhere to all the legal regulations, to follow the packaging process as mentioned. Also, make the delivery to the end customer hassle-free by relying on a robust delivery route and optimization software.
Below are the plant shipping cost approximation.
Priority Mail: One-working-day delivery, flat-rate boxes start at $7 for 1lb or less.
Priority Mail Express: Shipping costs start at $20 for packages weighing less than one pound and arrive in two business days.
Fixed Price Priority Mail: Prices start at $12 for packages weighing less than 1 lb and take 1-3 working days to arrive.
You can consult the NPB to check the laws and regulations about shipping plants. The ​​U.S. Department of Agriculture, Animal and Plant Health Inspection Service, Plant Protection and Quarantine Program (USDA APHIS PPQ) has a database of every state's (50 states) restrictions regarding shipping plants.
Conclusion
We highly recommend following the instructions above to securely prepare and package your (house) plants. Also, adhere to all regulations and rules (shipping basic guidelines) to ensure that your clients receive their plants perfectly.
However, to blossom your plant business, route planning is essential to ship time-sensitive green gifts like plants. You need to plan routes to ensure that it does not spend too much time in delivery.
Use the Upper route planner for planning and optimizing your fastest delivery routes to ship plants and achieve high customer satisfaction by delivering them on time and securely. Also, get the fastest routes to deliver plants on priority and track the orders.