The UPS logo is ubiquitous, and for a good reason. It's easy to recognize and conjures up efficiency, dependability, and speed images. That's because UPS has been in business since 1907—and they're still going strong.
UPS is a global leader in logistics, offering a broad portfolio of transportation and logistics services. With over 11.5 million customers globally, UPS serves over 5.5 billion deliveries annually in more than 220 countries and territories.
So, it's clear that becoming a UPS driver is an excellent first or next move in your delivery driver career. However, before you make a decision, it's critical to know the UPS driver salary, what UPS drivers do, and the pros and cons of becoming a UPS driver. And that's precisely what this article elaborates on.
What Do UPS Drivers Do?
UPS drivers deliver your packages from the UPS sorting facility to your door. The drivers ensure that each package is delivered safely and on time without damaging the product or its packaging.
In addition to delivering packages, UPS drivers also offer supplies and track the inventory of their delivery trucks. They may also be responsible for loading and unloading packages onto trucks and planes and getting them ready for shipment.
In addition to interacting with customers, UPS drivers are accountable for keeping their vehicles safe and maintained. They need to keep their car clean and ensure that everything works properly on the inside of their truck before they start driving for us each day.
UPS Driver Requirements
As a package delivery truck driver, you will deliver packages to residential and business addresses throughout the day. You'll learn how to navigate the UPS routing system, including routes that take you along significant thoroughfares and residential neighborhoods.
You'll also learn to use all the tools necessary to complete your delivery tasks safely. In addition, UPS will train you on driving techniques such as backing up vehicles and proper shifting.
To be considered for employment, you must meet specific requirements:
You must have a valid driver's license—no CDL (commercial driver's license) required
DOT (Department of Transportation) physicals are required
In addition to excellent customer service skills, you must be a good truck driver
As a minimum, you must be capable of lifting 70 pounds
U.S. workers must be legally entitled to work there
Find the Fastest Routes for Your UPS Deliveries
Use the Upper Route Planner to plan and optimize delivery routes. Reach your customer's doorstep 3x faster with the best routes.
Start a Free Trial

State-wise UPS Driver Salaries in the USA
UPS is a great company to work for. The company has a high employee retention rate, and UPS driver salaries are highly competitive. The company also offers flexible scheduling and excellent benefits. They also have a reputation for being one of the top places to work in the United States.
According to UPS, full-time small package delivery drivers receive an average total compensation package of $145,000 per year while long-haul team drivers receive an average total compensation of $172,000 per year. UPS pays $0.95 per mile after four years.
The average hourly wage for full-time package delivery drivers after four years on the job is $42 per hour as per UPS.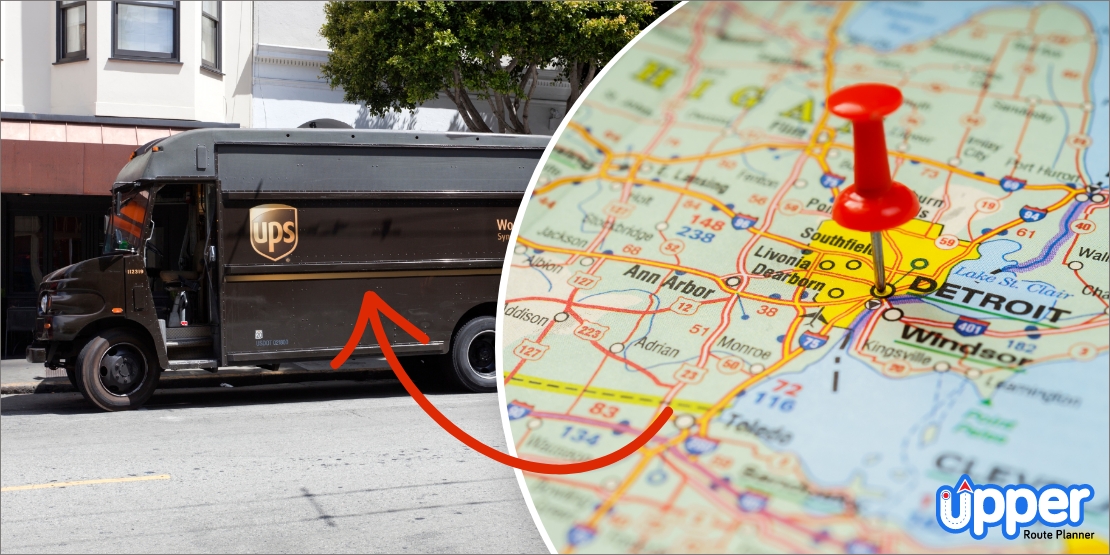 The following table will help you understand how much UPS drivers make (including the hourly wage) and the state-wise UPS driver salaries in the USA. Browsing this table will also help you know the national average in the industry, average annual wage, and highest paying cities.
| State | Average Annual UPS driver Salary | Average UPS Hourly Wage |
| --- | --- | --- |
| Washington | $62,505 | $30.05 |
| Maryland | $61,709 | $29.67 |
| Nebraska | $60,422 | $29.05 |
| Virginia | $59,629 | $28.67 |
| New York | $59,560 | $28.63 |
| Delaware | $57,768 | $27.77 |
| New Hampshire | $57,620 | $27.70 |
| Oklahoma | $56,158 | $27.00 |
| California | $55,951 | $26.90 |
| Massachusetts | $55,194 | $26.54 |
| Vermont | $54,335 | $26.12 |
| Hawaii | $53,433 | $25.69 |
| Wyoming | $53,284 | $25.62 |
| Idaho | $52,592 | $25.28 |
| Connecticut | $51,960 | $24.98 |
| Maine | $51,899 | $24.95 |
| West Virginia | $51,761 | $24.89 |
| Rhode Island | $51,216 | $24.62 |
| Texas | $50,950 | $24.50 |
| Alaska | $50,914 | $24.48 |
| Pennsylvania | $50,885 | $24.46 |
| New Jersey | $50,597 | $24.33 |
| Montana | $50,538 | $24.30 |
| Nevada | $50,513 | $24.29 |
| North Dakota | $50,498 | $24.28 |
| Arizona | $50,017 | $24.05 |
| Indiana | $49,697 | $23.89 |
| Minnesota | $49,294 | $23.70 |
| Tennessee | $49,247 | $23.68 |
| Wisconsin | $49,032 | $23.57 |
| South Dakota | $49,023 | $23.57 |
| Ohio | $48,890 | $23.50 |
| Oregon | $48,264 | $23.20 |
| Utah | $48,259 | $23.20 |
| Georgia | $48,251 | $23.20 |
| Louisiana | $47,806 | $22.98 |
| South Carolina | $47,733 | $22.95 |
| Colorado | $47,552 | $22.86 |
| Kansas | $47,541 | $22.86 |
| Alabama | $47,122 | $22.65 |
| Iowa | $47,070 | $22.63 |
| New Mexico | $46,586 | $22.40 |
| Florida | $45,476 | $21.86 |
| Kentucky | $45,448 | $21.85 (starting salary) |
| Arkansas | $44,646 | $21.46 |
| Michigan | $44,626 | $21.45 |
| Mississippi | $44,537 | $21.41 |
| Illinois | $44,403 | $21.35 |
| Missouri | $43,694 | $21.01 |
| North Carolina | $40,675 | $19.56 |
Benefits of a UPS Driver
Apart from a competitive UPS driver salary, freight drivers get many more benefits. By moving the world forward by delivering what matters, UPS believes that people are the driving force behind the company's success.
The company rewards hard work and dedication by providing employees with the tools they need to succeed in their careers and achieve personal goals.
It means fostering a positive culture, providing opportunities to learn and grow, and offering excellent benefits that support their physical, financial, and emotional well-being.
That's why UPS offers comprehensive benefits to help you achieve your goals personally and professionally.
It means you'll work with teams that are passionate about their jobs—and it's contagious!
Here are a few reasons why working at UPS is so great:
You can make money while doing something you love.
You'll have access to healthcare, including medical, dental & vision benefits.
You'll learn new skills and grow as an employee.
You'll access career growth opportunities within UPS or across our global network of companies. If you're ready for more responsibility or need help getting started on your career path, they'll help you find it!
If you're looking for some extra cash each week, UPS offers competitive pay rates and paid time off so that you can balance work and life outside of work without worrying about sacrificing either one.
They also offer employee discounts with top retailers.
You'll be eligible for various insurance like dental, disability, health, vision insurance, AD&D insurance, and life insurance.
Downsides of Being a UPS Driver
UPS drivers are an essential part of the US economy and a great choice if you're looking for a solid career. But here are some challenges to consider before you sign up:
It's physically demanding: You'll be on your feet for long periods and often need to lift heavy items. You'll also have to do repetitive movements like loading and unloading packages from trucks and trunks.
You'll spend a lot of time alone: You won't have much interaction with other people working on your own route so it can be lonely at times.
It's hard work: The work schedule is unpredictable, with extended hours and no guarantee that you'll make more than minimum wage. This is true even for part-time employees.
The job is dangerous: You're at risk of being injured by other local drivers or pedestrians who are not paying attention when they cross paths with your package cars or vehicles on the road. There's also a chance of theft if your truck is parked unattended overnight.
Check out: Walmart Spark delivery driver salary.
Avoid Your Route Planning Hassles with Upper
As a UPS truck driver, you know every minute is essential when you're out on the road.
That's why we created Upper, a software that helps you manage your route planning and scheduling needs through a simple user interface.
1. Reduced fuel costs
As a delivery driver who wants to maximize their efficiency, you want to be wise with your time. You want to get in, deliver your packages and get out, and get home as soon as possible. And we understand that.
Upper is an intelligent route planning and optimization software that automates the process of finding the shortest route for your delivery truck. It automatically finds the most straightforward routes as per your delivery constraints, driving preferences, time windows, etc.
And when you spend less time on the road, you save significant money on gas.
2. More successful deliveries
Sending automatic notifications to customers for ETA and delivery status is a great way to reduce time and fuel consumption. By sending automatic ETA notifications, you prepare your customers to receive the order. This means you won't have to drive back and forth and attempt failed deliveries with Upper.
3. No manual intervention
With Upper, you'll have access to the most optimized multi-stop routes each day. This means you'll know exactly what's next without having to manually spend time and effort on finalizing the shortest routes. This helps you spend less time on the road and more time finishing deliveries. The result? More deliveries using the same resources every single day.
Get a free trial of Upper for 7 days.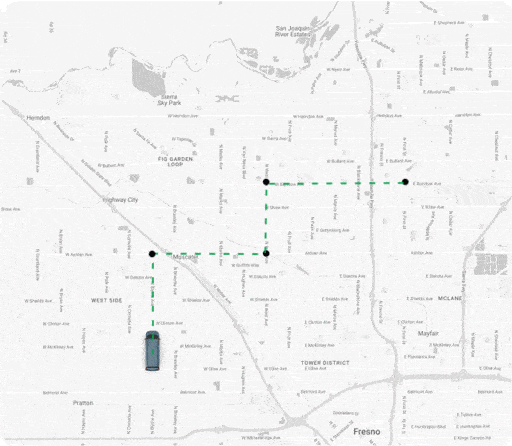 FAQs
UPS delivery drivers are required to work either 60 hours in 7 days or 70 hours in 8 days. The Department of Transportation mandates these regulations, so all UPS drivers fall under one of these requirements. The actual scheduled work for an individual driver depends on local delivery volume. UPS (United Parcel Service) requires different hours worked depending on local demand in each market.
UPS drivers make good money; the national average UPS driver salary is impressive at around $36k. The work is physically demanding, but if you can manage your time well and assert yourself, you'll do great. Also, UPS provides full coverage health insurance to its employees and their families. Hence, it's worth being a UPS driver.
There is no fixed number of miles that UPS drivers drive in a day. It greatly depends on the delivery requirements of that particular day. But as for an approximation, UPS drivers average about 125 miles daily and typically deliver 225 or more packages.
UPS drivers are some of the country's most well-paid and well-treated workers.
They get guaranteed 27.5 hours of work a week at 20/hour, great benefits, and 401k. And if they work more than 40 hours, they get paid overtime.
Conclusion
We hope we've thoroughly answered "how much do UPS drivers make". It's important to note that along with a competitive salary, a UPS driver also enjoys many associated benefits like health care, sick leaves, paid vacation, and more. If you're someone who qualifies for the mentioned requirements and are determined to work hard through the daily delivery challenges, UPS is an excellent place to be at.
However, remember that your productivity and efficiency are what determine the kind of delivery driver you are. An efficient river is always on time, always has a thorough plan of action, takes delivery constraints into account, notifies customers of their arrival well in advance, and captures proof of delivery.
The best part? You do not have to handle all of this manually. With Upper route planning and optimization, you can achieve all this and more, minus the draining manual efforts. Get a free trial of Upper for 7 days.