Being a delivery driver is the most flexible job one can do. You do not have to leave your current job in order to start delivering. Moreover, delivery jobs can be done part-time as well as full-time.
In the past few years, industries such as food, courier, shopping, and grocery have made their operations online. This inclination has affected the demand for delivery drivers too.
According to Statista, in 2021, the US generated over $188 billion in parcel revenue. During the same phase, the parcel shipping volume reached a whopping 21.6 billion parcels.
Before jumping into the application process, knowing the ins and outs of becoming a delivery driver is preferable and, most importantly, learning how old to be a delivery driver is. This article will be focusing on various well-known companies and their minimum age requirements.
Minimum Age Requirement to Become a Delivery Driver
In the United States, the legal driving age is 16, and so many companies allow drivers of 16 or above to work for them. Moreover, some companies hire only those who are at least 18 years old and hold a commercial driver's license.
It is important to know the minimum age requirements of your targeted company and the respective state's laws to avoid any legal trouble.
To your note, due to insurance liability and laws, insurers below 21 are under high-risk factors, and so insurance companies charge higher premiums for their coverage. So, many companies who want to avoid risky business and extra insurance costs do not hire candidates of age below 21.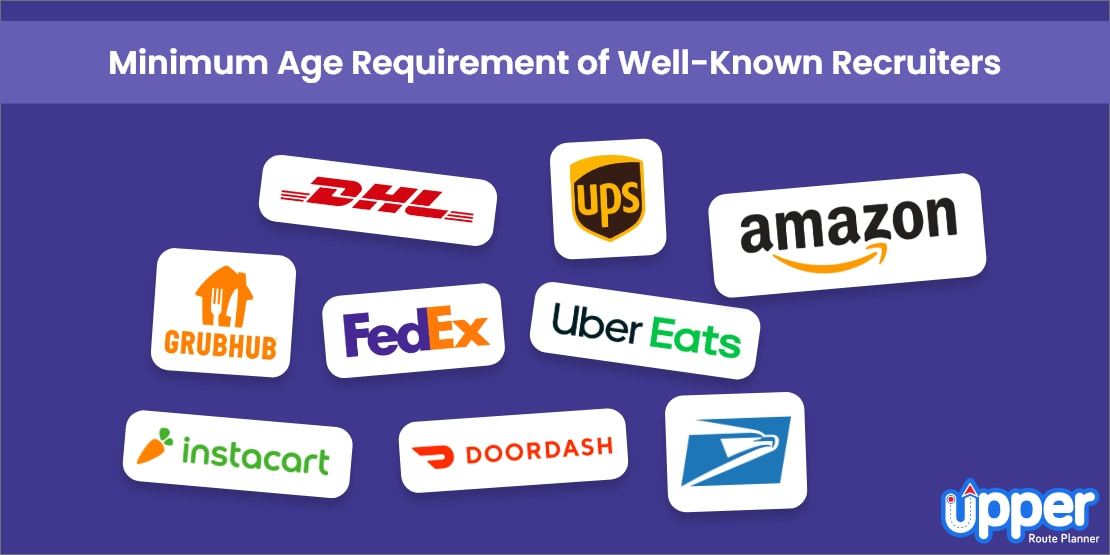 Here we have enlisted some of the delivery business giants and their age requirements who hire thousands of delivery drivers every year.
How old do you have to be Amazon driver?
Amazon, one of the biggest online shopping platforms, hires candidates who are 21 or above and have a valid driver's license. Also, you need a mid or large-sized delivery vehicle to start delivering as an Amazon delivery driver.
How old do you have to be USPS driver?
USPS delivers more than 425 million mail and packages every day. To be a part of its crew, you need to be of at least 18 years old. Only then can you submit your job application.
How old do you have to be UPS driver?
United Postal Service (UPS) is a leading shipping and logistics company. The minimum driver age in UPS is 21. UPS believes older drivers or experienced ones can efficiently manage deliveries.
How old do you have to be FedEx driver?
There are plenty of driving jobs available at FedEx as they have many services to offer, like FedEx Ground, FedEx Express, FedEx Logistics, and many more. To become a delivery driver at FedEx, you need to be 21 years of age.
How old do you have to be DoorDash driver?
DoorDash has a cool way of addressing its delivery drivers. They call them "Dashers". To become a Dasher, your minimum age must be 18 years.
How old do you have to be GrubHub driver?
Becoming a GrubHub delivery driver is one of the most efficient ways to earn extra cash by setting your own hours of working. GrubHub hires drivers who are 19 years old or above. Moreover, you don't require prior delivery driving experience.
How old do you have to be UberEats driver?
The minimum age requirement of UberEats food delivery drivers varies depending on the mode of transport you use. If you want to deliver on foot or by bicycle, the minimum age requirement is 18 years or above. Furthermore, if you want to deliver using a car or a scooter, your minimum age should be 19 years.
How old do you have to be Instacart driver?
Instacart is one of the most preferred grocery delivery platforms among US citizens. To deliver groceries with Instacart, the minimum driver age is 18 years.
How old do you have to be DHL driver?
To become a DHL delivery driver, you require to be 21 years old along with a clean record of driving a vehicle.
Qualifications Required to Become a Delivery Driver
Other than the minimum and maximum age limit, there are many factors you need to consider to get qualified as a delivery driver. They are:
1. Driver's license
One of the basic requirements is a valid commercial driver's license (CDL) if you want to deliver with a midsize or bigger vehicle. Having a driver's license shows that you have sufficient driving knowledge, have passed the examination, and are authorized by the government to ride a vehicle.
2. Clear driving background
Delivery companies prioritize the safety of customers and their parcels. So they won't let it compromise and ruin the company's reputation. So, during the application process, the recruiter goes through a background check to review your criminal records, previous employer experiences and driving history.
This is to make sure the parcels always remain in safe hands, and the company can rely on them. So, you will be required to pass the background check before getting started as a delivery driver.
3. Delivery vehicle
A vehicle is mandatory in the delivery business as it plays a major role in moving parcels from one place to another. So, you must have a good-conditioned delivery vehicle ready to deploy, as most employers do not provide their delivery vehicles. You can either buy or rent a reliable vehicle at your convenience.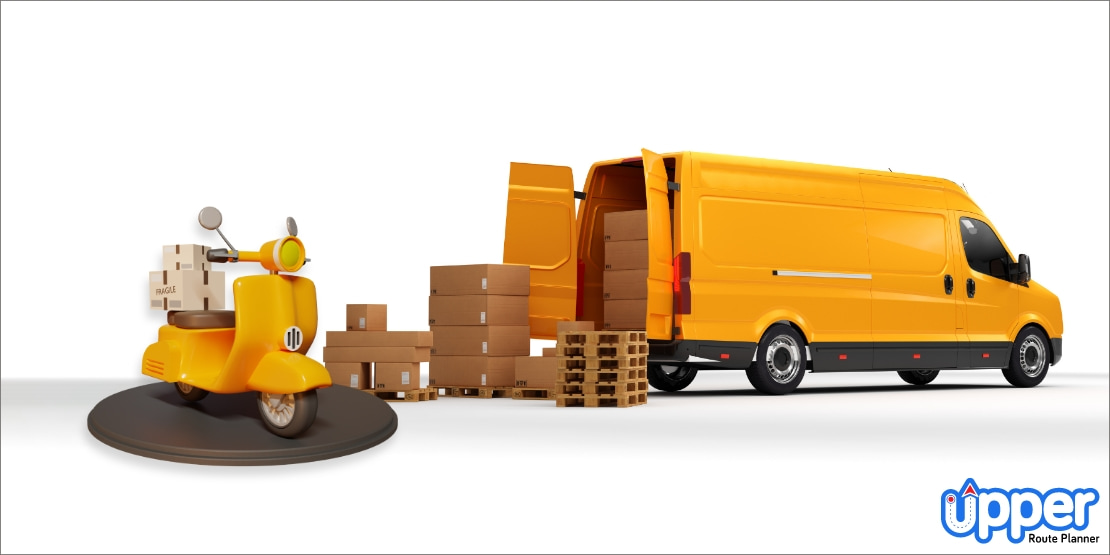 You can choose any vehicle from the following: Bicycle, geared bike, non-geared bike, car, truck, van, or semi-truck. The selection of your own vehicle depends completely on your job type and the parcels you will be required to deliver.
4. Technological knowledge
To become a delivery driver, you will need a smartphone and sufficient knowledge to operate it. Smartphones are used to get orders, receive payments, use GPS, and to communicate. In a nutshell, smartphones help you stay organized and make your job easier.
Also, you will get access to weather forecasts, traffic conditions, and urgent news that helps you avoid stucking in any unfavorable condition that affects your job.
5. Time management skills
The job is all about delivering parcels on time, or else it'll disappoint the customer and the recruiter. To avoid this, you must have or develop time management skills. This will help you meet deadlines and deliver on time.
You should get various solutions like route planning, curbside deliveries, and much more to do this. Doing so will allow you to fulfill more deliveries in a day, get more positive reviews, and grab more delivery orders. Eventually, good time management skills make you earn more.
Complete Your Hours of Work in Seconds!
Let Upper serve you the efficient routes in a matter of seconds and help you perform deliveries 3x faster. Start experiencing seamless delivery operations now.
Try it for Free

How Much Can I Earn by Becoming a Delivery Driver?
As a matter of fact, there is no fixed income for delivery drivers. It varies on different factors like the company's payroll, tips received by the driver, location, and driver's experience.
It's up to you how you take up this job and turn up your earnings. You can either opt for a part-time or full-time job.
Many companies, along with regular pay, organize various competitions. On its completion, drivers get various rewards and monetary benefits. Also, there are chances of getting higher pay during peak hours than the regular amount.
If customers like your delivery service and behavior, you may also receive a considerable amount of tips, and the plus point is that the company does not cut its share of your received tips.
In a nutshell, there's no perfect figure to represent the earnings of delivery drivers.
Wrap Your Delivery Schedule Early by Taking the Fastest Routes from Upper
Now that you have decided to pursue your career as a delivery driver, it is time to make a second gainful decision, opting for route optimization software like Upper Route Planner. Delivery drivers have to spend hours daily planning their delivery route yet planning a less cost-effective route.
As a solution to this, Upper Route Planner lets you plan unlimited routes with hundreds of stops. All you need to do is add all the stops and their details or import excel or CSV files directly from your system.
Next, Upper will optimize those stops and plan a route for you in seconds. You can make more deliveries in less time and with more fuel efficiency.
Not only route planning and optimization, but Upper also comes with various useful features like excel import, API integration, digital proof of delivery, one-click dispatch, and reporting & analytics.
Doesn't matter what delivery services you are associated with, pizza delivery, courier delivery, grocery delivery, food delivery, or alcohol delivery, Upper has covered it all. Get a 7-day FREE TRIAL of Upper Route Planner to explore more.
Adios to Unplanned Journeys and Hello to Perfectly Planned Routes
Waste no more time in planning routes manually. Adopt Upper's automated approach of planning delivery routes with its advanced routing features.
Join Upper for Free

FAQs
Well, it depends on the criteria of the recruiting company. The legal driving age in the USA is 16, yet some companies hire only those who are above 18 or 21. So, make sure you are aware of their selection criteria while applying.
Most of the pizza delivery companies and pizza outlets like domino's pizza and pizza hut hire candidates with a minimum age of 18. Though most companies follow this, this is not a standard hiring criterion for all companies. Selection criteria are different in every other state.
Commercial Driver's License (CDL) is required only when you want to drive a delivery vehicle with a gross vehicle weight rating (GVWR) of more than 26,000 pounds.
If you want to carry out deliveries using small or mid-sized vehicles, you just need a valid driver's license.
Conclusion
It can be the most profitable profession if you are planning to start delivery jobs or already into it. It is also ideal for part-time job seekers or students who are looking to earn some good money without compromising their current activities.
Also, double-check the minimum age requirement of the employer before applying and ensure you have a clean driving record to avoid getting rejected. Keeping a clean record will also help you get better opportunities in the future.
Once hired, never compromise your work because of insufficient route planning time. To save route planning time and operational costs, do not forget to use Upper Route Planner. Get access to all the features of Upper now with a 7-day FREE TRIAL!