Key Takeaways:
A delivery management tool called Onfleet is designed to make deliveries for companies of all sizes more efficient.
Real-time tracking, delivery analytics, and proof of delivery are among the capabilities offered by the platform.
With the program, companies may allocate drivers based on many criteria, like capacity and distance, and optimize their delivery routes.
Customer service is accessible through phone, email, and live chat at Onfleet, which also offers a user-friendly interface.
Developed in 2012, Onfleet was rolled out for drivers and business owners to minimize on-route delivery issues. Providing the user with the most efficient routes, it helps you make on-demand delivery services.
Once you hop on board, you are welcomed by a one-minute long tutorial that gives you an idea of how its features work. Some of them are indeed the best in the segment and therefore, it is an attention-grabber for many small business owners.
Moreover, it is compatible with any smart device so that you can stay connected with your business even if you are traveling. But, looking at the recent reviews, Onfleet's colors have started fading off, which tells us how it has failed to meet the user demands.
In this deep dive, we will cover Onfleet reviews to know what impression it has left so far.
Overview of Onfleet Route Planner
Onfleet is an automated software that assists you to plan and optimize routes. Therefore, it is easier to manage delivery operations and boost business productivity.
Moreover, you can schedule your delivery in advance and let the automated software take away your stress of assigning and informing the drivers.
Besides, it allows the business owner to perform great customer service by making faster deliveries. Also, you don't have to handle unnecessary customer calls because a real-time tracker will share the delivery status and ETA with customers.
Product Details
Onfleet comes with an array of features, which manipulates your delivery services with ease. Since Onfleet is offering such features, why can't we discuss all of them? – Alright, here we go.
Easy Route Optimization: The simplified delivery platform quickly considers traffic and other avoidance zones to create the most efficient routes. In case, when you reoptimize the route, it will directly inform the drivers.
Real-time Tracker: It allows the drivers to get the exact location and remaining time to cover the distance. Real-time tracking also assists the owners to know the driver's location.
Delivery Scheduling: Owners who want to prepare a route plan in advance can use scheduling auto sets for deliveries. At the time of scheduled deliveries, it will automatically allot the task to the available driver.
Single-click Dispatch: To make dispatchers life easier, Onfleet takes care of the dispatch management using algorithms. Once you send the green signal, it will automatically assigns dispatches.
Auto-assigning Tasks: The automated software uses the auto-assign engine to allot the task to the dispatchers and drivers. Thus, you don't need to worry about driver's availability.
Live Chat for Drivers: When drivers are out to make deliveries, they can remain in contact with the dispatch team through live chat. This feature makes sure there is no communication gap between them.
Customer Alerts: During the delivery process, customers will receive SMS notifications to know the delivery status. It is helpful for clients in case they are wondering about ETA.
Delivery Proof: Drivers making successful deliveries may go in vain if they receive false claims from clients. To avoid such troubles, it collects the signature and photos as delivery proof.
All of these features listed here are quite expensive which means they would affect your business profits and might be not suitable for the long term.
Best Use For
Onfleet's route optimization offers great support in making truck or warehouse deliveries. Startups businesses involved in delivery services can take advantage of this routing software. Businesses associated with courier services, food delivery, and flower delivery can make the most out of it.
Pricing Details
From starter to professional, Onfleet brings the best pricing model into four different plans.
Launch – $500 per month

It allows you to access basic features like route planning, managing, and tracking of the delivery.

Scale – $ 1,150 per month

This plan includes live chat along with the basic features to communicate with fleet drivers.
Review of Onfleet Route Planning Software
Onfleet software is perfect for those who want to perform the delivery faster. It empowers fleet drivers with multiple deliveries and allows them to communicate with dispatchers while on the move.
Furthermore, it aids owners to generate reports based on the analysis of the past data. Since it does not take long in optimizing routes, you can consider using this amazing software to tackle the delivery issues.
However, Onfleet doesn't tick all the boxes right as far as price and performance are concerned. Gathering reviews from Capterra and TrustRadius, we found the things that they need to work on.
Users having a starter and basic packages are struggling to get customer support.
After capturing the delivery proof, one can't share or forward it.
Notification alerts do not provide ETA to the customers.
The live chat runs too slow for drivers.
It doesn't show accurate driving time and distance.
The existing software frequently shuts down and users need to restart.
What Are People Saying? – Customer Reviews and Comments
Referring to the comments on Capterra, Onfleet won the hearts of many users, but at the same time, many of them were disappointed.
Positive remarks:
Helps you track the driver's location.
Automatically assign tasks to the employees.
It collects the client's signature as delivery proof.
Easy to understand for drivers and dispatchers.
Reoptimizes the route as per the requirements.
Negative remarks:
Prices are too expensive for business owners.
Entering addresses is a difficult task as it didn't fetch the correct one.
During the delivery process, you will accidentally log out.
No mobile App for dispatchers.
Recurring software glitches badly affects daily tasks.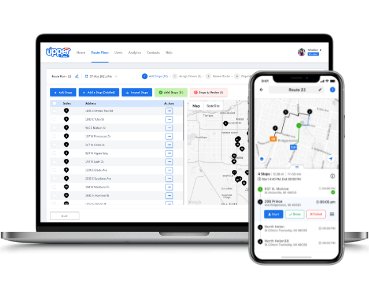 Upper Route Planner
A Simple-to-use route planner that every one is talking about.
Save up to 95% of planning time
Save up to 40% of time on the road
Plan 500 stops at once
Is There a Better Alternative?
If route planning and optimization take too much time, you need to switch to the other online automated software. The Upper Route Planner could be the alternate option that you are looking for.
The Upper Route Planner – An Instant Route Optimizing Software
Upper Route planner is the one that feels the void left by Onfleet. It quickly optimizes routes and helps you run your business smoothly. Also, it ensures you make successful deliveries by one-click dispatches and live tracking options.
In terms of pricing, the Upper route planner is affordable for small or midsize businesses. Plus, if you are not sure how to use it, you can book the demo to explore how the software actually works.
It is an advanced route planning and optimization software, which offers business owners great support from assigning tasks to capturing delivery proof. Hence, you won't have to contact drivers and direct them to the delivery path.
Here are the industries that often use Upper Route Planner to streamline their delivery business:
Food delivery businesses
Courier services
E-commerce services
Maintenance & repairs businesses
Cannabis dispensaries
Grocery services
What are the Core Features of Upper Route Planner?
At Upper Route Planner, route planning is handled by its sophisticated algorithm, so you don't have to invest more time in managing business operations. It will set the drivers off the mark and help them to reach the destination by offering an optimal route.
No matter if your driver is available or not, it will make sure your delivery services do not get stuck. And so, it would be easy for you to meet the customer demands.
In short, this automated software will reduce your transportation costs and eventually, aid you make more business profits. Below features of Upper Route Planner are worth checking out.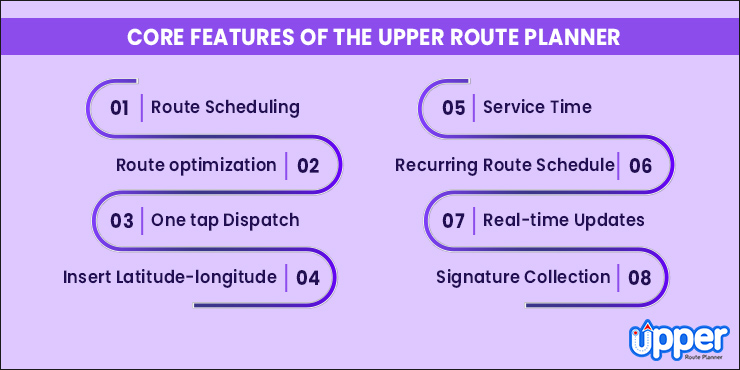 Route scheduling: The online route planner has got your back covered when it comes to managing resources. It will search for available drivers and get things done in a timely manner. In short, you can create route schedule for months in advance.
Route optimization: Assist you to get the optimal routes including the multiple delivery stops so that you can bypass the traffic and reach the destination quickly.
One tap dispatch: It brings you an option to dispatch the driver with a single tap of the button. Then, the drivers will receive the route link to perform the fastest delivery.
Insert Latitude-longitude: The advanced algorithm on Upper Route Planner can help you identify the exact location using latitude and longitude.
Service time: It automatically gives service time for a stop to optimize the route accordingly.
Recurring route schedule: Whenever you have an order cancelation request, you don't have to recreate the route or inform the driver. It will reoptimize the route and direct the driver to follow the optimized path.
Real-time updates: The updated status of the delivery process will be sent to the customers via email or text. Hence, they will know how soon the crew will arrive.
Signature collection: It will make sure the delivery crew don't leave without collecting a client's signature, photo, and note. This will be your delivery proof, which might be useful if something goes wrong.
Is It Budget-friendly Software?
Upper Route Planner has a hands-on approach which means it minimizes the owner's task in an efficient way. To make sure you continue minting money, Upper Route Planer has come up with budget-friendly prices. As of now, you can select one of the two plans to use its features.
Upper Route Planner Pricing:
Essential plan: Starting from $80 per month for up to 3 drivers
Growth plan: Starting from $160 per month for up to 5 drivers
Enterprise plan: Contact for more details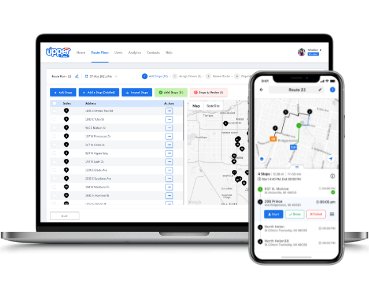 Upper Route Planner
A Simple-to-use route planner that every one is talking about.
Save up to 95% of planning time
Save up to 40% of time on the road
Plan 500 stops at once
FAQ
Owners purchase any online automated software to optimize the best routes and ease delivery management. Having support from such online tools, you can plan a route with multiple stops and keep an eye on activities using the real-time tracker. Hence, the driver will quickly complete the last-mile delivery and the overall cost will be reduced.
Business owners who are dealing with the daily delivery hassles can reduce the time and distance if they optimize routes. Consequently, it would uplift your business from drowning and customers would be satisfied.
Final Verdict
Considering all features and prices offered by Onfleet and Upper Route Planner, it is safe to say that both the software could be the perfect choice for owners. Onfleet makes effort to impress the users with its last-mile delivery platform, but settles with certain drawbacks that won't work for most of the owners.
On the other hand, Upper Route Planner leaves no stones unturned to eradicate the delivery issues. Thanks to its algorithm that it offers great route planning and optimization. Plus, it is cost efficient to adopt, which suggests that Upper Route Planner has a clear edge over Onfleet.
Want to have your hand on Upper Route Planner? Why not start a free trial and explore the different features of this software?