Key Takeaways:
Onfleet is a last-mile delivery software that offers end-to-end route planning, automated dispatch, communication, and analytics.
Onfleet helps you streamline delivery operations for any small or midsize business.
Because of attractive user interface and easy navigation, Upper is the best Onfleet alternative to go for.
Example of other alternatives include RouteXL, Tookan, WorkWave, and Toursolver.
Onfleet is a last-mile delivery software that helps you streamline delivery operations for any small or midsize business. It is an advanced delivery management software trusted by dozens of industries, including retail, e-commerce, food and beverage, and pharmacy.
Onfleet offers end-to-end route planning, automated dispatch, communication, and analytics. It helps deal with route planning and optimization challenges so businesses can focus on customer experiences.
According to Capterra, any software's features, pricing, and route optimization capabilities are essential for the business. So, to clear your doubts, we will review Onfleet's delivery management capabilities in this blog. Apart from this, we will also discuss 5 Onfleet alternatives, which will help you choose the best delivery route planner for your business.
Onfleet – A Last Mile Delivery Solution
Onfleet is one of the advanced route optimization tools that can find you optimized routes quickly. It is a feature-rich web platform that offers real-time driver tracking and a dispatching dashboard for smoother and local deliveries.
An advanced route planning and optimization software is better known for handling last mile deliveries. With Onfleet, you can set up multiple deliveries in advance and keep your delivery drivers updated regarding scheduled tasks to maintain dependency between tasks.
Besides, optimizing routes, Onfleet makes sure your delivery drivers cover all stops by following the shortest routes. This means you would have a reduced workload and would not have to worry about the entire delivery process.
On the other hand, it will keep the customers informed about the pickups and deliveries by sending automated SMS notifications. Also, it will help them know the ETA so that they can make themselves available.
Additional features for delivery businesses include an automatic dispatch system for on-demand delivery, driver analytics, inventory tracking with barcode scanning technology, and electronic proof of delivery. Moreover, Onfleet allows the collection of customer feedback post-delivery.
5 Best Onfleet Alternatives
Here are the best 5 alternative options for the Onfleet route planner. Let us talk about them one by one.
1. Upper Route Planner
Upper Route Planner is an advanced route planning and optimization software. It has become the go-to software for small and medium-sized businesses that manage a team of drivers to carry out delivery operations. Upper optimizes routes and creates faster multi-stop routes in less than a minute.
The planner considers the road constraints while planning a route so that you can perform more deliveries, thus making the business profitable.
Moreover, its attractive user interface is also easier to navigate and can even be used by one who is still learning the technology. This is why most businesses integrate Upper Route Planner into their daily delivery operations for significant benefits.
Plus, the online route planner has a dedicated driver app for your on-field delivery team. This means it will assist the drivers till the completion of last-mile delivery services.
Main features of Upper Route Planner
Import stops: Enter multiple addresses directly into the route planner by dropping a CSV file. Let the system fetch the data from the file and optimizes routes.
Route optimizer: It collects the data and creates the optimized routes in seconds. Thereafter, it informs the delivery drivers about a route plan.
Single-click dispatch: Online route planner allows the dispatcher team to release the parcel from the warehouse with a single click.
Automated Notifications: As soon as the delivery process starts, it sends the alerts via email or customer SMS notifications.
Reports & Analytics: It allows you to generate reports whenever you want to analyze the delivery operations.
Real-time electronic proof: Online route generator reminds the driver to capture the proof of delivery once they hand over the parcel to the buyer.
What are the benefits offered by Upper Route Planner?
More cost savings

The automated route planning feature provides efficient routes to multiple drivers, thereby decreasing the overall fuel and vehicle maintenance costs.

Reduced errors

Upper reduces efforts of manually entering multiple addresses and saves time. With route planning being automated, there are very few chances of error as the overall human involvement is reduced.

Revenue Booster

The planned routes help businesses perform more daily deliveries, thereby simultaneously increasing their delivery efficiency which is productivity and profit.

360-degree view

Upper also offers a feature that helps to keep track of all the activities. It enables the business owner to analyze the performance and identify the areas of improvement to benefit the business.

Enhance customer experience

The additional benefits like delivery text notifications and proof of delivery help to boost customer satisfaction. It will gradually help to improve brand loyalty and retain more customers.
Pricing:
Essential plan: $80 per month for up to 3 drivers (if billed annually)
Growth plan: $160 per month for up to 5 drivers (if billed annually)
Enterprise plan: contact the Upper team
Get Unlimited Routes For Your Multi-stop Deliveries
Does the out-of-date delivery app for your business keeps you worried? Join Upper and get the most efficient routes for a seamless delivery experience.
Let's Get Started

2. RouteXL
RouteXL is another alternative to Onfleet as it offers budget-friendly prices for delivery businesses. It imports the data directly from the spreadsheet and finds efficient routes. It is widely used for pickups and deliveries by most delivery business owners.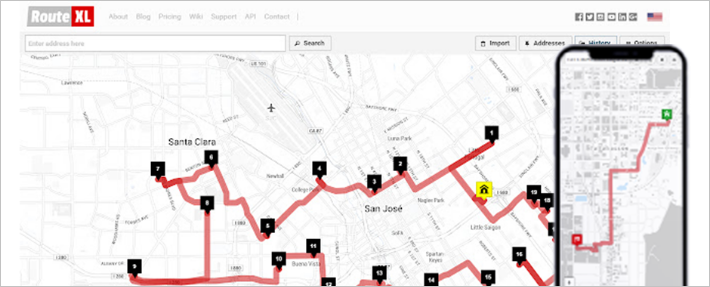 But negatively, it has limited offerings that might hamper your delivery operations. RouteXL offers similar features to Onfleet, but it is not made for small businesses. It is because, while planning routes it may not consider all avoidance zones. So, it would take more time in generating a route plan for field service businesses. As a result, you may experience hindrances in your services.
Apart from this, RouteXl is used for geocoding which allows fleet managers to know about their delivery team or driver location. Also, it auto-assigns additional tasks to the employees and provides real-time tracking data to the admin.
Pricing:
RouteXL 100: €35 EUR per month
RouteXL 200: €70 EUR per month
3. Tookan
Tookan is an expensive option of the Onfleet alternatives for last-mile deliveries on a single platform. It is best suited for delivery management of the food business. This platform includes real-time tracking, quick route planning, route optimization, and timely delivery for logistics companies.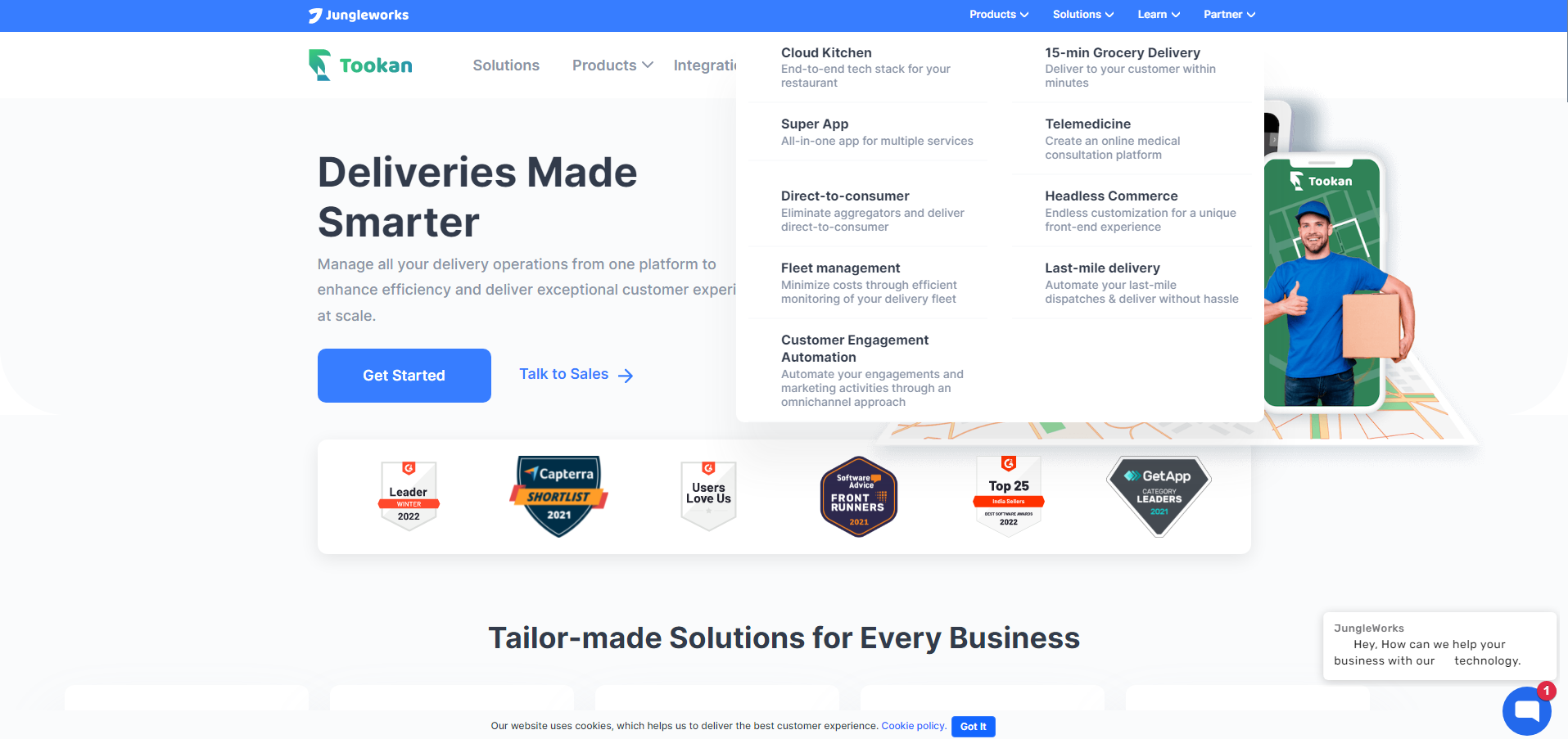 Tookan is used to schedule delivery routes for parcel deliveries. It helps to provide a better customer experience and is beneficial to scale your business. It is available on iOS, and Android devices as well. However, Tookan may not tick all the boxes right.
Pricing:
Startup: $63 per month, limited up to 700 tasks per month
Growth: $149 per month, limited up to 2000 tasks per month
Standard: $299 per month, limited up to 5000 tasks per month
4. Workwave
Workwave is an online route manager which allows business owners to keep a bird-eye view of day-to-day movements. It is usually considered by owners for managing the fleet, purchase orders, and the delivery team. Those who are working with a large size delivery team can use the Workwave route planner.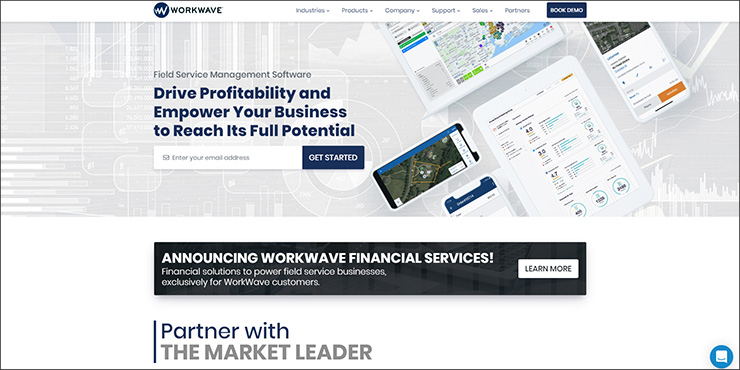 Although it is capable of managing the field operations team, Workwave does not let you analyze the driver's performance. Also, the web platform is not so user-friendly which means it would take time to understand how it works. In case, if you are okay with such things, you should opt for Workwave instead of Onfleet.
Workwave route manager would help you save time and manage your delivery staff. A simple tap on the dispatch button and your drivers would be on the way to cover delivery stops. Hence, you might not need any manual intervention till the completion of the process.
Pricing: You need to contact the Workwave team
5. Toursolver
Toursolver could be a handy option if you are looking for last-mile delivery services. It generates a route map considering the confined zones or toll booths and then provides every detail directly to the driver's mobile device. Also, it will send the reoptimized routes if the admin makes changes in between the ongoing deliveries.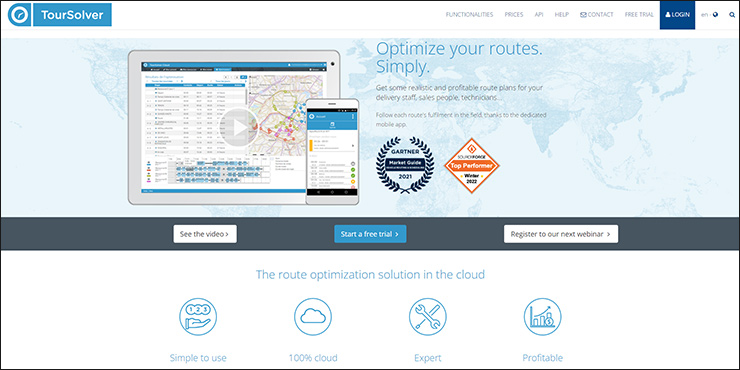 Therefore, drivers may not have unnecessary delivery stops to ask about the delivery location. They may not get stuck in the traffic queue as long as they are following the system-generated optimized routes. Also, Toursolver keeps drivers and dispatchers connected throughout the process.
During the delivery operation, Toursolver also sends ETA or delivery notifications for customer communication. So, clients may know when to expect the parcel at their doorstep. In addition, it has a billing and invoicing feature available in case you need to send invoices to clients. Negatively, one of the drawbacks is that Toursolver doesn't allow editing or adding stops following the generation of the route plan.
Pricing:
Starts from € 40 per month/vehicle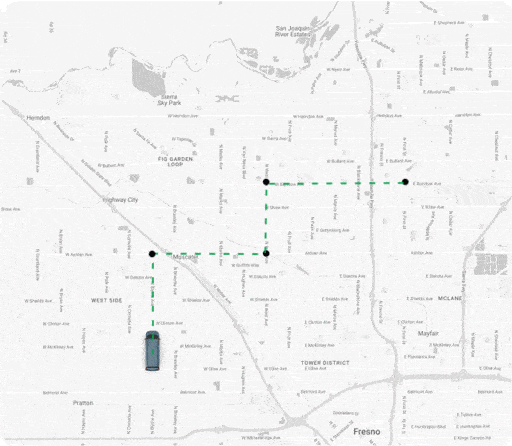 Reasons Why You Should Switch To Onfleet Alternatives
According to reviews posted on Capterra, Onfleet fails to meet the expectations of many business owners. Let us check the main reasons for switching from Onfleet to other routing software.
Pricing

In terms of pricing, Onfleet is quite expensive as it offers monthly subscription pricing starting from $500. This means that small businesses or dashboard web users may have to spend more money in order to get a premium version. Also, a professional plan has higher price rates which denotes why many business owners are looking for exclusive options.

Route Optimization

Route planning and last-mile optimization could be easier using the Onfleet route planner. But, entering the addresses, especially when you have multiple deliveries, is not that easy. At Onfleet, many individual users are facing similar issues while entering the address as it takes time or would not get you the exact location. Ultimately, it consumes more time in planning and optimizing routes.

Driver's Live Chat

Like other delivery management software, Onfleet too has a driver's live chat option to keep drivers and dispatchers connected throughout the delivery process. But, messages sent via live chat take too long to reach the receiver's end. If such issues continue for every stop, your delivery operations are likely to get adversely affected.
Moving now, let's see which delivery management software has an edge for your business over other software.
Which Software to Choose for Your Business?
These 5 delivery management software solutions are better than the Onfleet route planner, but they still have positives and negatives. So, if you need to choose anyone, you should use the free trial to check whether they provide features for your business or not.
The Upper Route Planner could be your long-term route planning solution. The reason is, it offers some best-in-segment features for route planning, advanced route optimization, delivery, and driver management.
For instance, if you are running an alcohol delivery business, you can simply generate optimal routes using Upper and keep your drivers updated. The system will then guide the delivery agent to destinations and make sure the parcel is delivered as soon as possible.
Top Delivery Management Solution Trusted by Businesses
Try Upper's full-service route planner for your daily tasks. From route planning and optimization, to sharing routes with drivers, collecting POD, and generating reports, Upper has got you covered.
Try Upper Now!

FAQs
There is no specific application designed to fit the needs of every business. You will have to decide which route planning software is the best depending on the size and type of your business. Certain apps like Upper Route Planner, RouteXL, and Tookan are some of the popular route planners that take care of route planning.
Onfleet has different delivery management capabilities, and so is the pricing per month for unlimited users. You can find below the pricing of Onfleet:
Launch Plan: $500 per month
Scale Plan: $ 1,150 per month
Enterprise Plan: Need to contact the Sales team
Upper Route Planner offers flexible pricing plans as per the business needs, which look as below:
Essential Plan: $80 per month for up to 3 drivers
Growth Plan: $160 per month for up to 5 drivers
Enterprise Plan: Need to contact the Upper team
Final Words
We saw different alternative options for Onfleet route planners and discussed how they work for business owners. All of these alternatives are popular options for route planning and delivery management. But, when we consider overall performance, route planning accuracy, and pricing, Upper Route Planner is a sure winner.
Right, the online route planning software doesn't disappoint whether you have last-minute changes or higher deliveries. It makes sure the package is safely released from the warehouse and delivered to the buyer in a minimum time. That's all we have in this edition, if you are unsatisfied with Onfleet, try using Upper and boost your operational efficiency.
To explore the features and functionalities of Upper Route Planner, get a free demo today and know how it benefits your business.