We all are aware of how quickly the logistics and transportation industry is changing. In the current situation, it has the demand for products to be delivered has increased manifold. The current situation might end soon, but consumer habits have changed during the pandemic, and they are here to stay.
Autonomous dispatch and routing software solutions can help various industries ranging from e-commerce to waste management. It can provide efficient routes and provide route optimization, fleet management, and management of all routing and dispatch-related responsibilities. Dispatch routing software is a business intelligence tool that can benefit any company size and be easily managed by the back-office staff.
What is Autonomous Dispatching & Routing?
The increasing pressure on the on-demand nature of the logistics industry is remodeling the entire industry at a fiery pace. This creates a scenario where customers expect their orders to be delivered to their doorstep in hours within ordering them. At the same time, at the backend, the companies attempt to create dynamic operations that will meet the ever-growing demands of the market.
Other aspects of the logistics industry like warehouse management and inventory management have been successfully automated. It's the routing and dispatching that hasn't been able to apply automation completely. It is, of course, difficult to initiate an automatic flow in a process that deals with so many challenges and a wide variety of parameters to consider.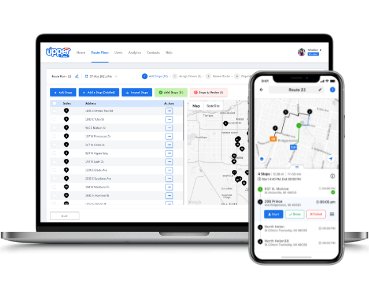 Upper Route Planner
A Simple-to-use route planner that every one is talking about.
Save up to 95% of planning time
Save up to 40% of time on the road
Plan 500 stops at once
No credit card details required
It requires the dispatchers to create routes that consider time windows, priority, checking the inventory, checking driver availability, weather, real-time traffic, and more. The dispatch team deals with a lot of information that can change in an instant, which would, in turn, require them to reinstate the process.
To deal with a difficult dispatch scenario, autonomous dispatch and routing need to be introduced. Autonomous dispatch and routing is an automated process that coordinates goods, people, and services. Autonomous dispatch and routing solutions can make informed and optimized decisions at all stages of the process, thanks to large data sets and machine learning.
The autonomous dispatch and routing system aims to improve fleet and delivery efficiency and customer service. In addition to that, it can successfully improve fleet utilization, reduce time spent on manual routing, and reducing miles driven.
What is the Need to Shift from Static Routing to Autonomous Routing?
When we think about routing, static routing is a process that most of us are familiar with. The process starts with a long planning exercise that maps out territories, customers and assigns delivery routes to drivers.
This exercise is supported by dispatch software for owners/operators. Now, this system is lacking some important elements and capabilities. It cannot support the dynamic business environment that we are working in right now.
With an autonomous routing system in place, businesses can perform the following things:
Businesses will accommodate an increasing number of orders daily and offer growing arrangements of delivery modes. It basically supports the traditional dispatching structure with technology and allows businesses to assign and manage tasks easily.
The autonomous dispatching system creates and dispatches delivery routes and manages and communicates with customers, delivery recipients, field staff, drivers, and others. This provides complete real-time visibility of the process.
To sum it up, autonomous routing and dispatching facilitate virtual unlimited scaling of the business processes. While shift might look difficult for many owners/operators, they can begin with a blend of static and dynamic dispatching models. Dispatchers can choose to make adjustments manually or allow the software to handle the tasks automatically.
Features Necessary in a Routing & Dispatching Software
Automated scheduling, customized dispatching according to priorities.
Web and mobile access to a full suite of route planning and optimization tools.
Complete functionality for planning, dispatch, and mobile connectivity.
Support real-time GPS tracking and fleet visibility along with driver interaction.
Support a range of mobile devices.
Telematics support for analyzing truck and driver behavior.
Fuel efficiency and mileage reporting.
Real-time data and alerts.
Billing & invoicing.
Easy integration with existing systems and tools.
Daily, weekly, monthly, and quarterly reporting for accounting of tasks or deliveries fulfilled.
A vehicle compliance module to keep track of vehicle conditions, licensing, and maintenance schedule.
What are the Benefits of Autonomous Routing in a Transportation Management System?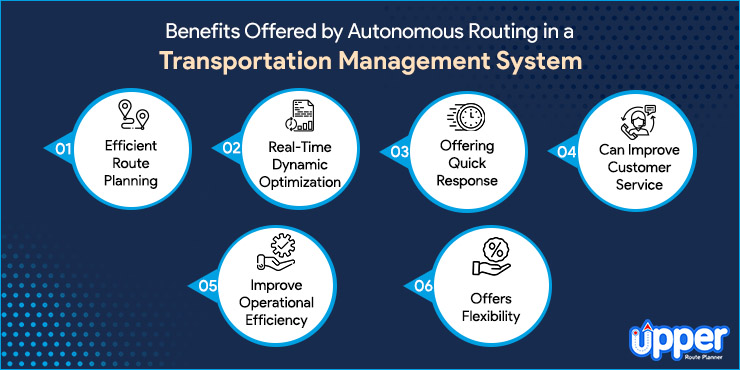 Let us look at some of the benefits of applying an autonomous dispatch and routing solution to your management system.
Efficient Route Planning
Be it 10 deliveries or 100 deliveries, with proper route planning, a company can know the risks involved with each of the delivery. With prior knowledge and information about the uncertainties faced by the fleet, it becomes possible to prepare even before the company is faced with it.
This can only be done with efficient route planning. An autonomous dispatch and routing solution can provide route planning for every delivery task generated by the system with accurate time and distance.
Real-Time Dynamic Optimization
The autonomous dispatch and routing solution can automatically create real-time dynamic routes for the day or the week. It allows businesses to customize factors to make sure the routing is done according to the priorities. It can also re-optimize routes throughout the day as and when needed.
The technology can save time and reduce costs for the business. With real-time dynamic optimization, fleets can maintain scheduling and efficiency and reach their daily delivery goals easily.
Offering Quick Response
It is almost impossible to control every little thing in the delivery process. There are certain factors like weather and traffic that no one can be held accountable for. In such situations where something can go wrong, the autonomous dispatch system can help you gain control over the situation and help reduce the damage.
Real-time data of the fleet and the drivers can be instrumental in getting a hold of the situation. The required adjustments can then be made to minimize errors.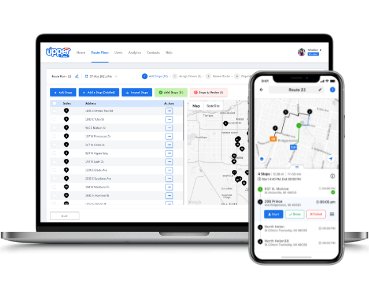 Upper Route Planner
A Simple-to-use route planner that every one is talking about.
Save up to 95% of planning time
Save up to 40% of time on the road
Plan 500 stops at once
No credit card details required
Can Improve Customer Service
It can often be difficult to manage the ever-increasing consumer demands in the market. Quick and accurate deliveries or one-day deliveries is one of the recent demands of the customers. When faced with such demands, even some of the biggest organizations can falter.
The only way to make sure you're stepping up in the game and trying your best is by applying a solution that makes dispatch activities quicker to implement. This can eventually lead to improved customer service.
Improve Operational Efficiency
It offers real-time updates for customers and others in the loop. Monitoring route performance with planned vs. actual routes becomes easier. For each delivery, operators or dispatchers and customers can receive accurate ETAs.
With machine learning support, the technology can record and analyze data for improving operational efficiency over time. With a mobile app for drivers, accountability for tasks and the ability to track deliveries comes into play. All these elements put together can work towards improving the operational efficiency of the company.
Offers Flexibility
The autonomous dispatch tool will help manage dispatch activities, optimize routes, and oversee other fleet operations at once. The successful management of scheduling and dispatching can allow you to scale your business operations.
The technology is capable of adjusting to the growing needs of the business, and it is designed specifically to adapt to unique opportunities. Depending on the challenges or demands faced by the business, the technology will offer flexibility in the way you manage your fleet and dispatch operations.
FAQs
The process of organizing and guiding drivers and vehicles to carry out various tasks is called fleet dispatching. Businesses of all sizes can use fleet dispatching for pickups, deliveries, and in-field services.
For a field service management company, the best dispatching software is the one that manages tasks and makes good use of the fleet and other delivery resources. It must offer services relating to planning, scheduling, reporting, and resource allocation. The best dispatching software is the one that covers all your needs relating to logistics.
Autonomous Routing is the Future
The logistics industry has had a continuous progression in terms of growth and advancements. One of the biggest updates it has received in the last few years is autonomous routing. It might not be plausible for most businesses to apply autonomous dispatch and routing. Still, eventually, they will have to succumb to the higher power because autonomous routing and dispatching are the future.