Key Takeaways:
Businesses can reduce costs, increase productivity, and optimize their routes with the use of fleet routing software.
When choosing fleet routing software, look for features like real-time tracking, customizable routing options, and data analytics.
Integrating delivery management systems and GPS tracking to fleet routing software can have even more positive effects.
Businesses can increase customer satisfaction by offering more accurate delivery schedules and lowering delays by utilizing fleet routing software, such as Upper Route Planner.
In recent years, route optimization has become a challenging task for fleet managers. But, thanks to the fleet routing software which made our job easier by providing advanced routing features.
Fleet routing software proved to be the main asset for the owners as it saved their time and improved delivery performance. Therefore, it has grabbed the attention of many business owners and entrepreneurs.
Now, questions may arise, is it really easier to plan routes and manage fleets? Will it handle last-minute delivery changes?
In this blog, we will find answers by reviewing the 9 best fleet routing software and understanding its main features. So, without any further ado, let's explore them.
What is Fleet Routing?
Fleet routing is the process of determining the most effective routes for a set of vehicles that need to visit a set of locations. It creates the overall minimum transportation cost and improves fleet performance.
Top 9 Fleet Routing Software To Checkout
Fleet Routing Software
User Ratings
Top Features
Download
Upper Route Planner

4.4/5

Auto import to fetch location data
One-click dispatch drivers
Electronic Proof of Delivery
Analytics & smart report

Optimoroute

3.8/5

Real-time order tracking
Real-time route modification
Proof of Delivery

Workwave Route Manager

3.5/5

Automated scheduling
Driver management
Live driver tracking
Order tracking

Circuit Route Planner

4.7/5

Optimize multiple stops at once
Easily drag-and-drop your stops
Add multiple destinations

Route4Me

4.4/5

Route planning systems
Mileage tracking
Order management
GPS tracking

Tookan

4.4/5

SMS gateways
Geofencing
Payment gateways

Verizon Connect

4.4/5

Real-time fleet and driver monitoring
Entire fleet management system

RouteXL

4.0/5

Geocoding
Live tracking
File Imports

Toursolver

4.7/5

Route optimizer
Fleet tracking
Dispatch management
1. Upper – Best For Small-to-midsize Delivery Teams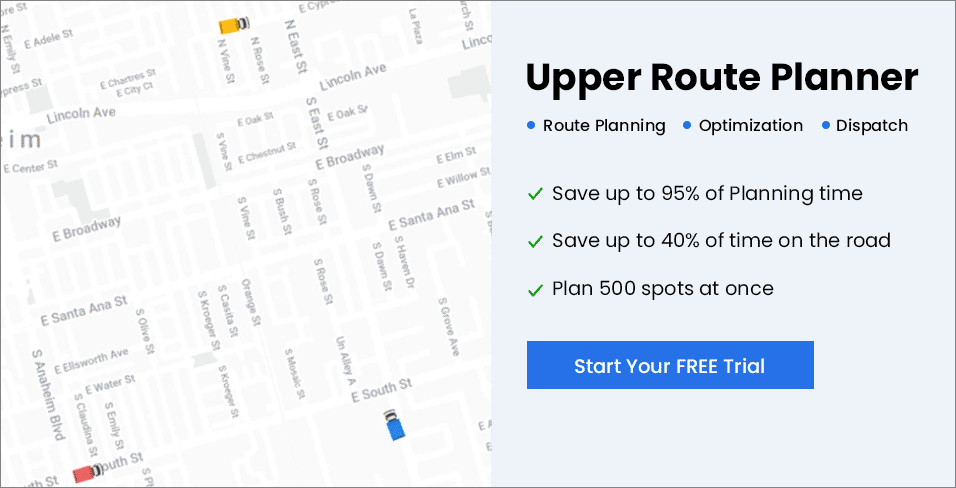 Upper Route Planner is ideal for all delivery businesses as it reduces the route planning time by 90%. It creates the most efficient route plan and makes sure the driver uses efficient routes to the delivery stops.
It is preferred by many fleet companies, contractors, logistics, and other small to midsize delivery companies. The reason why it has become popular among business owners is its business management capabilities. The Upper is much easier to operate where you don't require any training sessions for your team. Let's take a look at its features.
Upper's Main Features for Route Planning
It doesn't matter how many numbers of deliveries you perform per day, Upper is capable of managing and planning your entire fleet operation smoothly. And to do so, you don't require a pen or paper, just give a command to the route planner and get things done in a minimum time. Below is the list of Upper's main features.
Auto-assigning Routes: Whenever the delivery managers create routes for multiple deliveries or make a route scheduling plan for months, it assigns tasks to the available drivers. Hence, you don't need to call each driver manually to inform them about assignments. Such an automation process will reduce your workload.
Route scheduling: Upper is primarily aimed for planning routes according to number of deliveries. It means that you can generate the route plans for multi-stop deliveries before a week or a month. Route scheduling will make sure you don't miss any deliveries and so, it will keep drivers updated about delivery routes.
Routes Re-optimization: The admin side panel allows the owner to reoptimize the entire route plan in a few seconds. As soon as the route plan is reoptimized, it will display on the driver's smartphone along with the necessary instructions. Thus, there would be no confrontations from either side post-delivery.
Additional Features on Upper for Planning Delivery Routes
Delivery routing is not the only thing you do because you still need to manage fleets and meet customers expectations. For that, you can leave the things to Upper as it has additional features on its platform. Here is the list of them.
Service Time: The administrative users who are managing a large team may not know how much time their tradesmen will take to cover a specific delivery stop. In such cases, you can add the approx. service time while creating the routes. The system will automatically consider the given time and update your team.
Delivery Priority: Taking a delivery task on priority has become a need of fleet-based businesses. On Upper, setting a priority is no big deal as you can simply open the priority tab and select the priority level such as crucial, high or low. Then, the advanced routing software will give priority to it while generating route plans.
Rearrange Pickups/deliveries: Since it is difficult to manage pickups and deliveries in-between the delivery operation, Upper gives you an option to arrange pickups before, after or between the deliveries. Hence, you can inform your delivery team whether they go for pickups or deliveries in advance.
Driver Preference: Upper brings you the driver-friendly feature to empower delivery drives out there. It will allow the delivery manager to set up the route plan as per driver preference.
For instance, the admin can include either toll booths or highways while creating a route. It will then guide the drivers to the optimized routes, which have toll roads, or highways as per your wish.
Pricing:
Essential plan: $80 per month for up to 3 users
Growth plan: $160 per month for up to 5 users
Enterprise plan: contact the Upper team
Pros
Drag and drop files for addresses
Budget-friendly packages
Offer free trial
API integration
Cons
No live tracking option
No audio navigation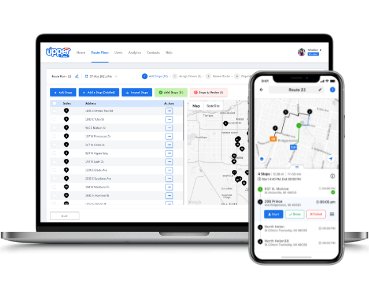 Upper Route Planner
A Simple-to-use route planner that every one is talking about.
Save up to 95% of planning time
Save up to 40% of time on the road
Plan 500 stops at once
2. Optimoroute – Best For Large-scale Delivery Operations
Optimoroute is a cloud-based fleet management software that helps different types of businesses in organizing and managing their mobile workforce.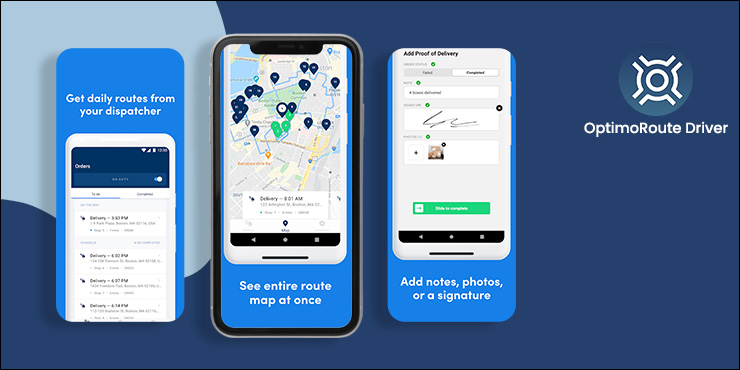 It optimizes your orders and tasks by taking into consideration factors like day of the week, time windows, priority, reverse logistics order, and skills.
Last-minute route modifications and adjustment of stop sequence are easier with Optimoroute. The route planning software can help businesses in planning for up to 5 weeks in advance with just one click. Other core features like long-haul routes, workload Balancing, and fleet optimization, help you manage large size businesses.
Pricing:
Starter: $17.10 per driver/month
Business: $26.10 per driver/month
Enterprise: $35.10 per driver/month
Pros
Higher cost-effectiveness over some other apps
Plan routes in advance for your delivery team
Easy to use software
Ability to add stops to routes in progress
Cons
No SMS notification for customers
No option for delivery verification
Can't adjust routes easily using drag-and-drop interface
3. Workwave Route Manager
Workwave Route Manager automates and manages each step of the delivery process effortlessly.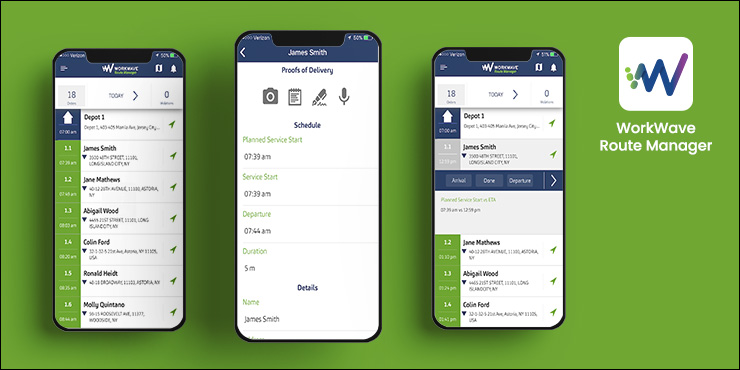 The route planning manager helps optimizing routes in real-time, accommodates changes easily, dispatches those routes to your delivery team on their mobile device, and offers real-time updates regarding the core business process.
The same SMS notifications can be sent to the customers to inform them about the location of their package. Such features can help you improve customer satisfaction. With advanced reporting by the route planning software, fleet managers can make important business decisions.
Pricing: They don't have fixed prices as it is decided on a case-by-case basis.
Pros
Easy-to-use driver application
Better technical support team
Affordable route planner
4. Circuit Route Planner
Circuit for teams is a great delivery route planning software for creating routes, tracking packages, managing drivers, customers, and delivery operations.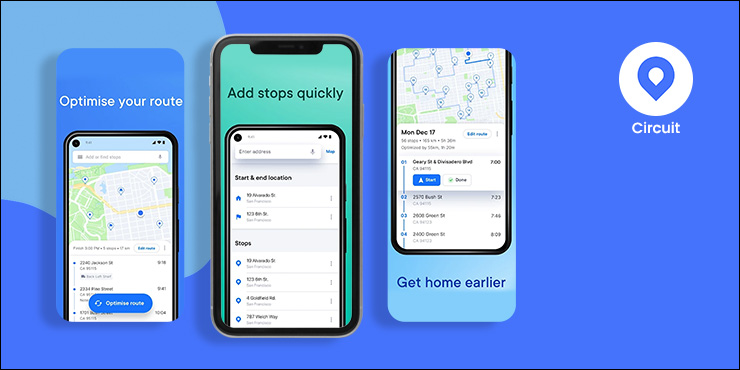 Taking control of your fleet operation becomes easier with features like route optimization, driver tracking, route monitoring, SMS notifications, and accurate ETAs.
Circuit software allows users to optimize routes with up to 500 stops per route. Sending out customer updates becomes easier with Circuit through text or email notifications.
The need for proof of delivery is often undermined for fleet-based businesses. But Circuit has grasped the vehicle routing problem and offered proof of delivery through customer signature.
Pricing:
Essential: $100month for up to 2 drivers
Standard: $200month for up to 3 drivers
Pro: $500month for up to 6 drivers
Pros
Quick and easy to use for admins, dispatchers and drivers
Route creation and optimization is easy both in-browser and on the app
Cons
Editing routes on the app can be a bit of a pain
5. Route4Me
Route4Me is a cloud-based route planning solution that saves businesses from routing chaos, and it is ideal for shipping organizations with multiple stops for one driver and claims to generate shorter routes.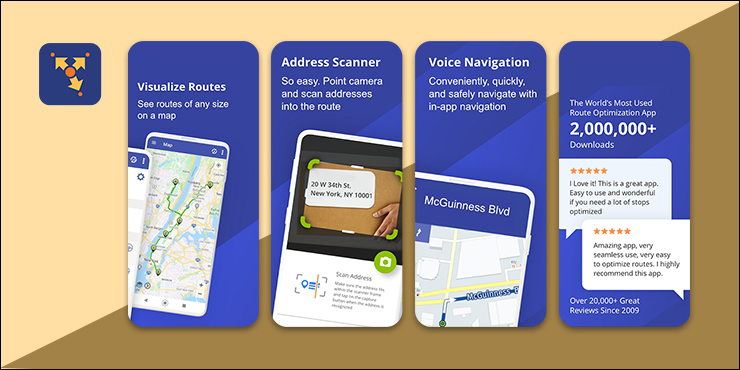 They give a ton of information as well as allow for a lot of customization on the routes and give you the ability to view them as a grid on a bing map, single route views, etc. However, this delivery management software assumes your delivery team or driver start at the same time from the same point.
Pricing:
Route Management: $149 per month
Route Optimization: $199 per month
Route Optimization Plus: $299 per month
Pros
Easy to use and quick
Improves scheduling and makes effective deliveries
Easily add new stops
Ability to plan routes using pre-set ETAs
Cons
It is very expensive
No room for customizing driver profile
Add-on features have additional fees
6. Tookan
Tookan is a top route optimization software that helps businesses streamline dispatch operation and facilitate communication between managers and the delivery team.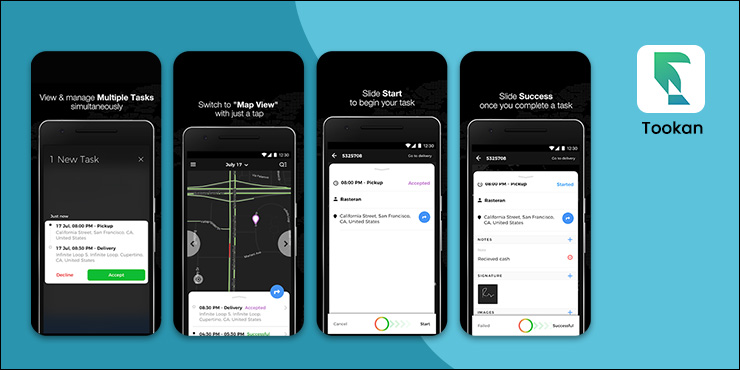 It comes with a web dispatcher dashboard, which enables users to track orders via real-time tracking and keep a tab on day to day movements. It is one of the best route planning solutions that lets users analyze the performance metrics of delivery fleets and drivers using actionable analytics.
Pricing:
Early Stage: $17 per month
Startup: $53 per month
Growth: $113 per month
Standard: $215 per month
Pros
24/7 customer support
Drivers monitoring
Integration with other apps
Cons
No customization options
Auto-allocation doesn't work properly
7. Verizon Connect
Verizon Connect is a basic route management software that is specially designed for small businesses to medium-sized businesses.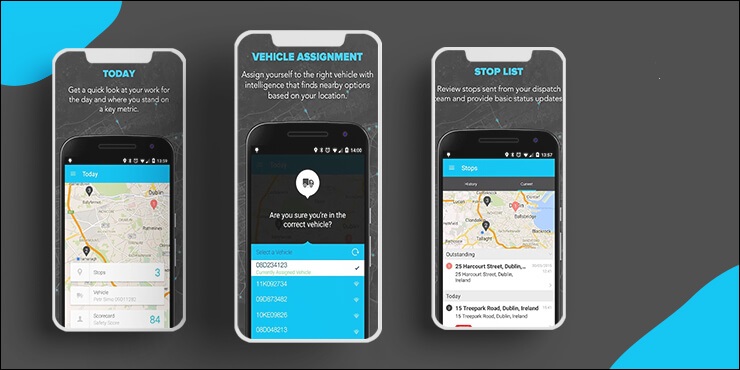 With its active smart dashboards and advanced route optimization tools, it allows routing professionals to quickly analyze trends and measure your fleet's performance.
With round-the-clock monitoring, you can effectively manage unsafe behavior, unauthorized use, or deviations from standard procedure. You can operate dynamic routing with fewer fleet vehicles and a small delivery team.
Pricing:
Pros
Live tracking app
Easy navigation for drivers
On time notifications
Cons
Service time issues
Customer service is not great
8. RouteXL
RouteXL is a cloud-based online route planner which assists the delivery team to perform local deliveries as well as multi-stop deliveries in different service areas. With its route optimization algorithm, business owners can generate optimized route plans in less than a minute.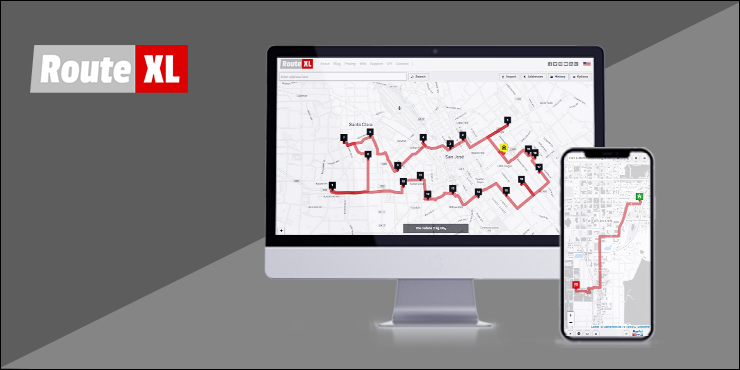 Most delivery-based industries like HVAC, landscaping, small repair services, field service companies and courier services find it easier to plan routes and manage multiple vehicles.
GPS-enabled route optimization software provides you with real-time delivery updates for smoother delivery operation. A powerful delivery management software uses OpenStreetMap for route generation and helps drivers to follow the optimal route.
Pricing:
RouteXL 100: $37.55 per month
RouteXl 200: $75.10 per month
Pros
Free trial with unlimited routes
GPS tracking
Auto-task distribution
Cons
It takes time in importing files
No live chat support
9. Toursolver
Toursolver is a popular web app that is widely used for autonomous dispatch and fleet management by last mile delivery businesses. It helps the drivers to take faster delivery routes from the app so that they don't need to search on Google Maps. During the delivery operation, you can track the driver's exact location through the live tracker.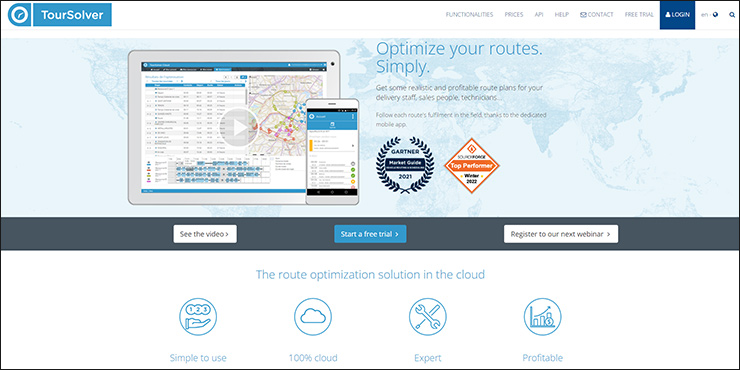 Toursolver assists multiple drivers simultaneously from distribution center to delivery destinations. Following the successful delivery, drivers can record real-time electronic proof from their smartphones as well. It is one of the best route planning software which keeps records of last mile delivery services.
Pricing:
Toursolver: $37.55 per month / vehicle
Toursolver premium: $48.27 per month / vehicle
Pros
ETA notifications
Billing and Invoicing
Territory management
Cons
No easy navigation for drivers
Unable to add or edit stops
What Are The Key Features of Fleet Routing Software?
Below is the list of main features of best routing software.
Route Optimization Platform: The ability to optimize your multi-stop routes daily is an important feature for efficient deliveries. Having a route optimization solution is important to find out the most efficient way of making deliveries. It is a significant feature for delivery businesses which lessens the job of your delivery team.
Proof of Delivery: Collecting proof of delivery by capturing a picture of the product being delivered at the doorstep or e-signature is a good way of making sure the deliveries are being fulfilled and planned. If there is a missing package, the driver has proof to show that the delivery had been fulfilled.
Customer Notifications: Customer notifications allow businessmen to inform their customers about the estimated time of arrival of their package. Customers can be ready to receive the package or make adjustments to be present to receive the package whenever the driver reaches the destination.
Delivery Constraints: Route planning with company-specific constraints like a priority, service time windows, vehicle size, and vehicle capacity can be difficult to manage. When you have a sophisticated route algorithm taking care of operational efficiency, you can easily focus on your deliveries.
Spending hours doing manual planning?
Sign up with Upper
and wipe off your delivery troubles by using advanced routing software.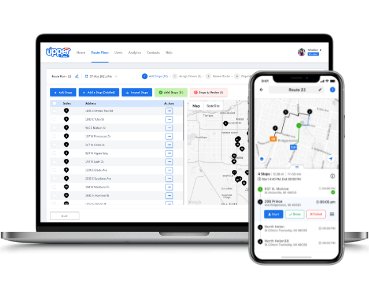 Upper Route Planner
A Simple-to-use route planner that every one is talking about.
Save up to 95% of planning time
Save up to 40% of time on the road
Plan 500 stops at once
FAQ
There are proper route planning apps for the most efficient routing. You can choose free consumer apps like Waze & Mapquest, though these apps have their own limitations. For better results, you can use a route planning app like Upper Route Planner to plan multiple deliveries with multiple locations at once.
A fleet management company is responsible for maintaining the performance and safety of vehicles to improve overall productivity by ensuring fleet safety, vehicle maintenance, and reduced fuel costs.
Food ordering via smartwatch or even self-driving cars
Data analysis
Multi-delivery options
Delivery via robots, or drones
Ghost kitchens
It is a part of the delivery routing process to use delivery fleets in the best way by considering fleet size, vehicle capacity, and availability of drivers. The fleet routing and optimization will reduce the vehicle costs and help your delivery team to complete deliveries on time. Businesses using such a fleet optimization method have higher chances of meeting the ETA.
Fleet managers or fleet administration are known for managing delivery fleets as per the number of deliveries to be performed. The role of the fleet administration user is to deploy vehicles and drivers for the deliveries. Nowadays, fleet routing software has taken over the role of fleet administration.
Final Thoughts
Referring to these route planning software, you may ponder which one is suitable for your delivery business? – If you have large-scale businesses, you can opt for Optimoroute or Route4Me. Whereas, if you have a small or midsize delivery team, we recommend you to use the Upper Route Planner.
With Upper, you can plan, manage, and auto-assign delivery routes with just a few clicks. The route planning and optimization software is best used for logistics, food delivery, and courier companies. In fact, it is the first choice route optimization tool for many business owners. You too can manage a delivery operation at your fingertips by giving Upper a shot.