What is the one common link that connects an independent driver, delivery businesses, moving companies, and logistics businesses? It is a need to plan routes with multiple stops and optimize them. This simple process of planning and optimizing routes improves delivery performance and overall operational efficiency.
Dealing with complex distribution networks and increasing customer expectations makes it necessary to adopt a tool that helps automate the manual process and easily tackle the problem. Fleet routing software is one such solution that helps you find optimal routes for multiple vehicles visiting a set of locations.
Talking about fleet routing software, there are many options to choose from. Selecting the best option from available options is quite a daunting task. To make things easy, we have highlighted the best fleet routing software solutions that are best in terms of features, ratings, and popularity.
Top 7 Fleet Routing Software To Checkout
Fleet Routing Software
User Ratings
Top Features
Download
Optimoroute

3.8/5

Real-time order tracking
Live tracking & ETA
Automated planning
Real-time route modification
Proof of Delivery

Upper Route Planner

4.4/5

Multiple stops, turn-by-turn directions for multiple routes
Plan 500+ stops at once
Auto import with Excel
One-click driver dispatch
Proof of Delivery
Analytics & smart reports
Human-centric design approach

Workwave Route Manager

3.5/5

Automated scheduling
Driver management
Live driver tracking
Order tracking and management

Circuit Route Planner

4.7/5

Optimize multiple stops at once
Easily drag-and-drop your stops
Search and add destinations fast
Get accurate ETAs

Route4Me

4.4/5

Route planning
Mileage tracking
Order management
GPS tracking
Predictive weather
Avoidance zones

Tookan

4.4/5

SMS gateways
Geofencing
Payment gateways

Verizon Connect

4.4/5

Real-time fleet and driver monitoring
Route replay feature
Alerts and notifications
Fleet maintenance information
Optimoroute

Optimoroute is a cloud-based fleet management software that helps different types of businesses in organizing and managing their mobile workforce.

It optimizes your orders and tasks by taking into consideration factors like day of the week, time windows, priority, reverse logistics order, and skills.

Last-minute route modifications and adjustment of stop sequence are easier with Optimoroute. The software can help businesses in planning for up to 5 weeks in advance with just one click. Other features like Multi-day Long-haul routes, Workload Balancing, and Breadcrumbs, help you manage your delivery operations better.

Pricing Model:

Starter: $17.10 per driver/month
Business: $26.10 per driver/month
Enterprise: $35.10 per driver/month

Pros

Higher cost-effectiveness over some other apps
Plan the whole week with multiple driver settings
Easy to use software
Ability to add stops to routes in progress

Cons

No SMS notification for customers
No option for delivery verification
Can't adjust routes easily using drag-and-drop interface

Upper Route Planner

Upper Route Planner is a route planning and optimization software solution. It creates the most suitable delivery routes and is widely used by independent drivers/contractors, small businesses, and trucking businesses. The simple and easy-to-use interface of the app is one of its most unique features.

Upper Route Planner follows a human-centred design approach that focuses on making things easier for the users. It is reflected in the way the interface of the app. Upper Route Planner allows businesses to create multiple routes with multiple stops for multiple drivers at once and within just a few minutes.

It optimally divides the routes between the number of drivers and making sure the load is distributed equally among all the drivers on the list.

Pricing Model: Pricing

Pros

Create the time and cost-efficient routes in a few minutes
Offers turn-by-turn directions
Provides optimized routes for your drivers
Create optimized routes for multiple drivers simultaneously
A human-centric design approach for a user-friendly interface
Proof of delivery, reports & analytics

Cons

Does not offer live driver tracking
No voice directions

Optimize Your Route For Multiple Drivers With Upper Route Planner

Upper Route Planner allows you to add 500 stops in your delivery route and help scale multiple driver deliveries.

Workwave Route Manager

WorkWave Route Manager automates and manages each step of the delivery process effortlessly.

It tracks and optimizes routes in real-time, accommodates changes easily, dispatches those routes to your drivers on their mobile apps, offers real-time updates regarding each delivery in-process.

The same SMS notifications can be sent to the customers to inform them about the location of their package. This little feature can improve customer service and communication. With the reports generated by the software, fleet managers can gain insights and make important business decisions. WorkWave is a route manager in the truest sense of the words.

For pricing, you need to contact WorkWave.

Pros

Easy-to-use driver application
Better technical support team

Circuit Route Planner

Circuit for teams is a great delivery route planning software for creating routes, tracking packages, managing drivers, customers, and delivery operations.

Taking control of your delivery operations becomes easier with features like route optimization, driver tracking, SMS notifications, and accurate ETAs.

Circuit software allows users to optimize unlimited routes with up to 500 stops per route. Sending out delivery updates to your customers becomes easier with Circuit through text or email notifications. The need for proof of delivery is often undermined for delivery businesses. But Circuit has grasped the problem and offered proof of delivery through customer signature or marking the delivery of the package in a safe place.

Pricing Model:

Dispatch: $40/driver/month
Recipient: $60/driver/month
Enterprise: $100/driver/month

Pros

Quick and easy to use for admins, dispatchers and drivers
Route creation and optimization is easy both in-browser and on the app

Cons

Editing routes on the app can be a bit of a pain

Route4Me

Route4me is a fleet routing software solution that saves businesses from early morning routing chaos, and it is ideal for companies with multiple stops for one driver and claims to generate 25-30% shorter routes.

They give a ton of information as well as allow for a lot of customization on the routes and give you the ability to view them as a grid on a map, single route views, etc. However, this delivery route planner app assumes all your drivers start at the same time from the same point.

Pricing Model:

Route Management: $149 per month
Route Optimization: $199 per month
Route Optimization Plus: $299 per month

Pros

Easy to use and quick
Improves scheduling and makes the most effective deliveries
Easily add new stops to vehicles already in route
Ability to plan routes using pre-set ETAs

Cons

It is very expensive
No room for customizing driver profiles
Add-on features have additional fees

Upper Crew

A Simple-to-use route planner that every one is talking about.

Save up to 95% of planning time
Save up to 40% of time on the road
Plan 500 stops at once

No credit card details required

Tookan

Tookan is a fleet routing software that helps businesses streamline dispatch operations and facilitate communication between managers and delivery drivers.

It comes with an administrative dashboard, which enables users to track orders in real-time and receive automated notifications about new issues. It also lets users analyze the performance of fleets and drivers using actionable analytics.

Pricing Model:

$17 per month
$53 per month
$113 per month
$215 per month

Pros

Awesome customer experience

Cons

There are not many customization options available

Verizon Connect

Verizon Connect's fleet routing and management software that is specially designed for small to medium-sized businesses.

It helps you uncover hidden costs while revealing the potential for greater efficiency. With its active smart dashboards and reporting tools, it allows you to quickly analyze trends and accurately measure your fleet's performance.

With around-the-clock monitoring, you can effectively manage unsafe behavior, unauthorized use or deviations from standard procedure. You'll soon know where you can save, and operate a more efficient fleet.

Pricing Model: Starting from: $45.00/month

Pros

Help you to generate savings and improve productivity
Best customer service
Essential Points To Consider Before Choosing the Fleet Routing Software
The following are the features that must be offered by the routing solutions you choose.
Route Optimization: The ability to optimize your multi-stop routes daily is an important feature for efficient deliveries. Having a route optimization solution is important to find out the most efficient way of making deliveries. Every fleet management solution must offer this feature.
Proof of Delivery: Collecting proof of delivery by capturing a picture of the product being delivered at the doorstep or capturing the customer's signature at the time of delivery is a good way of making sure the deliveries are being fulfilled and planned. If there is a missing package, the driver has proof to show that the delivery had been fulfilled from his end.
Customer Notifications: Customer notifications allow businesses to inform their customers about the estimated time of arrival of their package. In simple words, the process to track a package becomes easier as the customers are updated on the same. The customers can be ready to receive the package or make adjustments to be present to receive the package whenever the driver reaches the destination.
Delivery Constraints: Planning a route with specific delivery constraints like a priority, time windows, vehicle size and capacity, and more can be difficult to take care of manually. When you have an algorithm taking care of these factors, you can easily focus on your deliveries.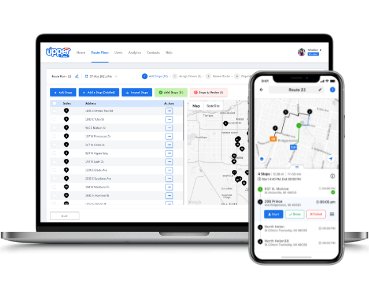 Upper Crew
A Simple-to-use route planner that every one is talking about.
Save up to 95% of planning time
Save up to 40% of time on the road
Plan 500 stops at once
No credit card details required
FAQ
There are several route planning apps for routing multiple addresses. You can choose free apps like Waze & Mapquest, though these apps have their own limitations. For better results, you can use route planner software like Upper Route Planner to plan multiple stops with multiple addresses at once.
A fleet management company is responsible for maintaining the performance and safety of vehicles to improve overall productivity by ensuring fleet safety, maintenance, and reduced fuel costs.
Food ordering via tweet, smartwatch, smartTV, and even self-driving cars
Big Data analysis
Multi-delivery options
Delivery via robots, drones, and even parachute
Ghost kitchens
Final Thoughts
Which fleet routing software is best for your business needs?
Select the fleet routing software solution that can easily resolve the common issues of travelers and businesses alike. You must select the software solution that helps you to do more deliveries with every route and save more time. Your software must be capable of dealing with managing driver's complexities like traffic congestion, lousy weather, or some road diversion.
So, if you are not sure which routing software is good for your business, then you can start your free trial with Upper Route Planner and know how easy it is for you to plan routes and optimize them in just a few clicks.