Key Takeaways:
For restaurants seeking flexibility and broad coverage, DoorDash is the finest delivery app.
The most reasonably priced delivery app with significant local popularity is Grubhub.
Uber Eats is a wonderful option for speedy deliveries and has the greatest delivery tracking tools.
For small businesses as well as individual customers who wish to order food and other items, Postmates is a versatile delivery app.
With technological advancements and rising customer demands, the new year brings a fresh perspective for retailers and drivers to discover new income opportunities. On a CAGR basis, the expected annual growth rate for the food delivery market is around 13.68% between 2022 to 2027. This is because customers are ready to pay delivery fees and commission even if they are too much.
But, as online food delivery platforms are upscaling their businesses, they are in shortage of drivers or route optimization solutions. Also, there are a lot of options when it comes to working with a delivery service company. Whether it's pickup from store or restaurant delivery, you might wonder, "Which is the best delivery app to work for in 2023?" Well, this blog has a curated list of the 14 best delivery apps that you must watch out for.
Best Delivery Apps Comparison
To answer your questions, we have covered the best delivery apps with a comparison of their features and categories. Selected on the basis of their ratings and reviews, these apps are known for their easy-to-use functionalities.
Delivery App
Category
Top Features
DoorDash
Food & grocery delivery

Supports real-time tracking
Multiple payment methods
No-contact delivery

Instacart
Grocery & food delivery

Exclusive coupons
Chat functionality
Group shopping
Contactless delivery
Same-day pickup or delivery

Delivery.com
Food, alcohol, gifts, laundry, and grocery delivery

Contact-free delivery
Group-ordering
Earn delivery points with every order
Tag favorite restaurants
Unlimited free delivery

Grubhub
Food delivery

Supports contactless delivery
Food delivery with real-time tracking
Provides cash and online payment
Save your order history
Place your order in advance

Caviar
Food delivery

Easy-to-search design
Quick customer support
No-contact delivery
Fresh and healthy food options are available

Postmates
Food delivery

Real-time notifications
Order tracking system
Easy pickup and non-contact delivery

Uber Eats
Food delivery

Simple delivery ordering
Real-time order tracking
No-contact delivery option
Easy payment processing

Favor Delivery
Food, grocery, and alcohol delivery service

100% contact-free delivery experience
Best customer support
Smooth payment processing

Gopuff
Food & alcohol delivery

Non-contact delivery
Quick order and delivery
Secure payment processing
Awesome customer service

Amazon Flex
Delivery driver job

Flexible work schedule
Competitive payments
Weekly driver payments

Seamless
Food delivery & restaurant takeout

Best restaurant deals and special offers
Preorder and express re-order
Check for reviews of local restaurants
Easy payment processing

Bite Squad
Food delivery

Live tracking system
Schedule an order in advance

Shipt
Grocery & household items delivery

Same-day delivery
Time tracking option
Multiple items delivery

ChowNow
Food orders

Connects people to local eateries
Commission-free
14 Best Delivery Apps to Drive for in 2023
To cater to the needs of customers, delivery apps are now delivering food, groceries, liquor, and other items in the least amount of time. And with the increasing number of apps, the need to do research on which ones suit you the best is important.
So, if you are seeking to be a delivery driver, you can go through the details of the below 14 apps and choose your best fit.
1. DoorDash
Available on: Android and iOS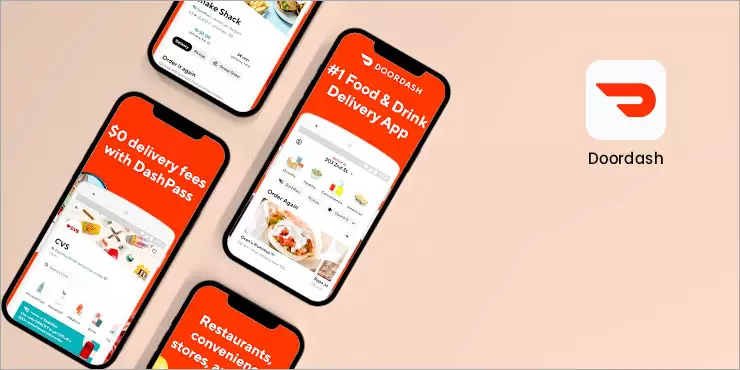 DoorDash is a popular delivery app that quickly connects food delivery drivers with customers.
This restaurant delivery service app helps drivers (or we can say Dashers) to directly deliver meals from restaurants to the customers either residing at home or working.
On receiving the order, it depends on the driver whether they need to deliver the food via car, motorcycle, bicycle, or even foot. Moreover, they have the freedom to schedule their hours in advance.
Apart from food delivery, DoorDash, in partnership with leading companies like Smart and Final, Walmart, and even Fresh Thyme, allows potential customers to order groceries in an easier way. Moreover, DoorDash doesn't charge anything extra for the items you purchase from these companies.
Pros
Flexible working hours and customer tips
Easy-to-use interface
Peak payments are available
Cons
No guaranteed hours of work
No hourly payment
2. Instacart
Available on: Android and iOS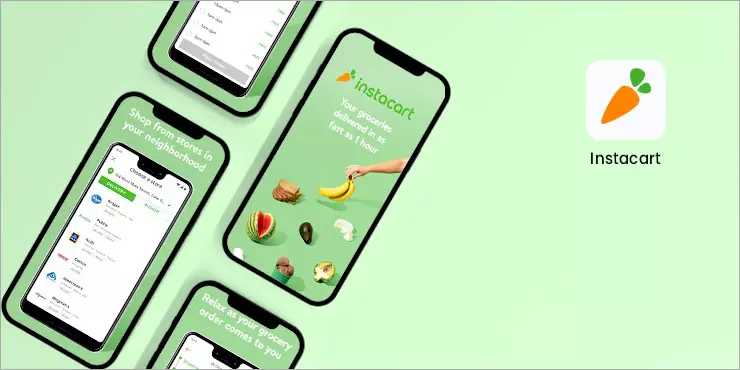 The next delivery app on our list is Instacart. The app has more than 150 grocery stores for customers to choose from.
The customers need to shop online from stores in a local area, and the Instacart app connects them with the driver who will get the items delivered directly to their door via same-day delivery. Not only groceries, but this delivery app also offers other necessities like diapers, flowers, and even alcoholic beverage deliveries.
Instacart allows you to order groceries online for contactless or curbside pickup delivery directly at your local store. It's one of the most essential and stable delivery services out there. This is because the Instacart app includes two options: full-service shoppers, and in-store shoppers and Instacart has a good pay scale for shoppers.
Pros
Saves time when buying groceries
Healthy food options
Offers convenient time slots
Cons
Expensive items
Delivery and service charges may apply without Instacart+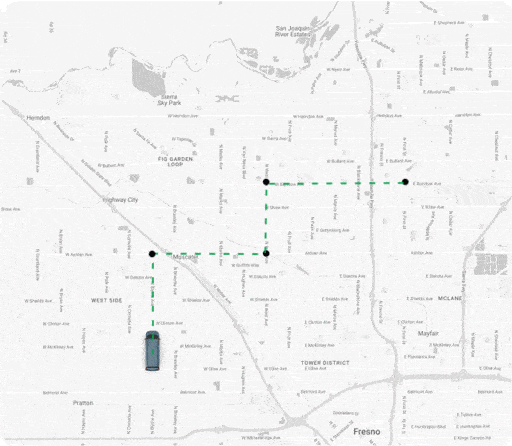 3. Delivery.com
Available on: Android and iOS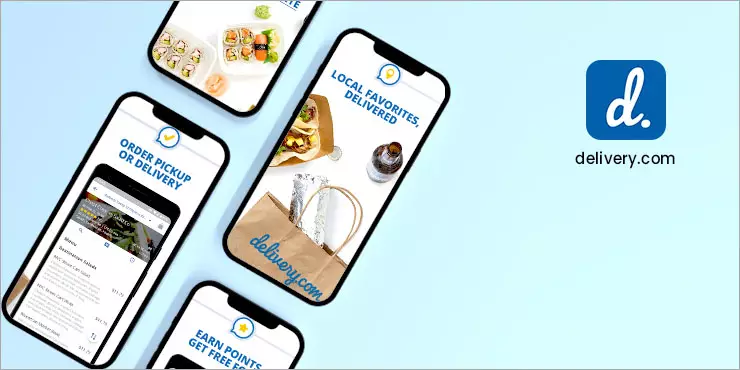 Delivery.com is a delivery app that collaborates with many local stores and cafes throughout a bunch of cities in the U.S. and is best known for delivering food, grocery, alcohol, laundry, and even dry cleaning.
This food delivery app has an option "self-delivery," where you can pick up the order directly from the local restaurants, hotels, or even other locations.
Apart from providing food ordering, this delivery app offers a broad range of delivery options like scheduling pickups and drop-offs for laundry, groceries, beer, wine, spirits, and dry cleaning.
With its group ordering feature, you can quickly reduce the number of deliveries by splitting the orders with your neighbors and roommates.
Pros
More delivery options like laundry, groceries, and alcohol
Flexible work hours
Good customer service
Cons
Less driver payment than other apps
Orders can be inconsistent
Sometimes, payments may be delayed
4. Grubhub
Available on: Android and iOS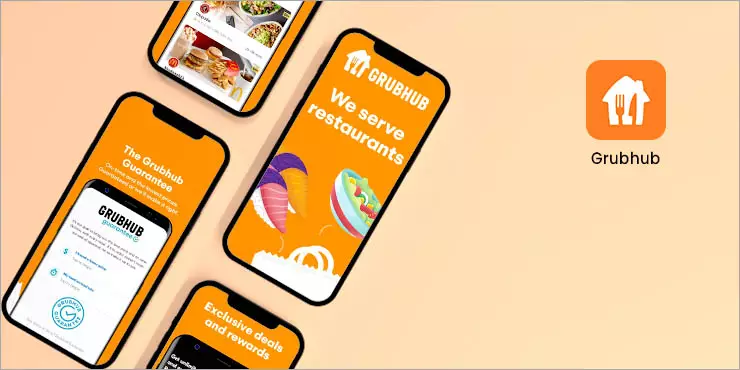 Grubhub app, one of the top-rated food delivery apps, supports over 350,000 restaurants in over thousands of cities in the US and London.
You need to be ready with your favorite dishes, and Grubhub provides you with a list of restaurants along with their menu. Then, with just a few taps on your mobile, you'll get your food delivered straight to your door.
This on-demand delivery service mainly delivers for restaurants or fast food cafes, but it's expanded to include convenience stores to deliver groceries to the customers.
Pros
Customer support Available on phone for US delivery drivers
Better tips from customers
Flexibility, details of orders shown before drivers accept them
Cons
Not many incentives for delivery drivers.
Minimum order requirements at some restaurants
No liability insurance for drivers
5. Caviar
Available on: Android and iOS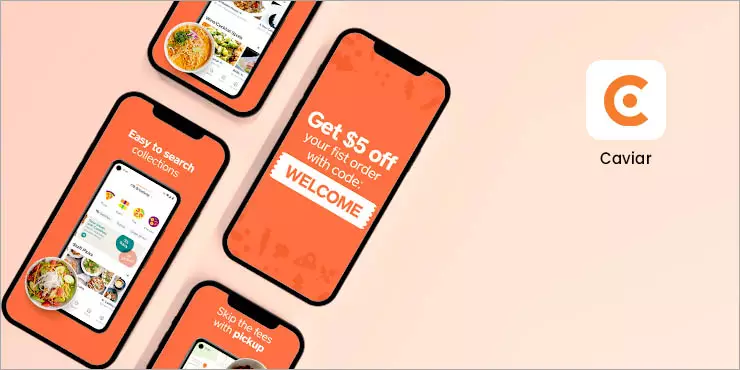 Formerly known as a higher-end food delivery app, Caviar provides smaller but growing food delivery to the East Coast, large cities in the Midwest, and California.
In 2019, DoorDash purchased Caviar. Caviar allows you to search for a diverse food selection like donuts, fast food, sushi, and even Indian food with this robust partnership.
Just before accepting the order, Caviar provides the complete information to a delivery driver about the earnings and even "expected pay" for the entire day. However, the actual earnings may differ based on the number of orders, pick-up and delivery locations.
This food delivery app allows drivers to check for real-time estimates of their earnings before each delivery. Moreover, they must have a valid driver's license before joining the company and delivering the food to the customers.
Pros
Payment details can be seen before accepting the order
No penalties for low rates of order acceptance
A Variety of food options
Cons
Only limited regions can access
Not much flexible for drivers when it comes to adding schedules
6. Postmates
Available on: Android and iOS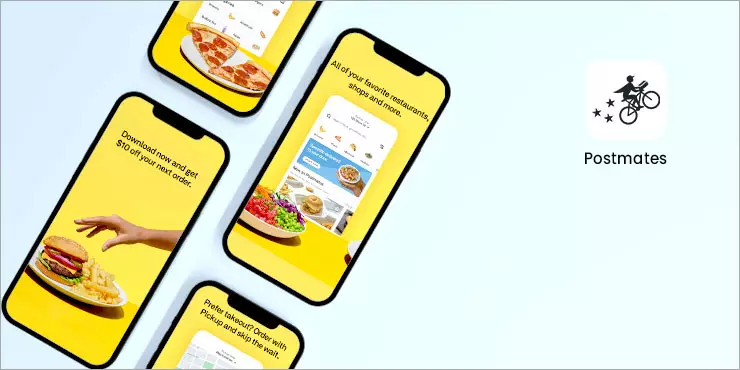 Postmates is one of the best food delivery apps in the United States. The slogan of Postmates says everything that they provide. It says "anything, anytime, anywhere."
Postmates started its journey in 2011, and currently, it is serving the best food delivery services to more than 50 states. Even though Uber Eats acquired Postmates in 2020, it still operates as its own brand.
Along with food delivery services, Postmates provides grocery services to customers. However, the most exciting part about Postmates is that, with monthly delivery charges of $9.99, you do not have to pay delivery fees on orders over $20. The delivery fees will depend on the order size and the overall distance.
Pros
Easy and user-friendly
Great potential to earn
Flexible work hours
Cons
Direct deposit of payment is limited until a few requirements are met
Low payment on waiting
7. Uber Eats
Available on: Android and iOS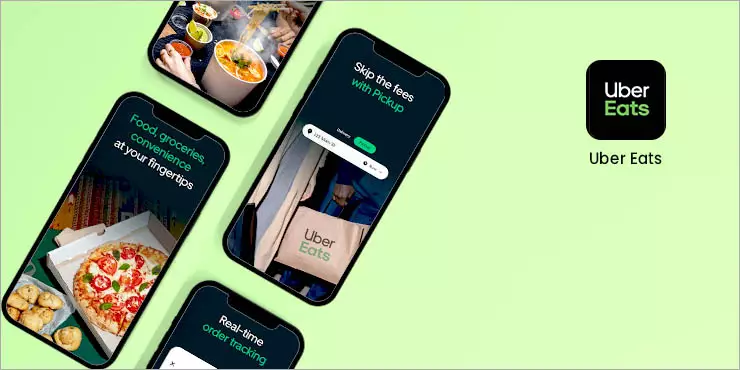 Uber Eats is one of the top-rated food delivery apps that is owned by leading ridesharing giant Uber. The primary reason to get the title "best delivery app" is because it has the best food delivery service capabilities.
Uber Eats started its journey in 2014, and now it has over 9,500 merchant partnerships in delivering food from your favorite nearby restaurants. You'll find many notable local restaurants with discounts and coupons on almost every order in this app.
Uber Eats quickly solves your food craving issue by providing you with the option to order food from your favorite restaurant.
Uber saves you the hassle of being involved in the payment process for food orders. Instead, the platform's partner restaurants are reimbursed directly by Uber. Uber Eats drivers get a good amount of salary.
Pros
Offers incentives for drivers
Good discounts and offers from restaurants
Divers can choose the hours
Cons
Waiting time and traffic can be frustrating
GPS failure or vehicle wear and tear can be frustrating
8. Favor Delivery
Available on: Android and iOS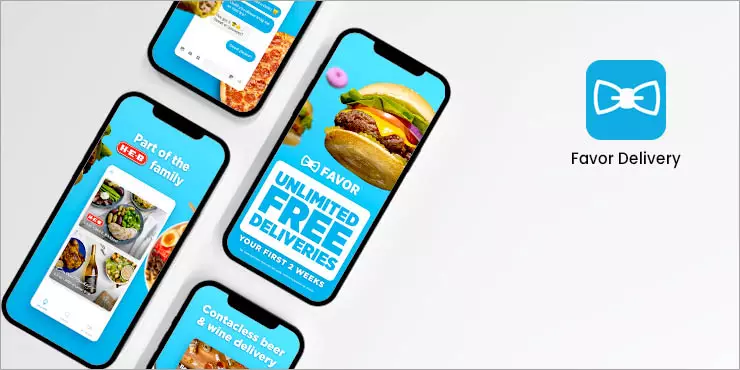 Favor is the easiest way to get anything you want in your city, whether it's food, groceries, wine, beer, and other essentials.
With the help of this app, you can quickly browse menus from multiple local restaurants and stores near you with few taps on your mobile. In addition, Favor app offers express delivery service to the prime customers to quickly receive their order in less than 2 hours.
The good part about Favor delivery app is that you can even create a custom favor. It means that it allows your runner to guide where to go and what to get.
Pros
High driver payment
Can also deliver on bicycles
Better hourly guarantees of payments
Cons
Limited availability across regions
Not so much popular
9. Gopuff
Available on: Android and iOS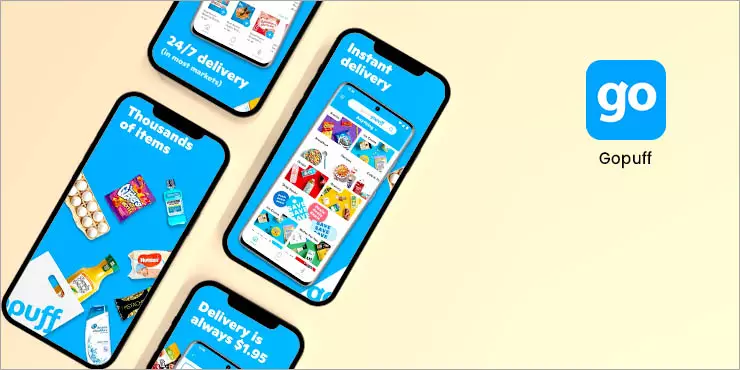 Gopuff provides the best delivery service in food and drinks, household essentials, baby stuff, pet stuff, fancy water, energy drinks, snacks, ice cream, and even alcohol in some selected markets.
Gopuff also provides late-night deliveries of groceries and food essentials to the customer whenever they need them. And Gopuff offers fixed delivery fees of $1.95.
Gopuff also carries over-the-counter medicine, electronics and beauty products.
Pros
One central delivery hub
Guaranteed hourly pay
Flexible work hours
Cons
Less competitive earnings as compared to other apps
Limited to certain regions
10. Amazon Flex
Available on: Android and iOS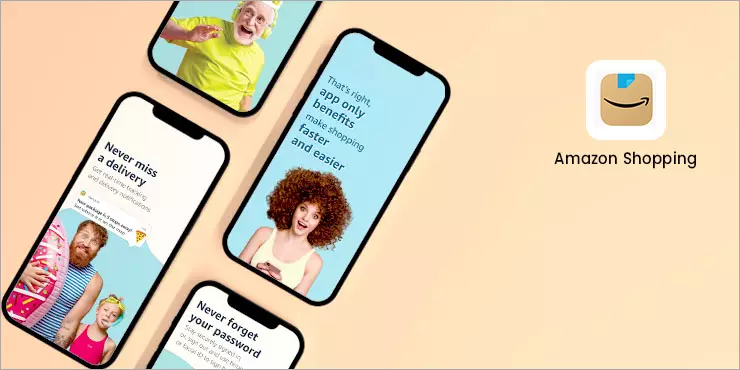 If you're looking for a delivery driver opportunity, Amazon Flex can be your best bet.
Amazon offers Flex services for drivers to pick up parcels and deliver them to Amazon customers on the said date and time. It operates in North America, UK, Spain, Germany, Singapore, Japan and India. Amazon Flex provides great pay and helps drivers deliver packages easily.
Whether you wish to save money or just want a part-time job, this one is a good option. Most of the Amazon flex delivery partners make around $18 to $25 per hour (although this may vary). It also allows drivers to schedule work in advance or perform same-day deliveries.
Pros
Excellent for delivery drivers
Flexible work schedule
Health and safety focused
Cons
Drivers have to bear fuel expenses
Have to pay taxes independently
11. Seamless
Available on: Android and iOS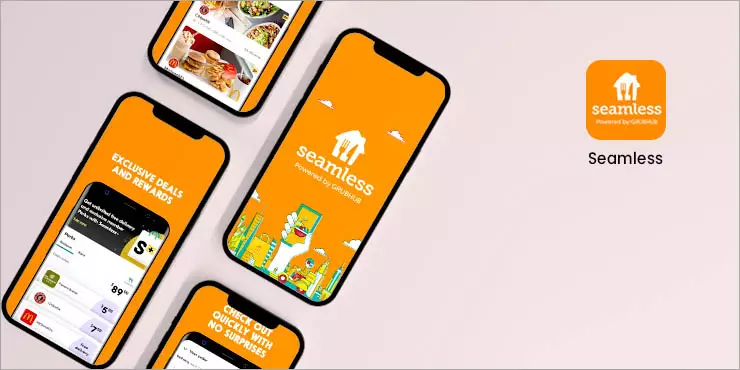 If you are a New York resident searching for a top delivery app, then trust me, Seamless is the right choice.
Seamless offers the option of takeout and delivery for foods, especially for New York people. With its quick and easy online ordering service, you can directly order your food by just checking the menus on your mobile phone.
Moreover, this food delivery app helps you deliver food from your favorite restaurant and offers you the best deals for the same. You'll receive points that you can use to get up to $100 in great deals with every order.
Pros
Available across a wide range of locations in US
Advance delivery scheduling option
Competitive payments
Cons
Less brand recognition beyond big cities
Drivers can't work exclusively for seamless due to it being owned by Grubhub
12. Bite Squad
Available on: Android and iOS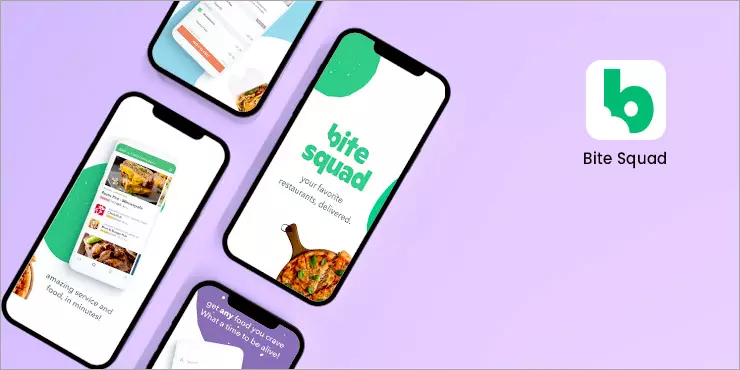 Bite Squad is a food delivery app supporting handy filtering tools and a search bar to help you find the best food craving dishes.
Customers can use the app for restaurant order delivery by choosing what they like. The registration process is straightforward and also offers low booking fees, speedy delivery, and accurate orders.
With its live tracking feature, you can quickly check the progress of your food to arrive at your location. Let's say you have any queries related to the delivery; Bite Squad offers a Live Chat customer support team to help you.
Whether you need your food on-demand or would like to schedule an order in advance, the Bite Squad app will get restaurant food to you when you want it.
Pros
Guaranteed hourly pay
Drivers can schedule hours of work in advance
Easy user interface
Cons
Sometimes, you may need to work extra
Have to bear car insurance and taxes
13. Shipt
Available on: Android and iOS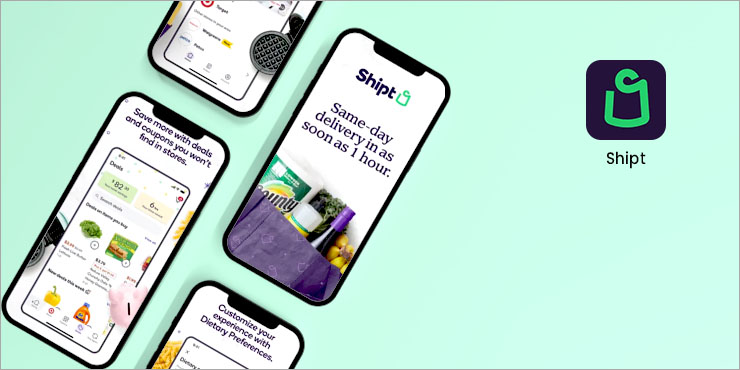 Founded in 2014, Shipt caters to customers who want same-day delivery. Its primary focus is delivering grocery items.
Shipt expanded over 5,000 cities after being acquired by Target and became one of the most popular food delivery apps in the US. Customers can also choose for 1-hour deliveries of groceries and household essential items to their doorsteps.
Shipt is building trust by making deliveries on the same day or even within an hour. Shipt shoppers are paid on an average of $20 to $30 per hour. You can see your estimated earnings in the app, and decide whether you wish to accept the order or not.
Pros
Same-day or delivery within an hour
Variety of stores to check and choose from
You can shop for multiple orders at a time on Shipt
Cons
Shipt shoppers must shop alone
Prices are higher as compared to in-store purchase due to processing and packing
14. ChowNow
Available on: Android and iOS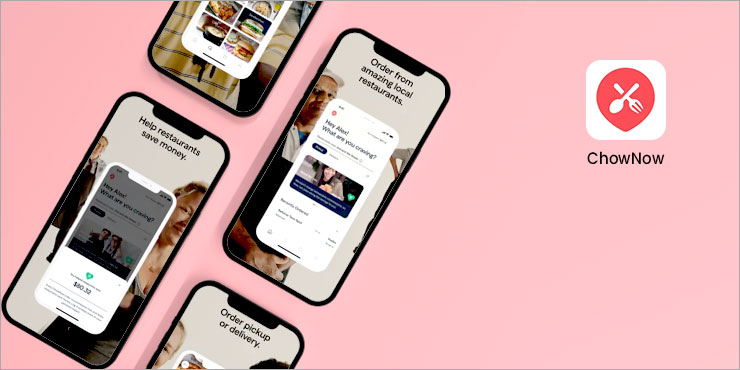 ChowNow doesn't charge a commission fee and focuses on helping customers find an easy pickup or delivery options from their favorite restaurants.
ChowNow has partnered with numerous restaurants in 50 states of the US. The company doesn't believe in taking commissions from restaurants, so they try to offer cheaper delivery options. It is a cost-effective food takeaway or delivery option.
It offers a distinct menu from the neighborhood of takeout places. Simply put, it connects restaurants with customers. ChowNow is a beneficial platform for both: restaurants that require an online presence, and customers who are looking for cheaper options.
Pros
Connects delivery drivers to restaurants
No hidden fees
Connects locals to restaurants
Cons
Delivery is limited to certain regions
Small-scale as compared to other services
Following the list of best delivery apps for major markets like food, groceries, alcohol, and other essentials, you must have a clear idea about the app's delivery services. To be the largest delivery service, it is essential for both delivery companies and delivery personnel to provide the best customer experience. So, let's discuss in the next section.
Leave Your Route Planning Stress Up to Upper Route Planner
The most crucial role of delivery drivers is to reach the delivery locations on time and make their customers happy. A lot of customers are paying delivery fees, so they would need the service to be fast. But they need to face many challenges like traffic congestion, weather issues, road diversions, and other obstructions.
Is there any possible solution to get rid of it? Yes, of course! An independent contractor or driver can easily use route optimization software like Upper. Using the human-centric design approach and optimizing algorithm allows drivers to quickly check for the most efficient delivery routes to reach the customer's location.
You can quickly deliver items, along with saving a lot of fuel with its unique features. Upper also lets drivers take delivery proofs through e-signatures, photos, and add notes if required. This makes your job more credible and increases social security of orders.
Level Up Your Route Planning Tasks with Upper
What else do you need when you can plan most efficient routes on Upper route planner? Switch to Upper and bring out smiles on your customer's face with fastest deliveries.
Try Upper for Free

FAQ
Doordash, Instacart, Amazon Flex, and the other delivery apps we discussed in this article do pay competitive amounts to drivers. Instacart ($25 per hour) seems to be offering the most earnings depending on how much you work and locations you cover.
Google Maps allows a maximum of 10 stops per route. For more stops, you can use route optimization software like Upper Route Planner to add multiple stops at a time.
There are numerous delivery apps that any delivery partner can tie-up with. The best ones include Amazon, DoorDash, and Instacart.
Conclusion
We hope now you can choose your preferred options out of the food delivery industry, businesses that focus on grocery delivery, alcohol delivery, or other markets. Although you have so many delivery apps to choose from, you need the best route optimization software to streamline your tasks.
Moreover, you can perform your deliveries at any of these companies with finesse when you have the most time-saving routes available. Upper Route Planner allows importing multiple addresses through the excel import feature in one go. You don't need manual planning or searching for delivery routes as the smart algorithm helps you find the best ones within a few seconds.
experience how delivery route planning helps your route planning tasks by starting your 7-day FREE trial today!