Key Takeaways:
By optimizing routes, HGV route planner apps can help logistics organizations save time and money.
With the aid of these applications, drivers can steer clear of low bridges and congested areas that are not ideal for heavier trucks.
To prevent delays, certain HGV route planner applications include real-time traffic information and rerouting recommendations.
By showing the most effective routes, HGV route planner applications can increase driver safety and save fuel usage.
The route planner software industry can cross $5.07 billion by 2023. The industry is booming at an 11.4% CAGR and is amongst the top software industries globally.
Route planning and optimization software have become the core segment of successful delivery service providers.
With the increase in the delivery business, the importance of professional software is increasing. One of the crucial aspects of delivery businesses is the heavy goods vehicles or the trucks that help major transportation from one state to another.
And only a few software can deliver excellent route planning results for truck routes requiring optimized long-distance routes that include various halts and necessary stops.
We have shortlisted the best HGV route planner you can use for your business to create an optimized truck route that can simplify your delivery drivers' work.
What Is Truck Routing or Heavy Goods Vehicle Route Planning?
Truck routing or HGV route planning refers to tailoring the delivery route for commercial motor vehicles and ensuring they achieve the highest productivity during the process.
The route planner needs to perform complex routing processing to simplify the results. The route planning algorithms must understand the requirements of commercial fleet management, truck restrictions, and requirements.
The truck route planning software analyzes the refueling stops, rest breaks, and other factors that can deliver the desired routing results.
The truck routing software functions differently than other software focused on fast, highly dense delivery stops.
Here's how you can optimize or plan truck routes using a professional truck route planner.
How To Optimize A HGV Route?
1. Build your fleet
Focus on building a commercial fleet for your interstate or long-distance delivery process. You must recruit a team of expert fleet managers who can look over the operations of your delivery fleet and manage the truck drivers.
2. Integrate an HGV route planner
Integrate a professional HGV route planner that can help you streamline your truck delivery operations and ensure that your delivery fleet experiences the best route optimization service.
It can help to enhance the efficiency of the drivers and help them work according to the planned routes.
3. Add delivery addresses
Enter the delivery addresses using Excel or other desired format that can help you kick-start the process of planning routes. If the delivery stops are fewer, you can manually enter the details to help the route planner deliver optimized routes.
4. Optimize the delivery route
After entering the necessary delivery details, you get the optimized routes within a few clicks.
5. Dispatch the routes
Your fleet managers can dispatch the optimized delivery routes to your truck drivers that can help them save time, deliver multiple stops, and bypass the traffic.
Using the HGV route optimization process, you can save fuel costs and achieve cost-efficient results.
Look at the top truck routing planning and optimization software ideal for your delivery business.
Top HGV Comparison Table
Logo
Name
Pricing
Upper Route Planner

Essentials – $31.99 per driver/month (billed annually)

Growth – $39.99 per driver/month (billed annually)

Enterprise – Contact the vendor

TourSolver

Basic – €35 per month/vehicle

Premium – €45 per month/vehicle

MyRouteOnline

Basic – $39/pay as you go

Classic – $59/pay as you go

Premium – $109/pay as you go

Route4Me

Route Management – $199/month

Route Optimization – $249/month

Route Optimization Plus – $349/month

WorkWave
5 Top HGV Route Planner Software
1. Upper Route Planner
Upper Route Planner is a professional HGV route planning and optimization software that provides delivery businesses and truck drivers a plethora of premium features to execute multiple-stop long routes.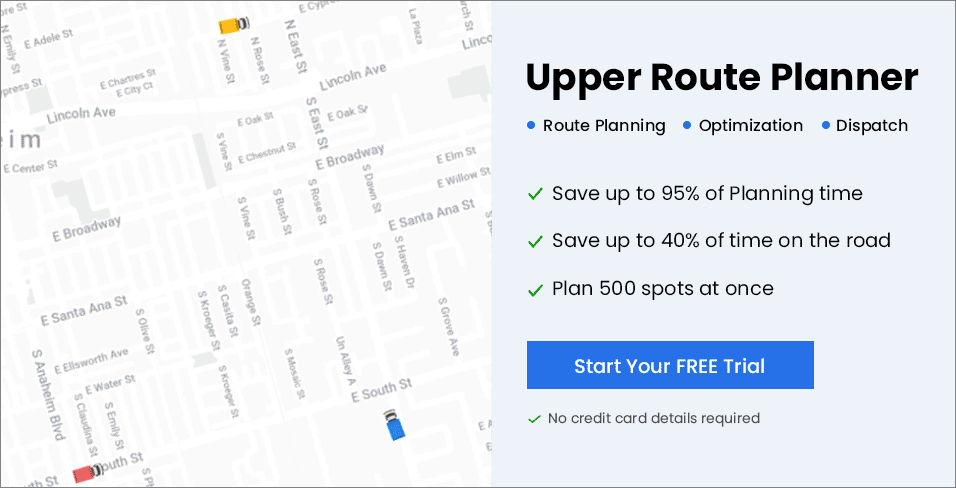 You can automate delivery scheduling, management, and dispatching with a few clicks. The software delivers highly optimized truck delivery routes and shortest paths within seconds.
You can create multiple routes at once by uploading up to 500 addresses from Excel. Upper Route Planner can help you minimize the complexities of a long route-truck route planning, and offers extra features for simplifying the process.
Look at a few top features offered by the software:
One-click driver dispatch

Import 500 stops through excel

Advanced route scheduling

Advanced route planning and route optimization

Proof of delivery
Pros
Handles multiple stops

Cost-effective and optimized routing

Detailed reporting for effective results
Cons
No street view

7-day trial
Optimize HGV Routes in Seconds
Get Upper for faster route optimization for your multi-stop deliveries. Take benefit of completely automated delivery process and wrap up your delivery schedule early.
Get Upper Now

2. TourSolver
A professional cloud-based HGV management software, Toursolver can deliver an excellent experience in planning routes for long-distance and heavy-load deliveries. The software is ideal for businesses from different industries and of different scales.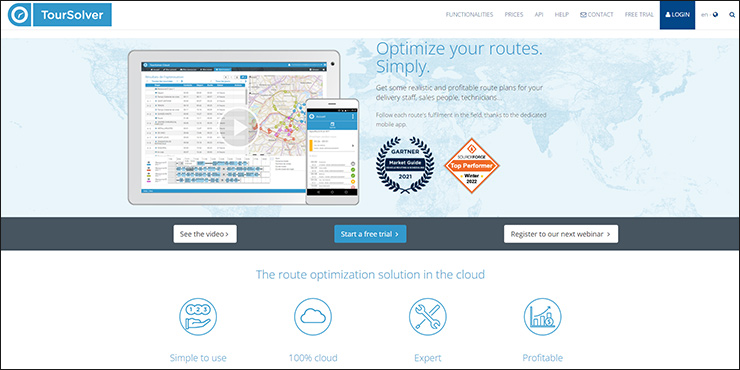 It offers a great simulator, enabling your delivery business to assess time, improve cost results, calculate mileage, and optimize decisions.
You can export itineraries and schedules using Excel, iCalender, or PDF with the logistics and transportation team.
Pros
Get an optimized truck route plan.

Endless functionalities available.

Quality route optimization results for scaling the delivery operations.
Cons
Ideal for big organizations.

Costly
3. MyRouteOnline
You can convert Excel files into optimized and shortest truck routes using MyRouteOnline. The software enables you to optimize longer HGV routes and dispatch them effectively within no time.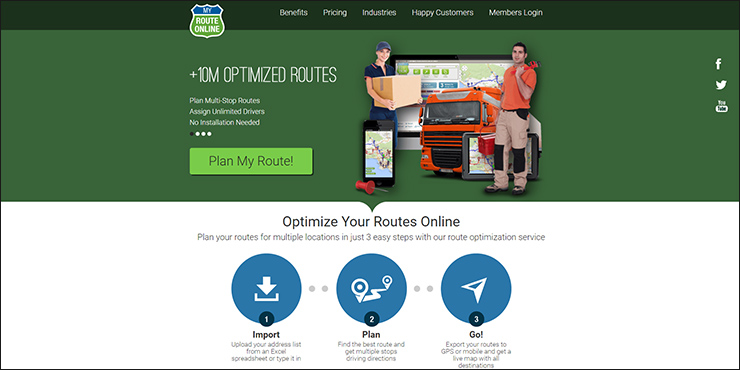 You can access MyRouteOnline's free version of the software to experience the process of creating multiple truck delivery routes. Your truck drivers can get turn-to-turn driving instructions that can help you complete the delivery task quickly and effectively.
You can handle more long routes and heavy delivery orders to scale your business revenue and profits. The software enables you to explore the truck routes, print, and reload for a better delivery experience.
Pros
An user-friendly and intuitive interface

Give crystal clear directions for a smooth delivery process

Power GPS tracking for long route deliveries.
Cons
You cannot edit the address later

You must reformat the Excel files
4. Route4Me
A quality HGV route optimization software that can help you dispatch different heavy products or goods with the assistance of powerful built-in navigation. You can create the shortest delivery paths to ensure your workforce delivers quality results.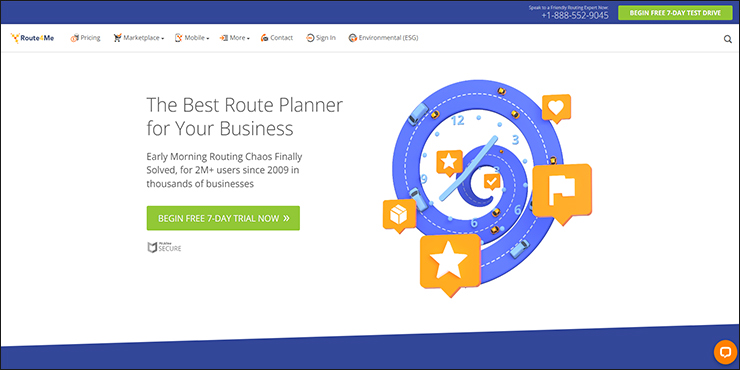 You can control your delivery operations and ensure that your HGV delivery workflow encounters minimal hurdles and discrepancies.
Route4me updates the real-time location of the truck driver that can help you provide your customers with a quality customer experience.
Pros
Unlimited route planning

Quick GPS connect

Excellent route optimization
5. WorkWave
A professional truck route planning software that saves time for the delivery drivers and helps you make more money with enhanced truck deliveries.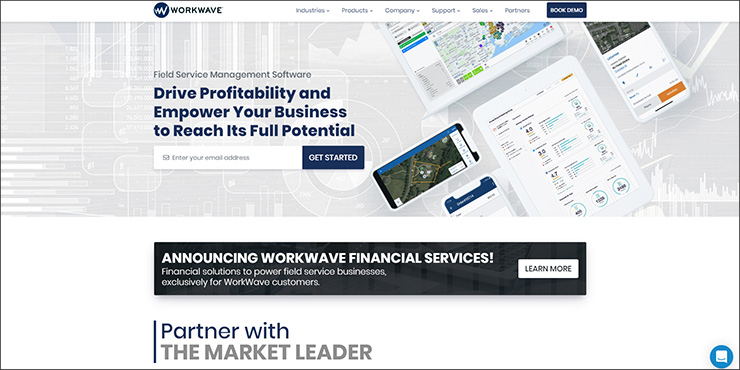 WorkWave offers premium features to optimize your workflow and increase business efficiency. A quality truck route optimization software can automate the scheduling process and show you the shortest delivery paths, ideal for HGV deliveries.
You can save time, effort, and operational costs. It offers time window planning, API, driver app, order management integration, route planning, optimization, and calendar-based scheduling.
Pros
User-friendly access

Shows ETAs

Great technical support
Now that you understand the nitty-gritty details about the top HGV route planners in the industry, it's time you choose one for your delivery business.
Upper Route Planner Stands Out
Providing a combination of quality HGV route planning features with reasonable pricing, Upper Route Planner stands out from the others on the list.
The software has an intuitive interface that can enable you and your employees to access the features and fulfill your desired results quickly.
You can increase the efficiency of your truck drivers and boost your overall business productivity.
Avail the 7-day FREE trial version of the software and decide based on your business requirements, budget, and future goals.
Choose Upper for Cost-effective HGV Routes
Now planning and optimizing routes is a matter of seconds using the Upper Route Planner. Create a route plan including stops up to 500, optimize routes and dispatch your drivers with just a few clicks.
Try Using Upper

FAQs
A professional HGV route planner is software that can assist you in creating optimized routes for your truck drivers for smooth deliveries. The HGV route planner can perform complex processing using a powerful algorithm to deliver the shortest routes for heavy long-distance deliveries. The path is calculated considering the refueling from the gas station, driver breaks, and vehicle checks.
The HGV route planner is vital for your delivery business to ensure that you can streamline the complexities of heavy long-distance deliveries. You can increase the efficiency of your on-ground fleet and create a smooth communication channel between your management and truck drivers. You can help the driver to bypass different difficulties during the delivery process and boost business productivity.
A route planning software is important for managing your HGV fleet to match the rising demand of the industry and the customers and to stand out from the competitors. You can remove the inefficiencies from your delivery management process and minimize human errors. Scale your delivery business to new heights with the integration of professional software that can automate your delivery job scheduling and dispatching process.
Integrate a Professional HGV Route Planner
Researching and choosing a professional HGV route planner is an important but overwhelming task that requires time and effort.
But our team has simplified the process and filtered the best software for your truck delivery operations.
You won't find a better HGV route optimization software than Upper Route Planner.
So, make a wise decision and access the 7-day trial period now to experience the best HGV route planner.