Key Takeaways:
Drivers can save time and money by using LGV route planners, which offer the most efficient route.
The best LGV route planners should take into account restrictions on vehicle height, weight, and size.
Route planning can also be improved by utilizing advanced features like real-time traffic information and weather notifications.
An LGV route planner can be utilized more effectively and easily if it has user-friendly interfaces and customizable capabilities.
The trucking business is considered one of the most expensive businesses of all time. From 2017 to 2018, the overall cost per mile for such businesses increased by 7.7% to $1.821. This statistic is as per the ATRI's Oops Cost Report.
But, the companies are struggling to deal with such costs because the freight returns of the business are either increasing or decreasing over time. As a result, many trucking businesses are shutting down due to unguided cost management.
The individual LGV truck drivers are most affected by this calculation and improper cost management of their services.
But now, there is a way with which you can optimize the operating cost of a trucking business or for driving an LGV delivery truck.
You can use the truck route planner to organize your business or service. It will help reduce the overall operating cost to a significant extent.
What are Light Goods Vehicles (LGVs)?
Light goods vehicle (LGV) is a title for a commercial truck, medium goods vehicle, or all vehicles that weigh less than 3.5 tonnes.
Some examples of LGVs are three-wheeled trailers, pick-up trucks, and delivery vans. One can drive these vehicles with the standard license and driving permit without special training and certification.
Moreover, LGV in specific is the expression that the motor companies and the road transport authorities apply to the classes, types, and permits of vehicles.
Earlier, there were two interpretations of LGV; Light Goods Vehicles and Large Goods Vehicles. But to eliminate the confusion, the large goods vehicles are now termed HGVs (Heavy Goods Vehicles).
HGV vs. LGV: What are the Differences?
| Categories | Light Goods Vehicle | Heavy Goods Vehicle |
| --- | --- | --- |
| Loads | Such vehicles can transport light weighted goods only, such as books, fruits, groceries, etc. | Such vehicles can transport heavy and bulky goods such as electronic appliances, automobiles, industrial machinery, etc. |
| Distance | These vehicles are feasible for transporting goods and parcels for a short distance. | These vehicles are huge in size and have the potential to carry maximum load to farther distances. |
| Fuel Type | Light goods vehicles or light trucks mostly run on petrol, diesel and CNG. | Heavy goods vehicles mostly run on diesel engines as they need more power and load pulling capacity, which only diesel can offer. |
| Road Type | LGVs are optimal for commuting on-roads and are not designed with off-roading in mind. | HGVs have the potential to run seamlessly on both on and off roads. |
| Weighing capacity | LGVs can load goods onto their trailers for up to 8 tonnes. | HGVs can load goods onto their trailers for 15 tonnes and above, depending on the vehicle type. |
| Weight categorization | Less than or equal to 3.5 tonnes | More than 3.5 tonnes |
5 Best LGV Route Planning Software
Before explaining LGV route planning and its efficiency further, you need to get hold of the best options in the market. Here are 5 of them for you to count on:
1. Upper Route Planner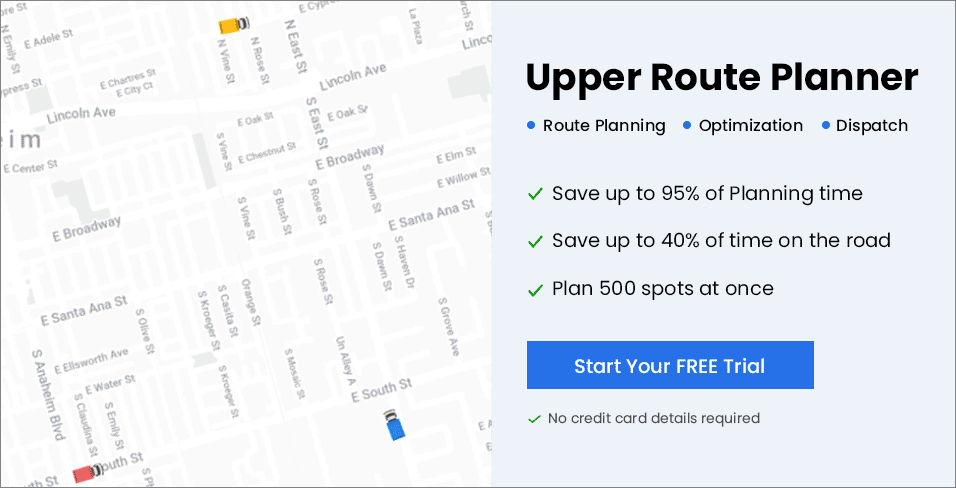 Upper Route Planner is the best LGV truck route planner for which it ought to be in the first position of this listicle.
They have over 5700 happy clients currently using this software to navigate their delivery routes and save on their operation costs.
With it, you can seek route scheduling to avoid delays in your dispatch. You get the flexibility to add and store customer contact over the built-in database to easily add repeat customers for the next route. 
Pros
Enables automated notification for customers.

Saves around 40% of your fuel expenses

Collects electronic proof of delivery.

Optimize unlimited routes.

Supports API integration with your other business software.
Cons
Need to spend a little time getting used to the interface.

Only

7-Day FREE Trial
Upper – A Reliable LGV Route Planner
Need a hand in finding optimized LGV routes? Join Upper and get the optimized routes instantly. Navigate faster routes on your smartphone and reach the destination on time.
Start Using Upper

2. Routific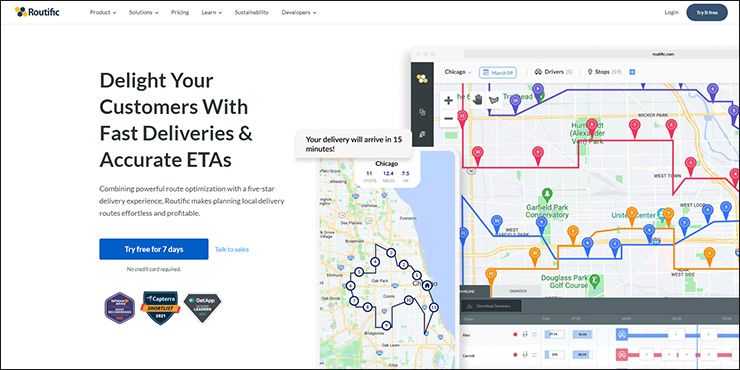 Your next truck route should not be pinned on paper maps anymore. Routific is a moderate truck route planner to help you reduce your operating cost per delivery. It comes with API integration, activity tracking, data import/export, and other features.
Pros
Comes with live GPS tracking.

Keeps your customer updated with delivery notifications.

Measure your operational efficiency with delivery analytics.
Cons
UI is not intuitive or understandable.

Expensive in comparison to other route planners.
3. RouteXL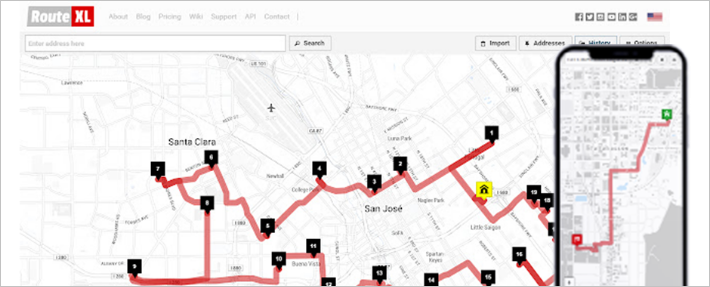 RouteXL is ideal to be used by both LGV and HGV route planners. The Unique Selling Proposition (USP) of RouteXL is its smart algorithm. You cannot be sure that it gives you the shortest routes, but it will give a path that will organize all the stops properly to increase on-time deliveries.
Pros
Mapping of multiple stops.

Enables API integration.

Easy import/export of customer information.
Cons
It can plan only one route at a time.

Only 20 stops can be added at a time.
4. Circuit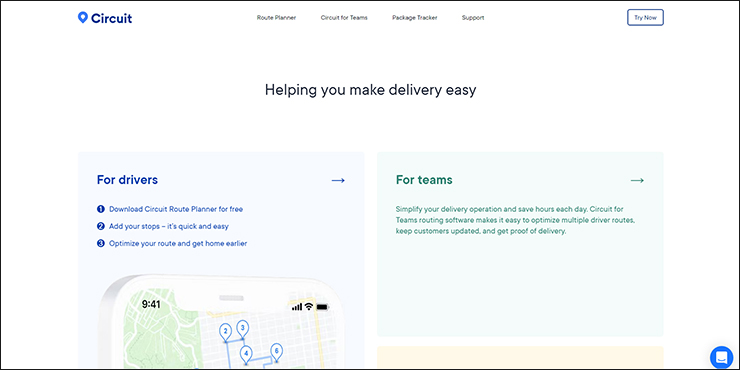 Circuit is used by over 100k drivers currently. It offers traffic information and monitors live traffic to help your drivers get optimized routes on the go. The customers will be informed about their package with automated notifications. You will save a lot of working hours with the automated lorry route by Circuit.
Pros
Offers driver management.

Sends automated dispatch notifications to drivers.

All the activities of truck drivers can be tracked.
Cons
At times, it pulls incorrect addresses from Google Maps, which confuses the drivers and hampers the business.

Most of the time, the software crashes.
5. MapQuest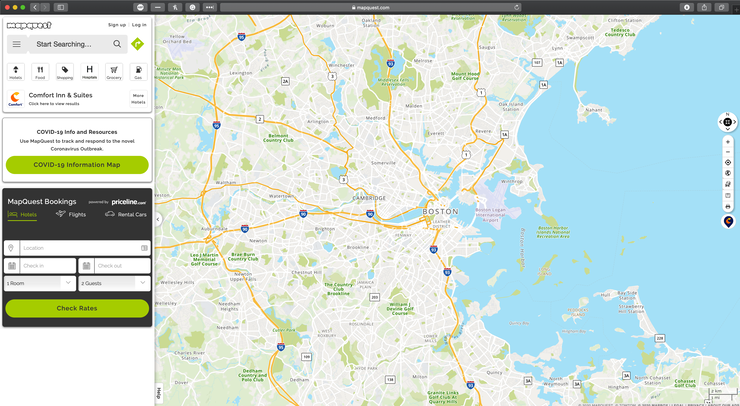 MapQuest was the first available web mapping application for commercial use. It is ideal for defining simple routes. LGV route planning is possible with MapQuest, as they mostly deliver parcels within a shorter radius.
Pros
Offers live traffic tracking.

The interface is easy to use.

It is free to use.
Cons
Less number of stops.

Outside sales or delivery is not possible with its design. Therefore, it cannot be used as an HGV route planner.
Need for Optimal Route Planning of Light Goods Vehicles
The need for truck route planning software is inevitable in the industry today! As stated right at the start, cost management is the biggest problem for individual truck drivers and the trucking businesses as well.
If you are still wondering about whether you need an LGV truck route planner or not, then below are a few points for you to clear your conflicts in mind:
1. Delivery drivers can concentrate better on the road
With manual route planning, the truck routes were pinned over a paper map. Truck drivers had to stop their transit multiple times to check the map and head to the destination. Hence, this consumed time can be eradicated with a truck route planner.
The truck routes will now be automated and accessible through mobile devices, which can fix a mount over the truck dashboard.
2. Saves working time for drivers and dispatchers
If you run a trucking business using LGV or HGV route planners, you can send a notification directly to the driver for a dispatch. You don't have to manually hand them over the details as you will be assigning drivers through the software.
The assigned truck drivers will get the notification of their next route without indulging in lengthy discussions with fleet management officials.
3. Data-driven insights are provided
LGV and HGV route planners help fleet management officials to determine the problematic areas of their service operations through data and statistics. These metrics include on-time KPI, successful deliveries, drop-offs, idle time, and other key elements. Hence, it will help you drive data-driven insights.
How can Upper Route Planner Help You with a Perfect Route Plan for Your Delivery Trip in an LGV?
Upper Route Planner has all the necessary features to thrive with perfect truck routes for your LGV. Some of the efficacies that it has to offer are:
It reduces the planning time with every route you plan.

It allows planning and optimization of multiple routes at the same time.

You will secure more on-time deliveries with compliant routing by Upper.

Profitability will increase with less fuel consumption and better utilization of employees' paid working hours.

Easy addition and removal of drivers from the particular route.

Make adjustments to the driver schedules.

Driver dispatch is processed with just one click.

Upper Route Planner is

introducing the new Timeline View

for the delivery drivers.
With all these features and more, Upper is one of the best route optimization software with an interactive map and dynamic route planning aspects.
Minimize Your Route Planning Time
Never let manual planning become a part of your delivery operations. Swtich to the automated delivery process and lessen your working hours.
Get Upper Now

FAQs
When you are dealing with LGV category delivery operations, you need to be on time as people won't wait long for their small parcels. Planned routes will improve the delivery time.
Google Maps doesn't have the functionality to offer truck-accurate routes to the delivery drivers. Therefore, Upper Route Planner offers dedicated assistance with mapping technology to help truck drivers find appropriate routes and deliver faster.
Summing Up
An LGV or HGV route planner is designed to share the same functions. But, not all route planning software has the potential for planning routes for both of these truck types. HGV route planning needs no boundaries while specifying routes, as big packages are transferred across borders. But at the same time, LGV needs city-wise routing.
The Upper Route Planner has the capabilities to serve both LGV as well as HGV route planning. Get in touch with our experts by booking a demo to learn more about Upper's features.