Key Takeaways:
A digital interface that records a customer's signature is called an electronic proof of delivery.
The ideal ePOD app should be user-friendly and should not require extra training for drivers.
Getting the right delivery management software is a great option to obtain proof of delivery.
Nowadays in the delivery industry, logistics carriers and businesses are facing one of the biggest challenges, integrating a proof of delivery app into their business processes.
Collecting accurate proof of delivery can be immensely helpful for businesses in reducing liability while improving profits and customer experience.
Recording proof of delivery is the need of the hour for delivery businesses as it solves several delivery issues and makes the delivery process smoother.
But for that, you need to have the right proof of delivery app. Now, let's shed light on the electronic proof of delivery software buying guide.
What is an Electronic Proof of Delivery App (EPOD)?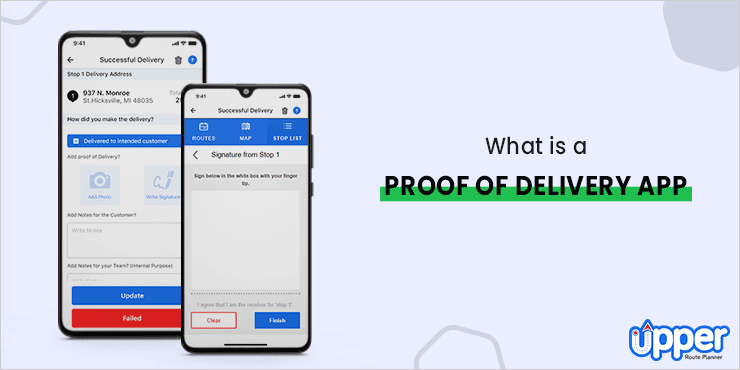 A proof of delivery app is a digital interface to record a customer signature, replacing traditional paperwork. It helps you get an electronic delivery confirmation as proof of successful delivery on your mobile device.
The proof of delivery app allows the delivery agents to record e-signature or take photos once the parcel is delivered. As soon as the delivery proof is captured, it informs the administrative user that the parcel was successfully delivered undamaged.
Thus, it makes sure the delivery executive does not leave the buyer's exact location without receiving the delivery proof of the package. Moreover, if the recipient makes false claims, you can turn them down by showing the delivery proof, previously taken by the driver.
What Are The Key Features Required in a Proof of Delivery App?
A proof of delivery app must have the following functionalities:
1. E-Signature: A delivery receipt app should help turn the driver's mobile phone into a portal for recording customer signatures electronically. E-signature can be referred by the dispatch team whenever required and it confirms that the customer has accepted the parcel.
2. Photo Capture: If a driver receives the instructions to leave the package at the door, there should be a way to prove that. Without clear documentation that the package was left where it was meant to be, it is difficult to prove in case of loss claims. But, if a driver can capture an image of the package, it becomes easier to avoid false claims
3. Delivery Notes: Being able to write additional notes as electronic proof of delivery allows drivers to be more specific. It offers the opportunity to create a detailed record of the delivery. It helps improve accountability on the part of the driver and the delivery business.
4. Delivery Status: It's another feature of the delivery proof app that helps the drivers to get the access to delivery status of the product. If the package is ready to get shipped, the driver should get real-time delivery updates via automated pre-delivery notifications. Also, fleet drivers should learn the scheduled daily tasks in advance so that they can make themselves available.
5. Parcel Information: An app should contain sufficient delivery details such as when and where the driver should get it delivered. Also, the app should help them while offloading the items from the delivery vehicles. That's why the parcel information should be displayed on the screen once the driver has reached the buyer's location. It guides the driver about where the item is lying inside the truck in order to deliver it quickly.
Different Options to Obtain Proof of Delivery
Whenever you need proof of delivery, you can use one of three different ways for collecting proof. Below are three methods to obtain proof of successful deliveries.
1. Delivery Management Software
Obtaining delivery proof is simple when you are using the right delivery management software. Proof of delivery software like Upper will help you get modern electronic proof. This is the easiest way to request digital proof of delivery once your delivery driver has arrived at the customer's doorstep.
Using such delivery systems, you can have contactless proof of delivery such as clicking the photos of the parcel lying outside the recipient's home. Taking the images of the delivered package will send a delivery confirmation to your team as well as to the customer. In short, delivery management software will leave no stone unturned in carrying out successful delivery operations.
2. Delivery Proof Using Paper & Pen
Taking a customer's signature while filling out a delivery form is a common way of collecting proof. It is quite similar to time-consuming manual data entry work where the delivery agent needs to enter customer details with pen and paper. You too can opt paper-based proof of delivery solution, but it won't help you in terms of security, real-time visibility, and storage.
It could be worse if your delivery teams are performing multiple deliveries per day. Therefore, you should go for the remaining two ways instead of carrying a pen and paper all the time.
3. Standalone Proof of Delivery App
Getting an epod software is another way of obtaining the electronic signature as delivery proof. To adopt this method, you can use the online route planner in which you can easily capture the delivery proof and keeps the customer informed. Route planner comes with a dedicated driver mobile app where the delivery agent can store the proof of delivery data like digital signature and images.
When Should You Use a Standalone Proof of Delivery App?
Below are the points which indicate if you are in need of standalone proof of delivery app or not.
Limited Functionality: A standalone or a single-purpose POD (proof of delivery) app offers limited functionality & is not as sophisticated as enterprise-level delivery software. So, if you are okay with limited features, you can go for it.
Rely On Different Software For Routing: If your drivers don't rely on different route planning apps, then you should use the standalone proof of delivery app.
Dealing With Multiple Platforms: If your drivers already have different apps for route optimization and proof of delivery, they will have to constantly switch between multiple platforms. In this scenario, you should go for delivery route optimization software instead of standalone proof of delivery app.
Performing Multiple Deliveries: Many ePOD apps charge a higher cost with an increased number of deliveries. So, if you have multiple deliveries to perform in a single day, you should not use such an app, but go for advanced routing software.
Dispatchers Will Have To Switch Between Apps: In case you want a single platform to keep delivery proofs in mobile applications, you can get standalone proof of delivery app.
How To Use Upper Route Planner: An Advanced Route Optimization and Electronic Proof of Delivery App?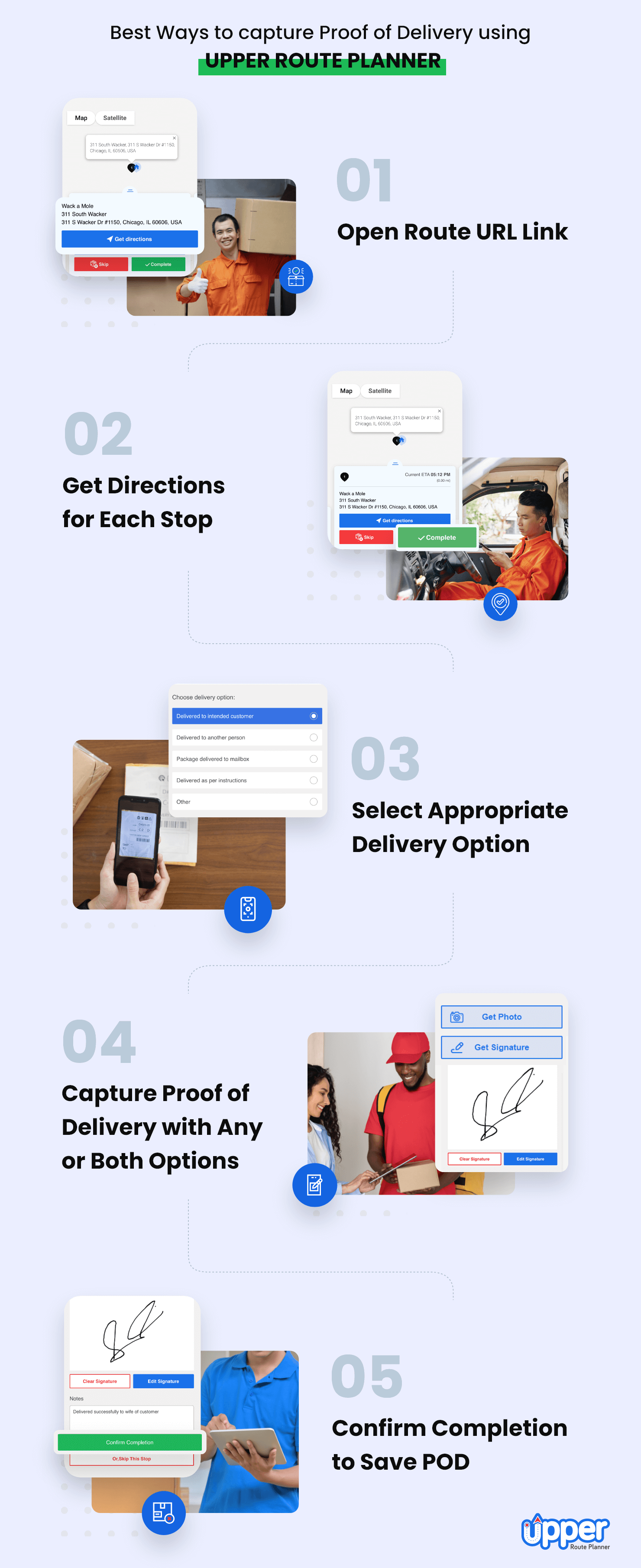 Using Upper Route Planner is easy for business owners as well as delivery drivers. From planning the fastest routes to capturing the delivery proof, it allows you to power up your delivery performance.
Capturing Proof of Delivery using Upper Route Planner can be done in these 5 easy steps. But before that, you need to create and share a route with your drivers:
Step 1: First things first, log in to your Upper account and create a new route
Step 2: After adding all stops and drivers, click the "Optimize" button and let Upper do all hard work for you.
Step 3: Review your route. At this point, you can manually change stops if needed to accommodate special requests. Once done, hit the "Next" button
Step 4: Next, share your route to drivers via text, email, or an URL
Next, to get proof of delivery,
Step-1: Drivers need to open the optimized route URL shared by the dispatcher.
Step-2: For each stop, click the "Get Directions" button to open directions in the navigation app of your choice.
Step-3: Once a stop is complete, click the "Complete" button. Choose the appropriate delivery option applicable.
Step-4: Click "Get Photo" or "Get Signature" or both depending on the requirements.
Step-5: Next, click "Confirm Completion" to save data that can be viewed later from the Upper dashboard.
Some Additional Benefits of Using Upper Route Planner for Proof of Delivery
1. All-in-one Route Management Solution
How about having routing and proof of delivery features in one software? That's right, Upper is the combo of route planning software and the delivery proof app. It creates optimized delivery routes, guides the driver, and reminds them to capture the delivery proof whenever they reach the delivery location.
2. No Need to Rely on Manual Manifests
What if we tell that drivers do not have to carry manual manifests. Instead, they can record electronic signatures on their phones. That's the kind of convenience Upper Route Planner provides as it reduces the delivery paperwork and reminds your driver to capture a signature before leaving the delivery destination. It will then directly reach your warehouse team.
3. Improves Customer Satisfaction
Customer satisfaction is the end goal of every business. So, when you provide a way to authorize successful delivery completion, it helps build trust and brand loyalty by improving the customer experience. If the customer communication is maintained, you are likely to meet the customer's expectations.
4. Contactless Delivery
Since the demand for contactless delivery is growing, you can opt for contactless proof of delivery by clicking an image of the delivered package. Businesses like food delivery, flower delivery, grocery services, and other field services need to obtain delivery proof. Using upper, delivery executives can perform such deliveries whenever your client makes such requests.
5. No Paper Delivery Notes
Capturing proof of delivery is not limited to electronic signatures and images. In some cases, your drivers may need to put important notes post-delivery. With Upper, they can mention a delivery note and capture the delivery proof at the same time. Such notes are useful for last-mile delivery businesses in case of fraudulent claims.
6. Boosts Delivery Efficiency
While delivery drivers cover multiple deliveries with a quick on-site process, you can analyze the reports to check your delivery team's performance and stats of past deliveries to make new business strategies. Thus, the individual driver can cover scheduled deliveries without any hindrances or unnecessary stops in-between the delivery process. Hence, it will boost delivery operational efficiency and fleet efficiency.
Parkwood Pvt. Ltd. Uses Our Proof of Delivery Feature
Parkwood Pvt. Ltd. is a family-owned and operated business based in New Zealand. Over the last 20 years, Parkwood has built a reputation for manufacturing premium, high-quality doors, shutters, and louvers for different types of buildings. They deliver their premium doors, shutters, and louvers across New Zealand for public organizations, private organizations, as well as individuals.
Listen to what Jacob (Supply Chain Manager at Parkwood Pvt Ltd) has to say about Upper Route Planner and it's proof of delivery feature.
Get Assurance of Successful Deliveries With Electronic Proof of Delivery
Upper Route Planner makes it easy for your drivers to collect signatures and capture photos of each successful delivery they make.
FAQ
It is an electronic proof of delivery (ePOD) that doesn't require hand-written notes attached with the proof of delivery form. It includes the customer's e-signature or photos taken at the time of delivery. It is mostly preferred by delivery businesses to obtain delivery proof at the end of service.
Yes, delivery proof captured from delivery management software is safely stored in cloud-based storage. It is more secure than paper-based proof of delivery as it won't get misplaced or deteriorate post-delivery.
Yes, of course. Using a delivery route planner like Upper, you can ask the customer to put e-signature and then click the photos directly from the mobile applications.
The delivery team associated with the entire delivery operation requires proof of every successful delivery. Mostly sellers, dispatchers, and the delivery manager ask their driver to capture delivery proof after handing over the parcel to the buyer.
Requesting electronic proof from the clients is a professional way of receiving a digital signature. Most customers like to put a sign digitally instead of using pen and paper. So, if you have an option for electronic proof, your customers will be happy to collaborate with you in the future.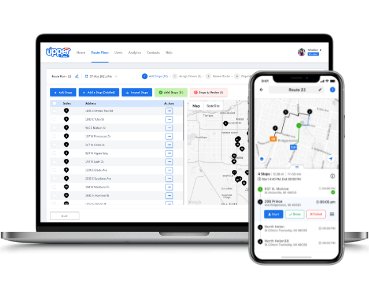 Upper Route Planner
A Simple-to-use route planner that every one is talking about.
Save up to 95% of planning time
Save up to 40% of time on the road
Plan 500 stops at once
Record Detailed Delivery Proof with Upper Route Planner
Capturing proof of service or delivery is the most important part of the process. It always helps to integrate POD with delivery planning and route optimization to ensure safe and secure deliveries to customers.
A single app like Upper Route Planner helps you with delivery planning for multiple stops, route optimization, last-minute changes, real-time updates for customers, and all other necessary functions to streamline your business operations.
Upper Route Planner is one such delivery software for small & midsize delivery teams that help them to excel at making deliveries. In case, if you have any confusion or queries like how Upper Route Planner works as proof of delivery system, then you start your free trial today and experience it yourself.