Today, in the delivery industry, logistics carriers and businesses are facing many new challenges. One of the biggest challenges is to integrate a proof of delivery app.
Collecting accurate proof of delivery can be immensely helpful for businesses in reducing liability while improving profits and customer experience.
Recording proof of delivery is the need of the hour for delivery businesses. It solves several issues and makes the delivery process smoother.
But for that, you need to have the right proof of delivery app. Let's see if a standalone proof of delivery app can be of any help to your business.
What is a Proof of Delivery App?
A proof of delivery app is a digital interface to record customer signatures, replacing traditional paperwork. A proof of delivery app can be installed on a mobile device and helps capture signatures and images as proof of successful delivery.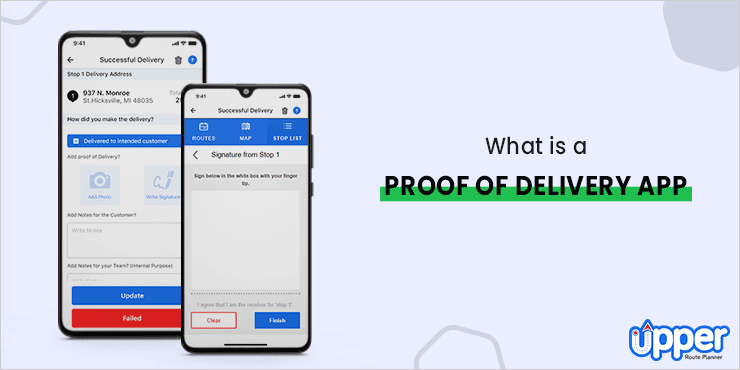 What Are The Features Required in a Proof of Delivery App?
A proof of delivery app must have the following functionalities:
Capture Customer Signature: A delivery receipt app should help turn the driver's mobile phone into a portal for recording customer signatures electronically. This signature can be referred to by the dispatch team whenever required. It helps prove that the customer accepted the delivery and signed for it.
Photo Capture: If a driver receives the instructions to leave the package at the door, there should be a way to prove that. Without clear documentation that the package was left where it was meant to be, it is difficult to prove in case of loss claims. But if a driver can capture an image of the package in the place it was supposed to be dropped in, it becomes easier to avoid false claims of misplaced packages.
Additional Notes: Being able to write additional notes as electronic proof of delivery allows drivers to be more specific. It offers the opportunity to create a detailed record of the delivery. It helps improve accountability on the part of the driver and the delivery business.
There are two ways in which you can create a delivery receipt for each of your delivery tasks:
Use a Standalone Proof of Delivery App: These apps are developed specifically to capture proof of delivery. They can be integrated into an in-house management system. They are often used through API integration functionality.
Use Upper Route Planner to Record Proof of Delivery: Upper Route Planner is a route planning and optimization software that is often preferred by users for its proof of delivery capabilities.
Test Our Proof of Delivery Capabilities.
Streamline Your Delivery Process Automate customer communication & reduce recipient complaints with Upper Route Planner.
The Limitations of Using a Standalone Proof of Delivery App
Limited Functionality: The complication with a standalone or a single-purpose POD (proof of delivery) app is that it offers limited functionality & is not as sophisticated as enterprise-level software.
Rely On Different Software For Routing: If you use a standalone proof of delivery app, your drivers will have to rely on different apps for routing purposes.
Dealing with Multiple Platforms: When your drivers will have different apps for route optimization and proof of delivery, they will have to constantly switch between multiple platforms. It is a waste of time and not efficient & cost effective for your delivery process.
Cost Increases with More Deliveries: Many POD apps charge a higher cost with an increased number of deliveries. It will not prove to be very cost-effective for a business to pay a higher amount.
Dispatchers Will Have To Switch Between Apps: Dispatchers will have to toggle between different platforms to match the delivery routes and the delivery proof for each route.
How To Use Upper Route Planner for Recording Electronic Proof of Delivery?
Delivery Options for Successful Delivery

To validate a successful delivery and provide delivery confirmation, drivers can choose from the following options:

Delivered to the intended customer
Delivered to another person
Package delivered to a mailbox
Delivered as per instructions

Collect Customer Signature

Using Upper Route Planner, the driver mobile app will become a platform to create a proof of delivery. A digital signature works as digital proof of delivery and will be reflected in the daily reports.

Capture Photos

For visual delivery proof, drivers capture images of the package delivered or dropped at the customer's doorstep. The picture works as a clear indication of electronic delivery confirmation.

Additional Delivery Notes as Proof

Adding notes allows drivers to be more specific about the delivery proof. Dispatchers can gain more clarity regarding the completion or in-completion of the delivery.

Delivery Options for Unsuccessful Delivery

If a delivery is unsuccessful, drivers can choose the reason and submit that as delivery proof.

Nobody to receive the delivery
Can't find the address
Not enough time
Bad weather
Other
Benefits of Using Upper Route Planner For Proof of Delivery
Don't Rely on Manual Manifests

What if we told you your drivers do not have to carry a printed, manual manifest.

Instead, they can record electronic signatures on their phones. Sounds convenient, right?

That's the kind of convenience Upper Route Planner provides. Upper Route Planner is not just a proof of delivery software, it is a route planning and proof of delivery software rolled into a single platform. It provides the most optimized routes and additionally offers a digital interface to record an electronic signature or images.

Avoid Customer Dissatisfaction

Customer satisfaction is the end goal of every business. When you provide a way to authorize successful delivery completion, it helps build trust and brand loyalty by improving the customer experience.

Upper Crew

A Simple-to-use route planner that every one is talking about.

Save up to 95% of planning time
Save up to 40% of time on the road
Plan 500 stops at once

No credit card details required

Easy Accessibility

How about having routing and proof of delivery features in one software?

Equip your drivers with a powerful solution that makes deliveries quick & easier while also recording the necessary proof for reporting. It helps save time & effort on the driver's end and offers speedy customer service.

For All Kinds of Businesses

The demand for contactless delivery is growing fast for almost all kinds of products.

In delivery models like contactless delivery & curbside pickup & delivery, it is imperative to capture proof of delivery for all kinds of businesses delivering products to the customer's doorstep.

All delivery businesses like food delivery, flower delivery, e-commerce delivery, and meal-kit delivery businesses need to equip themselves with the ability to capture delivery proof.

Avoid False Claims

Delivery businesses often received complaints from customers about the non-delivery of their package.

It can happen even in cases where your driver reported successful completion.

If so, it is a false claim either by the customer or the driver.

You can avoid this situation. Make your drivers capture images of the products along with the recipient. The image can prove to be useful in case of any false claims regarding the delivery.

Detailed Comments for Each Delivery

Capturing proof of delivery is not limited to electronic signatures and images.

Your drivers can add notes for each stop beside the signature or image.

It helps them be more specific about the delivery. These details are useful for delivery businesses in case of fraudulent claims.

Improves Accountability

Drivers can take more ownership of each of their delivery tasks. Customer signatures, images, & notes help improve driver accountability by allowing the driver to take complete control of each delivery.

Boosts Driver Productivity

Your drivers can cover multiple deliveries with a quick on-site process. Manual data entry not only frees your drivers but also your back-office team. Accurate data transmission with proof of delivery helps improve driver productivity & delivery operations.
Parkwood Pvt. Ltd. Uses Our Proof of Delivery Feature
Parkwood Pvt. Ltd. is a family-owned and operated business based in New Zealand. Over the last 20 years, Parkwood has built a reputation for manufacturing premium, high-quality doors, shutters, and louvers for different types of buildings. They deliver their premium doors, shutters, and louvers across New Zealand for public organizations, private organizations, as well as individuals.
Listen to what Jacob (Supply Chain Manager at Parkwood Pvt Ltd) has to say about Upper Route Planner and its proof of delivery feature.
Get Assurance of Successful Deliveries With Electronic Proof of Delivery
Upper Route Planner makes it easy for your drivers to collect signatures and capture photos of each successful delivery they make.
Proof Of Delivery FAQ
Yes, a photo of the package along with the recipient acts as valid proof of service or delivery.
A proof of delivery software is a tool that can be used to capture electronic delivery confirmation by capturing customer signatures or capturing images. It is a great way to facilitate electronic delivery proof and replace the traditional paper-based method of collecting proof of delivery.
The best proof of delivery solution for your delivery team is the one that doesn't exist alone as a standalone app. It must integrate route planning and optimization as well to make it more valuable.
Yes, of course. Proof of service or delivery is one of the features. But if your priority is just generating proof of delivery, you can still use Upper.
Proof of delivery is useful for all kinds of businesses delivering products whether it is food delivery, flower delivery, or courier delivery.
Record Detailed Delivery Proof with Upper Route Planner
Capturing proof of service or delivery is the most important part of the process. It always helps to integrate POD with delivery planning and route optimization to ensure safe and secure deliveries to customers.
A single app like Upper Route Planner helps you with delivery planning for multiple stops, route optimization, last-minute changes, real-time updates for customers, and all other necessary functions to streamline your delivery operations.
Upper Route Planner is one such delivery software for small & medium-sized businesses that help them to excel at making deliveries. In case, if you have any confusion or queries like how Upper Route Planner helps you capture proof of delivery, then you
start your free trial today
and experience it yourself.