If you own a courier service or a delivery company, you must know how customers constantly worry about their parcels till they are handed over to them.
And many times, despite following every process, there will be a few tricky customers who will create issues and impact your delivery service. Nevertheless, proof of delivery is there to rescue you.
It is a document that counts as evidence and gives peace of mind to business owners and customers. So, let's understand briefly what is proof of delivery and how it can help scale your delivery business.
Proof of Delivery Meaning
Proof of delivery (POD) is a delivery receipt that confirms the order was delivered successfully to its destination. It is used when a consignee wants to replace or return the delivered parcel.
Many delivery business owners think delivery POD is just only used for eCommerce parcels or food or grocery deliveries but are also used to prove or confirm that service was fulfilled. Sending POD to the delivery address is the last step of the courier process.

The following delivery information is typically included in the proof of delivery documentation:
Recipient's address of delivery and their name
Specific details of the customer's order
Specific details of the transaction
Time of delivery
Payment and shipping details
Product specifications
Cost estimates
Different types of proof of delivery
Every delivery company functions differently and prefers diverse proof of delivery. Let's get into briefly what are the two different proof of delivery options:
1. Paper-based proof (handwritten or typed)
A paper proof of delivery is a physical document that a consumer signs after receiving a product or service. Paper-based is the traditional method for proof of delivery. The documents are handwritten or typed form.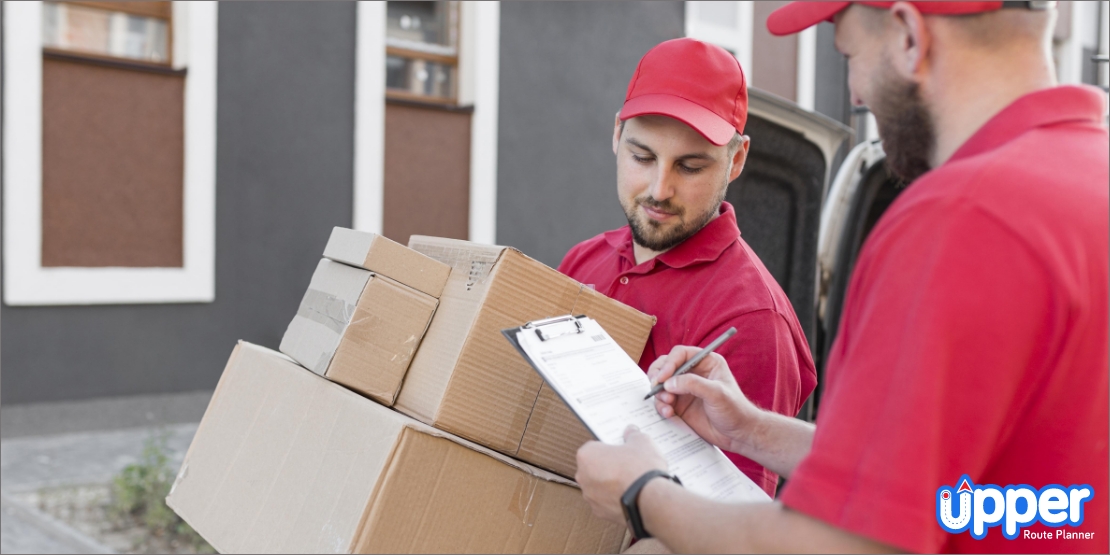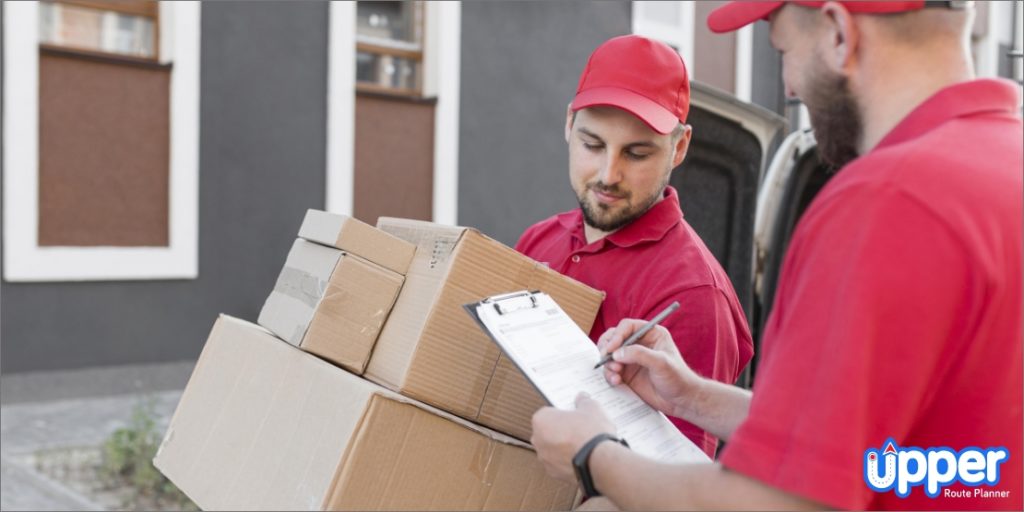 Earlier, delivery companies used paper-based proof of delivery and conducted tasks manually. However, paper POD is not efficient because it is money and time-consuming.
In addition, you cannot take paper-based proof of delivery everywhere and anytime. Later, another type of POD, electronic proof of delivery comes into the picture.
2. Electronic proof
Electronic POD is conducted when the product or service is delivered, and the consignee signs an electronic signature in the document using a mobile device or electronic gadget.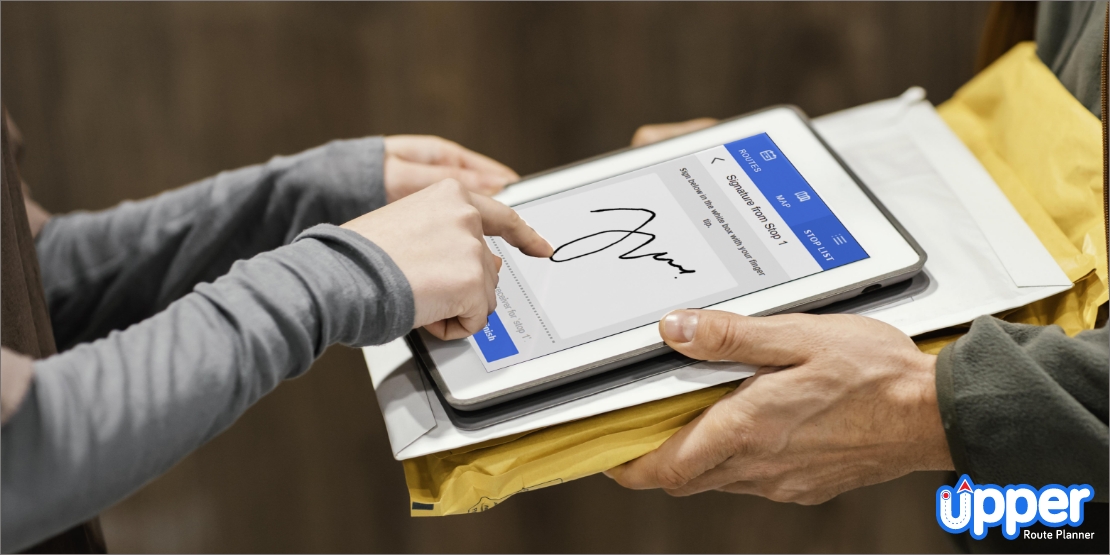 EPOD is more popular nowadays among delivery companies such as FedEx. It is favorable because it reduces manual tasks, is flexible, and allows delivery businesses and customers to have evidence.
For instance, if the customer is not at home or prefers a contactless delivery, the delivery activities provider will take a picture to verify the completion of the delivery. Even customers can do contactless signatures. Therefore, if you deliver through shipment, the proof of delivery would be an image of the package left at the customer's door, also known as proof of shipping.
Let's understand the bill of lading, another proof document used by delivery companies.
What is Billing of Lading?
A Bill of Lading (BOL) is a legal document that is evidence that the receiver has received the package or goods from their end. It is an agreement between the shipper and the carrier. A BOL is a freight shipping document that provides all information about a particular shipment.
It is also known as proof of shipment. Unlike proof of delivery, there is no customer signature.
Difference between proof of delivery and bill of lading
The purpose of proof of delivery and bill of lading is the same. Both have similar causes, both are offered to complete the delivery process and used to acknowledge that the customer has received the parcel.
However, a bill of lading is a legal shipping document whereas proof of delivery is not. You can show it as evidence but it will not be considered a legal document. Let's find out more differences in the below table.
| Different Factors | Proof of Delivery | Bill of Lading |
| --- | --- | --- |
| Utilization | Proof of delivery is used by delivery business owners and customers | Bill of lading is used by the shipper and the carrier |
| Delivery agreement | It is often used for local deliveries | It is often used for international trades |
| Last-mile delivery | It is used in last-mile delivery | It cannot be used for last-mile delivery |
Importance of Proof of Delivery for Businesses
In recent years, proof of delivery has developed in its use, supporting safe deliveries for courier service companies.
Proof of delivery helps in providing a clear picture of a completed delivery and your business. Simultaneously, it safeguards you and your customers from becoming deceived. Accepting the POD without first inspecting the received goods absolves the seller and the delivery provider of any accountability or responsibility.
Here is a listicle of the importance of using POD for businesses:
Proof of delivery is reliable and flexible for the delivery companies to use.
Proof of delivery helps in back-office operations and improves delivery performance.
EPOD allows clear real-time visibility of customers' orders, enhances customer experience and communication.
Proof of delivery decreases the chances of misheard or misconstrued information.
Businesses can acquire customer satisfaction by using proof of delivery. Also, ensure a successful complete delivery experience.
Benefits of Proof of Delivery for Customers
Proof of delivery is as equally essential for customers as for delivery businesses. Following are the list of major benefits of proof of delivery for customers:
1. No lost parcel
Proof of delivery is an evident document about the package for the customers. If any parcel is broken, misplaced, or lost; a customer can give proof of delivery as evidence that it has been delivered to them. Customers can show it with the time and date to confirm the parcel.
2. Give assurance
Customers are constantly worried about their online order till it reaches them. Therefore, having proof of delivery helps them to not worry about their order. They can have an update about it and if some mishap took place, they have all right to claim it.
3. Reduce misconduct
Customers witness situations where companies misbehave and claim false accusations on the customers. At that moment, if the customers have proof of delivery, they can show all order details. Hence, they become accountable for their order.
4. Complete process
A proof of delivery also signifies the complete delivery process. It comes in the last and with POD, a customer can ensure that their parcel was delivered safely and on expected time.

Now, you are aware of the importance and benefits, it is time to know about the software that makes your work easier.
How to Capture Proof of Delivery with Upper Route Planner?
Upper Route Planner is a proof of delivery software that collects data and assists drivers to collect signatures and photographs. It makes sure your delivery team carry a digital proof of delivery on their mobile devices if they delivered the parcel to the right customer.

Being a sophisticated software, Upper only allows its app user to collect the delivery proof. This means whoever is using the app, can collect the delivery proof just in a matter of seconds.
Following are the steps on how to capture proof of delivery with Upper for driver app:
Firstly, you need to download 'Upper for Driver' app and then log in with your credentials.
Go ahead with the delivery schedule and if the delivery is complete, mark it as successful.
Proof of delivery will pop up, where you will get the option of taking a photo or digital signature; choose one.
Apart from that, you will get optional note information to keep a message for your team.
As soon as you save it, your proof of delivery will be saved in the cloud-based software.
For some reason, if deliveries are unsuccessful, the drivers can mark the unsuccessful delivery options.
Below proof of delivery features will help you have a clear picture and visibility into every step of the delivery process.
Collect eSignature
Drivers can collect signatures as delivery confirmations from customers on their smartphones, which will be incorporated into daily reports. Signature confirmation serves as digital proof of delivery that the dispatcher can refer to.
Parcel photos
Proof of delivery allows drivers to take photos of packages left at the customer's door or handed to them. The snapshot clearly shows where the driver left the parcel.
Add delivery notes
Any delivery data can be added as additional remarks by the driver for better transparency regarding the delivery routes or incomplete deliveries.
Delivery options
Drivers will be presented with the following choices for successful shipment deliveries, which they can select based on the status:
Delivered to the intended customer
Delivery person delivered to the right place
Package delivered to a mailbox
Delivery post as per instructions
Confirm Your Successful Delivery with a Digital Proof
Still using paper-based delivery proof? Start using Upper and collect electronic proof of delivery in no time. Record and save your delivery proof in a cloud-based software.
Try it for FREE

---
FAQs
Proof of Delivery (POD) is an e-mailed confirmation document that includes the delivery details, the recipient's identity, the printed name and address, the delivery tracking number, and a digital image of the recipient's signature confirmation.
Proof of delivery document is a record sent to a customer confirming receipt of delivery. It is a confirmation that is utilized to ensure that orders are delivered on time and safely to the customer.
Delivery drivers and business owners are responsible for proof of delivery. The proof of delivery is a form of delivery receipt that is accountable to the sender and serves as proof of the delivered packages. It is only valid if there is a sign of consignee.
A delivery note (also known as a dispatch note) is a statement that specifies all of the products that are being delivered. The note is included with the financial documents and delivery specifications such as delivery times. As proof of delivery or POD, a copy of the delivery note is sent to the seller.
Companies will snap delivery packaging of shipments before they are transported. When they are put into a vehicle, and when they arrive at their delivery point as proof of delivery. These images are often used as documentation of the entire delivery process as well as for addressing visible damage claims.
Electronic proof of delivery is a technique used by businesses to give delivery information receipts to consumers without the use of traditional paperwork. It is a delivery document and is facilitated with the use of electronic proof of delivery apps.
Optimize Your Business's Delivery Processes with Upper Route Planner!
Do you wish to get out of all bundles of proof of delivery paperwork? Yes, then get your hands on delivery management software.
Upper Route Planner's proof of delivery feature delivers reliable and accurate real-time data on a shipment's successful delivery. It also enhances accountability and transparency for your driver's efficiency.
The proof of delivery eliminates the necessity for any manual delivery paperwork. Once filed, it allows admins and dispatchers to access all of the delivery details in real time.
It also ensures successful deliveries on or before the estimated time of arrival (ETA), preventing misdeliveries and re-deliveries. Go for our 7-day FREE trial or book a demo to scale your delivery operations, route optimization, reduce operational costs, and increase profitability.