Do you own courier service or a delivery company?
If you do, you must be aware that your customers are your most valuable asset.
According to sources, 73% of people confirmed that they shopped online from eCommerce stores more in 2020 than they had in previous years.
Almost all of your procedures and norms are based on customers' experience and satisfaction.
As you know, handling customers can be tricky at times. Some are are easy to please, while others are difficult to impress.
They do, however, share a single thing in common. Every one of your customers expects a well-organized, professional, and efficient delivery service.
To ensure client satisfaction, proof of delivery is the ultimate solution and is necessary for clear evidence.
You can own the last mile and keep customer satisfaction high with the help of proof of delivery!
Let's go through the details of what is proof of delivery and how it can help scale your delivery business.
What Is Proof of Delivery?
Proof of delivery (POD) acknowledges that an order was delivered successfully to its intended destination.
However, POD is not just for eCommerce parcels or food or grocery deliveries; it is also used to prove or confirm that service was fulfilled, which is why proof of delivery is also known as evidence of fulfillment.
There are two varieties of proof of delivery:
Paper proof ( handwritten or typed)
Electronic proof
A paper proof of delivery is a physical document that a consumer signs after receiving a product or service.
Customers are presumably more familiar with electronic proof of delivery, which is utilized by postal services and couriers such as FedEx these days.
When a product or service is delivered, customers submit an electronic signature with electronic proof of delivery.
For instance, if the customer is not at home or prefers a contactless delivery, the delivery driver will take a picture to verify the completion of the delivery.
Therefore, if you deliver a shipment, the proof of delivery would be an image of the package left at the customer's door.
The following delivery information is typically included in the proof of delivery documentation:
Recipient's address of delivery and their name
Specific details of the customer's order
Specific details of the transaction
Payment and shipping details
Product specifications
Cost estimates
The electronic proof of delivery (either a sign or a picture with shipment details) is sent to the customer through mail or a downloadable attachment that includes the shipping address and date and time of delivery.
Importance of Proof of Delivery
Proof of delivery helps in providing a clear picture of a completed delivery and your business. Simultaneously, it safeguards you and your customers from becoming deceived.
According to sources, customers returned $428 billion in goods and services in 2020.
Proof of delivery is your best tool against shady customers who can leave negative and false reviews for your business. Customers frequently leave false testimonials on online shopping sites, alleging that their orders were not delivered. Proof of delivery can be used to counteract such activities.
If you have detailed delivery information in your database, you can easily confirm to your customer the time and date the product was dispatched, as well as the accurate time it was delivered to them.
Likewise, prior to receiving the proof of delivery, your client can verify the shipment for any damage claim or missing items.
Accepting the POD without first inspecting the received goods absolves the seller and the delivery provider of any accountability or responsibility.
Here are some top pointers of POD for you to take notes of
Proof of delivery is a sort of evidence that the delivery agreement has been met. As earlier mentioned, it safeguards both the sender and the receiver, as well as the delivery service provider.
It allows the recipient to deny delivery if they are dissatisfied with the state of the shipment or if things are missing. It enables customers to attach a note indicating that the package was received with evident damage such as breakage or leakage.
Proof of delivery allows the seller to record if they got a damaged returned product and to ensure that their delivery drivers are adhering to the conduct policy. Furthermore, if the delivered package is defective or the items are missing from the package, it is critical to file a claim within 1-2 days of arrival, with necessary negative feedback on proof of delivery.
Benefits of Proof of Delivery
In recent years, proof of delivery has developed in its use, supporting safe deliveries for both the courier and the customer.
Unfortunately, traditional paper-based proof of delivery has several drawbacks, such as room for human error. It is also very time-consuming to provide all the delivery details manually.
Paper proof of delivery processes is not designed to keep up with today's delivery requirements.
Companies acquire the services they need to match this rising marketplace, increasing their sales, thanks to the increased efficiency provided by electronic proof of delivery.
Here is a listicle of a few of the top benefits of using Electronic POD:
1. It Eliminates Paperwork
Apart from the ecological benefit of reducing paper use, electronic proof of delivery eliminates the need for manual entry as well as data processing delays because the information is received in real-time.
Paper proof of delivery errors affects not only the recipient but also the delivery driver and can soon result in monetary losses. A signature could smudge down, and a hardcopy receipt might get damaged or lost.
All of this, however, is significantly changed and amended by an electronic signature.
A courier or merchant can use proof of delivery software to "prove" the delivery process and prevent these issues, reducing the need to reimburse the sender or reproduce orders through an uncertain supply chain of custody.
2. Deliver Quicker Service
Paper proof of delivery takes longer to process than electronic POD. With e-proof of delivery, information is exchanged and shared in real-time via a web-based system.
This prevents delivery drivers from returning to their office with a stack of documentation that still has to be processed at the end of the day.
Collaboration and interaction among your staff will also be way more efficient because they will be communicating through delivery software solutions rather than making phone calls. Furthermore, there will be no possibility of information being misheard or misconstrued.
3. It Enhances Customer Experience and Increases Customer Satisfaction
Customers have a variety of purchasing options at the touch of their fingertips. This introduces the challenge of ever-increasing customer expectations. Companies that provide trusted, customized services gain a substantial share of their customer's loyalty.
Electronic POD systems provide valuable services for client retention. It is very flexible to a company's requirements and its customers.
A courier service company, for instance, can increase customer engagement with each driver and receiver by providing tailored shipping updates, tracking alerts, and post-delivery interaction.
A digital proof of delivery system can also help with the management of any order or delivery adjustments, allowing you to deal with potential customer complaints ahead of time.
Now that you know what is proof of delivery are aware of its benefits, all you need to do is find the right software that will help you with electronic POD services to streamline your delivery operation.
How Can Upper Route Planner Help Scale Your Business with Proof of Delivery?
Upper Route Planner supports paperless data gathering by assisting drivers in collecting signatures and photographing each successful delivery.
Your delivery crews will benefit from digital proof of delivery via mobile devices. The proof of delivery in Upper Route Planner is represented in the daily reports provided at the end of each day.
Upper Route Planner provides numerous options for your driver to capture proof of delivery using their mobile devices.
1. Gather Signatures
Drivers can gather signature confirmation from customers on their smartphones, which will be incorporated in daily reports. Signature confirmation serves as a digital proof of delivery that the dispatcher can refer to.
2. Take Photographs
Drivers can take photos of packages left at the customer's door or handed to them. The snapshot clearly shows where the driver left the parcel.
3. Make Notes
Any delivery data can be added as additional remarks by the driver for better transparency regarding the delivery success or incomplete deliveries.
4. Delivery Options for Timely and Successful Deliveries
Drivers will be presented with the following choices for successful shipment deliveries, which they can select based on the status:
Delivered to the intended customer
Delivered to another person
Package delivered to a mailbox
Delivered as per instructions
5. Delivery Options for Unsuccessful Deliveries
If a delivery fails for any of the reasons, the drivers can record the cause for the same.
Nobody to receive the delivery
Can't find the address
Not enough time
Bad weather
Other
Proof of delivery software is useful for many types of enterprises that deliver things, such as food delivery, grocery delivery, flower delivery, pharmacy delivery, and courier delivery.
It is especially beneficial for food delivery companies to promote accountability and eliminate any fraudulent claims from clients.
Electronic proof of delivery is one of the many robust features available in Upper Route Planner. This software is primarily an all-in-one route planner software. However, if you require just a proof of delivery solution, you can continue to use Upper Route Planner.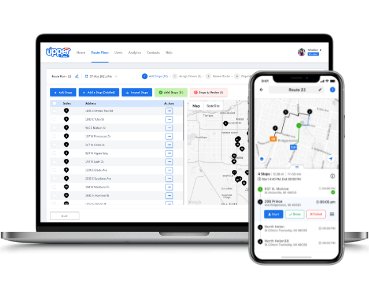 Upper Route Planner
A Simple-to-use route planner that every one is talking about.
Save up to 95% of planning time
Save up to 40% of time on the road
Plan 500 stops at once
No credit card details required
---
FAQs
Proof of Delivery (POD) is an e-mailed confirmation document that includes the delivery details, the recipient's identity, the printed name and address, the tracking number, and a digital image of the recipient's signature confirmation.
Proof of delivery documents are records sent to a client confirming receipt of delivery. The documents are not meant to be confusing with the shipping invoice. Simply put, confirmation is utilized to ensure that orders are delivered on time.
Proof of delivery fulfills the supply chain of custody and guarantees that the shipment is delivered to the intended recipient. This is particularly necessary when delivery is made to a company with multiple departments.
A delivery note (also known as a dispatch note) is a statement that specifies all of the products that are being delivered. The note is included with the delivery and lists quantities rather than the financial documents of the products. As proof of delivery or POD, a copy of the delivery note is sent to the seller.
Companies will snap boxes of shipments before they are transported, when they are put into a vehicle, and when they arrive at their delivery point as proof of delivery. These images are often used as documentation of the delivery process as well as for addressing damage claims.
Electronic proof of delivery is a technique used by businesses to give delivery information receipts to consumers without the use of traditional paperwork. It is a delivery document and is facilitated with the use of electronic proof of delivery app.
Optimize Your Business's Delivery Processes with Upper Route Planner!
Do you wish to record delivery notes for delivered shipments without having to deal with a slew of paperwork?
Now your drivers easily record and capture the completion of successful deliveries by taking pictures or obtaining client signatures.
Upper Route Planner's proof of delivery feature delivers accurate and reliable real-time data on a shipment's successful delivery. It also enhances accountability and transparency for your driver.
Our robust proof of delivery app eliminates the necessity for any manual delivery paperwork. Once filed, it allows admins and dispatchers to access all of the delivery details in real-time.
Apart from proof of delivery, we also provide other sophisticated features, such as route planning, scheduling, and optimization. These features will enable courier drivers to find efficient and optimized routes with several stops quickly.
It will also ensure successful deliveries on or before the estimated time of arrival (ETA), preventing misdeliveries and re-deliveries. Go for our 7-day FREE trial or book a demo to scale your delivery operations, reduce operational costs, and increase profitability.