We all love our pets. We love them a lot. Most of us don't want to admit it, but we probably love our pets more than we love our humans (shhh!) When it comes to our pets, we will stop at nothing to provide them with the best service to take care of them.
In that regard, grooming your pet is part of the list of services we wish to offer them. In the light of Covid-19, a trend growing in animal grooming or mobile pet grooming (in particular mobile dog grooming). These grooming services cater to our animals' special needs while offering the convenience of a team showing up with the equipment necessary to offer the grooming package at home.
This article will seek to look at how mobile teams can offer a better grooming experience and better serve each family by looking at some of this business's logistical demands.
What is a Pet Grooming Business?
The grooming salon is all about the pets – bathing, hair and nail trimming, hand scissoring, and styling. The pet grooming salon experience can include the following bath, haircuts and hand scissoring, hair and nail trim, brush, cleaning of teeth, ear cleaning, as well as everything required for the full expression of your pet. It includes the health and beauty of your pets.
There are various types of mobile cat & dog groomers out there, some that specialize in specific breeds (Australian Shephard, German Shephard, ShibTzu, etc), and some that service all breeds. All mobile cat & dog groomers have a team, grooming equipment (such as a van containing the equipment for their mobile pet grooming service such as brushing equipment, cages, and more). This type of business is generally focused on a particular service area (or zip code).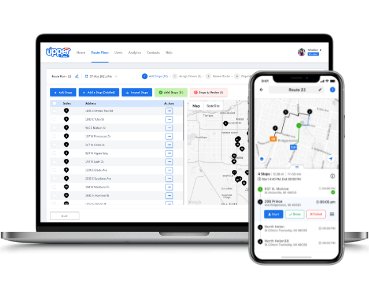 Upper Route Planner
A Simple-to-use route planner that every one is talking about.
Save up to 95% of planning time
Save up to 40% of time on the road
Plan 500 stops at once
No credit card details required
Getting Customers and Scheduling for Grooming Services
All groomers (dog groomer, mobile grooming, pet grooming salon) all have the same appointment struggles: everything related to acquire, schedule, and manage each pet grooming appointment and clients. Most mobile pet services will offer the ability to schedule an appointment over the phone or online. Each appointment must then be put into their service database and put into the schedule for the dog groomer or mobile pet groomer to go out to the family's place to carry out the services.
This process is all fine and well when you're getting started. All you want to do is schedule an appointment, meet that pet grooming appointment, and meet those clients' needs. However, after a while, you run into another problem: what if the first family's first appointment is on the other side of town or service area of the second appointment. These little things mean a lot, especially in customer reviews.
When a mobile pet grooming salon grows, they inevitably run into this scheduling efficiency problem.
Scheduling Efficiency: Three Major Problems Each Groomer Faces
Several issues lead to the mobile dog and pet groomer having issues in the schedule. Here are a few of the issues:
The Dispatcher-Driver Problem: In many mobile dog grooming and pet groomers, 2 different people are doing scheduling and driving. The scheduler will create each appointment as it comes in and seeks to fill the schedule gaps. This can often lead to big distances between each appointment.
The Optimal Distribution Problem: The second problem is how the planner knows the optimal route for each groomer. For instance, if you have 80 clients, are there 5 routes for optimal 5 days? If so, what are they?
Intra-Day Route Optimization Problem: The third problem is the intra-day route optimization problem. A human can't guess what the best route for any given day is. When you go up to 10 addresses or stops, you get a staggering 3,628,800 combinations of routes! This means no human can find the best route forward. This is called the Travelling Salesperson Problem.
For more information,
What is Route Planning?
The Desired Situation: Save Time and Money with Less Driving
The ideal scenario for any business is to make a profit. So in short, the desired situation for your company is to:
Less time spent planning routes and scheduling appointments;
Less time spent on the road;
More appointments
Deliver more value to each family and each pet;
On that point, it's all about being efficient and using your time wisely. If you want more information,
Check our other article,
How to Be An Efficient Route Planner: 5 Critical Questions That Will Save You Tons of Time and Money
The Solution: How to Optimize Routes Using Upper Route Planner
We strongly recommend for a mobile groomer to manage their routes by using a quality route planner. We would recommend, of course, using Upper Route Planner. Here are the steps that we recommend that you take to improve your efficiency and improve your profits and quality of service.
Step 1 – Download and Install Upper Route Planner
Go to the Upper Route Planner and Signup to get started.
Create your account, verify, and get started.
If need be, please don't hesitate to book a call with us for more information.
Step 2 – Make a Master List of All Your Clients
The first part is to take all your patrons and make a master list in Excel. This will be used for your "Master import" document. Create the following columns:
Name of contact or pet owners (First Name and Last Name)
Phone #
Email
Address
Notes on the pet and what is required with the job.
Once you have all this information in excel, save the file. You're ready for step 3!
Step 3 – Import Your Master List in Upper Route Planner
Use the "import" button on the left-hand side.
Follow the instructions to upload the file, and all your addresses will be added to a route.
Once you finish, you'll see a map with all your data.
Step 4 – Add Your Start and End Location
Once you're in the app, add your start and end stop. This will be typically your home or your office.
Step 5 – Optimize Route
Now, are you ready for the magic? It's time to optimize the Route! You can do this by simply clicking the "Optimize Route" button.
What this will do is put all your stops in the right order.
Step 6 – Break Down Into Smaller Routes
Now that you know all the optimal routes to do ALL your clients, what you can do now is break down into smaller routes. For instance, you can break down your 60 clients into 5 routes for 12 clients each. By looking at the optimized "Master List," you can more easily make optimized sub-routes.
Step 7 – Schedule Accordingly
Now that you have a smaller optimized route, it's time to schedule accordingly. Please work with your patrons to get them on the new schedule (that works for you, and that will also work better for them!)
Step 8 – Keep Adjusting
If you add or lose a client, there's no issue, update the master list, and you'll get the updated map data, and you'll be able to create another schedule.
It's that easy!
Step 9 – Profit
? ?
Plan quickly, deliver faster, delight customers and get home early.
Everyone deserves to have simple and easy route planning.
We Intend to Provide More Value
We hope this article was useful to you. As always, we are always aiming to add value to you and your company. We are a software company, and this company is made up of people. And we care about people. Please let us know if there are any questions or anything else we can do for you if you have questions or requests to serve you better.
In the meantime, happy route planning ?