Key Takeaways:
Research the local market, competition, and pricing patterns to determine the target market for the pooper scooper business, such as residential or commercial consumers.
Make sure to use safe, long-lasting, and environmentally friendly tools and supplies for the job, like pooper scoopers, bags, gloves, and disinfectants.
Train a group of dependable and responsible pooper scoopers who share the same principles and work ethics, and provide them the tools, feedback, and rewards to operate at their peak efficiency.
Provide a clean and safe working environment that lowers the risk of mishaps, injuries, or liability issues while abiding by local rules and ordinances regulating trash disposal, animal control, and cleanliness.
Before discussing the ins and outs of the poop-scooping business, let's understand the pet care market in the US. Despite a global economic slowdown, the pet care market is expected to increase by 5.1% annually from 2022 to 2030. The rise of pet humanization and increased household spending in the pet care category are significant growth drivers.
According to a report, each dog, on average, produces 340 grams of feces daily, meaning that there are 77 million dogs in the US, making nearly 26 million pounds of excrement per day. This clearly results in more business for poop scoopers.
The given stats prove the rising demand for a pooper scooper business. If you're looking to start your pooper scooper business, keep reading this blog is for you.
What is a Pooper Scooper Business?
A pooper scooper business is a service that comes to your home and removes your pet's waste from your yard. It's a standard service for pet owners who want to ensure that their yards are free of pet waste and do not attract pests.
The business will typically provide a basic level of service, including regular visits to remove the waste and to provide bags for you to dispose of the waste in your trash can. Some companies offer additional services such as deodorizing and cleaning up stains caused by the animal waste in your yard.
8 Easy Steps to Start a Pooper Scooper Business
Executing a pooper scooper business is relatively simple. But that applies only when you follow the right steps and in the correct order. Here's an 8-step guide to starting a pooper scooper business.
1. Validate market demands
To conduct market research for your Pooper Scooper Business, you must first list the demographics most likely to use your service. Then, make a list of those demographics' characteristics.
You can follow these steps:
Find out what services are popular in your local area.
Find out how much people are willing to pay for these services
Find out where the demand for pooper scooping services is highest in your area and where it is lowest
Make a list of all the people likely to buy your product or service.
You should also include what kind of pet owners you think will interest your business. Once you have made these lists, go to each demographic and determine if they want to use your services.
2. Decide your pet waste removal business services
You know that pet owners are busy people, so you make sure to provide your pet waste removal business services where they live and work—so they don't have to worry about taking their pets out of the house. You also offer a variety of packages that can fit any budget.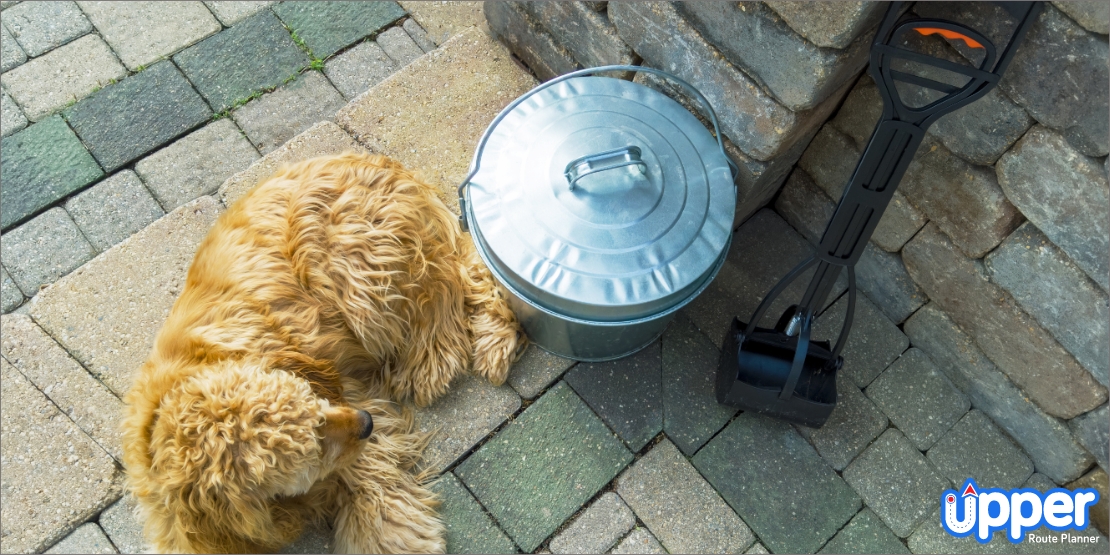 You can offer customized pet waste removal business services to fit customers' needs. You can visit clients and clean up after the pet.
You can provide the following services:
Dog waste cleanup
Pet waste removal
Dog poop disposal
Biohazard cleanup (blood, urine, feces)
Sanitation services (garbage collection and removal)
Specialized services for dog parks, pet daycare facilities, or yards where there are multiple animals
3. Invest in equipment
Pooper scooper businesses are a great way to make money while getting fresh air, exercise, and fresh air. You can start a small business of pet waste removal with minimal investment.
Any Pooper Scooper business uses many tools to keep the clients' yards clean and their pets happy.
You can use various equipment, including
A pooper scooper
A collector bag
Disinfectant
A rake or shovel
A leaf blower
4. Register your business
Before opening your business, you'll need to register for various state and federal taxes. How your business will be taxed will depend on your business structure. Corporations are taxed separately from the owners and shareholders, who may be able to deduct some or all of their investment losses from other sources of income.
For example, sole proprietorships are taxed as part of an individual's income tax return. Partnerships and limited liability companies (LLCs) are subject to a special self-employment tax.
5. Get permits and licenses
Pooper Scooper Businesses in the United States must have a permit from the city or county they plan to operate in.
This permit is often referred to as an "occupational license," and it's necessary for any business that requires access to public property to do its job.
In some cases, cities may require specific training for pooper scooper businesses, varying by city and state.
You will need the following permits and licenses for your Pooper Scooper Business in the USA:
A license from your local government to operate a business.
A permit from your state government to run a business.
A permit from the EPA to handle waste and waste removal.
A license from the Department of Transportation (DOT) to transport waste and waste removal materials.
6. Provide poop DNA testing service
Poop DNA testing helps your clients find what kind of dog is leaving waste in your yard. It means they can stop guessing and start acting on your information.
Poop DNA testing is a great way to let customers know that you care about them and their pets. It's also good for your business in the long run because it helps prevent the disease from spreading throughout your facility.
By offering poop DNA testing to your customers, you will be able to provide them with peace of mind and make sure that their pets are healthy.
7. Market your services
Marketing your pooper scooper business can be tricky. But one of the most effective ways to do this is by building relationships with your clients, which can take a few different approaches.
Here are some tips for marketing your service:
Make a website to attract new customers.
Advertise your offers/services on social media to get your first client and more customers.
Use Google AdWords or Facebook Ads to drive traffic to your site, where they can sign up for a free estimate or make a payment online.
Put together a flyer with your contact information, directions to the location of your business, and a headline that describes what you do and why you're the best.
Hang these flyers up in dog parks, vet offices, pet stores, and anywhere else people might see them.
8. Prioritize your customer's request
Providing customer service is essential to running a successful Pooper Scooper Business.
Here are five tips for providing excellent customer service:
Make sure you're always available when they need you. Your clients will appreciate it if they know they can rely on you.
Always be courteous when interacting with clients on the phone, in person, or via email.
Be responsive to requests as quickly as possible. Your clients are counting on you to get back to them quickly!
Be flexible in accommodating their needs. Adapt to their needs if they have specific requests or want something different.
Ensure everything went smoothly after each client interaction and confirm any new agreements or changes made during the conversation by following up.
Schedule Best Routes for Your Appointments on Upper
Satisfy your customers by arriving on time for pooper scooper service. Opt for Upper and eliminate extra time you spend on manual route planning.
Try it for Free

What is the Cost of Starting a Pooper Scooper Business?
The cost of starting a pooper scooper business can be around $2000. Pet waste removal can be a great business idea if you're looking for a way to make money and enjoy your work. If you love animals and want to help others with their pets, this could be a great opportunity.
here's the breakdown of costs involved in running pooper scooper services:
| Tools | Cost |
| --- | --- |
| Hovels | $25-$30 |
| Rake | $25-$30 |
| Bleach spray | $25-$30 |
| Rubber gloves | $15-$20 |
| Pooper scoopers | $25-30 |
| Trash bags | $15-$20 |
| Pooper scooper Insurance | $100-$200 |
| Permits | $250-$300 |
| Mini Van (rent) | $1,500 |
Some Notable Benefits of Starting a Pooper Scooper Business
Pet waste removal services provide various benefits for pet owners and their pets, from keeping yards clean to reducing the likelihood of disease in your pets. Here are some notable good things to start a poop-scooping company:
Although you need to be prepared for some challenges too when providing pooper scooper services. Here are the upsides of starting a poop-scooping company:
Pooper Scooper Business: Benefits
Providing pet waste removal service allows you to help people who cannot take care of their pets so that they don't have to leave them outside to go in their yard and clean up after their pets.
Pooper scoopers can also help prevent the disease from spreading in the community by picking up waste that may contain germs and disease agents.
Pooper scooper service is relatively simple, and you don't have to spend much time or money on equipment.
Find Optimized Routes to Fulfill Your Pooper Scooper Appointments with Upper
If you're a pet poop scooping business owner, you know how important it is to have advanced scheduling and on-time arrival.
That's why Upper route planning and optimization software is here for you to provide the best route planning and optimization software for businesses like yours.
With Upper, you'll get the most efficient routes for dog poop-scooping appointments. You won't have to worry about whether or not you will be able to reach your appointments on time.
1. Efficient route planning
Upper route optimization software helps you plan routes for your appointments so that your dog poop scooper appointments are never missed.
The software will help you with the shortest route per your specific constraints, driving preferences, and time windows so that you're on time to serve your customers.
2. One-click dispatch
Upper comes with a one-click dispatch feature. You can notify employees about upcoming appointments and stops through a simple click. For instance, if one of your pooper scoopers cancels an appointment, you can reassign it to an available employee easily.
3. ETA notifications
Upper helps you send automatic notifications of arrival status so your clients know precisely when to expect your service. This saves you time and eliminates failed attempts while servicing clients.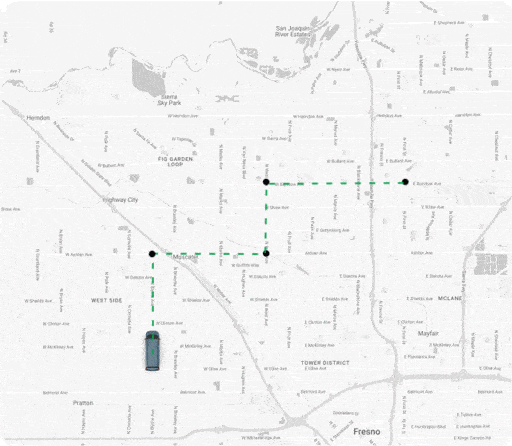 FAQs
You can make up to $70,000 annually after taxes and expenses if you have a pet waste removal business. If you work a full 40-hour workweek with a financed used vehicle and visit an average of 4-5 yards per hour, you could make over $35 per hour.
Poop is sometimes taken away by the service provider, but some people leave the waste in the trash bin of the client.
Starting a dog's poop scooper business is one of the best ways to make money. Scooping poop is easy to start, and you don't need much startup capital. You can easily add other services to your offering list, like dog walking or lawn maintenance, which makes it easy to grow the business.
Conclusion
The pet waste removal business will never fall short of opportunities. It eliminates office complexes, involves relatively low overhead costs, and is an excellent side hustle as the business isn't that time consuming. With millions of pets and dog owners in the United States, there's a lot of pet waste!
By starting your own dog's poop scooping business, you can solve pet owners' problems by providing a service that people want: collecting pet waste without judgment or prejudice. However, to build a successful pooper scooper business, you need to be at the top of your customer service game. And that begins with reaching your client's yard on time. Upper helps you with this by providing you with the shortest routes and taking all time constraints into account to ensure that you fulfill more pet waste removal business appointments every day.