Key Takeaways:
Understanding the various types of septic systems and their maintenance requirements may help to provide your clients with specialized services.
Establishing trust and long-lasting relationships with clients can be facilitated by offering them tools and education, such as details on how to maintain septic systems and other local laws.
Collaborating with related companies, like plumbing or excavation companies can help you grow your business and attract more clients.
Setting safety as a top priority that includes correct equipment management and disposal can help to safeguard your clients and staff and lower liability risks.
It is rare that many people choose to start a septic tank business. There are a lot of reasons behind this, but perhaps the most pervasive is that many view the business as unappealing. Whatever the reason is, it still opens up a big window for you to capitalize on.
This is because a septic tank cleaning business can prove to be highly lucrative yet easy to enter because of the stigma around the subject. There is also a constant demand for septic tank businesses because septic systems constantly need maintenance around the world.
Though much like any other business, the septic business has its own set of nuances that you must understand before starting your business journey. So, here's the blog that will show you how to start a septic tank business on your own.
Is Starting a Septic Tank Business a Good Idea?
There are not a lot of businesses that share the characteristics of a septic business, as it is a field that requires equal parts of skilled labor and automation. This makes the septic business one that has truly unique benefits that are worth looking into.
1. Specialized industry
There are many aspects that make it unlikely for competitors to beat your business. For example, if you are skilled in the industry, then you are not likely to get outperformed by a newcomer, as the industry demands a high level of expertise.
A septic business also has great startup costs, as it often requires an experienced crew, expensive equipment, and maintenance tools. Other ongoing costs will include overhead costs, truck maintenance costs, and fees for waste removal. But once you are able to invest and get your business in order, it can prove great to increase business cash flow.
2. Unsaturated market
As previously stated, there is a stigma around septic businesses making people shy away from starting their own. This leaves you with a market that is barely saturated. Though there is a caveat to this fact.
Because there is so little competition, only some companies usually dominate the local market size. Depending on your business location, you might even be competing against monopolies. This is especially true if you try operating in rural areas.
How to Start a Septic Tank Business in 8 Easy Steps?
Starting any business is no joke, as it requires hard work, determination, and planning. This is especially true for a septic tank business. While the task of running your own septic business might seem daunting, with the right steps, the process becomes a lot easier.
Step 1: Analyze the local market
It is a good idea to research and analyze your local market before making any moves whatsoever. This is because a lot of new elements will pop up after you conduct your research that may change your plans.
For all you know, you could be in a market that doesn't require any septic companies at all. An example of this is modern suburbs that are connected to a municipal sewer system. So you need to target areas that mostly use a septic system for waste management.
These areas require routine maintenance, allowing you to capitalize heavily and make a stable income through simple septic pumping operations. You might also want to choose a specialty to differentiate yourself from your competitors.
Step 2: Choose a particular niche
Picking a niche means choosing your specialization in a particular field. While it might seem like a septic business would not have a lot of specializations, the truth is that it does have its own variations.
Many septic businesses are able to coexist in the same space as they choose to do different things for their target market. Some choose to install septic tanks, while others choose to go into septic cleaning instead.
You can choose to go into any specialization, though; most people choose to go with a septic tank cleaning company because of the lower overhead costs. So you must first decide what you want your own septic tank business to do, as it will make cost estimation and business planning easier.
Step 3: Evaluate business costs and requirements
If you have decided on your business's specialization, then estimating the startup costs and requirements should be a breeze. One cost that is similar throughout almost all septic companies is that of septic pump trucks.
A pump truck is used in almost all facets of waste removal. These big trucks carry massive vacuums that pump everything from water to solid waste material. Naturally, these behemoths are going to cost a pretty penny, as they can run up to 200,000 dollars.
If you choose to run a septic system installation business, then you also need to factor in the costs of keeping stock in advance. Either way, you will still have to account for the cost of employees, as running a septic tank business is not a one-man job.
Step 4: Register your business
Registration is quite a straightforward process as it doesn't involve much work. Though choosing a legal business entity for your business as can be confusing. The general business registrations for such businesses are either a sole proprietorship or limited liability company (LLC). It helps to reduce the liability risk as it separates the owner's and the business assets.
Even if you're running a small business, it is still important to get it registered, as it will protect the owners from business-related lawsuits or any business debts. This is especially true for any business that deals with the septic system, as many states require you to carry permits to operate.
The common business licenses are important as job sites that involve septic tank cleaning or septic tank installations can cause big accidents that can lead to serious consequences. This is why you need to carry permits to let the government know that you can handle the job.
Step 5: Get your finances in order
Planning for your business is simple enough, though; getting your finances in order is where the going gets rough. Even a septic tank pumping business has some truly high startup costs making it crucial for you to get the required funds first.
Another crucial thing is having a business bank account and a business credit card. You can keep your personal and business finances separate from a business account. The business bank account & credit card helps in keeping track of ongoing business expenses so that you can make more informed decisions.
A big part of financial responsibility is getting business insurance for septic tank cleaning services. Insurance policies are made for different types of businesses to cover any liabilities that arise from mishaps. Getting any property and casualty insurance should be enough to put your mind at ease.
Step 6: Hire skilled employees
There is no better way to put your mind at ease than hiring the perfect employees. If there was a perfect way to hire employees, then you know companies would be all over it. Though that is not the case for most businesses, which is why you need to personally pick the best employees.
Focus first on the field that requires highly skilled and responsible employees, such as truck drivers. Such drivers should usually have their own commercial driver's license to operate their fleet of trucks legally.
As a business owner, you need to ensure that your employees have everything that it takes to do a perfect job. This is because your septic tank business should not have to face any delays because of human error.
Step 7: Invest in High-quality equipment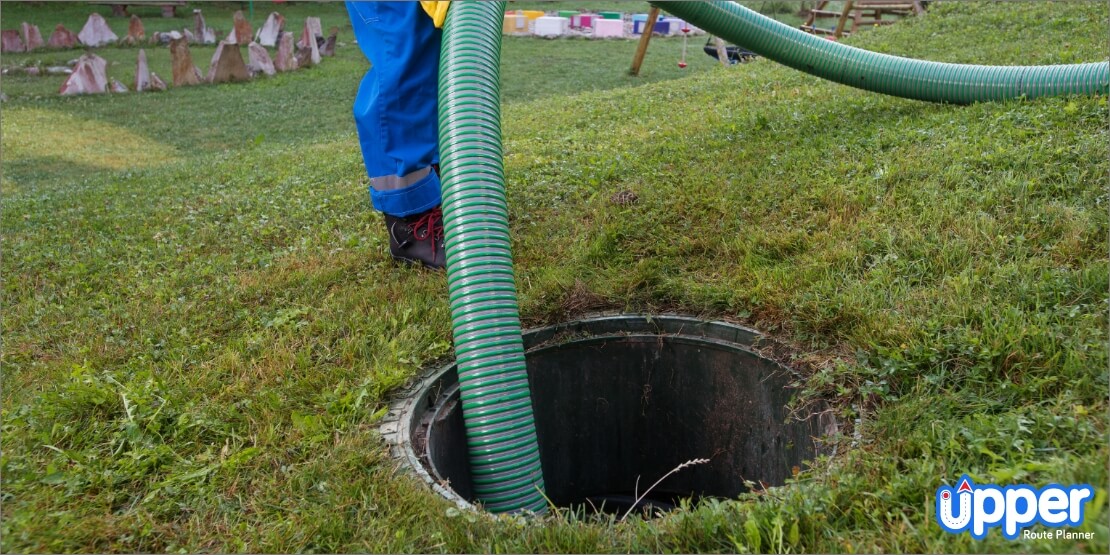 Speaking of delays, one of the major causes of a delay with a septic tank cleaning service is equipment failure. This is simply due to the fact that septic services heavily rely on tools. While you cannot change the workings of a septic pumping business, you sure can prevent it.
To prevent such failures, you need to start investing in equipment that is reliable above all else. Sure this would make you spend more money initially though it will pay for itself down the line. Though you should always have general liability insurance to cover any and all failures.
Step 8: Market your business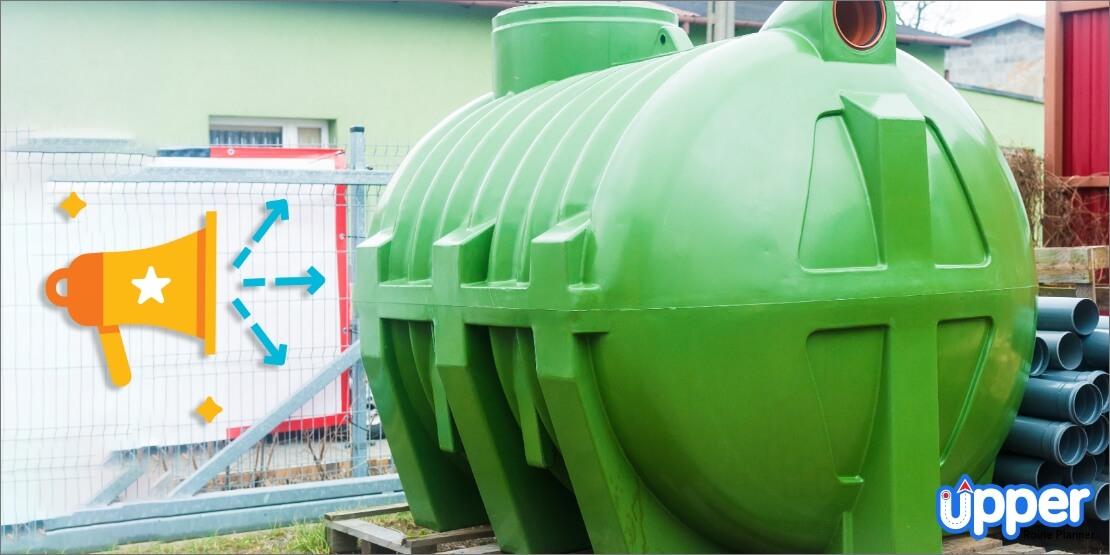 No business plan is complete without a marketing strategy. When you run your own business, you must understand that marketing makes all the difference. With the right marketing, it might be downright possible for potential clients to find your septic services.
It takes a manageable amount of marketing to create a profitable business, though only with the right marketing strategies. Local ads and social media marketing involve minimal marketing costs and work the best in this industry, as they are direct and cost-effective.
For the long-term success of your business, you will need to know your competitors, make a business plan, and expand your team. Despite proper planning, business comes with challenges; let us check out some of them.
Challenges Faced by Most Septic Tank Businesses
Here are the common challenges that should be considered before launching a septic tank business.
1. High cost of entry
The high cost for septic tank businesses discourages high competition. Though it might also be enough to discourage you from the business, as you will have to spend a lot on equipment alone.
Not to mention the ever-rising costs of skilled labor because of worldwide labor shortages. The trouble is not over when you buy all the equipment, as you will also have to account for the average costs of maintenance associated with your equipment.
This coupled with the fact that a new business cannot have the same industry growth as an established one, makes the business situation seem a lot worse. These issues can be resolved or worsened by your selected service area.
2. Competition in Market
Depending on the area where you operate your septic tank cleaning business, the competition might be fierce. Some rural areas are notorious for having monopolistic septic tank cleaning businesses that dominate the market and do not let any competitors in.
Your market demand could suffer heavily because of this factor. They can also limit your earnings, as potential customers are usually more likely to stick with old established businesses over new ones.
3. Shortage of skilled labor
You would expect a septic tank cleaning service to have no labor shortages, as septic cleaning seems like an easy job. But the truth is that the job requires workers to be trained to operate the tools used in the septic tank cleaning process.
They also need in-depth business knowledge about septic systems to do their job properly. This results in high training fees and a lower number of readily available workers. To avoid hassles during the hiring process, businesses usually create clear job descriptions to make sure that they get the right workers.
4. Complex business operations
A business dealing with septic tanks is not going to be as clean-cut as most people think because they require one to be knowledgeable about septic tank mechanics. That includes plumbing, electric installations, construction, and more.
There is also the issue of customer approval, as there are many disputes over jobs that were previously completed. While the benefits of eSignature can get you through that problem, there are still other issues that are far more complicated.
5. Inefficient service routes
Another lesser-known issue faced by a septic tank business is finding the best routes to their service locations. Since most of their service locations are spread out, it makes planning routes very difficult.
These inefficient routes then cost the business more time and money on transportation. Such a complex issue needs a perfect solution and fortunately, there is one that eliminates almost any issue faced with route planning and optimization.
Overcome Route Planning Issues Using Upper
Poorly planned routes are the bane of any business that goes to multiple sites on a daily basis. It not only makes the business frustrated with the time taken by transportation, but it also makes customers disappointed in the business's service.
Well, it is time to forget these issues by using Upper to get flawless routes at your command. With Upper, you can not only optimize your service routes in a few clicks but also dispatch and share them with drivers simultaneously. Such amazing software is what takes a business to its peak.
Why Upper for your septic cleaning service company?
Upper Route Planner will help in :
1. Route Planning: Upper's advanced technology helps to save time by finding the fastest routes to get to your customer's location. This way, you can accept septic cleaning requests and cater to multiple clients.
2. Optimized routes: The route optimization feature helps you to find the most optimized routes and save on fuel costs. This helps to boost the operational efficiency of your team.
3. Electronic proof of delivery: You will need to visit the customer's home to offer a septic tank cleaning service. Upper lets you get electronic evidence in the form of E-signatures, photos, and additional notes, so you remain accountable for completing your jobs on time.
You can go for a 7-day free trial today to know more about it.
Get Optimized Service Routes on Upper
Push your business to peak efficiency with automated route planning abilities of Upper. Find the most efficient routes without any manual intervention.
Try Upper for Free

FAQs
Running a septic pump truck is indeed profitable, as it is very much in demand in the areas that mainly use septic tanks. These areas already have a hard time finding someone that is capable of septic cleaning and will gladly pay you to do it for them.
In their pursuit to save money, many septic businesses end up neglecting some aspects of their business that lead to their failure. Some of these reasons are stated below.
Bad customer service
Unreliable equipment
Untrained workers
Lack of marketing
Overpriced services
You can only dispose of sewage at the approved waste treatment plants in your area. This is done to prevent sewage or any waste material from polluting natural bodies of water. You can also contact private companies that could be treating sewage for a septic tank cleaning service.
Conclusion
The business overview for a septic tank business is nothing to write home about, though it is because most people find it hard and expensive business. But those that have a passion for the field and a knack for business thrive when they operate such a business.
Though even passionate people are bound to run into the issues that are faced by other septic services, which is why one must constantly look for ways to innovate. Without coming up with new ways to make the business process easier, no business can truly survive.
However, you can make the route planning process easier by using Upper. With Upper, you can guarantee that your routes are going to be planned and optimized to the highest level. Don't just believe us; start your 7-day free trial and explore it by yourself.