Key Takeaways:
Conduct market research and create a business strategy, to determine whether beginning a carpet cleaning business is feasible.
To offer effective and efficient carpet cleaning services, it is essential to invest in high-quality tools and cleaning supplies.
Offering promotional deals, networking with new consumers, and developing a strong web presence can all assist to grow the business.
Operating a legitimate and compliant carpet cleaning business requires adhering to industry norms and standards, such as those from OSHA and EPA.
Do you want to learn how to start a carpet cleaning business? Are you ready to create your own business but don't know where to begin? You're at the right place.
The cleaning market including the carpet cleaning sector is ripe with possibilities. In fact, the global cleaning services market is expected to reach $90 billion by 2025, growing at a 6% CAGR. There will always be a need for professional carpet cleaners, for example, for regular cleanings or damage from floods.
In this article, we talk about all there is to start a carpet cleaning business. A step-by-step manual is provided to assist you in getting started.
What is Carpet Cleaning Business?
A carpet cleaning business essentially deals with cleaning carpets and rugs. Carpet cleaning businesses go by the names of cleaning companies, carpet cleaners, and carpet cleaning services. These companies offer various carpet cleaning services, including but not limited to steam cleaning, dry foam cleaning, and shampooing.
Things to keep in mind to start a carpet cleaning business
The carpet cleaning industry is a tricky domain; it's challenging to start a carpet cleaning business and gain attraction. But here's what can help you as a carpet cleaning business owner-
Rely only on quality carpet cleaning equipment to clean carpets, and don't miss out on effective marketing to leap ahead of the competition.
To gain working experience, work with someone experienced or certified.
Your carpet cleaning operation may require particular business licenses to function in your town or city. To learn more about any license, permit, and certification needs in your area, contact the Small Business Development Centre.
A simple business plan should also be written as it'll act as a road map for your objectives and the type of company you want to launch, helping you account for startup costs. Lenders will want to see a detailed business plan and your financial plan if they apply for finance from them.
Don't manually manage your cleaners and their workloads. Instead, trust an automated route planning and optimization solution to delegate service deliveries and meet customer demand. With such a solution, you'll also be able to cut down sky-high fuel costs, spend less time on the road, do more in less time/resources, and make more profits.
7 Steps to Start Your Carpet Cleaning Business
To start your own carpet cleaning business, you should consider business-specific requirements, like making sure you have the necessary cleaning supplies.
You must follow the below steps before starting a carpet cleaning business:
1. Write a carpet cleaning business plan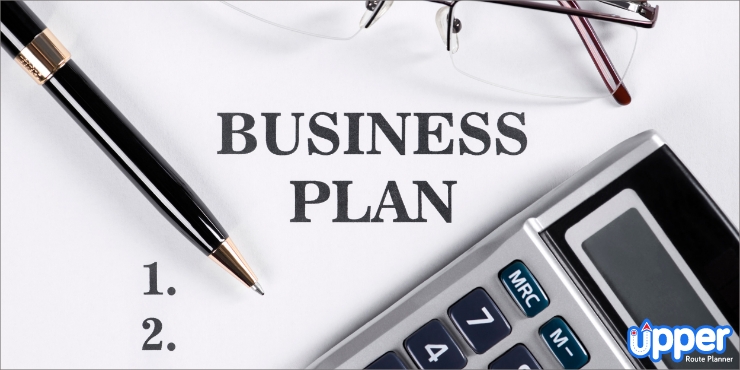 The first step to starting a successful carpet cleaning business is to have a robust business plan. Business plans provide entrepreneurs with a roadmap for starting and running a company.
A basic business plan can be as casual or professional, in-depth or general, as you feel comfortable making it. Because it is a dynamic document, you can update it as your company's priorities change.
You'll need to create an advanced budget to ensure you have enough money to operate. Try focusing on cost-effective carpet cleaning methods to ensure fair service rates in order to make profits.
Also, calculate the equipment costs and relevant start-up costs such as business licenses, training, and certification costs. Then calculate your daily expenses for things like transportation costs, vehicle maintenance, fuel, and staffing costs.
2. Acquire training and certification
Before you market your services to target customers and have your clients, you'll need proper training and experience.
Ideally, you must enroll in a course from IICRC (Institute of Inspection Cleaning and Restoration Certification), which offers certifications such as:

Carpet Cleaning Technician,
Commercial Carpet Maintenance Technician (for commercial carpet cleaning)
Rug Cleaning Technician and several related specializations.

You can take an in-person IICRC course in your area or complete an online certification.

As an alternative, consider TMF Academy's online-only training programs. Additionally, certain equipment vendors, such as Jon-Don and Rotovac, provide training courses and educational resources for prospective carpet cleaning business owners.
However, nothing can substitute for experience. Ask to spend a day or two with another proprietor's employees. To get the most out of this experience, ask your questions before watching them at work and after seeing them working.
Make a list of questions to ask the professionals about all facets of owning and running a carpet cleaning business, such as startup costs, suggested carpet cleaning tools and equipment, advice on hiring and managing personnel, managing a budget, and customer relationship management.
3. Obtain a license and register your company
You've already set the groundwork for your carpet cleaning company. Now it's time to finalize the business structure and obtain a cleaning business license and permissions by first contacting your city, town, or country clerk's office.
A state-by-state guide to licenses and permits has information at the state level on essentials like a business bank account, corporate records, business insurance, and special requirements for home businesses. Think about forming an LLC. It's easy to register an LLC with your state.
The most crucial benefit of this form is that your assets won't be at risk if your company has debt-related or other legal challenges, which isn't the case with a sole proprietorship.
4. Get the appropriate insurance
To protect your business, you need to get commercial insurance based on the type of business. This implies it is crucial to consider carpet cleaning business insurance to safeguard your company against industry-specific risks.
These include commercial auto liability coverage or collision coverage which can shield your company from a wide range of lawsuits like those for physical harm, property damage, and personal injury. It is also advisable to explore options such as general liability insurance and a business owner's policy. You will need to contact the insurance agent to find out the type of policy protects and the insurance costs.
If you're hiring staff, think about getting a commercial auto insurance policy, which is needed if you're using your truck. You should also consider getting a worker's compensation policy and unemployment insurance.
5. Purchase the necessary equipment
Finding out the equipment that local businesses (carpet cleaning company owners) favor is essential before starting a carpet cleaning business. However, if you plan to build a scalable carpet cleaning business, it's worth investing in high-quality equipment early on.
At the start, you can consider renting the tools you need from any local hardware store. Start with a steam carpet cleaner, solvents, and detergents for industrial use. As you progress in commercial carpet cleaning, it is advisable to invest in professional carpet cleaning equipment to improve your capabilities.
Once you gain a feel for the job, you can add more tools such as upholstery wands, stair tools, spotters, rinsers, cleaning solution, carpet rakes, deodorizers, pet odor and stain removers, and a variety of additional carpet cleaning instruments that could be required.
6. Finance your company
You determined the amount of money you needed during the planning process for your original budget. You will need to have cash available to buy the required equipment, obtain a business license, and pay for other start-up expenses for your company.
Save sufficient funds to pay for these and your daily living expenses once your business runs.
If you aspire to start your carpet cleaning business, business funding may be necessary. Consider obtaining a business credit card or business loan by completing an online application.
If your company cannot provide financial information when applying for a credit card, the credit card company will base its decision on your finances instead.
Once acquired, use it responsibly to establish credit with suppliers. This will be useful when applying for more significant amounts of funding in the future.
7. Promote your business
A proper marketing plan is a must to promote your business to the ideal customers. The cost for carpet cleaning and advertising costs will depend on the marketing platform you choose.
Word-of-mouth is a marketing strategy by which new businesses get attraction through satisfied customers. If you have no potential clients, marketing will be pointless and will require extra marketing costs. There are some advertising methods as below:
Start by offering services to friends, family, and neighbors. If they are pleased with your work, ask them to recommend you to their network, leveraging social media platforms to expand your reach. Adjust your services later based on valuable input from your close network.
You can also inquire about possible partnerships with other small business owners or card displays at local real estate agents, house cleaners, commercial carpet cleaners, interior designers, home goods, and hardware retailers.
Get a web presence with a business website. Your website doesn't have to be elaborate but just has information about your services, contact details, and social media accounts. Or make your website so intricate that it has a blog and an online store where you can sell pet odor removers and stain removers.
Your website's interface should look modern, clean, and fresh regardless of what you choose to include there. You can use the website designing software to construct beautiful, expertly designed websites.
Choose Upper and Get Your Business Off to the Right Start
As a carpet cleaning solutions service, it is difficult to meet customer expectations as far as multi-stop deliveries are concerned.
Having your cleaners reach the right location at the right time can help you with the desired start to your new business. And that's what Upper aims for, as it aids you to be on the top of your business.
Upper makes service delivery management a breeze in the following ways-
1. It boosts operational efficiency
As a commercial cleaning business owner, you want to ensure that your cleaners spend their time doing what they do best: cleaning!
Upper helps boost efficiency by providing the best route combinations. It will help you to take and deliver more orders efficiently, reducing the time your cleaners spend driving between appointments.
Upper provides a simple, digitized way to plan routes and optimize them regardless of how many addresses you import..
2. Auto-assigns tasks as per cleaners' schedules
Managing your new carpet cleaning business is a challenge, especially when it comes to employee scheduling. Upper helps businesses avoid these issues by enabling them to create schedules optimized for efficiency and cost-effectiveness.
Drivers no longer have to come into the depot and wait around while waiting for their daily routes. Instead, they can receive their routes at home via email or text message, allowing them more time with their families or other obligations (or just more time on the couch).
In case of reassigning routes, it's easy for management staff to switch them to another driver who is available and ready for work. This will save money and time by reducing the number of employees you need to pay over time.
Upper has a single-tap dispatch button that allows the admin user or dispatch manager to closely monitor the driver's activities throughout the day.
3. Effective work distribution and enhanced productivity
When it comes to getting the most out of your cleaning business, you can spend more time cleaning carpets for potential customers. That's why we're excited about Upper.
Upper helps optimize your routes and schedules so that you can use your resources—like your cleaners' time—more efficiently.
For example, use Upper's workload balancing capabilities to distribute work among your team members. This will allow you to get more done in less time and return to delivering excellent customer service. You'll be able to complete all of your scheduled jobs while avoiding employee burnout.
Try Upper's 30 days FREE trial and get your carpet cleaning business off to the right start.
Automize Your Carpet Cleaning Process
Don't waste more time planning routes manually. Instead, utilize Upper, get the fastest routes, and perform carpet cleaning service on time. Experience it now!
Start Upper for Free

FAQs
Social media is a cost-free method of spreading the word about commercial carpet cleaning businesses and directing clicks to your website so that people can see your high-calibre job. Here are some recommendations for social media content: Images of your company—transformational cleansing before and after pictures.
Your carpet cleaning may turn out to be a highly successful one, depending on how you manage it.
Both residential and commercial property owners demand highly for carpet cleaning. The residential spaces are small and require less cleaning whereas commercial space carpet cleaning is done on a contract basis to regularly clean office spaces.
Yes. As a sole proprietor of a carpet cleaning company, you could make between $75,000 and $100,000 a year.
Conclusion
The cleaning service industry can be challenging when you're just starting out to simply target the market. It needs precise planning in terms of resources and capacity for serving commercial customers, which also applies to the carpet cleaning business owner.
And while there are so many aspects to making your carpet cleaning service a successful business, service delivery management is no longer something you need to worry about.
Upper will save you time, energy, and money by streamlining the route planning process for your workforce. You'll enjoy more efficiency and productivity with the best route combinations, which means it will be easier to achieve your business goals.
Upper elevates the industry standards of cleaning services management further into the future. This will efficiently help you achieve success faster.