Key Takeaways:
Research the market and develop a business plan clarifying your business objectives, estimating the resources needed, and planning how to allocate those resources.
Invest in high-quality equipment to meet business needs and provide quality services to your clients.
Ensure rigorous training and regular assistance to your staff so they deliver dependable, high-quality service.
Develop a pricing structure that is clear and simple for your customers to understand.
Trash bins are one of the most important yet neglected aspects of a hygienic and clean environment. We use trash bins to get rid of daily waste but very few residential customers are aware about health risks associated with using filthy trash bins.
This is where an essential service like a trash cleaning business comes in. It works to keep our surroundings clean and encourages good hygiene and physical well-being. The service of trash collection had a market size of 68 billion U.S. dollars in 2022 alone. So, if you have been thinking about establishing a business for cleaning trash bins, then you are in the right place.
In this blog, we will guide you through the steps of setting up a profitable trash bin cleaning business in 2023. So let's dive in and investigate the world of garbage bin cleaning to help you get prepared before you launch a new business.
Evolution of Bin Cleaning Industry
The trash can cleaning sector has come a long way since its inception. Earlier, residential customers didn't give much value to the cleanliness of trash cans. But, the necessity for bin cleaning services has increased along with people's awareness on the importance of sanitation and hygiene in our communities.
In the past, garbage cans were usually cleaned manually, with the help of a hose and a brush. But, at the present, tables have turned i.e the demand for bin cleaning services surging, companies have adopted automated cleaning processes. Modern bin cleaning equipment includes mobile cleaning units, high-pressure cleaning systems, and steam cleaners. In addition to that, the industry also sought eco-friendly solutions.
Currently, it is a quickly expanding industry that provides a crucial service to both individuals and companies. That's why it is safe to say the bin cleaning sector has advanced considerably in a short period of time.
Enough said about the industry, we guess you would be keen to know how to get off the mark for your new venture starting your very own business. So, let us quickly jump into it.
How to Start a Trash Bin Cleaning Business in 8 Steps?
Starting a trash bin cleaning service means you only need 8 steps to get the desired start.
1. Research the market
Understanding the market's need for your services will help you identify possible clients, evaluate the competition, and locate potential customers. You might start by identifying the locations in your region such as homeowners, commercial, and apartment buildings.
Further, you also need to examine your rivals to find out their pricing tactics, marketing initiatives, and service offers. Some waste management companies may not be exploring all the options such as one-time cleaning. You can use this information to position your company competitively and set your services apart from your competitors.
2. Develop a business plan
Clarifying your business objectives, estimating the resources needed, and planning how to allocate those resources are a part of creating a service business plan. It usually includes study of market, target audience, marketing tactics, financial projections, and organizational structure.
A strong business plan can be an effective tool for attracting investors or obtaining funding. Ultimately, creating a business plan provides you with a roadmap and helps in keeping you on track to reach your objectives when acting as your own boss.
3. Register your business
The process for registering a business varies depending on your location and the type of entity, which might be a corporation, LLC, partnership, or sole proprietorship. You must submit an application, pay a fee, and provide proof of insurance in order to acquire a business license or permit from your local government for your cleaning service.
Also, you might need to apply for an Employer Identification Number (EIN), register for state/federal taxes, and acquire any required licenses. Consequently, by registering your business, you are safeguarded from personal liability as well as ensuring that you are operating legally.
4. Purchase equipment
You need to think carefully before purchasing the trash bin cleaning equipment to ensure that you have the correct equipment to meet business needs and offer high-quality services to your clients. A truck or trailer, pressure washing gear, replacement trash bins, cleaning agents, safety clothing, and a water source are a few examples of the basic safety equipment.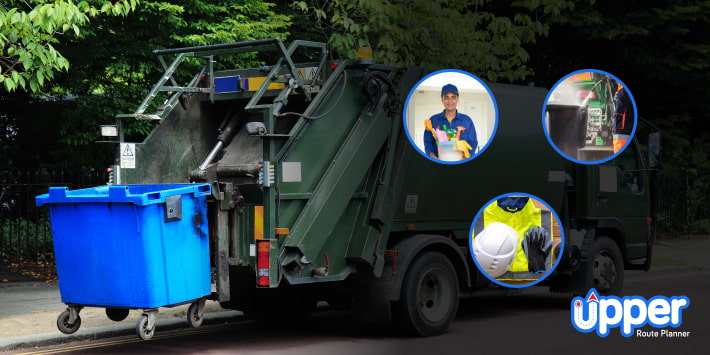 You should also take into account the price of equipment maintenance and repairs when making a purchase. Regular maintenance stents the lifespan of the pressure washing equipment and also guarantees that it runs securely and effectively.
5. Hire employees
When it comes to hiring for your service business, look for candidates who are dependable, meticulous, and have a positive attitude toward cleaning trash bins. To attract and retain talented employees, consider providing competitive compensation, perks, and career advancement chances.
You must ensure rigorous training and regular assistance to your staff so they deliver dependable, high-quality service. This is also important as pressure washing incorrectly can have devastating consequences. Also, hold regular staff meetings and performance evaluations to provide feedback and establish goals.
6. Decide pricing
When determining the pricing it is important to consider the cost of labor, material, equipment, and any other costs related to operating your business. Some businesses even opt to charge zero franchise fees to stand out in the market.
You also need to check the prices that other local businesses are offering. This will help you to create a pricing plan with better values like extra services or better cleaning. The pricing structure should be clear and simple for your customers to understand.
7. Give marketing efforts
Target market, marketing channels, company logo, messaging, and promotional activities are part of the marketing plan. Start by deciding who your ideal customer is for dumpster cleaning operations and what their demands and pain points are.
You can select the most efficient marketing channels to reach your target market once you have determined who they are, such as social media, online advertising, or direct mail. Overall, creating a marketing strategy will benefit your company's ability to draw in and keep clients, which will ultimately lead to business growth.
8. Launch your business
Once you reach the 8th step, It's time to launch your own business. The launching process is essential for any waste management company and should be carefully planned and carried out to make a good first impression on potential clients.
Plus, you should also advertise your launch on social media, local directories, and other pertinent platforms. Also, be ready to respond to inquiries regarding your trash bins service business and share details about your services and prices to your potential consumers.
These steps will help you embark on your trash bin cleaning business on a positive note.
Get Efficient Routes for Your Trash Bin Cleaning Services Instantly
Leave your manual route planning hassle to the Upper Route Planner and arrive your cleaning location on time. Worry less about routes and deliver 3x faster service.
Start a Free Trial

Reasons Why Trash Bin Cleaning is a Profitable Venture
Before you make the plunge toward starting your own business in the industry, it is crucial to take into account a few significant aspects. So, let us find out the top reasons why to start a dumpster cleaning business.
1. Emerging business
Cleaning trash cans is a new industry with a lot of growth potential in the years to come. The need for expert trash bin cleaning services is growing as residential customers become more aware of the importance of proper waste management.
Also, as the market expands, you can carve out a distinct niche, offer a higher standard of service, and develop a loyal clientele. To enhance your services and grow your firm in new markets, you may further investigate cutting-edge innovations and technologies.
2. Flexible working hours
Flexible working hours are also one of the reasons to start a trash bin cleaning business. As a business owner, you have the freedom to manage your time, work, and keep a healthy balance between work and life.
Furthermore, flexible hours can be a selling point for customers who have hectic schedules and require their garbage bins cleaned by waste management companies at a given time. Offering services after usual business hours can draw more clients and boost sales as well.
3. Little to no competition
Although there may be some businesses in the market offering similar services, this industry of cleaning garbage cans is new and still emerging. This means there is room for new players to enter the market. Also, as there is little competition, you can set your rates reasonably or offer additional services such as one-time cleaning without worrying about your rivals.
This will also help to develop a clientele of loyal customers who will support your business for many years. Thus, due to low and non-existent competition bin cleaning businesses can turn out to be a lucrative investment.
4. Cheaper overhead costs
The advantage of a dumpster cleaning business is the decreased operating expenses. It does not require any physical storefront, an extensive inventory, or expensive equipment. The main equipment is a cleaning truck and some pressure washing equipment that can be acquired at a reasonable price.
Additionally, there is no need to lease or buy a separate commercial facility because the firm can be operated from a home office. As a result, your operating costs will be reduced, allowing you to maintain competitive pricing and boost your profit margins.
5. Be your own boss
Being your own boss is one of the most alluring benefits of starting a bin cleaning business. You have influence over the work schedule, customer interactions, and overall direction of the business.
It enables you to build a company that showcases your abilities and interests while working in an area that you are enthusiastic about. This will also provide you the ability to set your own schedule, manage your time, and develop a business culture that reflects your values.
Although establishing a business cleaning garbage cans has many advantages, you may find difficulties while running the business. Let's look at it more closely.
Challenges Faced by Trash Bin Cleaning Business
Unlike other businesses, trash cleaning also comes with its own set of challenges. Here are some challenges the bin cleaning owners should be aware of:
1. Seasonal demand
It is one of the major challenges that bin cleaning businesses can confront. There is an increase in demand for cleaning services in the summer due to frequent use. While the demand declines in winter due to less usage of bins. This might make it challenging to maintain constant revenue streams.
2. Waste disposal laws
As different states and municipalities have different requirements for waste disposal and dumpster cleaning. So failing to comply with these laws can result in fines and penalties, leading to a financial burden. Hence, it is crucial for businesses to stay updated with the local laws of waste disposal.
3. Maintenance of equipment
The equipment used in cleaning services is subject to wear and tear, which can affect the quality of cleaning services. Therefore it becomes important to prepare a maintenance plan for regular checks of equipment. This can help to identify the issues early on, thus reducing the risk of unexpected breakdowns.
4. Weather conditions
Extreme weather conditions like heavy rain, snow, or extreme heat can hinder the process of bin cleaning. The workers are also exposed to the risk of slip and fall accidents, particularly during adverse weather conditions. Hence, it is important to keep an eye on the weather forecast to avoid any inconvenience to their potential customers.
5. Health & safety risks
Bin cleaning jobs involve working with heavy equipment and chemicals. Hence, workers involved in this field and residential customers are exposed to serious health problems and infections. So, it becomes the responsibility of the owners to train on handling hazardous materials and also be equipped with safety gear while cleaning.
Plan & Optimize Your Routes for Your Trash Bin Cleaning Business on Upper
Bin cleaning is a service responsible to maintain a clean and healthy environment. But it is a tedious and complex task at the same time. With the rising concern about cleanliness among people, it is crucial to have an organized system for effectively delivering bin cleaning services.
This is when the daily bin cleaning services need a reliable route planner. Therefore, Upper Route Planner is the go-to software when it comes to planning the best routes. You can check out some of its benefits below:
1. Advanced route planning
Its advanced algorithm creates the most efficient routes for bin cleaning by considering traffic conditions, delivery constraints, and driver preferences. The route planning streamlines the operations completely, thereby improving overall productivity and reducing costs of fuel.
2. Report & analytics
The analytics insights of Upper help to optimize cleaning processes. It makes the process more efficient and also contributes to the sustainability of the environment. It helps to track the progress of activities, identify opportunities for cost savings, and identify areas for improvement.
3. Proof of delivery
Another feature is proof of delivery, using which drivers can take the proof of service after finishing their cleaning in the form of photos, e-signatures, and adding notes. This helps the business owners to keep a track of the successful completion of tasks.
So, what are you waiting for? Start your automated route planning journey with Upper by taking a 7-day FREE trial today.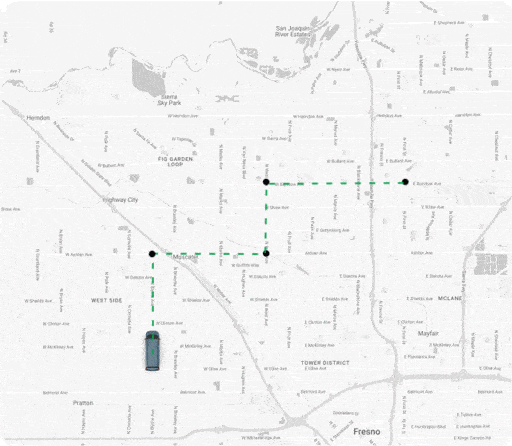 FAQs
Residential clients, commercial clients (including firms, office buildings, and retail centres), and municipal clients (such as local governments and public parks) are some examples of potential customers for a trash bin cleaning business.
The profitability of any business depends on several factors like size of the business, the market demand, and the operating costs. However, with proper planning, marketing, and execution this trash can cleaning business can be converted to profitable business with a net profit of 50% or more.
Some of the the trash bin cleaning equipment needed for a thorough cleaning job are a pressure washer, a truck or trailer, cleaning supplies, and personal protective equipment. You will also need to invest in a bin lift or automated bin cleaning system to make the process more efficient.
There are various ways of marketing the trash can cleaning business are social media, local newspaper, flyers, and attending community events. You could also spruce up your business logo and website to inspire confidence in new customers. If you get the most of such ways, word of mouth marketing or positive Google business reviews may do wonders for your business, for which you must deliver consistently excellent customer service.
Having a Google business profile is the single best thing that you can do to increase the chances of your garbage can cleaning business to be discovered. Getting positive google business reviews will further boost the level of trust residential customers have on your service.
Conclusion
Referring to the business launching process, It is very obvious that one of the most lucrative options for entrepreneurs is a trash can cleaning service. But for it to thrive, there is still a need for proper organization and planning. Otherwise, difficult jobs like manual route planning will increase your workload. Luckily, the Upper Route Planner has sorted out the routing chaos.
You no longer need to spend hours figuring out the best routes to get to the client's location for offering cleaning services. You can simply plan routes for weeks and months in advance on Upper. As a result, using an automated process will save you hours of your effort. You can schedule a demo right away to experience the seamless routing process.