Liquor delivery business can be a profitable business when done right – and when circumstances allow. It's an especially tempting expansion for existing liquor stores or restaurants currently serving alcohol, especially when COVID-19 restrictions limit on-premises sales. You just have to make sure you do your homework, adhere to all local regulations, and put together a workable business model.
Opportunities in Liquor Delivery Business
Is there money to be made in liquor/alcohol delivery businesses? Yes, there is.
According to IBISWorld research, online wine, beer, and liquor sales in the U.S. comprise a $983 million industry. The online liquor delivery market is growing by 11.6% year over year – yet still represents only 1.8% of all alcohol sales.
In short, home liquor delivery is big and getting bigger but still has lots of room to grow.
Make Sure It's Legal
If you want to start up a business to offer liquor delivery services locally, you first need to find out if such a business is legal in your area. There are no national laws regarding liquor delivery services; the business is regulated on a state and local level.
You'll need to investigate your state and local laws to see if any alcohol delivery is legal. If you are allowed to deliver beer, wine, and liquor, you'll need to obtain any required licenses to do so. You'll probably want to bring your lawyer into the discussion at some point.
Develop Your Business Model
Once you know you can start a home alcohol delivery business or liquor subscription service, it's time to develop your business model. This should describe exactly how you'll do business:
What spirits you will sell
Where and how you'll purchase the liquors you sell
How you'll sell those products (probably online via a mobile app or website)
How you'll deliver those products
Will you also deliver food items along with alcohol
How you'll generate revenues – will you have shipping/delivery fees, processing fee, subscription fees, etc.
You should also include any other ways you might generate revenue, such as selling premium subscriptions or offering a "beer of the month" club for recurring revenues.
Do It Yourself or Partner?
When you plan to offer alcohol delivery services, you need to determine how you will implement the delivery part of the business. You have two options: hire your own delivery staff and maintain your own fleet of delivery vehicles or contract with another service, such as DoorDash or Minibar, to deliver the items you sell.
The first option can be costly to get up and running and a challenge to manage, but it gives you more control and lets you keep more of your profits over the long term. The second option provides you with full delivery capability on day one, is easier to scale as your business grows, and doesn't require a big initial investment. You need to make that choice upfront – although you could start by partnering with a delivery service and build your own fleet later.
Put Together a Website and Online Ordering System
With all your planning done, it's time to get to work. One of the first orders of business is to put together the website (and perhaps mobile app) where your customers will do their ordering for pickup orders or a home delivery service. You can start from scratch with your own web design firm or utilize beverage-specific website services such as Craftpeak or GoTab. In constructing your website, you'll also want to set up credit card payments with a payment processing service.
Rent Your Facilities
Chances are, you aren't working out of your home. That means obtaining a beer, wine, and/or liquor store. If you're operating out of an existing business, you can skip this step. If you're starting from scratch, however, you'll need to research and find facilities in your area to operate out of.
The nice thing about not having a physical store is that you don't have to rent expensive, high-visibility retail space. Depending on your local zoning laws, you may be able to operate out of cheaper facilities in an out-of-the-way business park or something similar. You won't need much space, just enough for inventory and a few staff.
Plan quickly, deliver faster, delight customers and get home early.
Everyone deserves to have simple and easy route planning.
Purchase Inventory and Supplies
As part of your business plan, you should have identified the suppliers you'll be using. As you get closer to activating your website, you'll need to stock all the products and supplies you need to fill customer orders. If you run an existing liquor store or dining establishment, you probably already have inventory but might need to-go packaging. If you're starting your alcohol delivery business from scratch, you'll need to set up contracts with suppliers who provide all the items you intend to sell – and make sure they're okay with selling their product online with home delivery.
Hire and Train Your Staff
One of the nice things about a business that operates primarily online is that you don't need much staff to run it. You'll need people to fill orders and make them ready for alcohol delivery, as well as staff to manage your stock. Of course, you'll also want to hire the right delivery person(s) to help you move your craft beer, wines, cocktail kits, and other spirits as well. You'll also need a human being available during business orders to tend to customer service duties and answer questions/concerns that can't be handled via FAQs and forms on the website.
If you decide to handle your own home deliveries, you'll have more hiring and training to do. Remember, your delivery drivers will be the physical face of your business, so make sure they're personable and well versed in what you're selling. And, since you're selling alcohol, make sure all your drivers are of legal drinking age.
Promote Your Business
Before you flip the "on" switch, you need to let potential customers know about your business. That means marketing and promotion, in whatever ways, best reach your target customers. Today the fastest, easiest, and most cost-effective way to get the word out is via social media, so make sure you have one or more people on staff who are social media marketing experts. You'll want to be on Facebook, Twitter, and Instagram at least – everywhere your customers gather (virtually).
Use a Route Planner
If you plan on handling your own liquor delivery services, you need to invest in a route planner for your delivery team. Managing your deliveries and delivery routes can be challenging if you try to do it manually. A route planning service relieves you of that headache – and gets alcohol delivery orders into customers' hands that much quicker.
Route planning isn't as simple as giving an address to a driver and handing him the keys. It's a complicated process that gets more complicated as your business grows. In creating the optimal delivery route, you need to consider all manner of factors, including traffic, weather, construction, and other customers who want their orders delivered right now, too.
A route planner, such as Upper Route Planner, does all that work for you. Simply enter the addresses of customers who've ordered your product, and it generates the most efficient routes for your drivers. Whether you're delivering individual bottles to residences or cases to businesses, it knows where your drivers need to go — first, next, and last. It maximizes their time on the job and minimizes your customers' waiting time.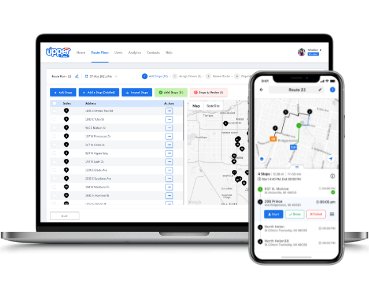 Upper Route Planner
A Simple-to-use route planner that every one is talking about.
Save up to 95% of planning time
Save up to 40% of time on the road
Plan 500 stops at once
No credit card details required
FAQ
Yes. It depends on the state you live in. You can order beer, wine, and other spirits online and get them delivered to your house. All you have to do is present a valid government-issued ID. There are still certain states in the United States of America where the delivery of alcohol is restricted.
The best way to get your alcohol delivered immediately is to order using an online alcohol delivery app like Drizly, Saucy, Postmates, or Minibar. There are several local liquor stores that make deliveries in suburbs closer to the store.
Here's a list of delivery apps that can deliver alcohol to your doorstep:
Drizly
Saucy
Minibar
Postmates
Are You Ready to Get Started?
As you can see, there's a lot of work involved in getting an alcohol delivery business off the ground. However, all that hard work can be worth it as more and more consumers are shifting from shopping in-store to shopping online. If you can offer your customers a superior online shopping and delivery experience, you will be successful.