Key Takeaways:
Although it can be difficult to find and hire delivery drivers, doing so is crucial to the success of your company.
Create a precise job description and selection procedure to draw in and catch competent people.
You can recruit and keep great people by providing competitive salary, benefits, and an enjoyable workplace.
The recruiting procedure for delivery drivers must include crucial stages including background checks, licensing checks, and drug tests.
Delivery drivers are the backbone of your business who give it all to perform successful delivery. If you are currently looking out for drivers, make sure they are capable enough of understanding customer demands.
Nowadays, dozens of companies are providing last-mile delivery service that is not just enough as you need to provide a better customer experience too. And to do so, you will need a team of skilled drivers and efficient route planning tools.
According to a recent survey, delivery drivers lose 4-6 mins in the search for the exact drop-off point, resulting in the loss of the company's revenue. Therefore, your job is not done even if you find an average delivery driver because you might need a delivery route planner as well.
In this article, we will discuss how to find and hire delivery drivers, plus how to make timely deliveries without wasting extra time on the road.
Step-by-step Guide to Find Professional Delivery Drivers
To spot the right delivery driver, follow these steps while using new recruiting strategies.
Step 1: Post a Job Ad
To begin hiring competent delivery drivers, you should come up with an attractive job post on multiple online job boards or offline channels. You can put a signboard of "Want drivers" on the front entrance of your company after market research.
Or else, you can opt for a digital way to hire a full-time driver or freelancer from a popular social media networking site.
Here, you are likely to find delivery drivers if they are promoting their service. Also, you can create a post by considering driver recommendations.
a) Tips for writing a job post
Whenever you start writing a post, you can refer delivery driver job description template intending to hire a qualified and skilled person. It should be brief about what role you are offering and which skills you prefer for potential candidates.
During the process, you can highlight important words like hiring immediately, the delivery driver wanted or opening for a driver. This would help you attract potential drivers to get in touch with you for further details.
Below are things that you can consider including in your post for delivery driver jobs.
b) List of things to consider for the recruiter
Pre-define your delivery driver's job, role, and responsibilities.
Arrange their shift timings.
Know if the driver will be working full-time or part-time.
Check whether a candidate has a clean driving record or not.
Which company vehicle will be assigned to a new driver?
Decide a payroll, incentives, and average salary range
Is a driver familiar with the designated service area?
Step 2: Follow the innovative hiring process
In the next step, consider an innovative hiring process like social recruiting through social media platforms. It would attract more than 50% of candidates than the traditional method. You can create a network on Linkedin or Instagram with company details to find the right candidate for the offered role. A Hiring Manager should be there to promote the brand name and manage social media recruiting activities.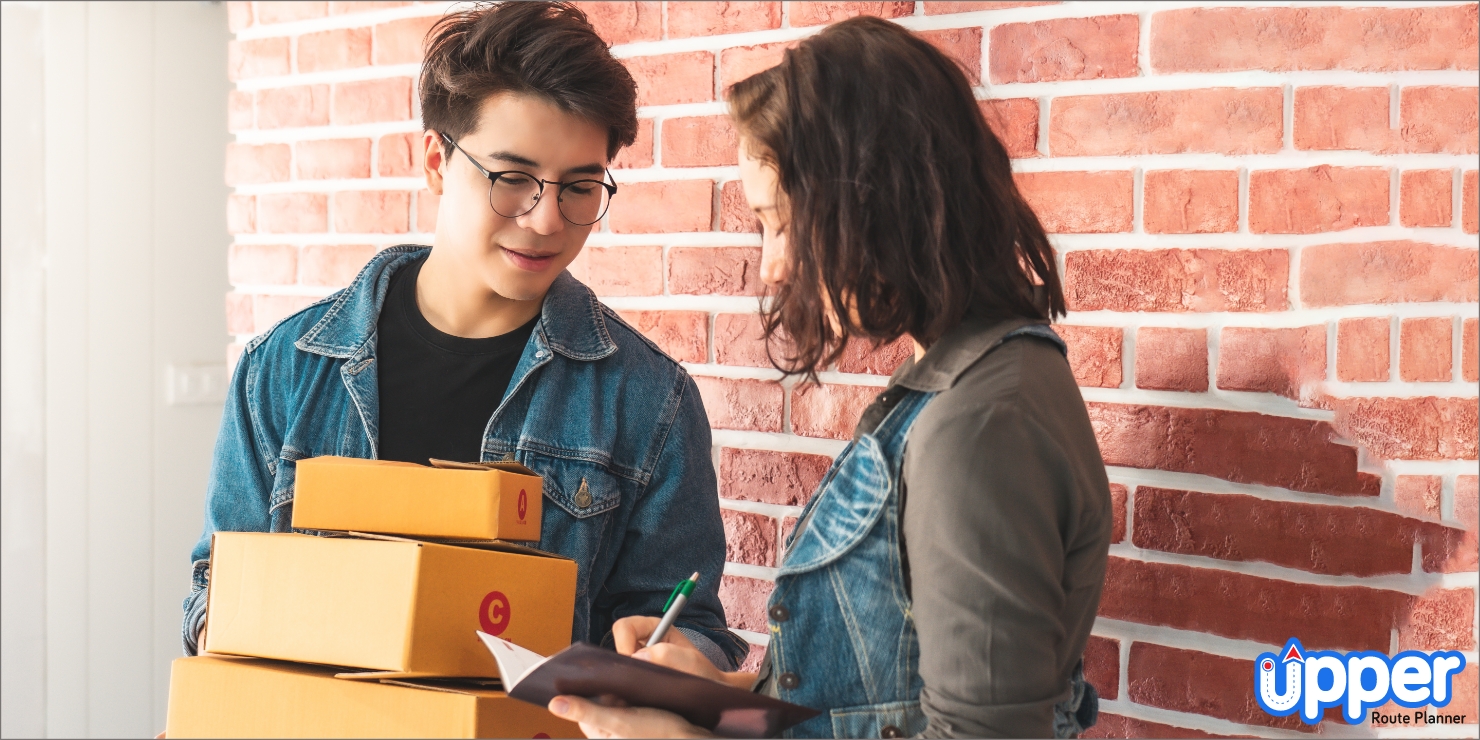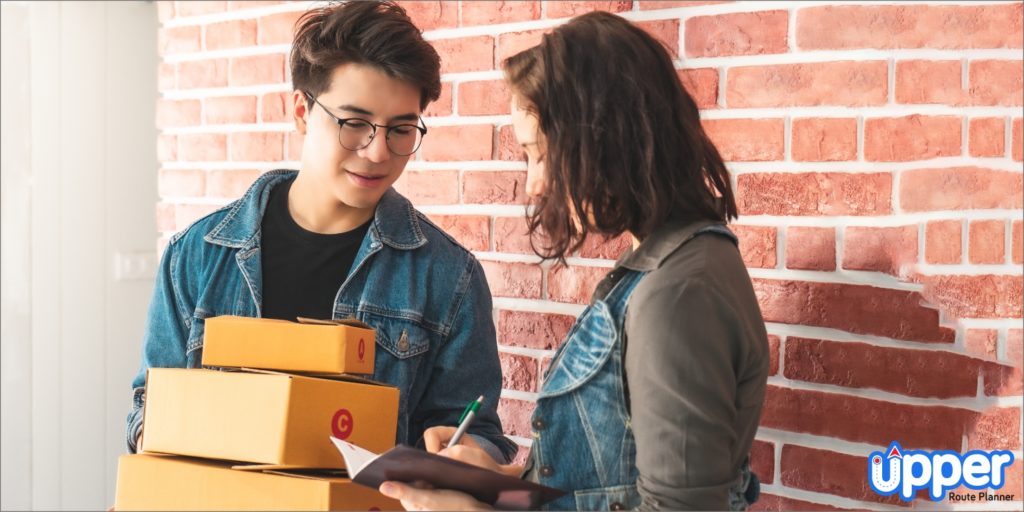 Below is how you can make use of the hiring process.
Create an account on any social media platform.
Write a new delivery driver job post.
Engage with followers by answering their questions.
Use images or videos to describe the company culture.
Reply to queries via personal messenger.
Tell your current employees for referrals through word of mouth.
If you have found the right candidate after a successful social media campaign, push for an online telephonic interview.
a) Conduct delivery driver competency test
Competency tests are usually for shortlisted candidates to analyze their strengths and abilities. This step will decide whether you should keep a prospect behind the wheel or not. So, ask them to undergo competency tests and confirm the test timings in advance.
When it comes to organizing tests, you should make sure all the essential things are available to applicants. Create an environment in such a way that a person should feel like having another normal day at work.
Once the competency test is cleared, it's time for the final round of interviews. The in-person interview is a good way of ensuring the applicant is suitable for the job. It is a great opportunity for you to convince them to be a valuable part of your team.
b) Organizing an interview on a phone call
A quick phone interview will help you filter out some quality delivery drivers who are keen on the job. Anything between 20 to 25 mins a telephonic interview would help you figure out if the candidate is the perfect fit for the vacant seat.
While interviewing, you can ask these basic questions:
Do you own a driver's license?
What is the salary expectation?
How long have you been in the industry?
What is your past working experience?
What was the reason to leave your previous employer?
During the phone call, ask a job seeker about their average salary expectations, flexible working hours, qualifications, and past work history.
c) Conduct delivery driver competency test
A competency test is usually for shortlisted candidates to analyze their strengths and abilities. This step will decide whether you should keep a prospect behind the wheel or not. So, ask them to undergo a competency test and confirm the test timings in advance.
When it comes to organizing a test, you should make sure all the essential things are available to the applicant. Create an environment in such a way that a person should feel like having another normal day at work.
Once the competency test is cleared, it's time for the final round of interviews. The in-person interview is a good way of ensuring the applicant is suitable for the job. It is a great opportunity for you to convince them to be a valuable part of your team.
Step 3: Onboard your new delivery drivers
If a candidate has successfully passed the mandatory exam, get them on board to make them learn about the company's SOP. Pay attention when drivers complain about feeling unsafe in certain neighborhoods or when delivering to certain customers.
Don't encourage speeding or unsafe driving habits (like texting and driving)as safety protocols. Many delivery businesses require periodic check-ins from drivers if they haven't heard from them in a certain period of time.
Also, you must encourage them to complete their duties on time and perform super fast deliveries. If needed you should provide them with useful resources like navigation apps, communication devices, or route planner apps.
If you are done with the onboarding process, you can organize multiple training sessions for driver safety. It would help your new as well as existing drivers to take on responsibilities.
Step 4: Set up training sessions for drivers
Now, since you have found the right candidate, it becomes necessary to guide them with the company policies. If not done, even the experienced person would find it difficult to meet their deadlines. Hence, you need proper delivery driver training sessions.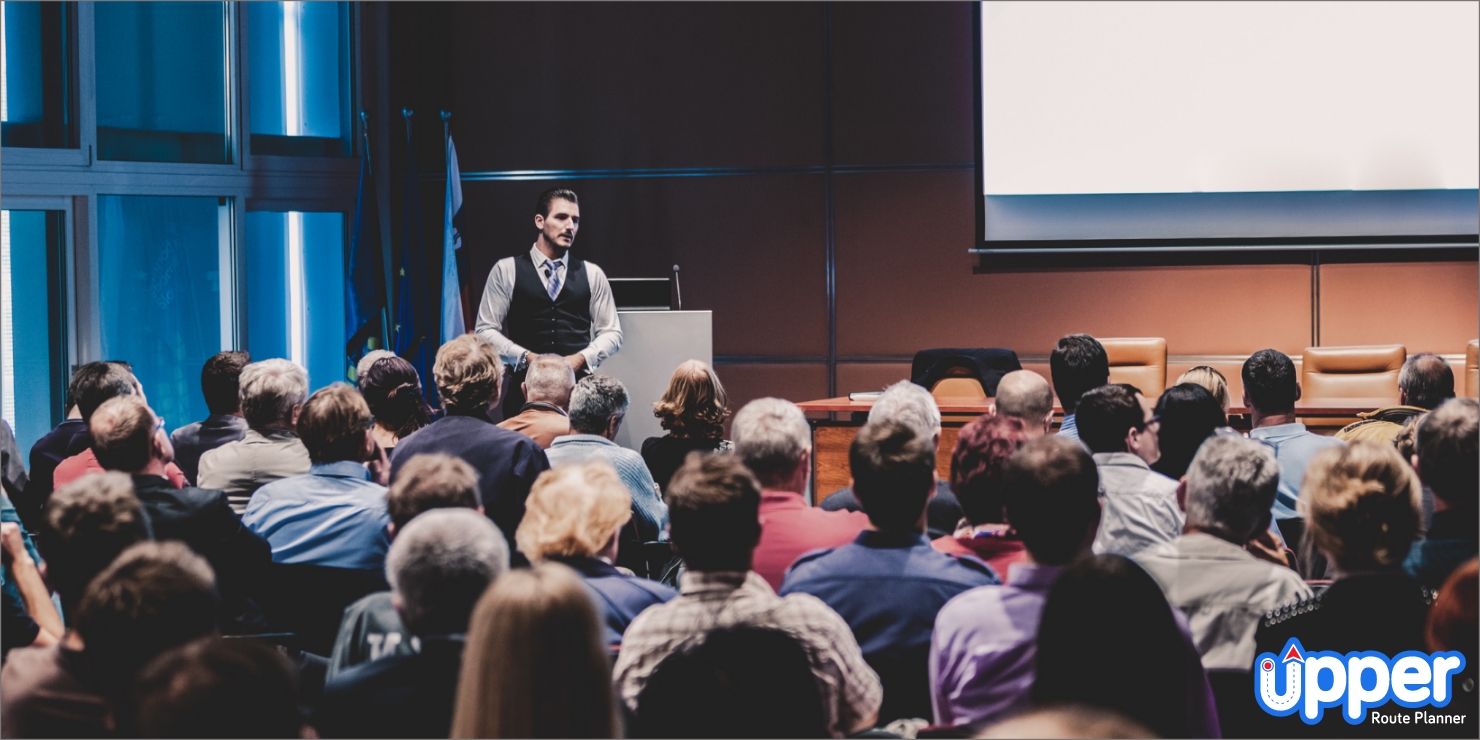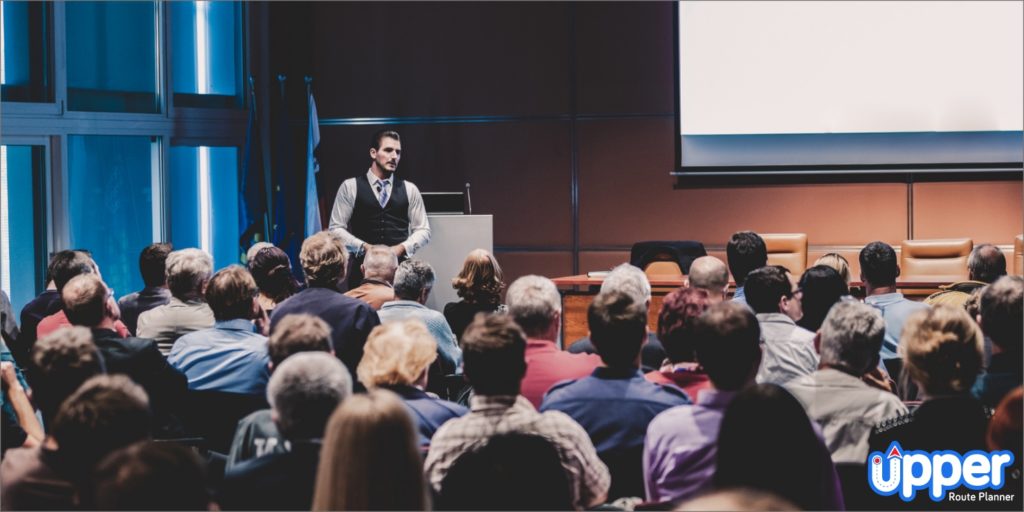 a) Software training
Let your new drivers learn to operate advanced software like route planner, Google Maps, or Apple Maps. It takes away the stress of manually navigating to an address or deciding which stop is next. Your delivery teams can be stress-free while on the road and just focus on their driving. This is just the first step towards making their job easier.
Besides, you can also teach them how to capture the e-signature as a delivery proof so that they don't need to carry manifest all the time. Also, by choosing the automated process, they don't have to travel from one place to another to submit signed papers.
These are just some basic ways of how the right delivery planner can support multi-driver teams and professional drivers in simplifying their jobs.
The best part about such software is that your delivery drivers do not have to juggle between multiple platforms. Thus, you need to conduct regular sessions for new or existing drivers.
b) Customer service training
Since drivers are serving new customers every day, they need guidance from senior employees on how to keep customers happy. Therefore, they should acquire knowledge on how to deal with customers via phone calls or text messages.
If the customer raises a query over late delivery, drivers should be trained to deal with such customers' issues. Also, you should instruct them about handling packages in safety training sessions. For serving their customers better, they might need to cut-off on-road time.
In case, if you still have to answer more calls while performing deliveries, then you should opt for automated delivery instead of manual service. The use of advanced methods would not require the extra training session for customer service.
It is part of the software training session. Your drivers would not have to engage directly with customers as the software will automatically send the delivery updates to buyers.
Read More: Why you should hire your own drivers
Real-life Examples of How Upper Route Planner Supported Businesses & Drivers
1. Chef Nicole delivered to more customers with the same number of drivers
Chef Nicole, a Miami-based healthy meal delivery business was unable to deal with customer orders via manual planning. The major issue was delivery drivers showing up late to perform deliveries. As a result, managing multiple delivery orders was difficult.
A business owner soon learned about the lengthy delivery process where delivery drivers spend more time clicking pictures and finding the best routes. So, he opted for Upper Route Planner to streamline multiple deliveries instead of hiring new drivers.
This is how choosing Upper Route Planner did wonders for Chef Nicole.
Reduced planning time from hours to minutes.
Found it easier to manage multiple deliveries with accurate delivery routes.
Delivery drivers knew stop information and delivery time windows.
Priority orders were given importance by delivery drivers.
They don't have to rely on frequent phone calls to the dispatching team.
On top of that, the drivers were easily able to click pictures of the delivered packages using their mobile devices.
2. Wishlist.Delivery Maker cut down time spent on the road & made drivers' job easier
Wishlist.Delivery Maker is another fine example that turned the tables with the help of Upper Route Planner. Earlier, they had to rely on guesswork as there was no route optimization software available to them.
Challenges
Like other delivery services, they used to find routes through Google Maps.
When they grew in a year, they fell sort of completing same-day deliveries.
Delivery drivers were finding it difficult to reach the exact drop-off point.
In fact, It was the limitations of Google Maps that confined them to performing 200+ deliveries. Who could have made it possible without a delivery route planner.
Solutions offered by Upper
It was going to be the Upper Route Planner as far as the number of deliveries was concerned. Moving to the completely automated delivery process, they successfully carried out time-sensitive deliveries with a small delivery team.
Once they started using Upper, they didn't have to plan manual routes for each driver individually. Eventually, they got rid of "guess-and-check" strategies and hired drivers to meet the customer expectations when the business expanded.
Empower your New Drivers with Upper
Hiring new drivers? What about getting a new route planning and optimization software. Get Upper Route Planner to schedule multiple deliveries and auto-assign tasks. Try it out!
Start using Upper

Skills and Qualifications to Look for in a Delivery Driver
| Required skills | Preferred skills |
| --- | --- |
| A delivery person should be able to carry heavy weight packages for required time | Qualified delivery drivers in delivery industry |
| Valid driver's license along with clean record | Proven record of time-sensitive deliveries |
| One who has excellent communication skills and works in an organized manner. | Familiarity with local streets of designated area |
| Ability to resolve customer dispute | Experience in dealing with financial matters |
FAQ
If you are receiving more numbers of delivery orders with a small team, you need to recruit different types of delivery drivers. For example, if you're running a restaurant as sole proprietorship, you may need to hire food delivery drivers in order to accept the online orders.
One of the best way to keep your drivers happy is to launch loyalty programs in which bonus is provided to the driver achieving a maximum number of points. Also, as a business owner, you can include benefits like compensation for vehicle's fuel and other expenses.
Here are some tips to find professional delivery drivers.
Start your interview process with ads on job boards
Establish network on social media profiles
Launch attractive employee referral program
Scan received applications
Schedule a telephonic interview
Conduct competency test for candidates
If you found eligible candidate, give them a formal offer letter.
A person who uses their own vehicle to deliver the parcel from the transportation hub to the buyer's location is self-employed drivers. They are independent contractor who creates delivery schedule as per order received per day.
The driver-friendly app like 'Upper for driver' benefits both, a new delivery driver or an experienced delivery driver. You can find shortest routes, check delivery status, gets real-time alerts and option to record a delivery proof.
Since the deliveries numbers are growing constantly, many companies wants to perform multiple deliveries with competent delivery drivers. Therefore finding a reliable delivery drivers in the market has been challenging for major firms throughout the hiring process.
Conclusion
Customers prefer timely delivery once the driver has left the warehouse. So, you need a good delivery driver who can provide an excellent customer experience. For that, all you need to do is follow the aforementioned steps, and if you find the right candidate for the vacant position, hand over the job offer letter.
We hope hiring delivery drivers would be now easy for you. Following the hiring of drivers, we recommend you establish a long-term relationship by offering the right delivery tool. Also, provide professional training for a customer-friendly attitude under the supervision of an experienced person.
In case, you are mulling over the driver app following the hiring process, we suggest you try Upper Route Planner (route planning software + free driver app). Book a demo with Upper and facilitate your delivery operation.