The professional conduct and overall skills of your delivery drivers play a huge role in the overall success of your delivery business.
We really can't undermine the importance of drivers' conduct in establishing good customer experience.
For your business to deliver packages on time — and give your customers the experience they want — you need two things.
An efficiently optimized delivery route
A skilled delivery driver to make safe local deliveries on time
But how do you ensure that you are hiring a good delivery driver?
We have covered some important points in this guide on how to find and hire delivery drivers.
In addition to that, we will demonstrate how Upper Route Planner helps delivery businesses and their drivers in making timely deliveries.
Step 1: Posting Job Ads
The first step in hiring delivery drivers is to get the word by posting job ads. Post the new delivery driver job ad on several online job boards like Indeed.com, Linkedin.com, Monster.com, and Glassdoor.com.
There are several courier-specific job boards like BetterTeam, Bacon, and GigSmart. professional couriers looking for delivery driver jobs on these job boards.
In addition to these platforms, you can also post job ads in local community centers, on your company's social media pages, local papers, and on discussion platforms like Reddit.
Get the word out through different channels. But make sure the job description is very clear. The more accurate your description, the better your chances are to find a candidate who is a good fit.
Here's a list of things hiring managers must consider including in the job ad:
Delivery driver schedule on a daily basis;
Full-time, part-time opportunity or an independent contractor;
Do they require a background check?;
Will you provide a vehicle or does the driver has to bring their own vehicle?;
Competitive pay;
What will the driver be delivering?;
Employee benefits like health insurance.
It helps to have a detailed and more information job ad. A good job description will help you attract the right candidates for the job.
Step 2: Interviewing & Hiring Delivery Drivers
Professional delivery drivers will be able to present the following qualities apart from driving really well:
Drivers' focus and attention to detail
Excellent communication skills
Works quickly and consistently
Maintains a positive, customer-friendly attitude
So at the time of proceeding with the hiring process, you must ask questions that help you better understand if the required traits are present in the new delivery driver.
Phone Interview
A quick phone interview will help you filter out some quality delivery drivers who are keen on the job.
Some of the basic questions to ask are:
How much salary do you expect?
Do you have a clean driving record?
What qualities, according to you, make a good driver?
The phone interview should cover salary expectations, qualifications, experience, and work history.
Driver Competency Test
The interviews and the applicant's resume will tell you most of what you need to know about them. But it is important to put the candidates behind the wheel. Schedule a road test and competency test at a time suitable for the applicant.
Design the competency test in such a way that you get to know most major details about the driving skills required for the job.
Your tests should be designed in such a way as to cover anything they need to by law, and all the skills required for a normal day's work as a delivery driver for your company.
In-person Interview
Once the competency test is cleared, it's time for the final round of interviews. The in-person interview is a good way of ensuring the applicant is suitable for the job. It is a great opportunity for you to convince them to be a valuable part of your team.
Step 3: Onboarding & Training New Drivers
Hiring the right person is just the initial step. The next step like onboarding and continued training are the most key elements.
Sometimes, even the most experienced delivery driver may find it difficult to perform the way you want if they're not trained or gained proper experience in the past.
They must be exposed to your expectations and the processes followed by your delivery company. The most important elements of delivery driver training are:
Customer service training
Software training
Process and professionalism training
Health and safety training
How would you like if all the other aspects of a delivery driver's job are made easier like looking for the right location or informing the customer?
How about Upper Route Planner takes it over, so your delivery drivers can focus on keeping themselves and the packages safe?
How Does Upper Route Planner Make Training Your New Delivery Drivers Easier?
Our route scheduling and optimization software makes it easier for you to onboard and make new delivery drivers comfortable in your delivery process.
1. Support for Route Planning & Optimization
Our advanced route planning and optimization algorithm takes away the stress of manually navigating to an address or deciding which stop is next. Your delivery teams can be stress-free while on the road and just focus on their driving. This is just the first step towards making their job easier.
2. Support for Customer Communication
How many times will your delivery drivers pick up their phones to text or call the customer letting them know about the arrival of the package? It can eat up a lot of precious driving time.
On an average, drivers spend at least 1-1.5 hours informing customers through text or call. But Upper Route Planner automates using customer notifications through email or SMS.
3. Records Proof of Delivery
Are your drivers still carrying a manual manifest to record customer signatures? At the end of each shift, your drivers have to drive all the way to the depot to submit the manifest with customer signatures.
But if you digitize the recording of proof of delivery, your drivers can simple do it on their mobile device and do not have to visit the depot just to submit the manifest.
These are just some basic ways of how the right delivery tools like Upper Route Planner can support multi-driver teams and professional drivers in simplifying their jobs.
The best part about software like Upper Route Planner is that your delivery drivers do not have to juggle between multiple platforms. All the necessary features for route planning, optimization, customer notifications, and proof of delivery are available in our centralized platform.
Step 4: Retaining The Drivers
Treat Them Well
The most basic thing is to treat your staff with respect. Employees only want to work for employers that really value them not just as workers but as human beings. Feeling undervalued is one of the top reasons most employees leave a company.
Driver Safety Must Come First
Pay attention when drivers complain about feeling unsafe in certain neighborhoods or when delivering to certain customers.
Don't encourage speeding, or unsafe driving habits (like texting and driving).
Many delivery businesses require periodic check-ins from drivers if they haven't heard from them in a certain period of time.
Even if your customers do not request contactless delivery, you must consider it as a way to keep your team from getting sick.
Also encourage your drivers to wear masks, and require them to wash their hands or sanitize before and after each delivery.
Keep Providing Them with Training
There's always room for improvement and learning new skills, so the training must never end. Work with your drivers to help them provide excellent customer service.
You can also have your drivers train each other in group sessions, to learn from their colleagues.
Real-life Examples of How Upper Route Planner Supported Delivery Businesses & Their Drivers
1. Chef Nicole delivered to more customers with the same number of drivers
Chef Nicole, a Miami-based healthy meal delivery business, found it difficult to plan deliveries manually.
In addition to spending 10 hours a week in planning activities, they were unable to factor in the service time as well as click pictures of the packages delivered. Drivers couldn't account for time and managing delivery demand became difficult.
With Upper Route Planner, Chef Nicole not only saved hours each week. The food delivery drivers knew exactly how long it would take to finish the deliveries.
Delivery time windows, priorities, and service time were all factored in and drivers didn't have to rely on their memory or manual way of knowing the information from the back office.
On top of that, the drivers were easily able to click pictures of the delivered packages using their mobile device – no need to install a mobile app. Isn't that amazing?
2. Wishlist.Delivery Maker cut down time spent on the road & made drivers' job easier
Wishlist.Delivery Maker is another meal delivery business that had to rely on guesswork due to the absence of efficiently optimized routes.
The drivers made use of Google Maps to find the route from one stop to another. This is fine as long as there are only 5-6 deliveries to make during the day. But planning and handling over 30 deliveries in less than 4 hours? Google Maps won't cut it for you.
By using Upper Route Planner, making time-sensitive deliveries was easier for the drivers.
Eventually, they hired more drivers as the business expanded. Manually planning routes for each delivery driver was a task. But Upper Route Planner simplified the planning process and instantly optimized routes for a team of drivers.
Wishlist.Delivery Maker doesn't rely on any "guess-and-check" strategy anymore. With Upper Route Planner, they know what they are supposed to be doing.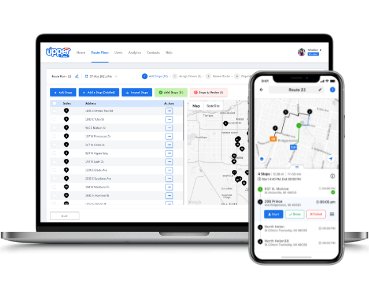 Upper Route Planner
A Simple-to-use route planner that every one is talking about.
Save up to 95% of planning time
Save up to 40% of time on the road
Plan 500 stops at once
No credit card details required
FAQ
Here are the steps on how to recruit delivery drivers:
Create a detailed job description
Post it on job sites and social media platforms
Ask existing employees for referrals
Screen delivery driver applications and invite them for an interview
Schedule a delivery driver competency test
If they pass, check for all the valid documentation and hire them
The best ways to find delivery drivers for your trucking company is to post a job post on multiple job boards like Monster, Indeed, MeetATruckDriver.com, and Gary's Job Board.
The best place to find drivers are popular job boards like Monster, Indeed, Gigsmart, BetterTeam, and Reddit.
Conclusion
Finding and hiring competent delivery drivers is a difficult task. But there are many ways you can actually get in touch with some amazing drivers. All you have to do is make your delivery driver job post visible on the right platforms.
Once hired, retain your reliable delivery drivers. Establishing a long-term relationship with your drivers will make your delivery process smoother and easier for your business.
To ensure the good ones, make sure they are paid well and on time, they all the necessary continual training, and all the tools and equipment to help them do their job better.
One such tool that will make your drivers' life easier is Upper Route Planner. Not just that, but it will also streamline your delivery process. Having a route planning system that supports your delivery drivers on the road is one of the best practices for hiring and retaining drivers.