Key Takeaways:
Apple Maps Route Planner is a helpful tool for organizing excursions and exploring new places.
With the help of the Route Planner, users can alter their route to suit their needs, such as omitting tolls or busy highways or including stops along the way.
Users can use the app to get real-time traffic updates and warnings to avoid delays and locate the quickest route.
Using Siri while driving is now simpler and safer thanks to the inclusion of hands-free navigation and voice commands
As all Apple users know, the iPhone has its own maps app: the Apple Maps Route Planner. It was initially released in 2012, and it was launched to replace Google Maps as the default maps app.
Although it had lots of criticism initially, this iPhone application has steadily been adding updates to provide the best user experience. The company is in the process of improving the customers' experience, and we can see the product's quality steadily enhance.
The topic of this article is to find out if these updates and these categories of features will make it as part of the lists of favorites for delivery drivers. In other words, will it be a useful option? Does it stack with other products? Which of the mapping apps is the most valuable? Let's find out!
What Exactly is Apple Maps?
To compete with Google Maps, Apple has introduced a map application named "Apple Maps."
Apple Maps, along with providing helpful driving directions, provides you with easy-to-read location icons, temperature readings, air quality reports, and impressive 3D Flyover mode. The good part of this app is its user's privacy.
This approach means that the community of fans and anyone who has an iPhone often wishes to use the default application on the iPhone, for example, safari. A notable exception is Google Maps.
Google Maps has more experience, depth, and data. For these reasons, it is considered to be the dominant maps app to get directions or the main navigation app.
As a route planner, Apple Maps does hold its own; let's have a look at some of the features: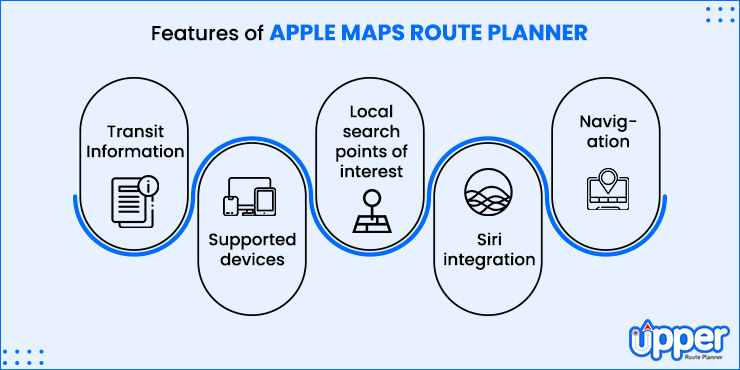 Transit Information: Apple offers a transit information section, as well as transit schedules, transit directions, to allow you to get the direction needed to catch that bus. If they don't support transit in your city, they can link to other apps.
Supported Devices: One of the key distinguishing features is that you can use the tool across all your Apple devices (Mac computer, iPad, iPhone);
Local search points of interest: You can get information on points of interest as a pit stop such as your favorite coffee shop, hotels, restaurants, family place, and more locations. You can also save locations and associate them with contacts.
Siri Integration: One distinct feature is the Siri integration, only available on this map application.
Navigation: The navigation feature includes different views, road waypoints, distance, turns, excellent audio instruction, road alternatives, 3D cities and buildings view, breakdown of steps, address details, and more.
Utilize Upper for Efficient Delivery Routes
Plan quickly, deliver faster, delight customers and get home early. Everyone deserves to have simple and easy route planning.
Try Upper for Free

What Features Do Delivery Drivers need?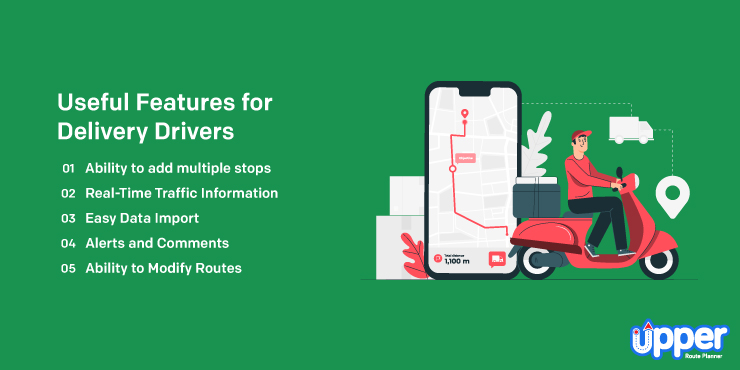 Delivery drivers have specific needs that they need to cover. We have covered this already in the article below.
For this article, we will do a quick recap of the critical features required for this type of application:
Ability to add multiple stops: With the help of apple maps, multiple stops can be easily added by a delivery person to reach the destination. The ability to add numerous stops is critical to reaching the client faster;
Real-Time Traffic Information: Traffic information is essential. A delivery driver wants to avoid these as much as possible;
Easy Data Import: A driver that is doing multiple stops needs to input a lot of addresses. If a device offers ways to import this information quickly, it improves the arrival time;
Alerts and Comments: A great application will also include a means to communicate with users. Ideally, there is an account that allows us to do this.
Ability to Modify Routes: The ability to make changes on the fly is essential. The trip could take a turn with news of an urgent delivery. Coworkers could give you an update that means you need to change the journey and the order in which you visit the places.
Is Apple Maps Route Planner Useful for Delivery Companies?
Apple Maps route planner helps delivery drivers to do route planning before reaching the destination point. As compared to Google Maps, this route planner app does not provide the essential functionalities required for delivery companies.
For instance, it does not offer the ability to add multiple stops; it does not provide traffic information and cannot modify routes.
There are some benefits. For instance, you can save addresses and integrate favorites addresses to contacts on your device.
Essential Steps To Plan a Route Using Apple Maps Route Planner
With the help of Apple Maps, it becomes easy for you to make route planning easier, you just need to take care of the steps mentioned below:
Step 1: Set the Default Route Planner Settings
First of all, you need to configure a few settings by default. It will be beneficial to you if you'll always drive or never want toll roads or highways on the route. And even though you can make these default changes, you can still adjust them for particular trips.
Let's see how it's being done.
Open Apple Maps and click Maps > Preferences from the menu bar
Now, you'll see the following option in the Route Planner Tab.

Preferred Transport Type: Here, you'll have to select from the options like Driving, Transit, Walking, or Cycling.
Driving Default Options: If you want to avoid toll roads or highways, you need to select this option.
Cycling Default Options: Let's say, you want to use cycle for a route, check the box(es) to avoid hills or busy roads.
Transit Default Options: When you choose Transit for the Preferred Transport Type, this handy section lets you choose which transit options to use.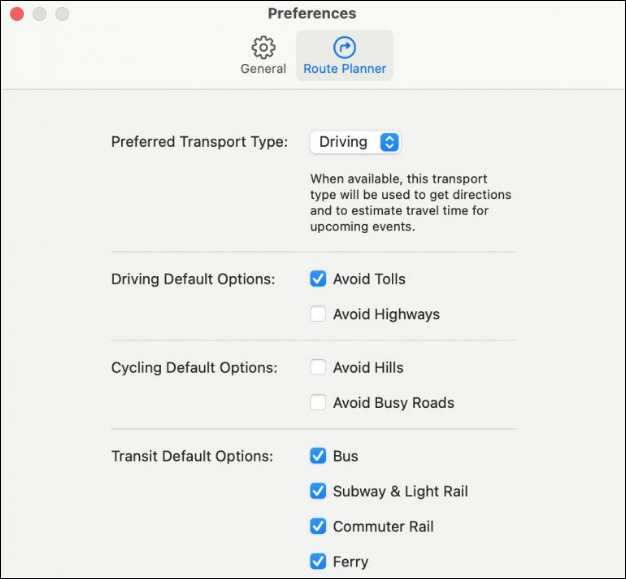 Step 2: Create a Route
Open Maps on your Mac and enter your location in the Search box or you can select one from your favorites.
Just tap the spot on the map to display the location details.
Click Create Route From Here.
Enter the destination in the To box.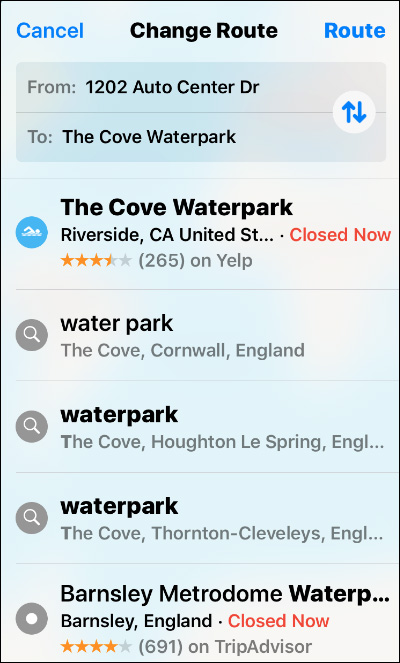 Now, you'll be able to see the driving directions from your source to destination.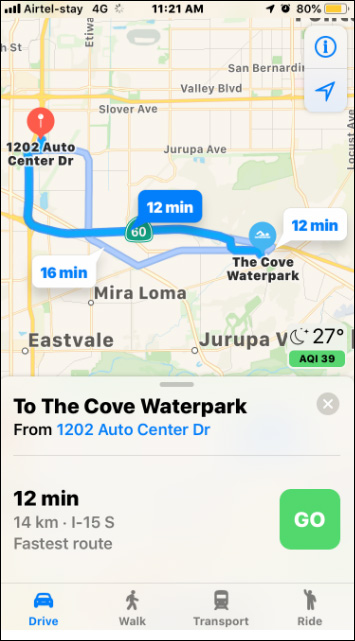 Moreover, you have an option where you can set your driving options. The primary goal of using this option is whether you want to avoid tolls or highways.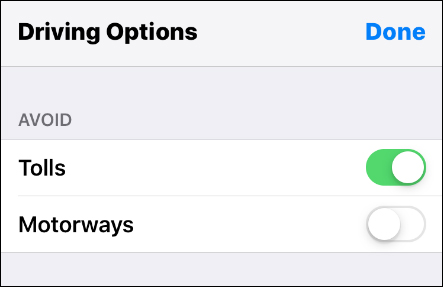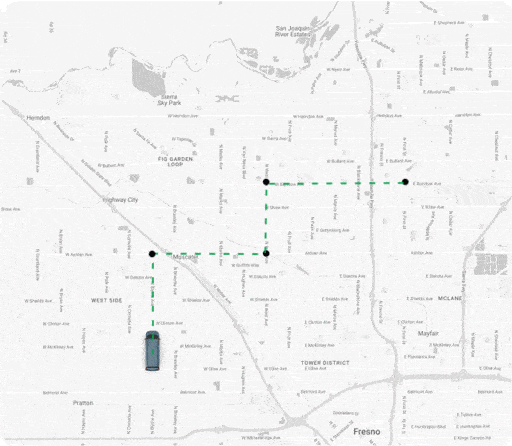 ---
FAQs
It is straightforward to plan a route in Apple Maps. The way it works is that you simply type or select the destination location. Apple Maps will then show you the driving directions from your current location.
Yes, Apple Maps does have this feature. The route is optimized to move from your starting point to the next location. It can plan a path between two stops. It currently does not support routes that have multiple destinations or points.
---
Apple Maps Leaves a Lot of Room for Improvement
In conclusion, if you are looking to get directions in maps, Google Maps is the way to go. The team at Cupertino has been working hard to improve their app. Although it is quite lovely aesthetically and has many useful features, this version does not compare (yet) to Google Maps (some even say they are catching up).
One should never underestimate this tech giant; they have had shown technology and software breakthroughs in the past. We hope this article was useful or interesting to you. Please let us know if there's anything else we can do for you!