Key Takeaways:
Delivery drivers are at the forefront of online businesses, as they are in charge of making sure that things are delivered on time, safely, and quickly, delivery drivers.
Driver apps can aid in maintaining organization, managing timetables, and prioritizing deliveries based on details like delivery windows and distance
To further optimize delivery operations, several apps include other functions like weather tracking, fuel management, and expense tracking.
Apps for delivery drivers can be modified to suit the unique requirements of various organizations and industries, such as food delivery or package delivery.
Delivery drivers are at the forefront of online businesses, as they are responsible for timely, safe, and speedy delivery of products. With technological advancements and growing delivery volume, innumerable apps are making their way into the market to boost efficiency.
When you are on the road, you may encounter issues that include finding a restroom nearby, keeping yourself fit, or planning delivery routes. So, you need supportive apps that can guide you throughout your journey.
In this blog, we have explained the best apps for delivery drivers, their features, and how they can help streamline their delivery process. Whether you are a driver or manage a team of delivery drivers, these apps can help you and your delivery drivers become more productive.
11 Best Apps for Delivery Drivers (Detailed Review)
While delivery drivers face a lot of challenges in their daily tasks, the below list of apps will make their lives easier and better. By using these apps, both delivery drivers and businesses can save time, nullify errors, boost efficiency, and improve customer satisfaction.
App
Best Used For
Major Features
Download Link
Google Maps

Navigation

Live traffic information
Offline maps

Upper Route Planner

Route Planning & Optimization

Route optimization
Proof of delivery

GasBuddy

Gas stations & gas prices

Best gas prices
Pay for fuel

Flush

Toilets and WCs

Find nearest toilests
Directions to the nearest toilet

WhatsApp

Communication

Voice and Video calls
Pay and accept payments

8fit

Exercise and Nutrition

Interactive videos
Nutrition tips and guides

Headspace

Mental Health

Sleep meditations
Stress relief and copying mediations

Spotify

Music and Podcasts

Find music and podcasts
Create your own playlists

DoorDash

Food delivery jobs

Set your own schedules
Deliver for restaurants, grocery stores, & more

Amazon Flex

Work with Amazon

Create your own schedule
Good hourly pay

MyFitnessPal

Fitness and Health

Set reminders for activity
Log meals and track water intake
1. Google Maps – free, fast, & user-friendly navigation
One of the essential apps for delivery drivers is a navigation app like Google Maps. No matter how good you are at navigation, you need to have an impeccable sense of direction to get your deliveries completed successfully.
Google Maps is one of the long-standing navigation apps and has set a standard for itself and its users.
Google Maps provides the most accurate driving directions. Besides that, a delivery driver receives live traffic information.
Why Google Maps is one of the best apps for delivery drivers:
Delivery drivers find directions to nearby hotels, restaurants, pharmacies, and gas stations.
With the help of Google Assistant, delivery drivers are able to message, call, or get hands-free help while driving.
Another interesting feature is the Live View. Delivery drivers will not miss any turns or not have to second guess their decisions with directions placed on top of their destination.
Best for: individual drivers
Available on: Android, iOS, and Web
Price: Free
Ratings: 4.7/5
2. Upper Route Planner – Route planning app for faster & timely deliveries
When you are working as a driver for a delivery service company, finding routes manually can be stressful, especially if you have a lot of parcels. Issues can arise when you plan routes based on postcode. That's where you need route optimization software, as it negates the chances of human errors.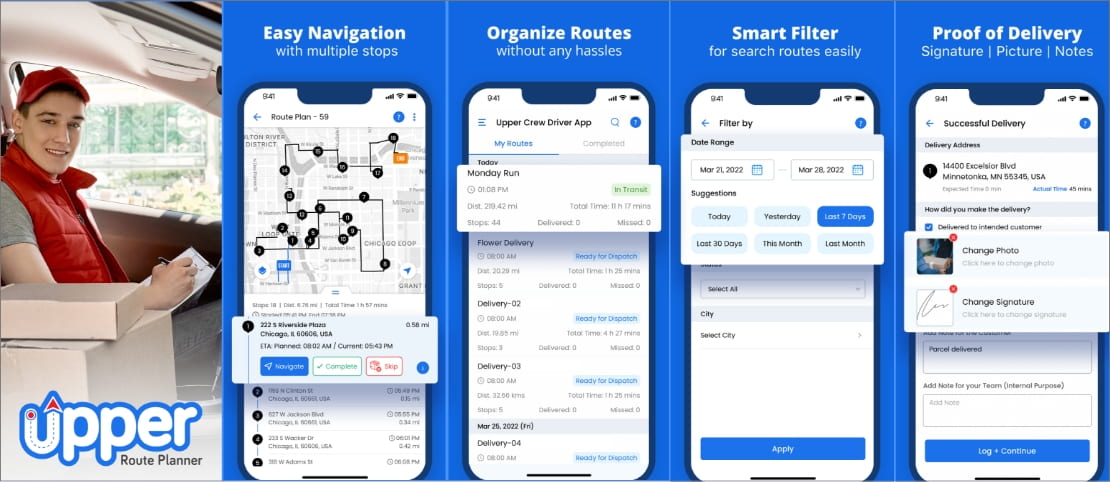 A route planner can help schedule multiple delivery routes as per particular time slots. It lets you find the best routes without wasting hours of manual work. This way you remain relaxed about arriving at your next stop.
Upper Route Planner is designed to help drivers with optimized delivery routes. A route planner aims for reducing the driver's workload by automating the entire delivery process from pickup to drop-off.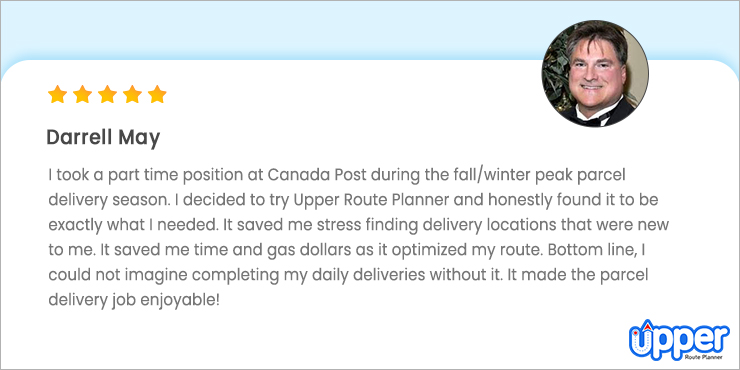 Here's why Upper Route Planner is the best app for delivery drivers:
Dynamic route planning: Upper uses advanced algorithms to optimize delivery routes based on traffic conditions, thereby reducing delivery time. Plus, you can plan multi-stop routes by adding the required driver preferences and fulfill maximum deliveries in a day.

For drivers, one of the most irritating tasks while planning routes is adding customer addresses. And that's where Upper can be your go-to software. It lets you import your addresses directly from Excel or CSV spreadsheet and gets your route plan ready in less than a minute.

Proof of delivery: When dealing with a plethora of orders, you need to maintain records of the product delivery you made. There's no better way than using an automated process. Such a process empowers drivers like you to record a delivery proof at the customer's doorstep.

With Upper, you can capture proof of delivery in the form of photos, e-signatures, and additional notes. So, you can rest assured about the delivery details and keep a track of fulfilled orders.

Parcel info: Upper saves a lot of your time with its 'Parcel info' option. When planning routes, you can add details about the position and size of your packages so you can find the appropriate package while offloading the vehicle.

When you stop at a location, such a feature can guide you with the exact details on locating your parcel for a speedy drop. Thus, you can reduce the time needed to find parcels and properly organize them in your delivery vehicle.
Best for: Small & mid-size delivery teams
Available on: Android, iOS, and Web
Price: Annual subscription plan starts at $80 per month (up to 3 drivers). See detailed Pricing Plans
Ratings: 4.4/5
Plan and Optimize Routes for Your Deliveries Easily
On Upper, import as many as stops you want to add to the route plan and get optimized routes instantly. Upper is the best app for delivery drivers.
Create a Delivery Route

3. GasBuddy – Finding the best gas prices
Knowing about the nearest gas station is really helpful. But what if you could save on fuel prices?
GasBuddy aims to help you find the lowest fuel prices and saves money on fuel. It provides real-time gas price information to drivers across North America. Thus, it's one of the best apps for couriers.
Here's why GasBuddy is one of the best delivery apps:
GasBuddy helps drivers find the nearest gas station. It provides detailed information like prices, fuel type, and station brand. It helps delivery drivers save money and find the cheapest gas across town.
Delivery drivers can enter their start and end locations to get an estimate of the amount of gas they will need for the trip.
Delivery drivers can get a GasBuddy Fuel Card and get amazing discounts and save money on gas.
Best for: Delivery drivers and vehicle owners
Available on: Android & iOS.
Price: Free
Ratings: 4.7/5
4. Flush – Simplest way to find a public restroom
What do you do when you have to visit the restroom and you're not sure if there will be one along the way? You will have to plan a bathroom break accordingly or ask around. This is where the Flush toilet finder helps you, making it one of the top apps for delivery drivers.
Here's why Flush is as important as other delivery apps:
The app displays the nearest toilets. Delivery drivers can easily find which WCs have disabled access, a fee for usage, or require a key.
Offers immediate directions on how to locate these toilets.
Delivery drivers can add a toilet to the list of available toilets and improve the app for everyone. They can also rate and report a toilet by swiping to the left on a toilet in the list.
Best for: Delivery drivers and commuters
Available on: Android & iOS.
Price: Free
Ratings: 4.6/5
5. WhatsApp – A reliable messaging & video calling app
Keeping in touch with others is essential when you're out on the road, whether it is with employers, customers, family, or friends. But, if you need to communicate frequently, or if you can't afford a solid data package, costs can add up quickly.
Here's why Whatsapp is one of the critical apps for delivery:
WhatsApp's simple and reliable messaging app helps you keep in touch with people.
End-to-end encrypted chats let you share messages, photos, videos, and documents across mobile and desktop.
Communicating and sharing with family, friends, and customers becomes easier with WhatsApp. Make audio and video calls across the world without any charges.
Best for: Online connections
Available on: Android & iOS.
Price: Free
Ratings: 4.7/5
6. 8fit – Take care of your fitness & nutrition
Managing regular healthy meals and exercise breaks is difficult when you are on the road. But taking care of your fitness and nutrition is extremely important for healthy functioning.
As a person who spends the majority of their day behind the wheel, it is important to indulge in some physical activity and also look after your meals. 8fit makes it easier for you to practice healthy eating and exercising.
Here's why 8fit is such a great delivery driver app:
Offers efficient workouts, customized meal plans, and self-care guidance to help you feel better inside and out.
Quick breaks for exercise will help you maintain good health. It not only keeps you active but also relieves stress and gives you good sleep.
Combine that with clean and healthy eating and you will have the energy to push through all the high-volume deliveries you make throughout the day.
Best for: Fitness enthusiasts
Available on: Android & iOS
Price: Free & Pro version
Ratings: 4.7/5
7. Headspace – Keep your mind happy
Keeping yourself happy and healthy while you are on the road is essential. An app like Headspace is a must-have app to help you stay stress-free on the job and at home.
Along with physical exercise, you need some mental exercises as well. Doing this helps you in handling stressful situations.
Why Headspace is a great app for delivery drivers:
Headspace provides all the necessary tools for meditation, getting a good night's sleep, managing anxiety, and creating mindfulness.
As a delivery driver, you can always take quick regular meditation breaks in between your schedules.
Whether you are taking a 10-minute break for meditation, doing some stretches, or practicing mindfulness, Headspace gives you company and helps you get better at it.
Best for: All individuals requiring calmness
Available on: Android & iOS.
Price: $12.99 per month or $69.99 per year
Ratings: 4.9/5
8. Spotify – Listen to your favorite music
Spotify is the best place to find your favorite music or podcasts. So when you're behind the wheel the right music or podcast is always at your fingertips.
Here's why Spotify ranks so high in apps for delivery drivers:
You can choose what you want to listen to, or let Spotify surprise you. You can search for any artist or album, and listen for free.
Make and share playlists and build your own music collection. You can get inspired with personal recommendations. There are several readymade playlists available on Spotify.
Your delivery work doesn't have to be boring. Instead of going about your work silently, or listening to the endless chatter or radio channels, download and play your favorite songs on Spotify.
Best for: Individuals looking for music
Available on: Android & iOS.
Price: Free, with in-app purchases.
Ratings: 4.8/5
9. DoorDash – Deliver food & earn cash
DoorDash is a food delivery app that helps food chains and local restaurants in delivering meals to their customers. DoorDash employs "Dashers", that's what they call delivery drivers.
A dasher or delivery driver can provide their availability in advance. With a valid driver's license and access to a car or a reliable vehicle, you can be a Dasher and start delivering food
Here's why DoorDash is among the top apps for delivery drivers:
DoorDash has several driver incentives over other food delivery services. These include Peak Pay (higher pay to drive during peak hours because DoorDash raises the delivery fee) and Challenges (completing a certain number of deliveries in a specific time).
DoorDash has a default tip amount of 15% to encourage customer tips, which of course amounts to more money that you get paid weekly.
As a Dasher, you can also choose which orders you turn down and accept. This gives you a significant amount of freedom to manage your time and the quality of your orders. This alone makes it a great food delivery app.
You can also deliver groceries or deliver restaurant meals as needed by clients, as well as items from convenience stores.
Best for: Delivery drivers
Available on: Android & iOS.
Price: Free
Ratings: 4.7/5
10. AmazonFlex – Be a driver with Amazon
Amazon Flex outsources drivers for Prime Now, AmazonFresh, and Amazon Restaurant Delivery. Essentially, you work for them as an independent contractor on their delivery service app.
Here's why Amazon flex is among the best delivery apps:
The Amazon Flex app offers technological support that makes delivering packages easy. Most Amazon Flex delivery partners earn an actual payment of $18-$25 per hour. That's among the best in the delivery app pays.
As a driver with Amazon, you can build your own schedule, seven days a week. You can schedule work ahead or accept same-day offers when you have spare time.
Amazon Flex drivers get paid based on the number of orders they fulfill. So, more orders = more pay. Having a larger vehicle means you can complete more orders in a wider delivery zone. And considering Amazon is one of the largest delivery companies, you'll need a sturdy vehicle to fulfill the orders they'll be sending your way.
Best for: Independent contractors
Available on: Android & iOS.
Price: Free
Ratings: 4.6/5
11. MyFitnessPal – Remain fit while at work
MyFitnessPal is another useful app that keeps a tab on your health and fitness. A delivery job requires you to spend long hours sitting in the vehicle, which can result in physical inactivity. That is where MyFitnessPal helps you remain healthy and fit.
Why MyFitnessPal is among the best driver apps:
It allows drivers to stay active and maintain a healthy diet.
The vast database of food and nutrition information helps delivery drivers to log their meals. Once you do that, the app gives you insights into the nutrients you are consuming.
MyFitnessPal also helps track physical activity, including the number of steps you take each day. This can be beneficial in setting goals and tracking progress, helping you to stay motivated about maintaining an active lifestyle.
The app offers a variety of other features, including the ability to track water intake, set reminders for physical activity and meals, as well as connect with friends for support.
Best for: Individuals looking for fitness
Available on: Android & iOS
Price: Free
Ratings: 4.4/5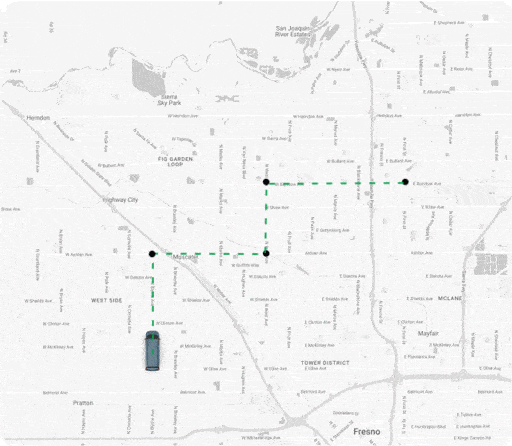 FAQ
Amazon Flex and Eaze are the two apps for delivery services that offer the most money with an average of $20-27 per hour of actual earnings. You just need a valid driver's license and a vehicle.
Yes, Postmates is definitely a great way to earn some extra cash in the gig economy. It's a great food delivery service and grocery delivery service as well as an alcohol delivery service, so in some places, you need a minimum age of 21 or older as well as a valid driver's license.
While both these have their own share of benefits for delivery drivers, UberEats offers flexibility in hours and locations along with faster payment processing.
Delivery drivers are in more demand than ever. So, you can work for any company that delivers parcels to customers and earn money. However, Postmates and DoorDash are among the best paying delivery companies.
Conclusion
Apps for delivery drivers have transformed the delivery industry, offering drivers much-needed support to boost their productivity and wrap their schedule early. From GPS navigation to route optimization, these apps can make your life much better. As you would be busy delivering large and small parcels during the entire day, you need the extra edge to relax and make your work efficient.
In such cases, you require a route planning software to save hours of manual work. This void can be filled by Upper Route Planner as it greatly tackles tedious tasks like manual route planning, frequent call ups, and of course, finding the right location. Sign up for your 7-day FREE trial and start using Upper Route Planner today!