As a delivery driver, you must be facing quite a few challenges on the road. Those challenges are not always related to navigation or route planning.
How do you know where you can stop for a quick pit stop or find a public toilet in a particular suburb? Or what if you are running low on fuel and you need to find a gas station nearby.
These and many other challenges make your job more difficult than it already is. Being a courier or delivery driver is not an easy task and we get that. So we have listed a bunch of apps you can make use of while you are on the road making deliveries. Take a look at some of the best apps for delivery drivers that will not only help you save time but be more efficient on the job.
10 Best Apps for Delivery Drivers (Detailed Review)
App
Best Used For
Major Features
Download Link
Google Maps

Navigation

Live traffic information
Offline maps

Upper Route Planner

Route Planning & Optimization

Route optimization
Proof of delivery

GasBuddy

Gas stations & gas prices

Best gas prices
Pay for fuel

Flush

Toilets and WCs

Find nearest toilests
Directions to the nearest toilet

WhatsApp

Communication

Voice and Video calls
Pay and accept payments

8fit

Exercise and Nutrition

Interactive videos
Nutrition tips and guides

Headspace

Mental Health

Sleep meditations
Stress relief and copying mediations

Spotify

Music and Podcasts

Find music and podcasts
Create your own playlists

DoorDash

Food delivery jobs

Set your own schedules
Deliver for restaurants, grocery stores, & more

Amazon Flex

Work with Amazon

Create your own schedule
Good hourly pay
1. Google Maps – Free, Fast, & User-friendly Navigation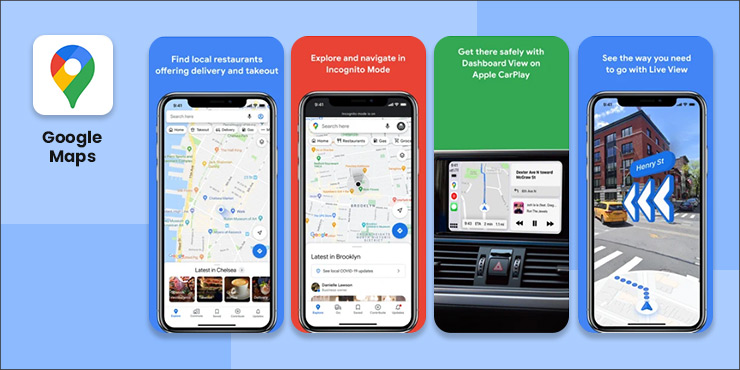 One of the most important apps a delivery driver must have is a navigation app like Google Maps.
Google Maps is one of the long-standing navigation apps and has set a standard for itself and its users.
Google Maps provides the most accurate driving directions. Besides that, a delivery driver receives live traffic information.
How Google Maps Helps Drivers:
Delivery drivers find directions to nearby hotels, restaurants, pharmacies, and gas stations.
With the help of Google Assistant, delivery drivers are able to message, call, or get hands-free help while driving.
Another interesting feature is the Live View. Delivery drivers will not miss any turns or not have to second guess your decisions with directions placed on top for your destination.
Available on: Android, iOS, and web.
Price: Free
Ratings: 4.7/5
2. Upper Route Planner – Route Optimization for Faster, Timely Deliveries
As a delivery driver who is responsible for making hundreds of deliveries throughout the week, you need more than just navigation. You need a delivery route planner app for route scheduling and optimization.
If you rely on Google Maps or Waze to find the best way to reach the location, it will only be helpful to a certain extent. In that sense, it will allow you to arrange the stops on the route manually, but will not optimize them for distance or time.
If you have, let's say, 60 stops to cover in a single day, will you look for the directions to these 60 stops manually? Or would you rather have a smart algorithm do that planning and optimization for you?
Upper Route Planner does all that heavy lifting for you. Whether you have 50 addresses or 500 addresses, you can simply add them to Upper Route Planner and get the most optimized route within 5 minutes. Suitable for both individual drivers as well as large-scale delivery businesses, Upper Route Planner is the best app for delivery drivers.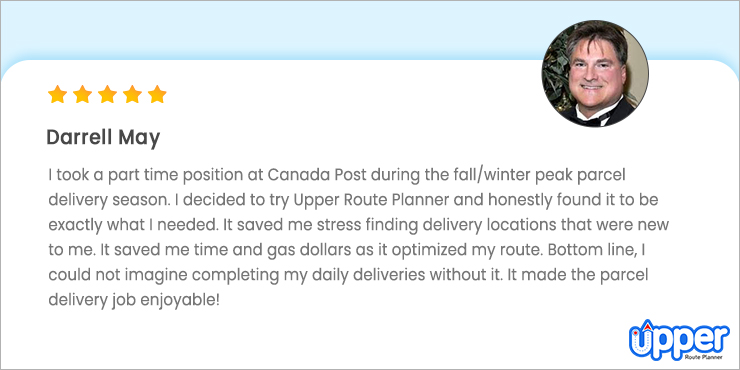 Upper Route Planner is NOT limited to route planning and optimization for numerous stops. Delivery drivers can do a lot more with it, like:
Upper Route Planner is built using a sophisticated, human-centric design to make it easier for delivery drivers to navigate their way to make on-time deliveries.
Available on: Android, iOS, and Web.
Price: Pricing Plans
Ratings: 4.4/5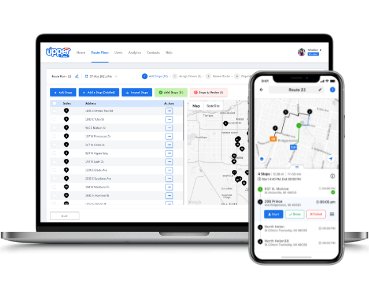 Upper Route Planner
A Simple-to-use route planner that every one is talking about.
Save up to 95% of planning time
Save up to 40% of time on the road
Plan 500 stops at once
No credit card details required
3. GasBuddy – Finding Best Gas Prices
Knowing about the nearest gas station is really helpful. But what if you could save on fuel prices?
GasBuddy aims to lowest fuel prices and saves money on fuel. It provides real-time gas price information to drivers across North America.
Here's how GasBuddy helps delivery drivers:
GasBuddy helps drivers find the nearest gas station. It provides detailed information like prices, fuel type, and station brand. It helps delivery drivers find the cheapest gas across town.
Delivery drivers can enter their start and end location to get an estimate on the amount of gas they will need for the trip.
Delivery drivers can get a GasBuddy Fuel Card and get amazing discounts and save money on gas.
Available on: Android & iOS.
Price: Free
Ratings: 4.7/5
4. Flush – Simplest Way To Find a Public Washroom
What do you do when you have to visit the washroom and you're not sure if there will be one along the way? You will have to plan a bathroom break accordingly or ask around. This is where the Flush toilet finder helps you.
Here's how Flush helps delivery drivers:
The app displays the nearest toilets. Delivery drivers can easily find which WC's have disabled access, a fee for usage, or require a key.
Offers immediate directions on how to locate these toilets.
Delivery drivers can add a toilet to the list of available toilets and improve the app for everyone. They can also rate and report a toilet by swiping to the left on a toilet in the list.
Available on: Android & iOS.
Price: Free
Ratings: 4.6/5
5. WhatsApp – A Reliable Messaging & Video Calling App
Keeping in touch with others is essential when you're out on the road, whether it is with employers, customers, family, or friends.
Here's how WhatsApp helps delivery drivers:
WhatsApp's simple and reliable messaging app helps you keep in touch with people.
End-to-end encrypted chats let you share messages, photos, videos, and documents across mobile and desktop.
Communicating and sharing with family, friends, and customers becomes easier with WhatsApp. Make audio and video calls across the world without any charges.
Available on: Android & iOS.
Price: Free
Ratings: 4.7/5
6. 8fit – Take Care of Your Fitness & Nutrition
Managing regular healthy meals and exercise breaks is difficult when you are on the road. But taking care of your fitness and nutrition is extremely important for healthy functioning.
As a person who spends the majority of their day behind the wheel, it is important to indulge in some physical activity and also look after your meals. 8fit makes it easier for you to practice healthy eating and exercising.
Here's how 8fit helps delivery drivers:
Offers efficient workouts, customized meal plans, and self-care guidance to help you feel better inside and out.
Exercise breaks will help you maintain good health. It not only keeps you active but also relieves stress and gives you a good sleep.
Combine that with clean and healthy eating and you will have the energy to push through all the high-volume deliveries you make throughout the day.
Available on: Android & iOS
Price: Free & Pro version
Ratings: 4.7/5
7. Headspace – Keep Your Mind Happy
Keeping yourself happy and healthy while you are on the road is essential. An app like Headspace is a must-have app to help you stay stress-free on the job and at home.
Along with physical exercise, you need some mental exercises as well. Doing this helps you in handling stressful situations.
Here's how Headspace helps delivery drivers:
Headspace provides all the necessary tools for meditation, getting a good night's sleep, managing anxiety, and creating mindfulness.
As a delivery driver, you can always take quick regular meditation breaks in between your schedules.
Whether you are taking a 10-minute break for meditation, doing some stretches, or practicing mindfulness, Headspace gives you company and helps you get better at it.
Available on: Android & iOS.
Price: $12.99 per month or $69.99 per year
Ratings: 4.9/5
8. Spotify – Listen To Your Favourite Music
Spotify is the best place to find your favorite music or podcasts. So when you're behind the wheel the right music or podcast is always at your fingertips.
Here's how Spotify helps delivery drivers:
You can choose what you want to listen to, or let Spotify surprise you. You can search for any artist or album, and listen for free.
Make and share playlists and build your own music collection. You can get inspired with personal recommendations. There are several readymade playlists available on Spotify.
Your delivery work doesn't have to be boring. Instead of going about your work silently, or listening to the endless chatter or radio channels, download and play your favorite songs on Spotify.
Available on: Android & iOS.
Price: Free, with in-app purchases.
Ratings: 4.8/5
9. DoorDash – Deliver Food & Earn Cash
DoorDash is a food delivery app that helps food chains and local restaurants in delivering meals to their customers. DoorDash employs "Dashers", that's what they call the delivery drivers.
A dasher or delivery driver can provide their availability in advance. With a valid driver's license and access to a car or a vehicle, you can be a Dasher and start making deliveries.
Here's how DoorDash helps delivery drivers:
DoorDash has several driver incentives. These include Peak Pay (higher pay to drive during peak hours) and Challenges (completing a certain number of deliveries in a specific time).
DoorDash has a default tip amount of 15% to encourage tipping.
As a Dasher, you can also choose which orders you turn down and accept.
Available on: Android & iOS.
Price: Free
Ratings: 4.7/5
 10. AmazonFlex – Be a Driver with Amazon
Amazon Flex outsources drivers for Prime Now, AmazonFresh, and Amazon Restaurant Delivery.
Here's how AmazonFlex helps delivery drivers:
The Amazon Flex app offers technological support that makes delivering packages easy. Most Amazon Flex delivery partners earn hourly pay of $18-$25.
As a driver with Amazon, you can build your own schedule, seven days a week. You can schedule work ahead or accept same-day offers when you have spare time.
Amazon Flex drivers get paid based on the number of orders they fulfill. So, more orders = more pay. Having a larger vehicle means you can complete more orders.
Available on: Android & iOS.
Price: Free
Ratings: 4.6/5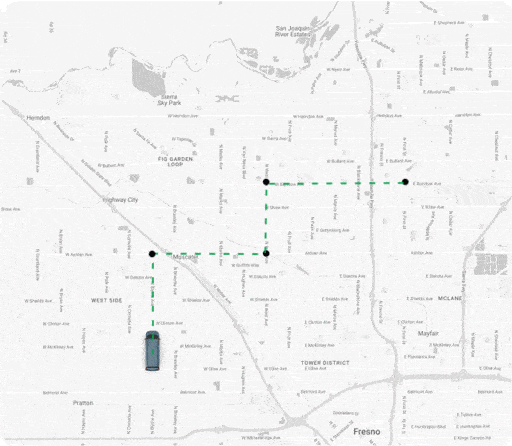 FAQ
The best apps for delivery drivers to find some work are:
Doordash
UberEats
Grubhub
Instacart
AmazonFlex
Amazon Flex and Eaze are the two driver apps that offer the most money with an average of $20-27 per hour.
Yes, Postmates is definitely a great way to earn some extra cash in the gig economy.
Conclusion
The list of apps mentioned above is to make the job easier for delivery drivers and improve job satisfaction. We understand how difficult it can get on the road for you.
With a bunch of apps mentioned in this list, you can:
Save time on the road
Automate navigation and get delivery instructions
Take care of your health with regular bathroom breaks or rest stops
Find more jobs as a delivery driver
These apps for delivery drivers will help them get through your workday easily and finish off your day feeling content.