Key Takeaways:
Google Maps route planner is a popular navigation app to plan routes with multiple stops.

It gives you turn-by-turn directions along with real-time traffic updates. But on the negative side, it doesn't have a route optimization feature.

Users can switch to alternatives for route planning and optimization if they have more stops to include in the route plan.
Navigating routes is getting increasingly complex and demands simplicity in our daily tasks, especially route planning with multiple stops is not easy. That's where navigation apps like Google Maps or Apple Maps come into play to tackle modern-day challenges.
Today, Google Maps stands out as a top-tier trip planner as it offers a user-friendly interface and remarkable versatility. From getting route directions to adding multiple destinations seamlessly, it's surely a go-to app for travelers. So, whether you're mapping out a road trip or optimizing business deliveries, you can rely on Google Maps without a second thought.
Here, we will cover the use of Google Maps for route planning and also help you know the pros and cons of Google route planning. In short, this guide will work as your compass to unlock the full potential of Google Maps route planner.
How to Use Google Maps Route Planner on Your Mobile
Using the Google Maps route planning feature, you can find the route between point X and point Y with a few clicks on your mobile app. Below are steps to use it efficiently.
Your Route Optimization Chaos Sorted!
Never let manual intervention affect your delivery deadlines. Switch to Upper and find the optimized routes in less than a minute.
Use Upper for Free

Step 1: Download the Google Maps route planner app
The first step is to download Google Maps from the Play Store or App Store. Below are the download buttons for Android and iOS users to quickly install the app on mobile phones.
Step 2: Open the app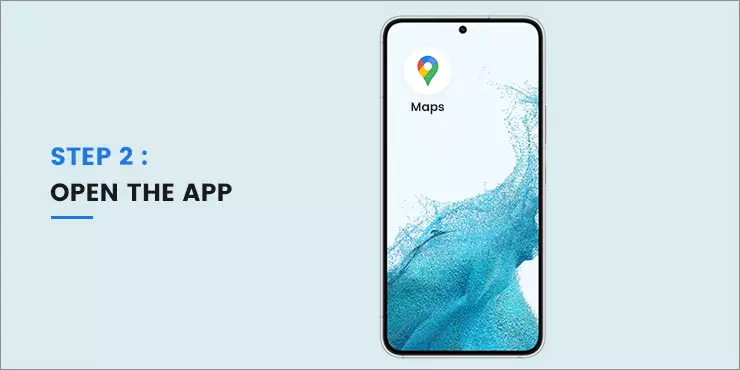 Now, launch the Google Maps app on your mobile, and you will see the city map, along with multiple options. Here, you can enter the location name in the search bar to get more details.
Step 3: Click the directions button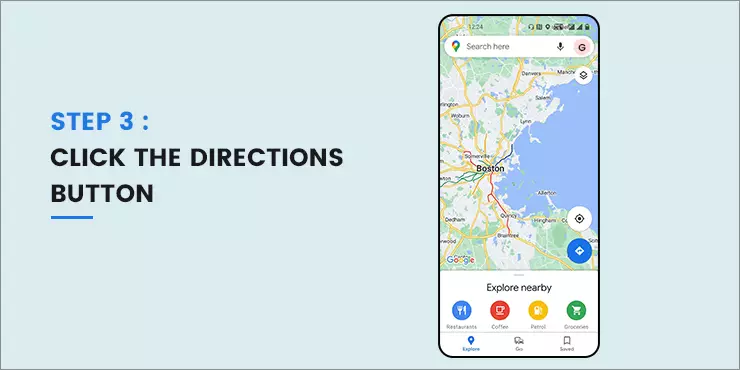 Once you get the location, you can then tap on the "Get Direction" button. Upon clicking it, you will be asked to choose the starting point in order to get Google Maps driving directions.
Step 4: Add starting and destination address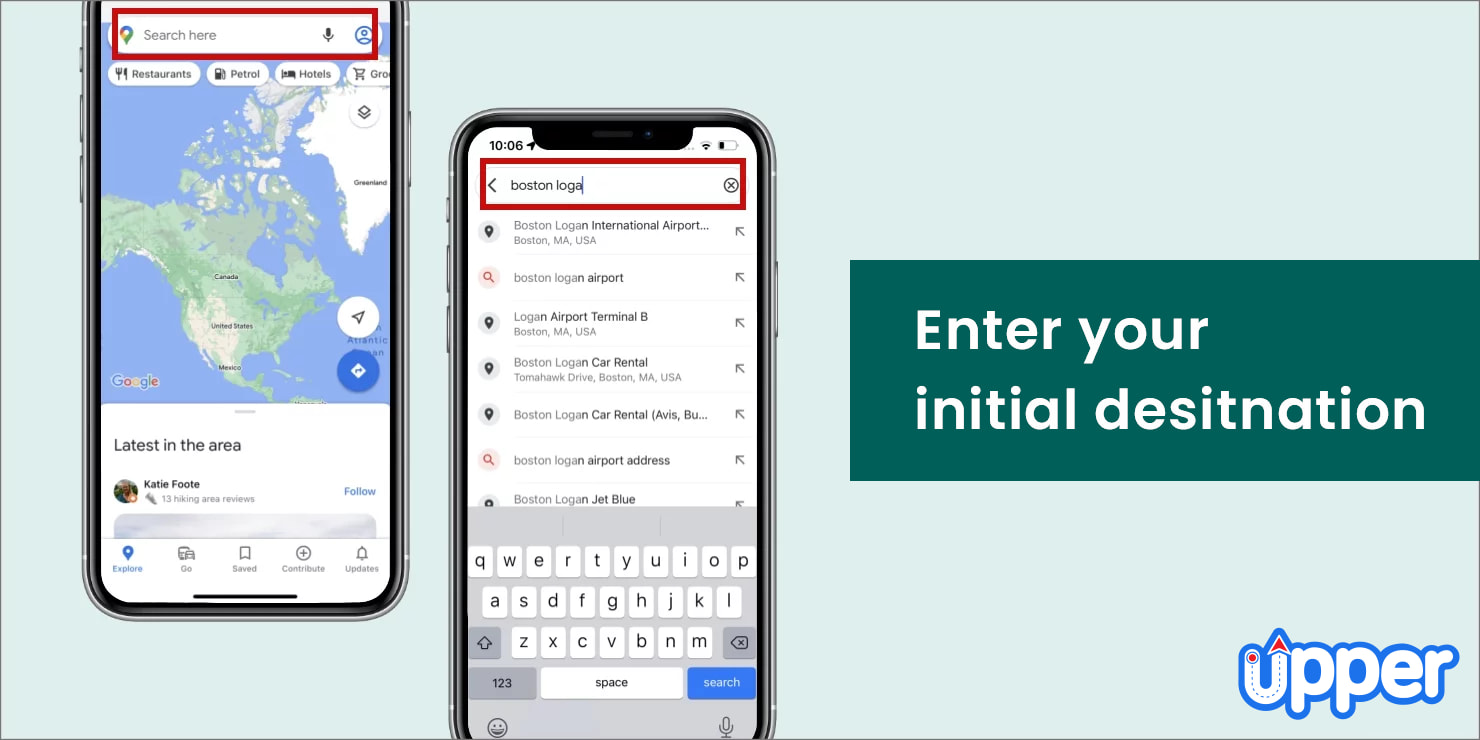 Then, choose the starting point and verify whether the pre-filled destination point is correct. If not, re-enter the end point of your choice. By doing so, it will give you a route plan along with details like distance, time, and nearby stops.
Step 5: Enter stop details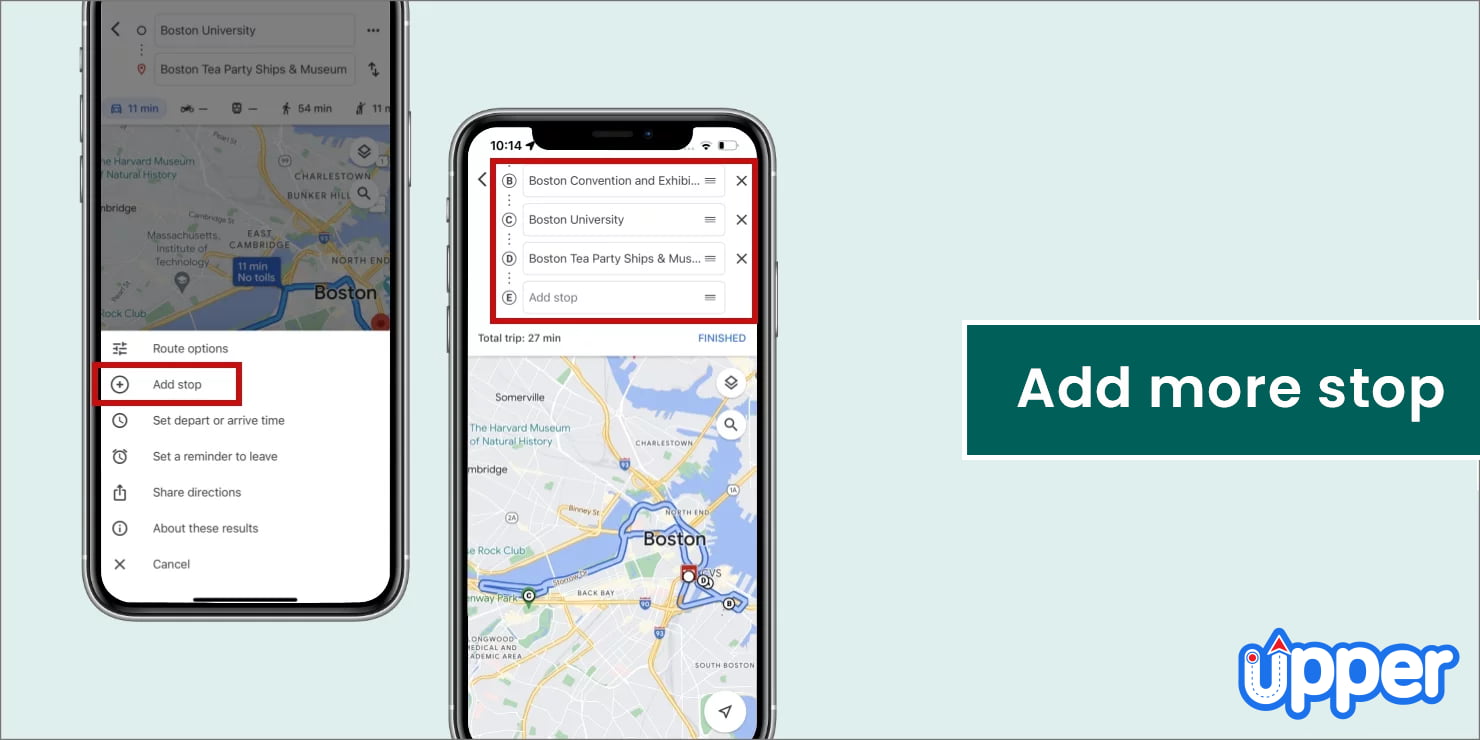 If you have multiple stops to cover between the starting and ending points, then you need to tap the "+" sign every time you add a new stop. A route mapper, Google Maps allows a maximum of 9 stops on your route.
Step 6: Review your route plan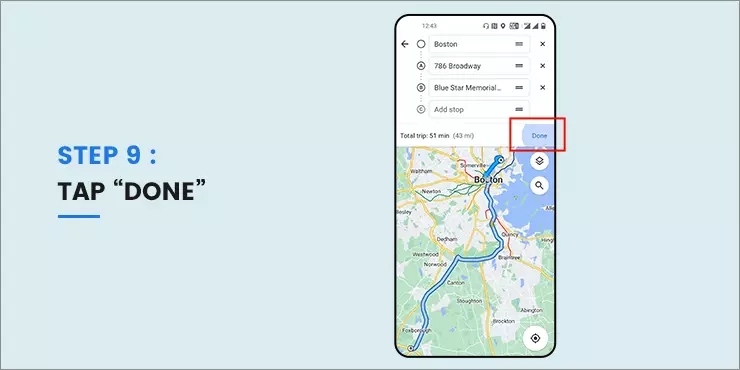 Next, if you are ready with your route plan, we recommend reviewing it once before you hit the "Done" button. Go through the route details like distance, estimated travel time, and added stops.
Step 7: Share routes
In the last step, share planned routes with your drivers or fellow travelers by clicking on the "Save route" or "Share directions" button (three-dots icon).
How to Use Google My Maps in Web Browser
Here is a 5-step process on how to make the most of Google My Maps in your web browser.
Step 1: Access Google My Maps in the browser
Go to your favorite browser and enter the URL https://www.google.com/maps in the search bar.
Step 2: Create a new map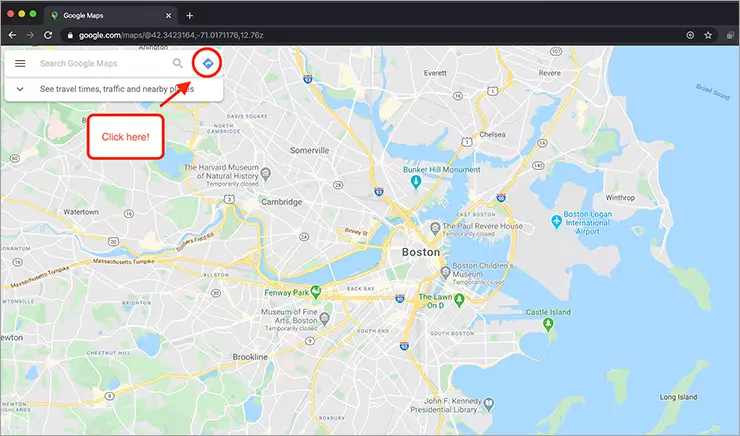 Now, click on the "Create a new map" button to get started. Then, enter a name in the given field so that you can identify the map later.
Step 3: Add locations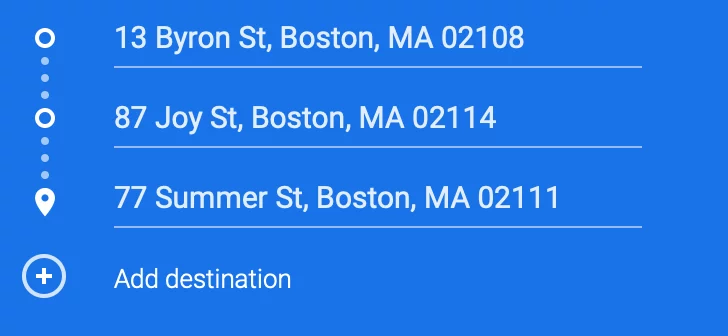 In the next step, you can include multiple locations by tapping on the "Add a Marker" button. Also, you can place the marker on the map to select your favorite spot.
Step 4: Customize your map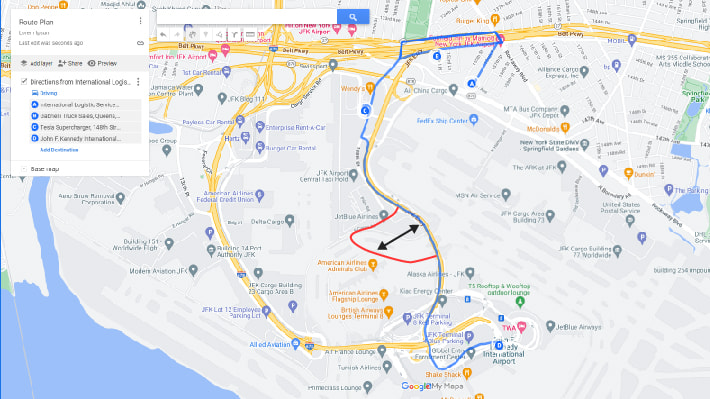 Once locations are added, you can customize the map by adding colors, labels, and icons from the options available on the left side. Even you can draw a line to generate a route of your choice.
Step 5: Save and share

Lastly, save your progress by clicking the "Save" button. Now, you can access the route map using your Google account on any device.
Plan Unlimited Routes Instantly on Upper
Why go through hours of route planning when you have Upper? Plan and optimize your routes faster than ever with just a few clicks.
Try it Free

What are the Pros and Cons of Google Maps?
Google Maps is undoubtedly a powerful navigation app, but like any technology, it comes with advantages and disadvantages. Let us understand one by one.
Pros
Free to use
Real-time traffic information
Different transportation modes
Street view for visual guidance
Quick location sharing
Voice-guided navigation
Cons
No route optimization is available
Only 9 additional stops
Battery draining issues
Privacy concerns
Inaccurate directions may lead to late arrivals
Choose Upper to Optimize Routes With Unlimited Stops
While Google Maps does not offer many significant features, Upper provides flexibility to plan and schedule optimized routes for weeks or months in advance. You read that right, Upper not only helps you plan the most efficient routes but also assists you in scheduling routes.
Getting the optimal routes on Upper is easy-peasy. All you need to do is import the Excel or CSV file to add stops, set the priority, and optimize routes within seconds. Thus, you don't need manual checkups once the route plan is ready. Later, just use the one-click dispatch feature to share routes directly with drivers. Here is what more delivery businesses can do using Upper.
Route optimization with unlimited stops:
On Upper, finding the shortest routes is just a matter of seconds. The route planner considers several factors, like weather, road closures, traffic flows, and priority levels, before generating the optimized routes. Even though there are hundreds of stops in your route, Upper has no issues in planning the shortest one for your team.
Live driver tracking:
Running a business requires extra time to communicate with drivers, especially in rural areas where you don't have any idea about the driver's location. This challenge can be tackled by Upper as it offers a 360-degree view of the on-field activities. You can track your drivers and send important instructions during the delivery process.
Proof of service:
Since Google Maps doesn't help you get a service proof upon successful delivery, Upper lets your delivery team collect the proof of delivery via signature or photos. This means you won't be left in the dark about the delivery's status, and having this essential feature in your software can be crucial for disproving false claims.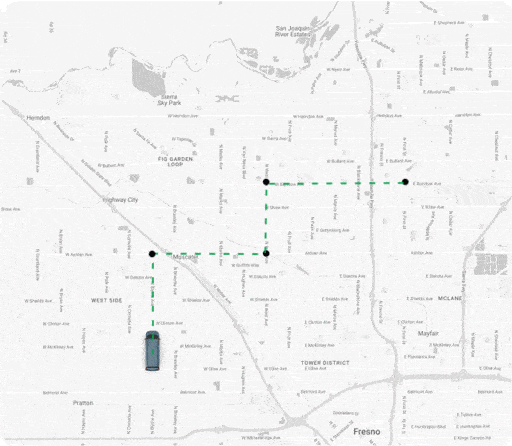 Frequently Asked Questions
Google Maps allows planning a route with up to 10 stops only. Being on GMaps, you can generate a multi-stop trip for adventure tours or other forms of transport. Depending on the platform you are using (mobile or website), the process may vary on how to do that.
The software solution makes it easy for you to reach your destination, no matter if you have multiple stops. The best example is Upper. It provides you with the shortest route available to reach your destination.
The short answer is, unfortunately, "no." Google Maps uses an algorithm called the "Dijkstra Algorithm," which will help you find an efficient route individually but does not create the optimal route overall.
Yes, there are many alternatives to Google Maps available in the market, and each has its own unique features. Among all, Upper comes out on top as it has the ability to plan and optimize routes in less than a minute, regardless of how many stops you add.
A route finder, Google Maps offers a convenient feature, saved places, to let users bookmark their favorite destination for easy access. So, whenever you find your favorite places like food courts, restaurants, and attractions, you can mark them saved in Google Maps.
Conclusion
On an ending note, we found that Google Maps is an invaluable navigation app that can be used to reach out to your favorite locations. Small business owners can also utilize the Google route planner for performing multi-stop deliveries. Whether you're using the mobile app for efficient route planning or creating custom maps with Google My Maps on your desktop, Google Maps offers a range of convenient features to tackle your routing chaos.
However, the popular route planner, Google Maps, misses out on a significant feature – Route optimization. And that's where you need to look at options other than Google Maps. In case your business needs route optimization for hundreds of stops at once, it is recommended to try Upper. A route optimization software, Upper, will not only reduce your route planning hassles but also level up the delivery efficiency. Get started with a 7-day free trial to experience seamless route planning for yourself.