Do you go through the weather forecast before starting with the deliveries?
Or do you refer to the latest news regarding strikes/protests and replan your delivery route?
There are a thousand reasons that can mess with your delivery schedule and efficiency.
The roads might be blocked or broken
Traffic congestion
Transportation servicing issues
Consumption of extra fuel to cover the extra mile
All this will leave you with nothing but extra costs.
Do you wish to bear extra expenses when you can turn them into profits?
Of course not!
But how are you planning on reducing operating, fuel, labor, and other expenses to ensure your delivery system is cost-effective?
Do you know about dynamic route planning?
What does real-time dynamic route planning optimization mean?
How to optimize a delivery route?
All these questions are explained further. Keep reading to understand the strategies of modern-day e-commerce logistics planning.
What Is Route Planning?
Route planning refers to searching for the most efficient delivery route considering the complex algorithms of real-time traffic reports, transportation, and more.
It can be done manually and by real-time dynamic route planning and optimizing software.
Route planning ensures three elements of on-time delivery:
Fastest route
Shortest route
Efficient route considering the real-time traffic congestion
Types of Route Planning
There are two main types of route planning:
1. Static route planning
Static route planning is the routing process that follows a preconfigured delivery route. It is an impractical route planning method as it provides limited information, and in case of unavailability of a route, the deliveries come to a halt.
Static route planning restricts the divertable route options and thus proves to be a non-practical method of route planning.
2. Dynamic route planning
Creating the most efficient delivery routes using real-time data saves time and makes the delivery business cost-efficient.
To meet the demands of rapidly growing e-commerce, one needs to understand the importance of real-time dynamic routing.
The routing can be done using dynamic route planning software, and this technique sits well the modern-day logistics.
What Is Route Optimization?
Route optimization refers to determining the most cost-efficient route for delivery. But route optimization is more than just finding the shortest route from the distribution hub to the delivery address.
An optimized delivery route consists of:
Multiple stops on the same route
Delivery window
Real-time traffic conditions
Redirect routes in incase of delay
Delivery management
Live to track
The Difference Between Dynamic Route Planning and Optimization
Route planning and route optimization are often confused. They are two different aspects of finding efficient routes. Route optimization can help businesses cut planning time by up to 80% and save significantly on fuel costs and driver wages.
Dynamic route planning involves pre-delivery checks to make sure:
The routes are clear and understood by the delivery personnel.
All the orders and addresses are added to ensure multiple deliveries are on the same route
On the other hand, dynamic route optimization checks to make sure:
The redirection can be done in case of route discontinuity due to a specific factor.
Predictive visibility in real-time to optimize routes when required.
Dynamic route planning and optimization might be different in aspects, but they both work towards providing real-time dynamics and make the delivery process a lot easier.
Both work one after the other to provide precise data and delivery plans by optimizing delivery routes and channelizing delivery locations according to the dynamic route planning software.
Five Advantages of Real-time Dynamic Route Planning and Optimization
1. Covers pre-road and on-road aspects
Dynamic route planning and route optimization bear a broad spectrum to work. They trace the whole process from arranging the distribution center orders to delivery at every doorstep.
Route planning involves a list-making of all the orders to be delivered with the proper name and address. These addresses are arranged in ascending order of delivery location.
Further, the loading of the same packages must take place in descending order of delivery location.
This is one of those delivery strategies that avoid last-moment chaos.
Proper arrangement of packages reduces the last mile shuffle to find the correct orders, making delivery mess-free.
Further dynamic route optimization ensures finding the most efficient routes for the drop-off points, reducing fleet efficiency and fuel consumption.
Route optimization gives a real-time view of truck movements, spotting traffic congestions, and rerouting to the best routes.
All this covers the last step of delivery and makes the last mile delivery an easier task.
2. Preview of actions
Could it be a prior action or a last-minute change? Route optimization and planning give a preview of the possible changes during delivery.
For instance, consider the weather conditions. Heavy rain can turn roadways into waterways. In such conditions, there are chances of delays.
The transportation opted for delivery might not be able to cut through high water levels. Engine failure or water conduction is widespread during this kind of situation.
So, real-time dynamic route optimization can solve this issue by previewing the weather.
This will further suggest the transportation to opt and load capacity of the vehicle along with the best route to ensure successful delivery operations.
Route planners suggest multiple deliveries stop during the delivery drives saving labor costs and time.
3. Real-time tracking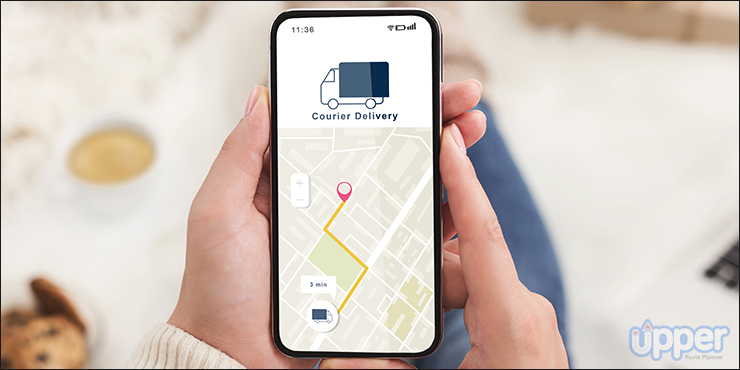 Dynamic route optimization ensures a user-friendly interface between the fleet managers and the delivery drivers.
Optimized routes lead to better management of delivery points and save delivery time. It cuts the time-consuming task of manual planning of the routes and even provides last-minute route optimization.
Dynamic route optimization is a real game-changer for small businesses that face unexpected situations leading to increased delivery costs.
Plus, it makes delivery fleet management a lot easier for the authorities.
4. Cost-effective delivery operations
Operating costs can cut off a considerable amount of profit from the company's end. Certain factors such as extra fuel consumption failed deliveries, and driver's wages affect the cost efficiency of the delivery process.
That's where real-time planning and optimization come to the rescue. By the proper use of artificial intelligence, one can reduce operating costs.
Its ability to preview expected halts and provide alternatives can reduce delivery costs that incur during some unexpected situations.
5. Customer success stories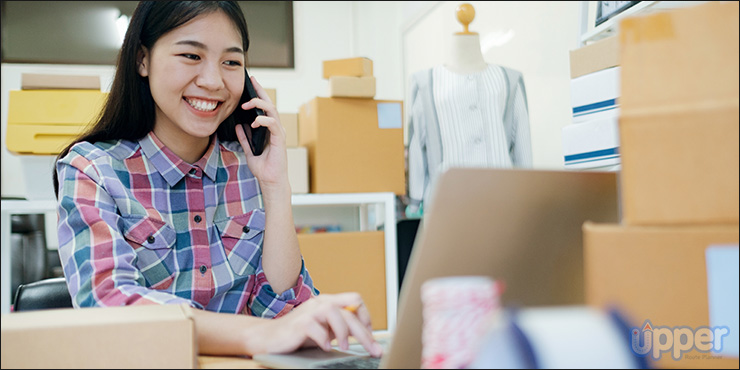 In business logistics, customer experience matters a lot. Real-time dynamic route planning and optimization puts delivery personnel at ease and ensures customer satisfaction.
As the real-time route optimization will ensure the delivery, the customers too can estimate the delivery time and reschedule the day accordingly.
This is because the customers can track their order easily, making it convenient for them to be available to receive the order on time.
Here the chances of failed delivery decrease, saving the extra charges for repeated delivery.
Moreover, this leads to customer satisfaction.
Happy customers will make frequent purchases shortly because their demands are being fulfilled. The straightforward interface between the customers and delivery partners ensures a smooth delivery flow without disrupting their personal lives.
Hence, a customer's success story involves
Customer satisfaction
Customer involvement in the on-time delivery process
Loyalty toward the brand, and its delivery systems
That's how powerful and helpful a route optimization software can be.
An excellent dynamic routing software, Upper Route Planner is a company's self-improvement investment which helps in the company's upliftment and a better understanding of advanced technology.
What Is Upper Route Planner?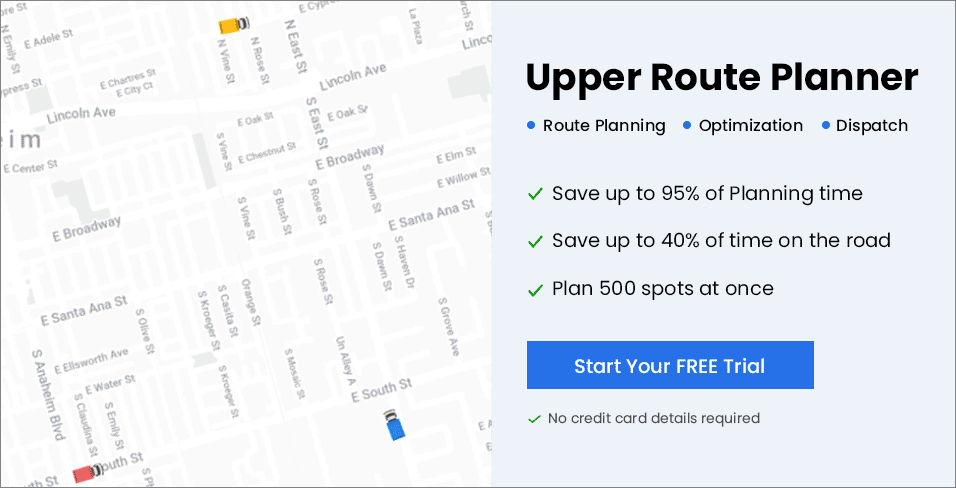 Upper Route Planner is a software that helps small to medium-sized businesses in route planning and optimization and managing and streamlining daily delivery operations.
It is an ideal software for couriers, meal kit delivery, retail delivery, flower delivery, and other small businesses that require delivery drivers to cover multiple destinations in one day.
How can Upper Route Planner help with real-time dynamic route planning and optimization?
Upper Route Planner is a trusted route optimization software currently used by 500+ businesses to upgrade their strategies and deal with hectic route planning. Their simple route planning software delivers many benefits.
Some benefits of Upper Route Planner
Automated route planning
Import stops via Excel or API
One-click driver dispatch
Driver mobile app
Proof of delivery
Analytics and smart reports
Critical features of Upper Route Planner
One can create efficient route plans with multiple locations quickly and easily.
Instead of wrangling with spreadsheets and printouts, a simple step of importing the stops will create multiple routes in less than 5 minutes.
For easy identification, dispatchers can add parcel details.
You can attach information like Parcel Placement in Vehicle, Parcel Count, and parcel photo to a particular stop. It will help your drivers save time when delivering orders.
When one plans in pen and paper or excel, the drivers will be wasting time on the road.
Upper Route Planner's optimization algorithm will give you the most efficient routes using which you should be able to cut time on the road, saving gas and drivers' salaries.
There are no more headaches in dispatching, communicating, and managing your drivers and last-minute deliveries. Upper Route Planner got you covered.
Your drivers will be in total control. Once they receive their route, they need to click "start," and they are off. No hassle. No room for mistakes.
Upper Route Planner is a simple-to-use and robust optimization software that helps you get a broader view of your delivery operation. You can maximize the efficiency of your delivery business by making suitable adjustments using this route planning software.
---
FAQs
The five main advantages of route optimization are:
It covers both pre-road and on-road aspects of delivery. It provides a preview of the actions.
It comes with real-time tracking.
It is a cost-effective delivery option.
It provides customer satisfaction.
Creating the most efficient delivery routes using real-time data to save time and make the delivery business cost-efficient is known as dynamic route planning.
It is essential to use route optimization in load planning because it increases delivery capacity, further increasing route efficiency.
In order to improve financial performance and customer experience, route planning is critical. The planning process improves daily delivery performance and helps determine the best delivery strategies to implement and the potential impact of changes to the business.
The complex process of finding the most cost-efficient route is called route optimization. It's not as simple as finding the shortest path between two points. It must include all relevant factors, such as the number and location of all the required stops on the route and time windows for deliveries.
Effective routing will result in minor wear and tear on your vehicles and, thus, cheaper maintenance costs.
Conclusion
To get a bird's eye view of delivery trends, a business needs to stay updated with the market trends. Upper Route Planner can help you in real-time dynamic routing and make efficient deliveries using advanced yet straightforward technologies.
The software helps businesses of different industries to plan and optimize routes in just a few simple clicks. It eliminates the chaos of manual route planning and helps you scale your business more profitably with optimized routes and turn-by-turn driving directions. Hop on to Upper Route Planner and start your FREE Trial today.