Whether you are looking to simplify your route planning activities, upgrade from an old-fashioned pen and paper dispatch system, or solve delivery service problems, a delivery route planner app can be of help to you.
A route planning app generates the most efficient routes by handling vehicle scheduling and other optimization functions.
This article seeks to focus specifically on the best route planner app for iPhone. We hope this gives you a good idea of which app to use for those multi-destination route optimization.
Best Route Planner Apps for iPhone
Route Planning App (iOS)
Ratings
Major Features
Upper Route Planner

4.4/5

Customer Notifications
Proof of Delivery

Google Maps

4.7/5

Real-time ETAs and traffic conditions
Offline maps

Route4me

4.4/5

Dynamic geofencing
Alerts for customers through email or SMS

Circuit Route Planner

4.8/5

Delivery Tracking
Mobile Signature Capture

Speedy Route

3.8/5

Export addresses using Excel
Timeboxing

Zeo Route Planner

4.6/5

Miles tracking
Proof of delivery

LogiNext

4.3/5

Delivery route planning realisation
Real-time tracking

RoadWarrior

4.5/5

Upload stops using Excel sheet
Route customization according to preferences

Badger Maps

4.6/5

Circle a set of points with Lasso
Find ideal leads in the field

inRoute

4.6/5

Interactive charts
Export to GPS device

RouteSavvy

4.7/5

Route cloning
Address auto-populate
1. Upper Route Planner – Most Suitable Route Planning App for Apple Devices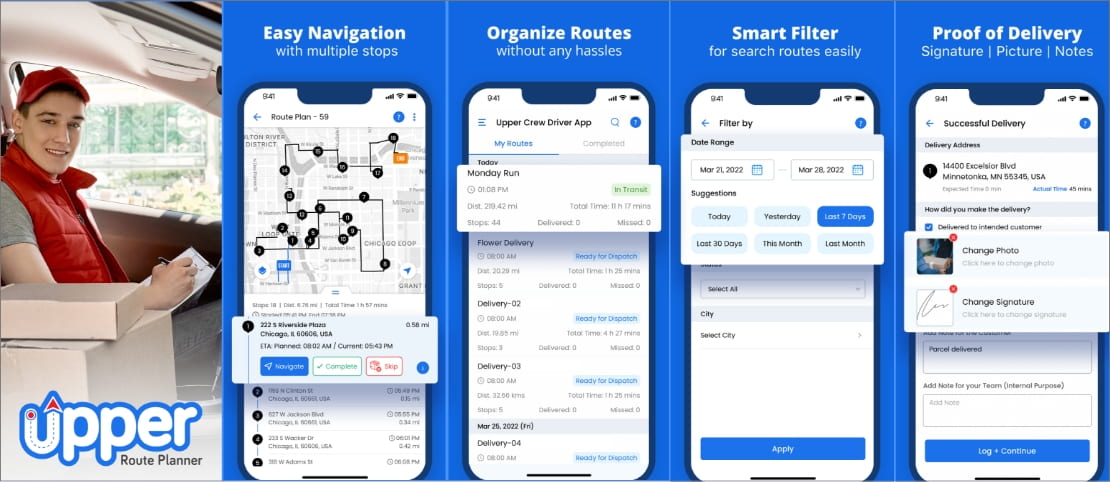 Upper Route Planner is the most intuitive and easy-to-use route planning and optimization app for iOS as well as Android users.
Upper's advanced route optimization capabilities make sure that your delivery route is designed while considering factors like time windows and service time.
Route planning and optimization is not the only time-saving feature offered by Upper Route Planner. Another essential time-saving feature is Parcel Info.
Parcel Info allows dispatchers to input where each package is placed in the delivery vehicle. When your drivers arrive at the stop, they will know where to find the package.
Upper works with a bunch of navigation apps like Google Maps, Apple Maps, Yandex, and Maps.Me
If you are looking to plan and optimize hundreds of stops automatically, you don't need to look anywhere else. We will do it for you. You can simply list all the addresses in an Excel sheet and import the data to the app.
Businesses from various industries have adopted Upper Route Planner into their delivery process. Some of these industries are:
Meal-kit Delivery: Meal-kit delivery drivers make time-sensitive deliveries quickly with the app.
Field Sales: Field Sales workers schedules their routes in advance with Upper Route Planner.
Cannabis Delivery: Cannabis delivery drivers deliver on time and can record proof of delivery.
Post & Courier: Postal and courier drivers make hundreds of deliveries and record customer signatures on their phones.
Pros
Create route schedules in advance.
Consider several constraints like driver availability and time windows for route optimization.
A clean user interface to plan routes.
Signature capture and image capture for proof of delivery.
Customer notifications through email and SMS.
Package location in the van is displayed next to the stop to make it easier for drivers.
Driver current location on the map.
Cons
You can't change a route once it is dispatched.
Drivers can't directly communicate through the app.
Upper Route Planner is the best route planning app to create the most efficient route for businesses managing multiple deliveries throughout the day.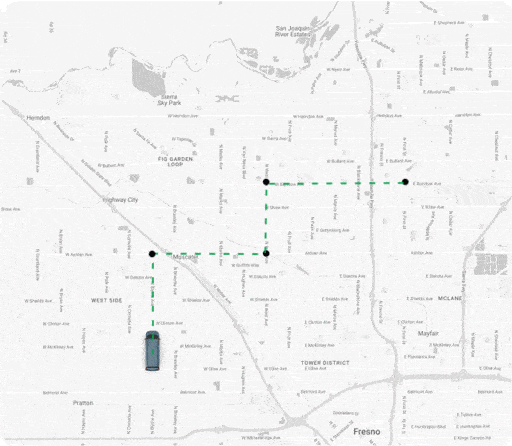 Upper Route Planner
A simple-to-use route planner
that every one is talking about
2. Google Maps Route Planner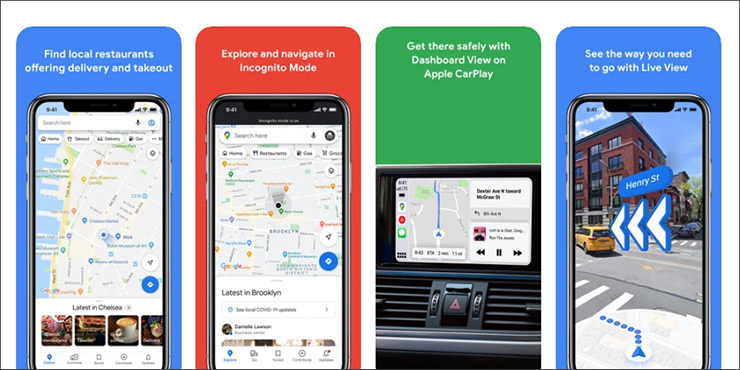 Using Google Maps is the quickest way to find driving directions from one place to another. Google Maps is useful for individuals as well as drivers. It provides you with real-time ETAs, turn-by-turn directions, traffic conditions, and automatic rerouting based on traffic congestion, accidents, and road closures.
Another reason why Google Maps is a good option for Apple users is that it offers offline maps for searching and navigating without an internet connection. That is something not made available by Apple Maps. Google Street View is another great reason for choosing Google Maps over Apple Maps.
Pros
Easy access and availability, and it's a FREE app even for Apple users.
Offline maps allow navigation without an internet connection.
Quick re-routing in case of road closures or exit miss.
Cons
You can add only up to 10 stops, including the starting point.
It is quick, but the accuracy is not quite great at times.
Does not offer route optimization.
Google Maps does seem like a great free delivery route planner app even for Apple users. It is always a good option to go for over Apple Maps.
3. Route4Me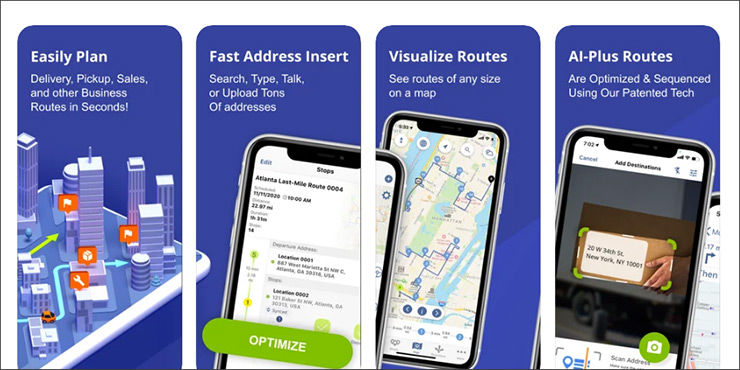 Route4Me claims that it is the multi-stop route planner for iOS. You can download it from the App Store. Its users include delivery drivers, road warriors, field service technicians, field sales, and field-marketing representatives.
It is suited for fleet management and businesses with multiple drivers since it can automatically plan and optimize multi-stop routes for various vehicles.
You can track your drivers' productivity and see if they are busy and overworked to make better business decisions, such as increasing or downgrading your fleet.
Pros
Great planning and optimization support for businesses with multiple deliveries.
Allows users to save routes for future use.
Easy to share routes with other drivers or members of the team.
Cons
It would be helpful to more businesses if the price was a bit lower.
More affordable and suitable for a large team of drivers.
The most affordable plan only has route management functionality.
A superior and expensive iOS route planner is more suitable for large businesses.
4. Circuit Route Planner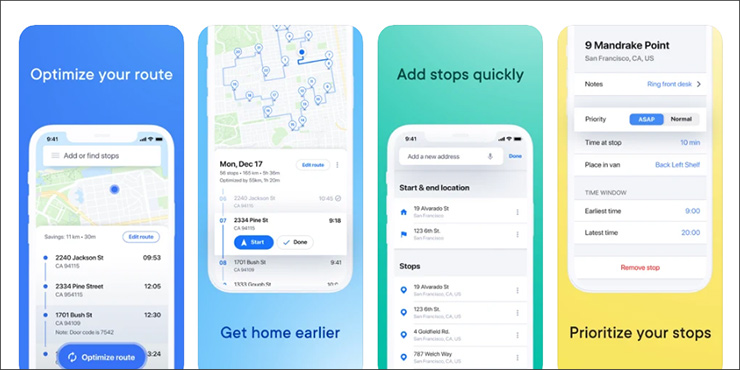 Circuit Route Planner is a multi-stop delivery route planner app for independent drivers as well as delivery services. Dispatchers make use of Circuit to manage fleets and delivery teams of all sizes.
Circuit runs on a sophisticated optimization algorithm that considers traffic conditions and uses the most updated map technology. Users can plan and optimize the best routes whether they are going out for delivery, pick up, or sales calls.
Pros
The package finder describes where the package is placed in the vehicle.
Recipient notifications to keep customers informed.
Excellent customer support.
Cons
The mobile is not great for an administrator's use.
Unable to pick a particular driver for delivery.
A bit overpriced tool.
Circuit Route Planner app is great in terms of features and interface. But it's a pricey tool for independent drivers or contractors.
5. Speedy Route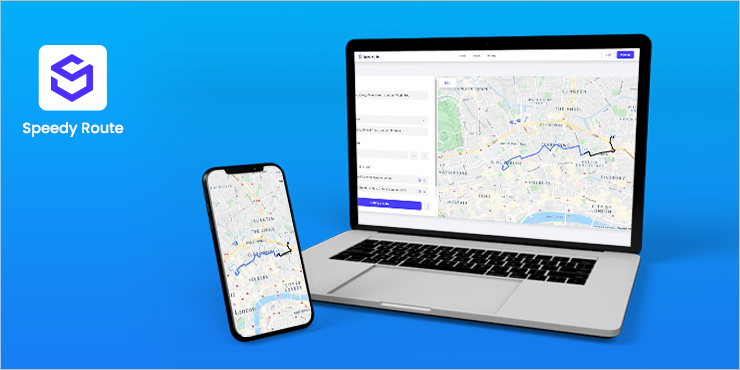 Speedy Route is a multiple-stop route planner app to create the most efficient routes with unlimited stops. It is a tool that can be used by individual delivery drivers, contractors, salespeople on the road, or anyone who needs driving directions to multiple destinations.
It offers features like location timeboxing for multiple vehicles. The platform is available in the United States and other countries like the United Kingdom, Canada, Australia, New Zealand, South America, and Europe.
Pros
Exporting address folder to GPS tracking app.
Timeboxing is useful in delivery driver app.
Mileage tracking and performance metrics are a great addition.
Cons
Takes unreasonably long in correcting and manually re-ordering the optimized route.
No integrations.
Speedy Route is expensive considering the features it offers.
A good route planner for iPhone, but it has its limitations.
6. Zeo Route Planner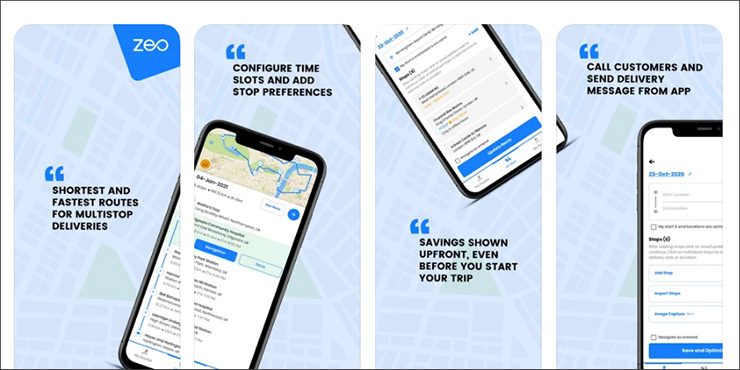 Zeo Route Planner is one of the most popular and easy-to-use mobile route planner apps. Users can plan and optimize an unlimited number of routes using Zeo. The best feature of Zeo Route Planner is re-routing the optimized route order in case of any last-minute changes.
Zeo Route Planner app helps businesses in keeping their customers informed in real-time. Drivers can collect proof of delivery, navigate using Google Maps or Waze, avoid tolls and highways, and make time-slot-based deliveries. Not a lot of mobile route planners offer such features.
Pros
Easy-to-use interface for planning routes.
An affordable pricing plan.
Live location sharing and miles tracking.
Cons
To make a stop as completed, you need to switch between GPS navigation apps and Zeo.
No detailed summary of routes.
The pin on the map doesn't get the accurate location.
Zeo Route Planner is an affordable, easy-to-use, delivery route planner app for Apple users.
7. LogiNext Mile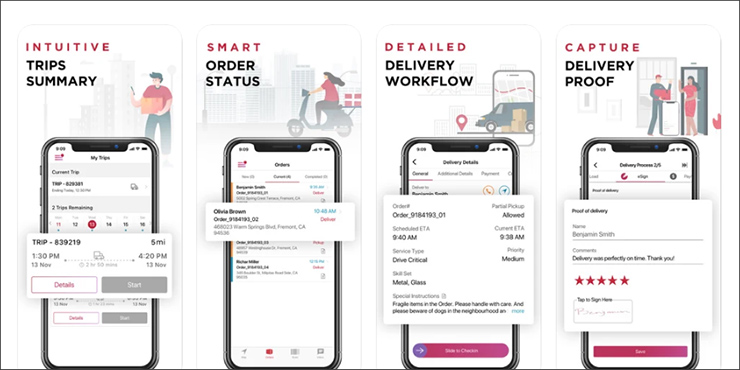 LogiNext Mile uses high-end machine learning algorithms to plan optimal schedules and sequences for your deliveries based on time, route distance, live traffic data, and weather analysis.
This app helps businesses optimize delivery routes, schedule deliveries, plan delivery sequences, allocate trips, and track resources. LogiNext Mile ensures quality customer service through electronic proof of delivery, feedback capture, and post-task analytics.
Pros
Delivery personnel can interact with each other, especially to share ground-level information about delivery destinations.
Validate accomplished deliveries by taking the signature of the receiver with a photo of the delivered product.
Track the activity of all delivery vehicles and personnel to ensure compliance with policies and strategies.
Cons
The application is not compatible with all transportation and warehouse management systems.
It needs an update in processing cash on delivery payments.
The app has loading issues and complicated processes.
State-of-the-art optimization software for enterprises and third-party logistics.
8. RoadWarrior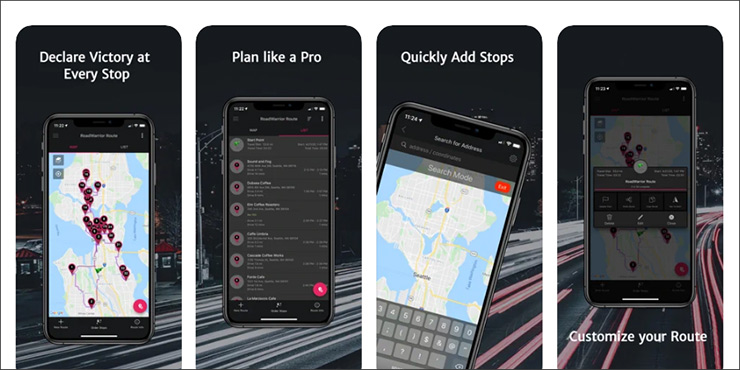 Road Warrior gives you customized and multi-destination routes based on customer availability, real-time traffic, and schedule. Users include professional couriers, realtors, insurance agents, sales representatives, delivery teams and delivery drivers, and small businesses.
The professional RoadWarrior Pro upgrade allows users to create routes with more stops, gives higher daily search limits, and provides web tools for account management, spreadsheet uploading, and report downloading.
Pros
Route optimization options are available based on your personal preferences.
Input availability time windows to arrive at business locations during open or delivery hours.
Send ETA to customers using Glympse integration.
Cons
You need to open the program on a Mac or personal computer to view the delivery routes and monitor drivers' progress.
The application requires a feature to store layouts and reapply them for deliveries that regularly use the same roads.
Customer service is limited to email.
A good option to customize your routes according to your preferences.
9. Badger Maps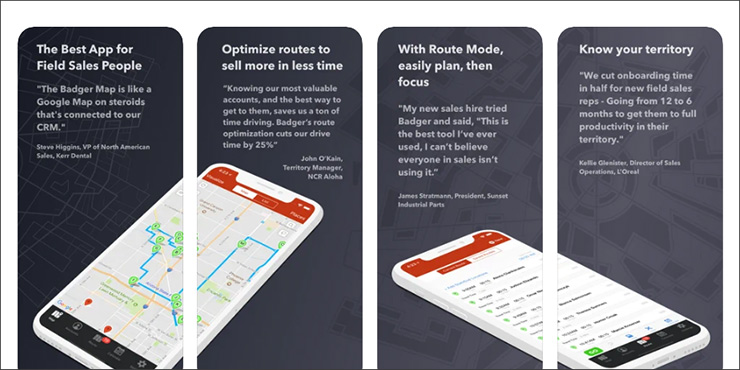 Badger Maps is built to help sales reps in being more efficient and effective in their daily sales activities. It offers lead generation, route optimization, schedule planning, and Google Maps data from the CRM on the representative's mobile device.
With useful features like Teams, Check-ins, Leads, Reminders, and Lasso, your sales teams can easily prioritize their daily tasks. The sales team can save time on administrative work by simply automating tasks using Badger Maps.
Pros
Planning field sales appointments becomes easier.
Easy to upload addresses using an Excel spreadsheet.
Helps field service representatives find more leads.
Cons
Users are unable to change field information on their own.
Doesn't route stops based on appointment times.
No security mechanism to keep client information safe.
Badger Maps is a useful route planner tool for field sales businesses.
10. inRoute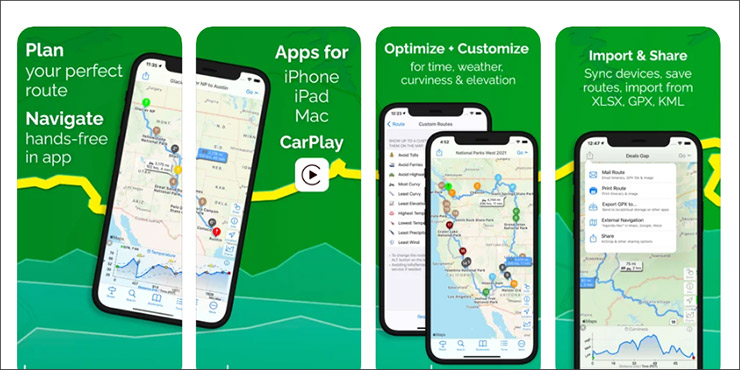 inRoute allows users to generate optimal routes or chart their routes for deliveries. It also allows users to export the same routes. inRoute considers aspects like elevation, weather, curves, and more at the time of creating routes.
inRoute helps users navigate on the road safely with voice-guided, turn-by-turn route directions. It can also check your route automatically for severe changes in weather.
Pros
Export routes to other apps, GPS device.
Interactive weather charts showing route elevation.
Feature to find stops for gas, food, hotels, etc.
Cons
Several useful features require in-app purchasing.
A confusing interface.
Not suitable for most kinds of users.
A decent route planner with features like weather alerts and interactive charts.
11. RouteSavvy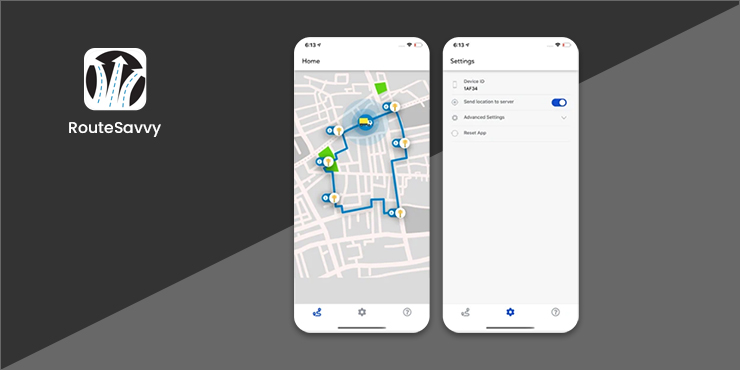 RouteSavvy is a multi-stop delivery route planner for independent drivers, contractors, and individual professionals. A single driver can add multiple addresses, organize them, and create the entire route planning for their service calls, pick-ups, and deliveries.
Route Savvy shows multiple routes on the screen at the same time. This allows managers and drivers to visualize their territory. Turn-by-turn navigation is another useful feature for drivers.
Pros
Possible to handle multiple routes at the same time.
Route sharing via email is easy and useful.
Provides ETAs which are also useful for informing customers.
Cons
The data uploading process is often cumbersome.
Cloud-based route saving is not available.
No way to change departure times.
A multi-stop delivery route planner to help you reduce overall route planning and driving time.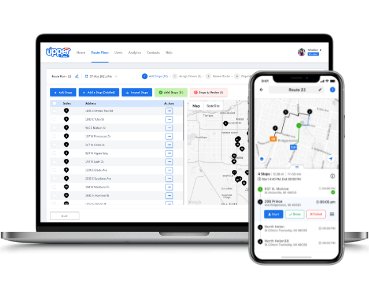 Upper Route Planner
A Simple-to-use route planner that every one is talking about.
Save up to 95% of planning time
Save up to 40% of time on the road
Plan 500 stops at once
How to Choose a Route Planner App for iPhone?
To choose the best delivery route planner apps for your iOS mobile devices, you need to ensure that the features are not limited to efficient route planning like the default route navigation app.
A lot of navigation apps can easily help you plan routes. But there is a limitation to them. They do not offer a way of route optimization according to delivery constraints, add unlimited stops, capture proof of delivery, or create unlimited routes.
At the time of choosing delivery route planning software for iPhone, you are not simply choosing an app but an entire delivery management system on your phone.
Why Do You Need a Route Planner App for iPhone?
You need a multi-stop route planning app for iOS to make optimized pick-up and delivery appointments. These apps help minimize costs and time for individual drivers and contractors using iOS devices.
Routing apps optimize routes and reduce labor, fuel, and vehicle costs. Improve customer service by providing accurate delivery times, options for delivery dates and locations, paperless transactions, GPS navigation, and customer tracking.
What Are The Top Features of Multi-Stop Route Planner Apps?
A route planner app plots the most fuel-efficient and cost-effective routes and also offers the following features:
User-friendly Interface: Optimize routes, schedule work or delivery orders, and dispatch drivers using an ergonomic drag-and-drop interface.
Dispatch Management: Plan, edit optimized routes in real-time and send them to your drivers' web-based devices or smartphones.
Driver Management & Live Driver Tracking: Monitor and track drivers' location and other information, such as idle times and drivers' habits.
Up-to-date High-resolution Maps: Layers of data on road speeds, commercial vehicle restrictions, congestion, and other accurate information provide for successful geocoding of addresses and calculation of distance and travel time.
Performance Data Gathering: Collect data on each route over a given time to identify areas of improvement.
Integration With Existing Software: Works with existing CRM or eCommerce platforms.
Customer support: Offers instant 24-hour support and troubleshooting via email or phone to prevent productivity issues from glitches and technical problems.
FAQs
The answer to "best" will always be relative. For delivery teams and drivers with tons of stops, then you'll want an application with additional features. Other users may have other top concerns, such as saving time in navigation or traffic data.
Apple Maps is a useful GPS navigation app on the iPhone or tablet to plan the fastest route between two locations. It is native to ios and has some benefits. However, it is widely agreed that Google Maps is a superior navigation app for mapping one or more locations.
Conclusion
While there are significant differences between free and pro versions, trying a free version familiarizes you with the user interface.
Choose delivery route planner apps that fit your budget. When paying, choose the monthly payment option instead of the annual subscription, especially for products from startup companies and developers.
Identify what kind of end-user you will be and to what extent you will use a route planner app to increase your sales, service your customers, and boost your productivity.
If you have still have any questions, you can reach out to us and we'll help you out.