Having one or two fleets is manageable for any business. But what happens when you enter the market with a large fleet? It pushes you to look at fleet management from a slightly different perspective, giving it more weightage in your business process. It is where fleet management comes in.
Corporate fleet management deals with a large variety of corporate fleet vehicles under one department. Handling various vehicles also means tackling various issues daily, right from fuel costs to unscheduled breakdowns. It is essential to approach your vehicles from a fleet management standpoint.
This blog will look at the meaning of corporate fleet management, the aspects it includes, and the optimal way to manage it.
Fleet management involves several responsibilities. It includes, and is not limited to:
Vehicle Management (purchase, title, insurance, licensing)
Vehicle Maintenance
Compliance
Vehicle Telematics
Safety and Accident Management
Fuel Management
Vehicle Disposal
What is Meant by Corporate Fleet?
A corporate fleet is a collection of company cars and mobile workers utilized for satisfying business use. The corporate fleet does not include the personal vehicles of the employees. But if personal vehicles are being used for business and maintained by the company, they can be considered a corporate fleet.
The best way to distinguish between a personal fleet and a corporate fleet is to find out the owner and the purpose. In most cases, offering company vehicles makes the most sense.
Whether you are leasing one car or a hundred cars, it comes under a corporate fleet as long as it is occupied for business purposes.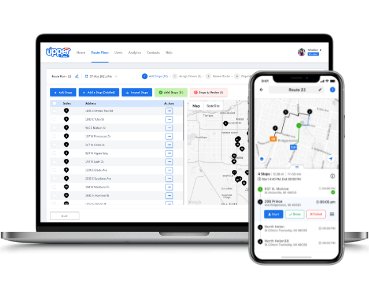 Upper Route Planner
A Simple-to-use route planner that every one is talking about.
Save up to 95% of planning time
Save up to 40% of time on the road
Plan 500 stops at once
No credit card details required
What Does Corporate Fleet Management Include?
Corporate fleet management consists of several responsibilities. The following processes fall under fleet management.
Fleet Cars & Vehicle Management
Vehicle management starts with the acquisition of the fleet. The fleet manager or the corporation is responsible for making an informed purchase and participate in fleet programs, whether they are offered by local dealerships or automakers like General Motors and Ford themselves. These programs offer several benefits to the company.
The fleet managers must get a reasonable price for all the required vehicles and allot them to the different business processes. The fleet managers must estimate any vehicle financing required from external or internal sources.
In addition to the purchasing, there will be licensing and insurance. Fleet managers have to make sure all of these aspects of the fleet are handled and taken care of.
Vehicle Safety & Maintenance
Fleet managers are responsible for making sure the fleet under their jurisdiction is working correctly. Fleet managers must follow up on any scheduled and preventive maintenance essential to the smooth functioning of the fleets. The drivers are also equally responsible for keeping the vehicles up-to-date.
The drivers are responsible for handling the daily use of the vehicle, keeping it safe from theft and accidents, and create honest reports for repairs and service of the vehicles. Fleet managers must carry out regular DOT inspection by the U.S.Department of Transport as well to make sure all parts and accessories are in place and the car is good to use.
Fuel Management
One of the highest operating costs for fleets is fuel cost. Fleet managers need to spot fueled trends and discrepancies to promote more savings and reduce operations costs. Using the company vehicle for more after-hours use can also lead to wastage of fuel.
It is important to monitor fuel consumption trends in the organization. Having the vehicle's real-time location can help companies be more aware of how the vehicles are being utilized. The managers can easily catch any misuse of the car or other resources.
Accessories, Vehicle Disposal & Resale
Depending on the business requirements, the fleets often need to be redesigned or refitted with the necessary equipment. It is time-consuming and expensive. But it is something that needs to be done and must be done well under proper supervision. After the fleets have been utilized well and reach the end of their useful life, it needs to be sold. These functions fall under the regular responsibilities in flee management.
Route Planning & Optimization
Fleet management is very closely related to route planning and optimization. Without proper route planning and optimization, it would be challenging to manage the operational costs, ensure vehicle and driver safety, and get the most out of the vehicle before reaching the end of their useful life. It is all done with route planning and optimization.
In many companies, route planning and optimization fall under fleet management because they are closely related.
Best Ways to Manage a Fleet Effectively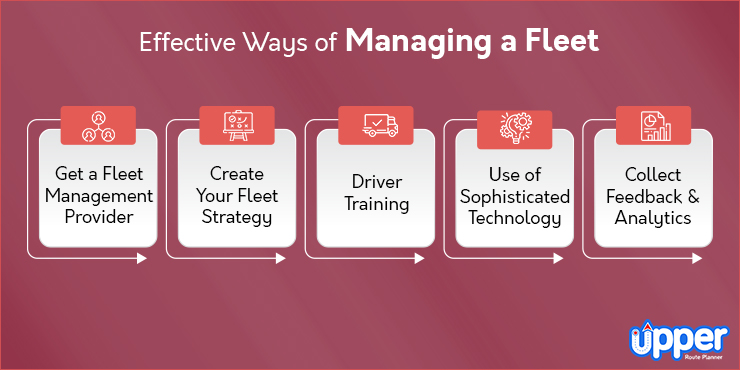 Here are some tips on effectively managing your fleet.
Get a Fleet Management Provider
You can find a company that can help you manage your fleet properly. The company can outsource fleet management tasks so you can focus on the more critical business operations.
Create Your Fleet Strategy
Hire a dedicated fleet manager who is experienced and qualified in the management of fleets. By doing this, you can make sure your fleet gets the attention it deserves. The manager can be allowed to create essential strategies and take decisions relating to fleet management.
Driver Training
When drivers are trained and supervised correctly, much important work gets done right then and there. When drivers drive safely and efficiently and look after the fleets like their own, the entire system will face fewer issues. Have clear rules and regulations in place regarding driver training and safety.
Use of Sophisticated Technology
Fleets generate a large amount of data when they are supervised constantly for maintenance reports and checks. With the help of sophisticated technology, this data can be easily recorded, stored, and analyzed correctly to make informed decisions. A fleet management technology can help with vehicle maintenance, driver safety, vehicle tracking, driver management, route efficiency, and real-time reporting.
Collect Feedback & Analytics
Fleet managers and management technology are responsible for collecting the proper feedback and analytics to gain valuable insights regarding the fleets' operations. These reports and analytics can offer insights into driver behavior, fuel usage, vehicle wear and tear, and service & maintenance.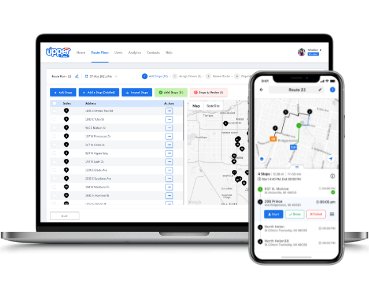 Upper Route Planner
A Simple-to-use route planner that every one is talking about.
Save up to 95% of planning time
Save up to 40% of time on the road
Plan 500 stops at once
No credit card details required
FAQs
A fleet management company is responsible for maintaining the performance and safety of vehicles to improve overall productivity by ensuring fleet safety, maintenance, and reduced fuel costs. Fleet management company handles the administrative part of managing corporate fleet and its service and maintenance.
The company can manage a fleet of company vehicles by creating a fleet management strategy, hiring a fleet manager, scheduling preventive maintenance, and other administrative tasks like license and registration, repair and maintenance, and purchasing and leasing.
Look at the Bigger Picture
Companies often overlook the fleet management aspect of their operations either out of distress or simply because they do not understand its importance. In doing this, businesses overlook an entire procedure that can help generate more revenue, cut down the total cost of operations, and improve transparency in the business processes. With better management, you will not only save money but work towards a better future for your employees and your company.