Delivery fleets play a vital role in the entire shipping process. So, if you are handling large delivery fleets, you need to consider some advanced tools. This is because dealing with large-size delivery projects involves inventory control and proper fleet management. The software offers a helping hand in your business in such a way that you don't have to engage in frequent call-ups.
Corporate fleet management deals with a large variety of delivery vehicles under one department. It also tackles several delivery challenges, such as auto-assign delivery tasks, availability of drivers, and finding cost-effective routes. Therefore, It is essential to switch to the right software in order to manage delivery fleets.
Here, we will discuss how to manage fleets and take a close look at some of the top fleet management software as well. So, let's get straight into this topic.
What is Corporate Fleet?
A corporate fleet is a collection of company cars and mobile workers utilized for satisfying business use. The corporate fleet does not include the personal vehicles of the employees. But if personal vehicles are being used for business and maintained by the company, they can be considered a corporate fleet.
The best way to distinguish between a personal fleet and a corporate fleet is to find out the owner and the purpose. In most cases, offering company vehicles makes the most sense.
Whether you are leasing one car or a hundred cars, it comes under a corporate fleet as long as it is occupied for business purposes.
What Does Corporate Fleet Management Include?
Corporate fleet management consists of several responsibilities. The following processes fall under fleet management.
1. Fleet Cars & Vehicle Management
Vehicle management starts with the acquisition of the fleet. The fleet manager or the corporation is responsible for making an informed purchase and participating in fleet programs, whether they are offered by local dealerships or automakers like General Motors and Ford themselves. These programs offer several benefits to the company.
The fleet operators must get a reasonable price for all the required vehicles and allot them to the different business processes. The fleet operators must estimate any vehicle financing required from external or internal sources.
In addition to the purchasing, there will be licensing and insurance. Fleet operators have to make sure all of these aspects of the fleet are handled and taken care of.
2. Vehicle Safety & Maintenance
Fleet operators are responsible for making sure the fleet under their jurisdiction is working correctly. Fleet managers must follow up on any scheduled and preventive maintenance essential to the smooth functioning of the fleets. The drivers are also equally responsible for keeping the vehicles up-to-date.
The drivers are responsible for handling the daily use of the vehicle, keeping it safe from theft and accidents, and creating honest reports for repairs and service of the vehicles. Fleet operators must carry out regular DOT inspections by the U.S.Department of Transport as well to make sure all parts and accessories are in place and the car is good to use.
3. Fuel Management
One of the highest operating costs for fleets is fuel cost. Fleet managers need to spot fueled trends and discrepancies to promote more savings and reduce operations costs. Using the company vehicle for more after-hours use can also lead to wastage of fuel.
It is important to monitor fuel consumption trends in the organization. Having the vehicle's real-time location can help companies be more aware of how the vehicles are being utilized. The managers can easily catch any misuse of the car or other resources.
4. Accessories, Vehicle Disposal & Resale
Depending on the business requirements, the fleets often need to be redesigned or refitted with the necessary equipment. It is time-consuming and expensive. But it is something that needs to be done and must be done well under proper supervision. After the fleets have been utilized well and reach the end of their useful life, it needs to be sold. These functions fall under the regular responsibilities of fleet management.
5. Route Planning & Optimization
Fleet management is very closely related to route planning and optimization. Without proper route planning and optimization, it would be challenging to manage the operational costs, ensure vehicle and driver safety, and get the most out of the vehicle before reaching the end of its useful life. It is all done with route planning and optimization.
In many companies, route planning and optimization fall under fleet management because they are closely related.
Best Ways to Manage a Fleet Effectively
Here are some tips on effectively managing your fleet.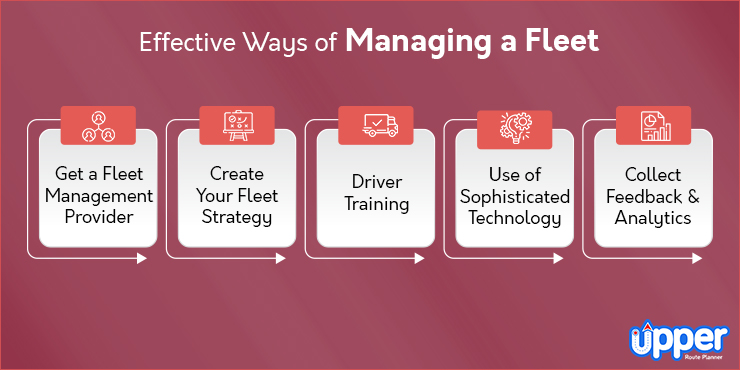 1. Get a Fleet Management Provider
You can find a company that can help you manage your fleet properly. The company can outsource fleet management tasks so you can focus on the more critical business operations.
2. Create Your Fleet Strategy
Hire a dedicated fleet manager who is experienced and qualified in the management of fleets. By doing this, you can make sure your fleet gets the attention it deserves. The manager can be allowed to create essential strategies and take decisions relating to fleet management.
3. Driver Training
When drivers are trained and supervised correctly, much important work gets done right then and there. When drivers drive safely and efficiently and look after the fleets like their own, the entire system will face fewer issues. Have clear rules and regulations in place regarding driver training and safety.
4. Use of Sophisticated Technology
Fleets generate a large amount of data when they are supervised constantly for maintenance reports and checks. With the help of sophisticated technology, this data can be easily recorded, stored, and analyzed correctly to make informed decisions. Fleet management technology can help with vehicle maintenance, driver safety, vehicle tracking, driver management, route efficiency, and real-time reporting.
5. Collect Feedback & Analytics
Fleet operators and management technology are responsible for collecting the proper feedback and analytics to gain valuable insights regarding the fleets' operations. These reports and analytics can offer insights into driver behavior, fuel usage, vehicle wear and tear, and service & maintenance.
Top Fleet Management Tools to Consider for Your Business
Here are three popular fleet management solutions for business owners that will help them manage their fleet vehicles.
1. Upper Route Planner
Upper is one of the widely used fleet management software that can also be used for multi-purpose. From finding the best delivery routes to handing over the parcel on time, Upper does everything to keep your delivery process simplified.


Upper reduces manual dependencies so that you don't need to engage in frequent call-ups. Instead, the route planner will manage the tasks as per the availability of your fleets and drivers. It keeps drivers updated throughout the delivery process. This means your driver will be ready as soon as the parcel is dispatched. Once the driver is on the way, it assists them in avoiding traffic and other on-road obstacles as well.
Hence, your delivery will not only be hassle-free, but also dispatchers will find it easier to manage fleet vehicles. Here are some key features offered by Upper Route Planner.
Quick route optimization
Excel import
Single-click dispatch
Reports & analytics
Customized notifications
Proof of delivery (ePOD)
2. Samsara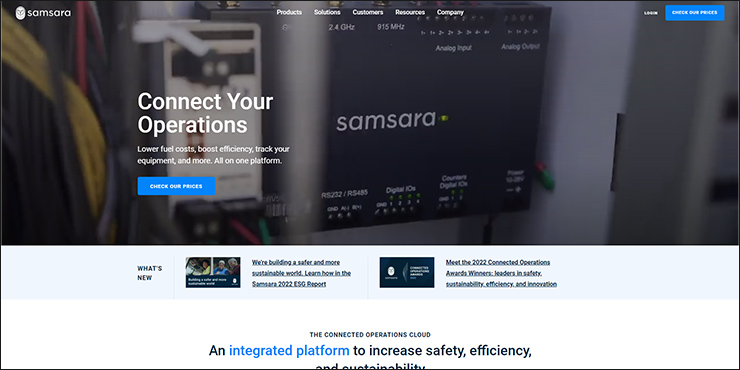 Samsara takes better care of freight management, and at the same time, it aims to boost user experience. The cloud-based fleet management solution offers great features to dispatch drivers as soon as possible. It cuts off last-minute hassles of route planning and ensures drivers follow efficient routes.
Samsara keeps your drivers and vehicles ready at the time of product dispatch. So, you don't have to worry about task assignments at the very last moment. Samsara offers a live GPS tracking feature to track the delivery fleet and analyze drivers' performance.
3. Fleetio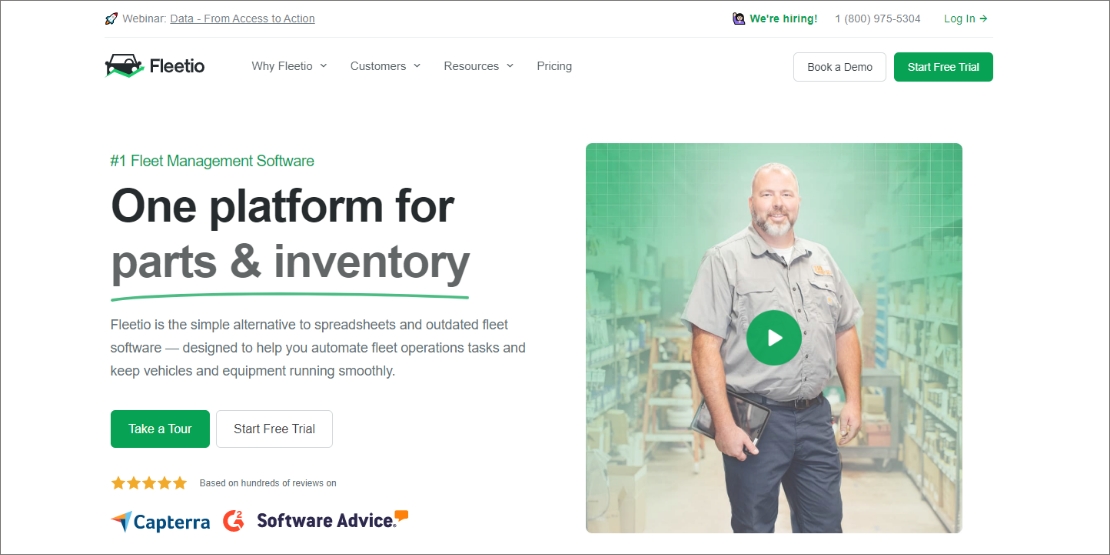 Fleet managers dealing with recurring vehicle management issues can get help from advanced software like Fleetio. The fleet management tool is capable of improving inventory accuracy, task allocation, fleet tracking, and much more. Plus, the software has a unique feature called fuel use tracking to control vehicle costs.
It is the fleet management solution that also offers vendor management for business owners. It adjusts the availability of the fleet as per your delivery schedule. It is a considerable option for business owners as far as fleet management is concerned. Fleetio is ideal for delivery business owners who are operating small or mid-size fleets.
Manage Your Delivery Fleets Using Upper
Fleet operators willing to automate their delivery process can take advantage of route planners like Upper. It gives you pre-planned best routes for drivers to perform faster deliveries. Also, it notifies the driver about delivery status and simultaneously keeps your clients posted. Upper auto allocates the delivery task to the available drivers, no matter if you have hundreds or thousands of deliveries. In fact, the route planner will automatically reassign the routes in case the driver is unavailable on the actual delivery day. This simplified process will make sure your delivery team won't spend more time on route planning and distributing tasks.
Find Efficient Routes for Your Delivery Fleets
On Upper Route Planner and keep your drivers updated. Automatically assign tasks to drivers as per your delivery schedule and make your fleet management job easier.
Start Using Upper

FAQs
A fleet management company is responsible for maintaining the performance and safety of vehicles to improve overall productivity by ensuring fleet safety, maintenance, and reduced fuel costs. A fleet management company handles the administrative part of managing the corporate fleet and its service.
The company can manage a fleet of company vehicles by creating a fleet management strategy, hiring a fleet manager, scheduling preventive maintenance, and other administrative tasks like license and registration, repair and maintenance, and purchasing and leasing.
Below are the major types of fleet management.
Supply chain management
Fuel management
Fleet maintenance services
Yes, it is one of the good jobs to make a career as a fleet manager. It is because fleet managers gain excellent opportunities to stabilize their job and gain desired income.
Here are the components of fleet management
Route planning
Fleet monitoring
Vehicle maintenance
Operational costs
Drivers task distribution
Vehicle tracking
Takeaways
Companies often overlook the fleet management aspect of their operations either out of distress or simply because they do not understand its importance. In doing this, businesses overlook an entire procedure that can help generate more revenue, cut down the total cost of operations, and improve transparency in the business processes. With better management, you will not only save money but work towards a better future for your employees and your company.