Key Takeaways:
Commercial truck route optimization can boost productivity, cut expenses, and boost client satisfaction.
Planning can be streamlined and accuracy increased by using tools for mapping and route optimization.
Adjusting routes and avoiding delays or accidents can be accomplished by taking into account variables including traffic, weather, and road conditions.
Planning your route with flexibility and backup plans might help you deal with unforeseen changes or emergencies.
Commercial truck companies make it possible to serve customers and clients spread across a large geographical area. Depending on the distance between the geographical regions and the goods they are supposed to carry, transport companies use different kinds of trucks or commercial vehicles. They have truck drivers who specialized in driving heavy trucks. To make the truck drivers deliver goods on time, the companies need a proper route plan. This is where commercial truck routes come into the picture.
Commercial truck routes need a lot of planning. It would help if you considered factors like truck weight, truck height, toll roads, truck washes, and other truck restrictions to create the most efficient route for daily deliveries. Commercial truck routes are slightly different from regular driving routes, and there are considerations to be made.
This article will look at how truck routing is different from other driving routes and the best way to plan truck routes.
How is Truck Route Planning Different?
Planning your daily commute, a road trip with your friends, or a long-haul truck route are very different things. The goal behind planning a commute, road trip, and commercial truck route is the same – to reach multiple locations in stipulated time. The only difference is the priorities, the scale, and the requirements of the commercial truck routes are different.
Truck route planning considers factors like truck dimensions, vehicle types required, the landscape covered, width and height of roads, speed limits, diesel fuel, and tolls & taxes applicable for commercial vehicles.
Commercial delivery trucks have specific time limits and time windows to follow to line up the ETAs. With such time constraints, truck routes must be efficient and quick. They require the identification of strategic freight corridors.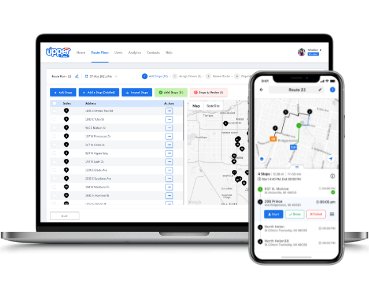 Upper Route Planner
A Simple-to-use route planner that every one is talking about.
Save up to 95% of planning time
Save up to 40% of time on the road
Plan 500 stops at once
What is the Best Way to Plan Truck Routes?
Having the right set of tools and techniques will help businesses in achieving the results they aim for. The same applies to commercial transport companies as well. Transport companies require software solutions that automate a lot of the manual guesswork that usually goes in planning routes and trips. The best solution for planning truck routes is to make use of route planning software.
Route planning and optimization software plan efficient routes and offers a wide variety of other features that help businesses improve their delivery function. With features like real-time traffic updates, real-time GPS tracking, proof of delivery, and geocoding help companies stay up-to-date with what's happening in the field. They do not have to remain invested in it manually. All the data can be recorded automatically as and when the deliveries are in progress.
Do you want to know why a commercial vehicle route planner is the best solution for planning truck routes? We have covered the way route planners benefit commercial trucking businesses in the next segment.
Benefits of Using a Commercial Truck Routing App
Here are some of the benefits of using a commercial truck routing app.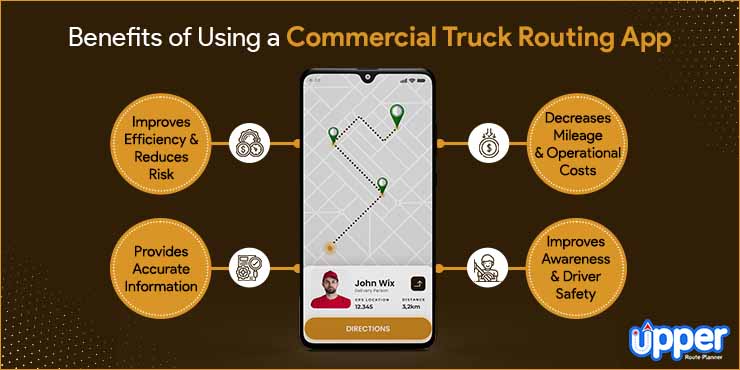 Improves Efficiency & Reduces Risk
Efficiency is one of the most important parts of the delivery process. Prior planning will improve efficiency by way of reducing the risk first. Planning allows the management to look at all the possibilities and difficulties they may encounter on the route. The uncertainties and risks can be planned for in advance when you have a route planning and optimization solution at your disposal.
Decreases Mileage & Operational Costs
When truck drivers receive properly optimized routes with accurate addresses and turn-by-turn directions, getting lost and going off route is difficult. When the truck drivers only travel the required distance, they reduce the mileage and save money on fuel costs. With reduced mileage, the trucks are only used for a particular number of miles with each trip. This helps in reducing wear and tear and thus less operational and repair costs for the trucks.
Provides Accurate Information
Route optimization systems provide effective routes and provide accurate turn-by-turn directions and accurate real-time traffic updates. This allows the driver to look for alternatives in case the route is congested. With accurate real-time information, making changes along the route and updating the delivery schedule becomes easier. So, route optimization systems accommodate changes easily in addition to providing accurate information.
Improves Awareness & Driver Safety
With well-thought-out routes in advance, business and fleet managers are aware of the path their trucks will be on. It creates a sense of awareness and visibility between the management and the workers. With truck route GPS as a part of route management software, fleet managers track the exact location of the drivers and the status of the deliveries. It works as a way of ensuring the drivers and the packages are safe on the route.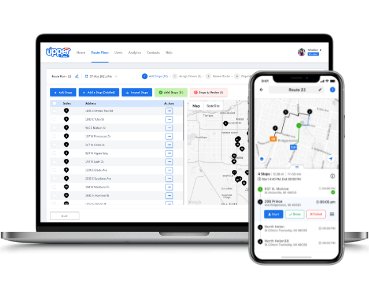 Upper Route Planner
A Simple-to-use route planner that every one is talking about.
Save up to 95% of planning time
Save up to 40% of time on the road
Plan 500 stops at once
---
FAQs
Google Maps shows you routes to reach from one location to another. But it does not explicitly have a truck route function that creates specific routes for commercial trucks. With a limited number of stops and no way to add delivery constraints, Google Maps is not a good option for creating truck routes.
There are several navigation apps for commercial vehicles designed to meet the specific navigation requirements of these vehicles. A truck navigation app considers significant constraints and provides accurate routes for truckers. Some of these apps are Waze, Sygic, PTV Navigator, and CoPilot.
---
Make Commercial Truck Routes More Efficient
Route management systems allow commercial truck drivers to plan and optimize their routes in advance. Truck routes cannot be managed as smoothly with the help of apps like Google Maps and Waze. Commercial truck routes have different requirements, and thus it needs a different approach. For this reason, it is better to take the help of sophisticated route management solutions that not only save fuel and time but help you achieve more with each delivery operation.