Curious about the top ghost kitchen business model but unsure of whether you should take the plunge? Well, then it's time to get rid of that confusion. Here is a blog that unravels the top 7 reasons why it is best to adopt this type of food delivery model at present and make a mark in the ever-evolving food industry.
It won't be exaggerating to say ghost kitchens, also widely known as dark or cloud kitchens, are taking the food industry by storm. The credit behind this popularity goes to the rise in demand for food delivery worldwide alongside the technological revolution. And it is only the beginning as the number of users in the online food delivery market is anticipated to cross a whopping 2,638.1 million by 2025, according to a Statista study.
Considering such a staggering boom, many restaurateurs have taken the ghost kitchen way, and many are contemplating doing so. But what exactly is a ghost kitchen? Is it worth joining the market from the business perspective? What are the benefits? Let's explore everything about ghost kitchens in detail.
An Overview On Ghost Kitchens
Think of a ghost kitchen as a commercial kitchen without a dedicated dine-in space, takeaway facility or a physical storefront. It simply prepares meals from its carefully curated delivery-friendly menu and delivers them at the customers' doorsteps.
The logistics and transportation part is often taken care of by third-party food delivery platforms, such as Uber Eats. However, some ghost kitchens have an in-house delivery fleet too.
What makes ghost kitchens stand out from the traditional, brick-and-mortar restaurants is that they don't need a buzzing or fancy location to operate. A small cooking space, whether leased or owned, with all the necessary kitchen equipment, is enough to get started.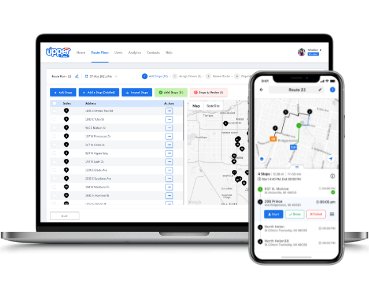 Upper Route Planner
A Simple-to-use route planner that every one is talking about.
Save up to 95% of planning time
Save up to 40% of time on the road
Plan 500 stops at once
No credit card details required
How do Ghost Kitchens Operate?
In a ghost kitchen set-up, you do not have to worry about entertaining guests, maintaining attractive decor, or hassles of managing a valet parking area. The sole focus is to prepare fresh, delectable dishes optimized for delivery. That makes operations of a ghost kitchen, no matter which part of the world it is based in, simpler compared to the brick-and-mortar restaurants.
Let's break down the ghost kitchen process in the following steps for a better understanding:
Users place food orders on any of the food delivery platforms your ghost kitchen is up and running.
You receive the order.
You start cooking the meal after order confirmation.
Once cooked, you pack the meal in hygienic and food-quality packaging. And mark the order as complete on the platform.
The food delivery platform assigns the nearest runner to whom you would hand the order for delivery.
Add the use of technology, dedicated POS systems, to this entire chain of operations, and the functioning gets even streamlined and smoother. It provides you with a single interface to manage all the orders coming in from diverse platforms, functions for sales and inventory management, real-time business analysis & reports, and much more.
Understood how ghost kitchens work? Now let's move forward to discover reasons you should adopt a ghost kitchen model.
7 Reasons to Adopt Ghost Kitchen Model
Faster & easy to set-up

Unlike conventional restaurants, ghost kitchens do not take several months to set up. Finalize a space equipped enough for cooking, curate a delivery-optimized menu, source the ingredients, and enlist your kitchen on popular food delivery apps. And you are officially out into the world of the food industry, awaiting your target customers' attention.

Besides, you don't need to own the space. You can start a ghost kitchen from your home or rent a space in a shared kitchen that has everything in place for you to cook and store food.

Lower start-up cost

With a ghost kitchen, you can do away with multiple things considered essential for starting a traditional restaurant. For example, an elaborate area for guests to dine in, elegant interiors or a high footfall location. A small space, either owned or leased, with necessary cooking tools is sufficient. As a result, the cost to start a ghost kitchen turns out to be relatively lesser than your brick-and-mortar outlet, becoming a perfect start-up idea.

Lower overheads

Since there is no spacious dine-in area, you don't need an army of cooking, admin, managerial and serving staff. A small team of 2-5 is often enough to cater to the orders. There are no expenses on maintaining the decor too, unlike the restaurants. And if you're working from a shared kitchen, you share the rent, ingredients, equipment, and other such utilities. That lowers your overhead costs even further.

Broader customer base

With your ghost kitchen, you can be present on multiple food delivery mobile applications and websites, building a strong virtual presence. That, in turn, allows you to appeal to a much wider audience than a traditional restaurant. You can even set the geographical limits of your delivery to expand your userbase.

Flexibility

The set-up of ghost kitchens is such that it allows you to be more adaptive and flexible inherently. One look at your system, and the data reveals things that are working and things that are not. Such actionable insights empower you to optimize continuously and enhance your offering to stay in line with the changing market demands and competitor strategies.

Upper Route Planner

A Simple-to-use route planner that every one is talking about.

Save up to 95% of planning time
Save up to 40% of time on the road
Plan 500 stops at once

No credit card details required

Ease of experimentation with less risk

Introducing a new menu in a brick-and-mortar restaurant takes a lot of effort, resources and money. And the risk involved is huge, too; if the new menu idea fails to please the customers, you suffer greater losses.

On the contrary, ghost kitchens enable you to experiment with a fresh concept with ease. You can test a few dishes in your current offering to check user response. You can even launch an entirely different brand to tap into a new market and attract new consumers. In both cases, you can use your ghost kitchen – the same equipment, space and tools, lowering both your cost and risk.

Incredible margins

Your ghost kitchen operates in a smaller space with no storefront to cater to customers. That cuts down your day-to-day business cost significantly, right from the labor cost to tools and material cost. The wastage is minimal, too, as ghost kitchens typically offer a niche menu optimized for delivery. That provides your business with scope for remarkable margins, which, in a traditional restaurant, is possible to achieve only after the initial few years.
Conclusion
The ghost kitchen model is picking up pace all around the world given the steep increase in demand for food delivery and the convenience it offers to consumers. The ease of operation it packs in, along with lower start-up costs, overheads and risks, is something that is encouraging a lot of entrepreneurs and restaurants to jump into the market. In fact, the ghost kitchen model helps restaurant businesses to get success by bounds.
If you too have been keen about this food delivery model, now you know the reasons why you should venture in with confidence. So begin by analyzing the market, get the correct food delivery route planning software on board and set up shop to take your piece of the pie of the future of restaurants.
When it comes to adopting Route Optimization Software for your food delivery business, don't look around anywhere else than Upper. Upper Route Planner is the best route planning software that makes planning and optimizing routes easier. To know more and explore the features of this software, you can Start 7-day free trial and avail its benefits.