The food industry suffered significantly due to the pandemic. Because of the shutdown, the governments ordered the businesses to maintain inaccessibility for an extended period. Even after the lockdown, the restaurants need to close their eating areas to prevent the virus from spreading.
Therefore, online food delivery became the primary source of revenue for the majority of eateries, restaurants, and hotels. These circumstances led to the origin of the cloud kitchen business model.
A cloud kitchen is often characterized as a virtual restaurant. Being the most profitable trend, it has become a necessity for both small-chain and huge-scale food businesses.
Fierce rivalry, exorbitant rents, and increasing prices can define the current status of the food business. Since the situation is drastically spiraling out of control, food entrepreneurs are looking for rational ideas.
And fortunately, cloud kitchens appear to be a more innovative approach to opening and managing a restaurant. This article will go over precisely what a cloud kitchen model is and the top 7 cloud kitchen business models for food entrepreneurs.
What Does the Idea of a Cloud Kitchen Business Model Suggest?
Cloud kitchens are also referred to as virtual or ghost kitchens. These are commercial kitchens designed particularly to prepare meals for online food delivery (a takeaway restaurant of sorts).
In other terms, these are delivery-only businesses that do not provide dine-in service. They mostly rely on internet orders, which are typically placed through online food distributors.
The main perk of cloud kitchens is the advanced technologies involved in them. Cloud kitchen business models have their personal online booking app and website or take orders via multiple food delivery platforms.
Cloud kitchen eliminates the time-consuming comprehensive processes of manually entering and estimating purchases from various ordering services.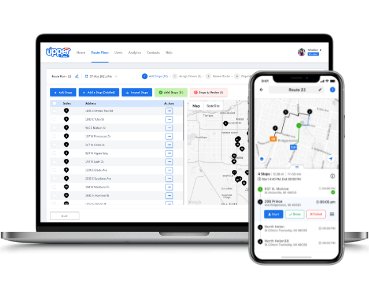 Upper Route Planner
A Simple-to-use route planner that every one is talking about.
Save up to 95% of planning time
Save up to 40% of time on the road
Plan 500 stops at once
Why is it an Intelligent Option to Have a Cloud Kitchen?
Currently, cloud kitchen business models are one of the most popular models for beverages and food enterprises. With the digital platform revolutionizing people's lives, this business idea is a savior for many restaurant owners.
Launching it stands to reason, especially given the high level of confidence that primary online delivery services like Zomato and Swiggy enjoy. Here are some points to understand why cloud kitchens are effective and productive.
Route Planning & Optimization Cuts Delivery Time

Clients want the quickest service now that the entire world is more linked than ever. Because online meal delivery applications offer a massive network than any particular restaurant business, they can provide better customer service in a shorter amount of time. The dark kitchen space can benefit from this by synchronizing on their application and receiving orders. This relieves the owner of the responsibility of speedy delivery, lowering total establishment costs.

Enhanced Hygien

Even though these are virtual kitchens, there won't be any compromise with hygiene, food quality, or food safety. Just like one can see cleaning and maintenance is done in a fine-diner, the cloud kitchen space also focuses on the same.

Foods are packed properly and in disposable containers. Proper hygiene is maintained in cooking areas. And appropriate arrangements are taken to make sure that the food/food item does not get spoiled in transit.

Simple to Extend

Thanks to all these food delivery business apps, one won't have to spend too much on promotions and marketing (digital brand awareness). Moreover, scalability can be achieved in a couple of minutes only. These firms need little investment, to begin with, and can easily expand in terms of locations and menu once they garner enough loyal customers.
Benefits and Advantages of Cloud Kitchens Business Models
Virtual kitchen is an excellent replacement for a (traditional restaurant) brick-and-mortar restaurant. It allows customers to concentrate on food production and brand management. Simultaneously, they help remove the administrative and logistical headaches that plague many food operations. Here are some of the essential benefits and advantages of cloud kitchens business models to acknowledge:
Reasonable Start-up Cost

Cloud virtual kitchens help restaurant owners save expenses. Renting a restaurant kitchen from a cloud kitchen supplier saves costs. It is because they don't have to spend money on pricey construction, zoning compliance, and so on. These kitchens also require food enterprises to open in days or even weeks, rather than months or years, as typical leases or building loans need.

Lower Overhead

Due to excessive property taxes of commercial kitchen space, tedious employee payroll, and annoying upkeep expenditures, traditional restaurant owners have managed to stay competitive. Cloud kitchens take care of these time-consuming and costly administrative functions. Businesses that perform in cloud kitchens usually hire one to two chefs and split costs with other occupants.

Increased Exposure

With cloud kitchens/ghost kitchens, your company can focus more on food delivery and attract more people. Instead of using more restricted promotional tools, businesses designed for delivery use delivery apps and social media to promote their brand. It can help you build a brand presence by expanding your marketing channels and increasing your visibility.

Customer Satisfaction

Cloud kitchens enable you to meet the needs of your customers. In face customers' need for fast menu choices at an attractive cost has fuelled the growth of online food delivery. It streamlines efficient logistics, lowers prices, and implements technological advancements.
Unique Selling Points (USPs)
Diverse Menu with Unique Cuisines
Engage With Different Platforms for Online Delivery
7 Different Types of Cloud Kitchen Business Models
Cloud kitchens are a relatively new concept that has grown in popularity. They provide several advantages over the traditional dine-in restaurant approach. Here, we will be discussing the seven possible ghost kitchen or cloud kitchen business models.
Independent Cloud Kitchen Model (One brand, single kitchen, without physical storefront)

It is the most common form in which your kitchen accepts orders from various third-party applications like UberEats, DoorDash, and Grubhub. These ghost kitchen or cloud kitchen business models are essentially stand-alone kitchens that don't have a physical location.

They have the option of delivering the product personally, via food aggregators, or both. Once you receive the order via the application, you prepare your delicious food or beverage offering. Then you should wrap it for transit and place it in front. The delivery guy will then take it and bring it to your client.

Now let us imagine you have a food company that sells pancakes, and you receive an order through Uber Eats. You'd make all the pancakes in your cloud kitchen and then send everything off.

Brand-Owned Cloud Kitchen

Here you have a single place, a single brand, and only one kitchen. A brand-owned cloud kitchen is a delivery-only establishment that does not offer takeout or dining. It's the first model of any professional food business with no branches, bigger establishments, or seating areas.

By removing the front-of-house, business owners or newcomers can avoid costly rents and real estate costs. With the rise in online ordering and rising customer need for deliveries, this notion has gained traction. The kitchen is generally in a low-rent neighborhood but not far enough from heavily inhabited areas.

It is a small, efficient operation with minimal personnel. Numerous organizers handle the orders, bookings, and deliveries to maximize visibility. Occasionally, the kitchen will run self-delivery as well, mainly if the brand is famous.

Assume your waffle company signs an agreement with UberEats. If we choose this model, the benefit is that the application will drive many sales your way and promote your business more. The only reason behind your expansion is that their accomplishment is linked with yours.

Want To Offer A Delightful Experience To Your Customers?

Optimize your delivery routes with Upper Route Planner and speed up deliveries to boost customer experience.

The model with Multiple Brands (Multi-brand, one kitchen, various outlets, no storefront)

The is one of the most complex cloud kitchen business models that rely on data information like local demographics, famous cuisines, and location-based consumer demand-supply. The goal is to meet the needs for the most popular cuisines (like North Indian, Chinese, and Continental) in a neighboring area (within a 5-6 km range). It functions with a limited number of restaurants nearby.

This strategy is effective because it establishes each brand as a part of its own entity.

Furthermore, having a separate shared kitchen reduces operating costs. The current dine-in standard restaurant model launches a side-hustle focused on delivery/takeout in this model. In other words, the restaurant picks its best-selling menu items and changes them for distribution.

Since different brands have rested their faith in it, we can say it to be an intelligent plan. Having a single communal kitchen also keeps operational costs low.

It is possible to think of it as specialized cloud restaurants depending on cuisines. It is owned by the same company and shares identical kitchens.

The main difference from the independent model is that you are managing several brands from the same kitchen. For instance, you will be providing waffles as well as sushi and doughnuts. This one virtual kitchen produces all of these distinct brands and food goods.

You have a much better chance of capturing a more significant portion of the new market. Someone might crave waffles now, sushi next, and doughnuts with a buddy. This model enables you to benefit from all the cravings while also responding to other people's demands.

The Model for the Middle Ground

It follows a similar ordering procedure as the independent model. However, instead of having orders delivered to your clients, they drive to your cloud kitchen venue to place and pick meal delivery orders.

There are not many cloud kitchens that provide this option. So, if you are interested in signing up with one in your neighborhood, check to see if they provide pick-up assistance. Several cloud kitchen business models are situated in locations with a lower population density and less pedestrian traffic to save money on renting.

Combining pickups with the Mid-Ground concept is the approach to follow. You can opt for this business model if you have an excellent site and want to diversify your overall revenues.

Business Model with Hub and Spoke (specific brand, multi-brand, communal kitchen)

There are various variations of a hub and spoke cloud kitchen paradigm, including single brand, multi-brand, collaborative kitchen, and so forth. Each one aims to provide a centralized production system where the majority of the items are produced. It is then followed by pop-up places that make it easier to get them.

The central kitchen is always located in a low-rent neighborhood. It is the manufacturing hub, where most items are prepped ahead of time and delivered to smaller pop-up venues for final touches.

Because of the enormous volumes' involvement, it becomes expensive to jump right into a hub and spoke arrangement. The central cooking facility will most likely be owned or leased by a business.

Furthermore, labor costs tend to increase with each pop-up location, and you will need time to hire and train staff. So, expect to incur extra costs for a few months before actually delivering your first order.

Because of the increasing investment expenses, it is not a widespread idea. This approach is more suited to advanced providers looking to expand their business operations in specific sections of their city.

For instance, if you are thinking of making all of Waffles' batter and topping in one centralized kitchen. Then, you would send them to a variety of other virtual restaurants or kitchens. This model enables you to reach a considerably larger number of people in various parts of the city.

The Model of Outsourcing

The reality that your raw materials are pre-packaged is the only distinction between an outsourcing approach and an independent or brand-owned model. All you will have to do is remove all of the components from the package, give it a last polish, and hand it over to the delivery person to drop it off. You are going to need the bare minimum infrastructure for this one.

You would get some waffles, remove the wrapper, reheat them up. Following, you would apply some sprinkles and cream and dispatch it on its way. It is also a popular approach because everything has been outsourced, and the complex tasks are completed.

In this ghost kitchen arrangement, you may outsource all from call center operations to kitchen and supply. Consider a restaurant that decides to outsource a significant percentage of its kitchen (food) preparation. After that, your cooks can complete it, and the same restaurant will pick it up afterward.

Kitchens at a Commissary (Aggregator)

These are cloud kitchen business models that are not owned and operated by the company. Many eateries will share everything from the cooking area to refrigerator space. It is a shared working environment where multiple companies use the same facilities and lease office space from a service supplier.

These cloud kitchens might be stacked entirely or only have a shell. Kitchen as a Service (KaaS) is another phrase for this model. This cloud kitchen type model is famous as the "shell," in the restaurant industry. It is essentially an empty cooking area with essential built-in kitchen equipment, like drainage, gas pipelines, and ventilation systems.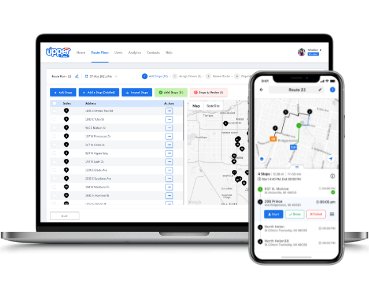 Upper Route Planner
A Simple-to-use route planner that every one is talking about.
Save up to 95% of planning time
Save up to 40% of time on the road
Plan 500 stops at once
No credit card details required
Conclusion
In the future, almost half of restaurant intake will occur outside of the establishment. Therefore, the cloud kitchen business model will become more feasible in terms of technology, cost reduction, and uniformity improvement.
It's probably safe to say that Cloud kitchen is the way to go these days in the culinary and technology industries. Restaurants will, of course, continue to play an essential role in the eating experience. In fact, such cloud kitchen can easily delight their customers with on-time delivery of the food and a rich customer service experience.
When it comes to delivering food orders always on time, it is a must that you can plan routes and optimize them using route planner software like Upper Route Planner. This software makes it easy for you to plan routes and optimize those routes in less than 5 minutes. So, you can start a FREE trial of Upper Route Planner and experience how it helps to grow your cloud kitchen business.