Key Result
100%

Digitization of the delivery process

82%

Increase in overall productivity

76%

Reduction in planning time
The Challenge
Eco Medical, a prominent supplier of wheelchairs and mobility aids, found itself grappling with significant challenges in its delivery operations.
"The reliance on handwritten manifests for daily deliveries posed coordination issues between drivers," said Shane Young, Supervisor of Shipping and Receiving at Eco Medical. It led to frustrating instances of overlapping deliveries and repetitive stops, causing delays and dissatisfaction among both drivers and customers alike.
Additionally, the challenging task of manual route planning using Google Maps consumed valuable time and resources without yielding efficient results.
As a result of these challenges, Eco Medical faced the following consequences:
Duplicated efforts resulted in inefficiencies, with drivers occasionally converging on the same destination.

The absence of real-time updates for customers meant a lack of transparency and timely communication. It led to missed delivery deadlines and customer dissatisfaction.

The outdated practice of handwritten manifests hindered Eco Medical's ability to meet the increasing demands of its customers and maintain its reputation for exceptional service.
---
Our drivers often ended up at the same stop, causing frustration for both us and our clients. Manual route planning was a time-consuming process, and we lacked the ability to provide real-time updates. It was clear we needed a solution that would streamline our delivery operations.
---
The Solution
Shane discovered the Upper while searching for a delivery solution. After researching different options, he was drawn to Upper's intuitive interface and impressive features.
Intrigued by Upper's capabilities, Shane signed up for the free trial. Within just two days of using Upper, he was convinced that it was the perfect fit for their business.
According to Shane, "The onboarding and transition process was painless. Switching from the trial to the paid plan was also A-OK; it was simply smooth and seamless."
Shane also acknowledged the exceptional customer support that he encountered both during and after the free trial. This support, coupled with Upper's user-friendly experience, solidified his confidence in the solution's potential for their business.
Streamlining operations with easy route planning and optimization
Upper's easy route planning and optimization capabilities were particularly compelling for Eco Medical. They had been grappling with the difficulty of manually planning routes, dealing with coordination issues, and facing the risk of overlapping deliveries.
With Upper, all these challenges became a thing of the past. Shane told us that "the dispatcher was able to import the stops directly from Excel, automate the route planning process, and optimize routes for each driver individually."
The result? A significant streamlining of their operations, saving them valuable time and eliminating coordination headaches.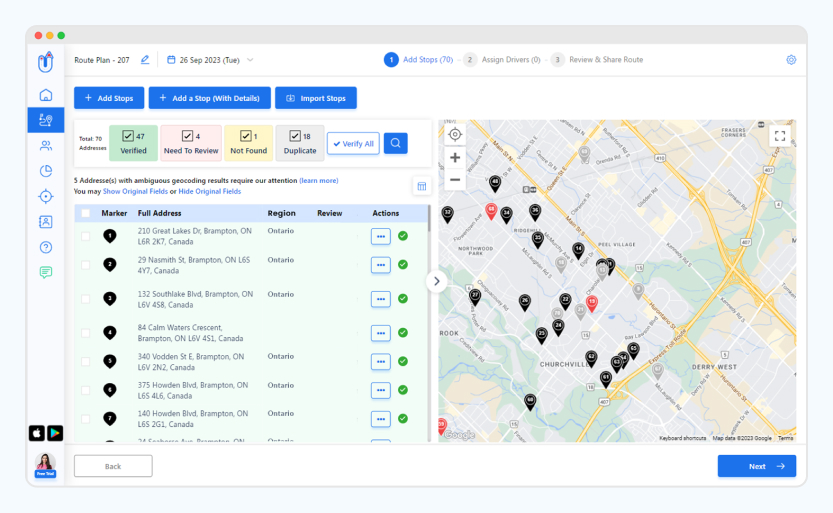 Efficient route scheduling and enhanced transparency
Eco Medical soon realized that Upper's capabilities go beyond route planning.
According to Shane, Upper's ability to schedule deliveries a day in advance proved impactful. This optimization enhanced overall efficiency and resource utilization.
Moreover, Upper's live driver tracking feature resolved the challenge of keeping customers updated on their deliveries. Dispatchers, previously making countless calls to drivers for updates, gained visibility into drivers' locations, ensuring timely updates and eliminating uncertainty.
---
For over 15 years, we had been relying on handwritten manifests for our daily deliveries. However, Upper automated the route planning and optimization process while also providing advanced route scheduling capabilities. This shift has brought about a remarkable improvement in our operations.
---
Effective note-taking and reliable proof of delivery
Upper's note-taking capability proved invaluable for Eco Medical's drivers. Shane emphasized the importance of these notes, ensuring smooth execution even amidst a hectic delivery schedule.
Shane highlighted the value of these notes, stating, "When the driver misses a stop, we can always check the notes, which is really helpful in finding out why the deliveries haven't been made."
Upper also addressed the need for reliable proof of delivery. Shane noted that Upper's digital proof of delivery feature, capturing digital signatures and images, ensured transparency and solid documentation, reducing missing or incomplete records.
---
The Impact
Upper emerged as the ultimate solution for Eco Medical, addressing their pain points and unlocking a new level of operational excellence.
From easy route planning and optimization to advanced scheduling, real-time tracking, intuitive note-taking, and digital proof of delivery, Upper proved to be the comprehensive solution Eco Medical had been searching for.
By embracing Upper's innovative features, Eco Medical  transformed its delivery operations and achieved remarkable results. They witnessed a significant increase in productivity, with a streamlined workflow that eliminated duplication, reduced delays, and minimized manual processes.
The automation offered by Upper not only saved time but also enhanced coordination and accuracy.
With Upper's user-friendly interface and exceptional customer support, Eco Medical experienced a smooth and painless implementation process. The transition from the trial period to the paid plan was seamless, allowing them to quickly harness the full potential of Upper's capabilities.
Performance Metrics
| Metrics | Before Upper | After Upper |
| --- | --- | --- |
| Average Route Planning Hours Per Week | 15 hours | 3 hours |
| Weekly Delivery Accuracy | 72% | 100% |
| Customer Satisfaction | 75% | 95% |
| Average Paper-Based Documentation Errors Per Week | 10 | 0 |
| Average Duplicated Deliveries Per Week | 7 | 0 |
| Weekly Double Backing Instances | 18% | 0% |
Today, Eco Medical relies on Upper as an indispensable tool in its day-to-day operations. The simplicity of Upper's interface, combined with its powerful features, has empowered their team to take control of their deliveries like never before.
---
It's astounding how a software solution like Upper has turned our operations around and pumped in so much efficiency. It's been a game-changer for sure.
---