Fleet management is an important topic, and here's why: poor management and poor asset tracking can lead to the demise of a company. All industries requiring fleet management are changing with the adoption of new tools that operate using real-time smartphone technology. This is evidenced by Deloitte's full report on the topic.
So what is a fleet management and its key components? What are the challenges and significant trends? As a business owner operating with a fleet of vehicles or trucks, you want to know how to take care of your business best. We are going to take a closer look at these as we cover everything you need to know.
Basics of Fleet Management
At its core, fleet management covers the practices of overseeing, organizing, and recording all aspects of a company's fleet operations. These managerial duties might include, but aren't limited to, establishing regular vehicle maintenance schedules, establishing cost-saving measures, ensuring driver safety. Depending on your company's size and the industry in which you operate, how large and varied your fleet is, fleet management practices vary more as the aspect of management grows more specific.
Fleet management could be the central part of your work or merely a part of what you do (as part of ownership, for instance). Regardless, this beginner's guide will walk you through the basics of fleet management and how to build your own company's successful fleet management program (FMP) from the ground up.
Definition
There are many definitions when it comes to Fleet Management, to start, let's use a quote from Wikipedia:
Fleet management is the management of: Commercial motor vehicles such as cars, vans, trucks, specialist vehicles (such as mobile construction machinery), forklifts, and trailers;
From : https://en.wikipedia.org/wiki/Fleet_management
In short, fleet management is the management of vehicles in transportation or delivery.
NOTE: In this article, we are going to only look at motor vehicles such as cars and trucks, and we will not cover ships, rail cars, non-powered assets.
What Does Fleet Management Require?
Fleet management is multi-faceted, as it incorporates various functions. These include:
Telematics, or the transmission of digital information over a long distance;
Vehicle maintenance;
Vehicle finance;
Diagnostics;
Fuel or gas management;
Route planning and route optimization;
Driver safety and driver management.
This job requires lots of expertise. In a way, it's like seven jobs in one! No wonder it's such an important topic!
What Other Terms are Used?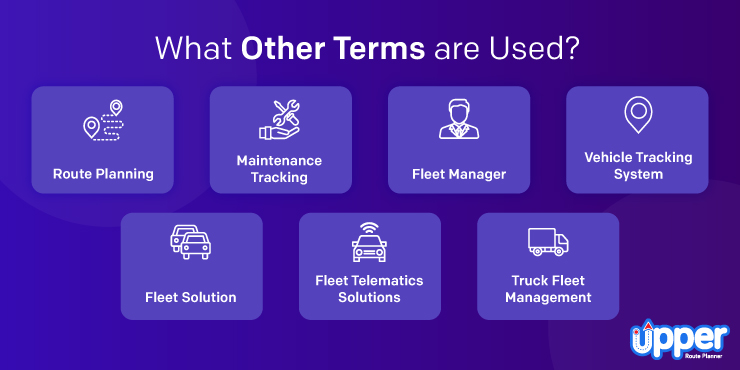 There are other terms, or terminology, that is used to describe fleet management, such as we:
Maintenance tracking;
Fleet manager;
Vehicle Tracking, vehicle tracking system;
Fleet solution;
Fleet telematics solutions;
Truck fleet management;
These terms describe what we would include in our definition of Fleet Management. Therefore if you were looking to get more information on any of these topics, they would be covered in the article below.
For more information on route planning, please check this post:
What is Route Planning?
Plan quickly, deliver faster, delight customers and get home early.
Everyone deserves to have simple and easy route planning.
What is the Role of a Fleet Manager?
The purpose of fleet management is to boost productivity and grow a business. Fleet management does this by ensuring the performance of the fleet, and monitoring maintenance, keep costs low, maintain compliance, and ensure optimal operations. In the past, managers did this manually, using paper copies. Now with the technological revolution, there are many more functions to be done. Most of the time, fleet management solutions such as integrated fleet management software and hardware components do this critical work.
The following functions can summarize the purpose of fleet management:
Real-time Visualization: To know real-time locations and movement of each vehicle in their fleet;
Route planning: Routing to create routes, map; communication with, and the dispatching and scheduling of drivers; (for more information see our article on Route Planning here)
Driver Information: Monitor employee and driver behavior, and get information on each driver's working hours, distances logged.
Prevention: Preventing the illegal use of valuable company assets (vehicles);
Tracking and diagnostics: live data on vehicle location and status
Vehicle maintenance: Customizable maintenance alerts;
Run Operations: Knowing that the company has a cost-effective and systematic transport system that carries out all required operations.
Fuel usage management: Get real-time reports on fuel expenses, mileage, and reduce costs;
Compliance: With all government laws and regulations;
Vehicle Usage: Increase the usage of vehicles in your fleet, e.g., track and manage the conditions of vehicles;
Monitoring: Monitor performance of the fleet, by collecting data and using analytics tools
Productivity: Increase productivity by using data measured to optimize fleet usage; This means the lowest downtime, highest speed, and execution (while focusing on the quality of course);
Business Growth: Growing your business by increasing revenues and decreasing costs.
Financing: Get information vehicle wear and tear, know when it's time to update the fleet;
Safety management: Get driving data on each vehicle, identify risks, poor driving practices, and reduce liability.
Administration: "doing the paperwork," this includes Tax reporting, trailer tracking, driver logs and records, eld, recommendations, and sustainability efforts.
What are the Types of Fleet Managers?
In today's modern world, fleets can come in many different shapes and sizes. They can be a private company or a public organization. They come from all parts of the world, the UK, Europe, Asia, and North America. All these organizations, from our experience, both large national corporations and local couriers, are considered fleets. So regardless of the number of vehicles you have, you have a fleet to run and manage. Size does not change the fact that fleet managers need to optimize the management of their fleet.
Below you'll find the types of fleet managers.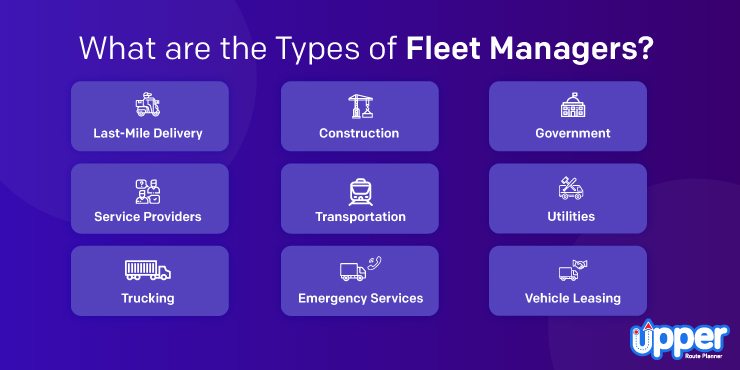 Last-Mile Delivery / Couriers
With the rise and advent of Amazon, Shopify, online ordering, there is an explosion of last-mile delivery services. Their rise is spurning an enormous growth in this sector. Expected growth will be a whopping 60% in the next four years, according to Statista.
In 2018, the last mile delivery market in North America was sized at 31.25 billion U.S. dollars. It is expected to grow to just under 51 billion U.S. dollars in 2022.
Source: https://www.statista.com/statistics/1040519/last-mile-delivery-market-size-north-america/
This trend means a lot more business for local couriers. This group includes local franchisee owners of large corporations like UPS, as well as any individual courier operating locally.
Construction
Transportation is not the only sector with a fleet of vehicles. In the construction industry, there are fleets of different pieces of construction vehicles. For construction companies large and small, the maintenance and oversight of these valuable assets, operators, and drivers can spell the difference between profits and losses. Fleet data will help with knowing the timing for purchases and also ensure safety on site.
Government / Higher Education
Larger institutions like colleges, universities, municipalities, and government departments all have large fleets of trucks and vehicles. There are many details to review, and security is paramount for the public sector. As many of these institutions are tax-payer funded, they are always looking for ways to manage that money, and proper fleet management is undoubtedly one of those ways.
Service Providers
If you are offering a service to people in a specific place, chances are you have a fleet. We can think here of many of the trades such as plumbers, electricians, roofers, and tree maintenance specialists. In this category, we would also include business consultants, insurance specialists, or any other professional service provider. Services providers require constant planning and monitoring of vehicle assets – especially the larger ones.
Transportation
Transportation, and in particular public transportation, freight, or carriers, are increasing at a rapid pace. Europe has always used more public transit – big and small- have been using buses and small vans for transport for years. In North America, this trend is increasing as well, as highlighted below by the American Public Transportation Association:
In 2018, Americans took 9.9 billion trips on public transportation. 34 million times each weekday, people board public transportation. Since 1997, public transportation ridership has increased by 21%—a growth rate higher than the 19% increase in U.S. population.
Source: https://www.apta.com/news-publications/public-transportation-facts/
Public transportation, whether they are private or public have large fleets that certainly require fleet management.
Utilities
In many cases, utility companies manage an extensive array of equipment – including motor vehicles. Considering the nature of the work of utilities, compliance, and real-time monitoring are essential to ensure the maintenance costs are kept low.
Trucking
Trucks are high-cost assets. Therefore when you're talking about a trucking fleet, it's imperative to optimize productivity, maximize value, and to reduce costs. Such costs are fuel costs, maintenance costs, driver costs. Additionally, trucking fleets must ensure driver safety during all fleet operations.
Emergency Services
Emergency services are essential services, and they often have large fleets of motor vehicles. Any business involved in emergency services needs to pay close attention to their fleet. Improper usage can lead to severe violations of regulations, and worse than that, it may be a matter of life and death in some extreme cases.
Vehicle Leasing
As Wikipedia says, "Vehicle leasing or car leasing is the leasing (or the use) of a motor vehicle for a fixed period at an agreed amount of money for the lease. Dealers commonly offer it as an alternative to vehicle purchases. Still, it is widely used by businesses as a method of acquiring (or having the use of) vehicles for business, without the usually needed cash outlay." These fleet management companies are also in need of reviewing and maintenance their often huge fleets.
Top 7 Challenges Of a Fleet Manager
As we've outlined, fleet management is not just for trucking companies; it's a much broader societal reality. Transportation is an essential part of public life.
Sure, its use is prevalent in companies that focus on transportation. However, it has also become an essential part of the fabric of public life. For example, if we look at the Federal Fleet Open Data for the US government, we see that it spends billions on upkeep, software, and maintenance for its fleet of 644,545 vehicles. Of course, the government of the United States has one of the largest fleets, including trucks, ambulances, and several other types of cars.
It's not as simple because we are in a long period of transition where technology is rapidly changing. Other trends include IoT (internet of things) integration. There are lots to think about here are some of the top challenges that face Fleet Managers
The following outline the responsibilities that fall on the shoulders of a fleet manager.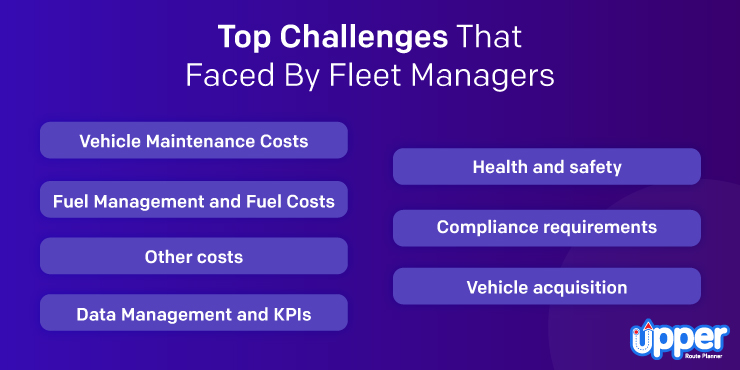 Vehicle Maintenance Costs
| Variable | Fixed |
| --- | --- |
| Maintenance | Loan / Lease Payment |
| Fuel | Depreciation |
| Tolls | Taxes |
| Part Replacement | Insurance / Registration |
| | License / Permits |
The maintenance of vehicles is one of the highest costs overall, and it can range between $2000 and $4000 on average depending on the type of motor vehicle you own or operate. Maintenance is also required by law in many regulations. Overseeing maintenance is crucial and can be a big draw on resources. The tasks are necessary for a fleet manager to include daily checks, full inspections upon purchase, consistent maintenance, and following-up on any defects or breaks.
Fuel Management and Fuel Costs
In fleet management, fuel consumption is the highest variable cost. Aside from fluctuations, these fuel prices are ever-increasing. Petrol or gasoline unleaded fuel is still predominant in North America, and in the world, we do see a shift towards hybrid and electric. The fleet manager must balance types of fuel when purchasing vehicles to add to the fleet while also doing ongoing fuel savings management.
Other costs
Lowering costs is always essential for any business; of course, when you're dealing in fleet services, this is no different. Fleet managers also need to look into the various other costs and find the best management solutions to reduce these.
Data Management and KPIs
Fleet management create an extraordinary amount of data. This data can flood and overwhelm fleet managers. The job of the fleet manager is to find the best fleet management solutions and management software that can help get the right data at the right time. The next step is to know how to use and analyze that data correctly.
Health and safety
The fleet manager has a significant responsibility in terms of health and safety in fleet management. Ultimately, they are responsible for the protection of the drivers in terms of vehicle safety. This heavy responsibility is why there need to be very stringent procedures for both vehicle inspections, driver safety, driver behavior, and driver training. Processes are also essential to help drivers deal with insurance reporting if an accident should occur. Health and safety policies for the drivers are also fundamental, including ergonomic studies and work schedules. Driver turnover is quite high, so these aspects are useful for driver satisfaction.
Compliance requirements
Risk management and compliance are essential roles for fleet managers. This process includes all types of checks – daily, weekly, monthly- inspections, driver checks, procedures, reporting, government license, instance, etc. Most of this needs documentation and a paper log as it's a requirement by legislation. More recently, we see environmental regulations for fleets to reduce their carbon footprint. Fleet managers have a lot they need to keep track; this is why electronic logging is very useful.
Vehicle acquisition
Finally, vehicle acquisition/replacement is the last challenge a fleet manager must face. Again there are many activities here, such as keeping up to date with any legislation related to vehicles, looking at the purpose and suitability, the purchase process, evaluating and comparing total price (including tax and insurance ), disposing of old assets (vehicle remarketing). These factors make the purchasing process a problematic challenge.
Trends and the Future of Fleet Management
Many broader trends in fleet management are essential to keep in mind going forward. If you follow the news, these are not new to you. There are, of course, trends that are known, such as the ever-changing regulations. The most significant changes in fleet management lie in the advent of new technologies. These technologies are changing at an exponential rate, and successful fleet operations are the ones that take into account not only electronic logging tools but rather sophisticated integrated fleet management solutions. These changes represent opportunities and also threats.
The shortlist of innovations that directly related to fleet management companies are the following:
Internet of Things (IoT): IoT is a system of interrelated devices – both mechanical and digital – that are connected and able to work together without human intervention. Fleet management experts note how embedded systems, sensors, automated control systems are becoming more of the norm to ensure optimal asset utilization.
Telematics: For many fleet management operations, In-vehicle telematics is a must-have. This technology is thus crucial for all fleet managers to understand and to determine it's usefulness in their services.
Artificial Intelligence and Self Driving: There are many software giants and companies that are pursuing the goal of automated self-driving and navigation. Tesla, of course, is the leader in this quest. We don't see the approval of self-driving legislation yet. However, one could guess that it's coming. This would be a game-changer for fleet management. One could quickly see the advent of automated fleet management at that point. The result would be the reduction of human drivers and having automated computer programs that are making deliveries.
Machine Learning: Machine learning is a branch of software that deals with creating algorithms for computers (or machines) to be taught to do specific tasks, to learn how to do them better, and eventually to be able to do them on their own. Machine learning is often paired with artificial intelligence as they pair together. Considering the data points related to fleet management, we can see how this would have an impact on fleet operations and all fleet management companies.
Customer service: The last trend that we'll talk about is on the human side. Because of the rise of mobile technology and the "Amazon Effect," client expectations have gone up, and all businesses need to respond. Therefore, fleet management companies need to tie in client expectations to their operations.
---
FAQs
Fleet management is the management of a variety of motorized vehicles. It can also be called a fleet management solution. It generally is attributed to cars and trucks, yet it can include other vehicles such as vans, ships, buses, and rail. Fleet management systems generally will be a management software that fleet managers will use to operate their fleet operations. These will often include three components. The first component is an admin (or "parent") software for the fleet manager or back office. Usually, this consists of a dashboard that gives visibility to a central hub for communications, logistics, processes, and dispatch management. Flowing from this "parent" software is the "child" software or the "user" software or app for drivers or maintenance staff. This software often includes areas such as notifications for dispatch drivers, fleet policies, driver performance information, vehicle diagnostics, driver productivity statistics. Finally, we have hardwired or IoT components, which may be hardware installed in the vehicles, such as a logging device or logging devices (eld), vehicle tracking systems, GPS tracking, dashboard camera (or dash cams), and more.
All this comprises a fleet management platform that allows for insights into the efficiencies and capabilities of the fleet.
It is more than likely that if you have a fleet that you will want to get your hands on a fleet management software. The tricky part is that fleet management software comes in all shapes and sizes. There are many different aspects of fleet management. And therefore, the ideal products depends on the features you need and your ability or capability to implement them. The easy way to choose the best fleet management tool is to do a cost-benefit analysis for your specific situation. Some aspects to consider are task management, vehicle management, expense controls, data points included, knowledge management. For some, there may be one functionality that is more important than the rest.
---
An Exciting Future for Fleet Companies
In conclusion, fleet management is an exciting endeavor for fleet companies in Canada, the United States, or other countries. Whether you have a large number of fleet vehicles like the Toyota fleet manager or a manager of a fleet size of four cars, we hope that this outline for fleet managers has been useful to help think of your fleet strategy and your fleet tracking. The purpose of this document was to help you think in terms of cost reduction, business operations, as it pertains to fleet maintenance. As mentioned, fleet management software solutions are more the norm for all companies nowadays to make sound business decisions and reduce operating costs. We hope you got some answers you were seeking. Please contact us if you have any other questions. We are always there for fleet owners, industries, and customers who are looking for answers.