A forum is like your community where you learn about people's experiences in a field. Delivery drivers use it to share and learn about the industry and its trends.
The trucking industry is a very hardworking sector where community engagement is crucial for drivers to stay connected.
Some experienced truckers share tips on specific delivery operations, which might help a beginner take necessary measures.
Many delivery drivers or truckers depend on these internet forums to either build a rapport with drivers of the same locality or seek information on their next delivery route.
If you are a new driver or a delivery business owner and are willing to interact with driver forums to seek solutions and advice, then go through the six best of them listed below.
6 Best Delivery Driver Forums
You can access several driver forums to meet your informational or communication needs. But not all of them are worth your time, as some have relevant topics and active users, while others are idle with less or no updated information.
Therefore, you must get going with the active trucking forum that mostly covers the discussion topics that seem helpful to you. These driver forums are not just for the drivers but also for the owners to be in touch with what drivers face in day-to-day operations.
So, to save you the research effort, here are the six best driver forums for owner-operators:
1. Truckstop.com Community Forum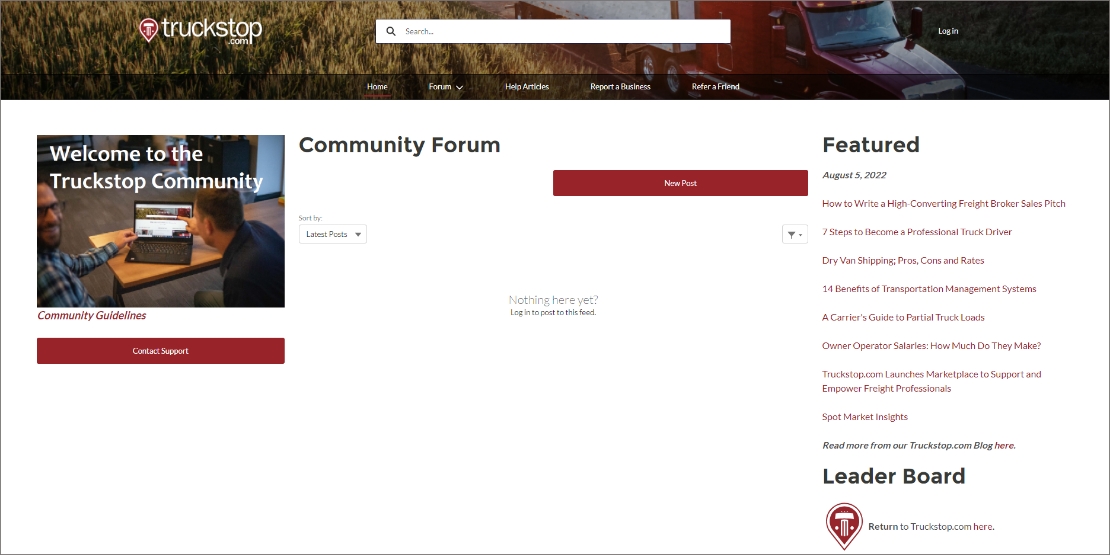 With more than 250,000 active members, Truckstop.com is the oldest and most preferred forum for truck drivers. It is a community forum integrated with the website for drivers and owners to easily look for the information they need.
This forum has member posts and updated blogs to offer guided knowledge to the drivers. Toggle through the categories and access the sub-forums on specific discussion topics to get the answers you are looking for.
2. Trucking Truth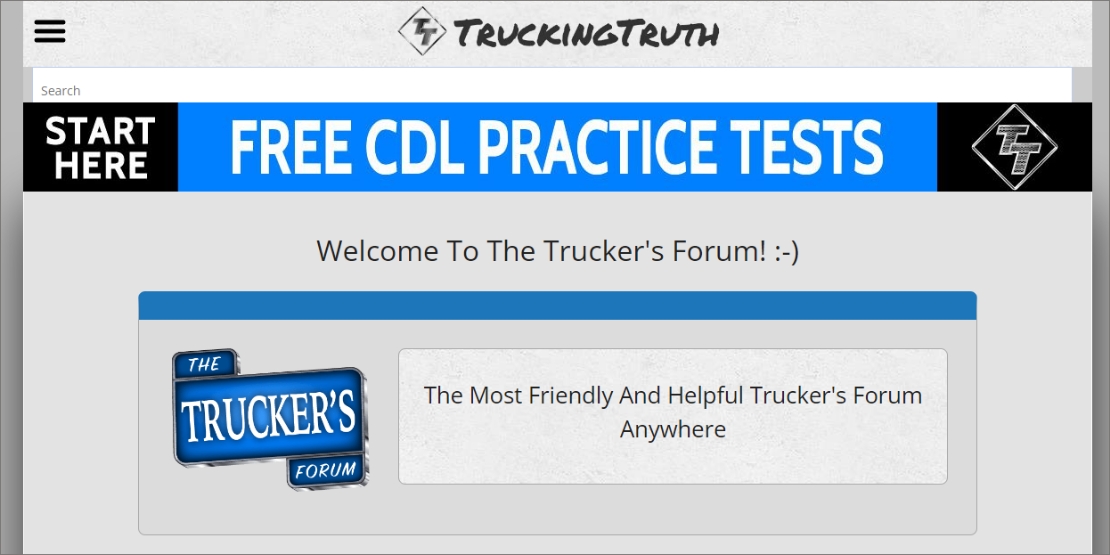 Trucking Truth is a well-organized trucking forum with different categories for drivers and owners to participate in the discussion or collect information. They have CDL, Ladies of Trucking, and Training Diaries as their category boards.
You can also filter a topic and see all its conversations in the past few years. Moreover, there are training videos on the website for you to use as a guide to your concerns.
3. Class A Drivers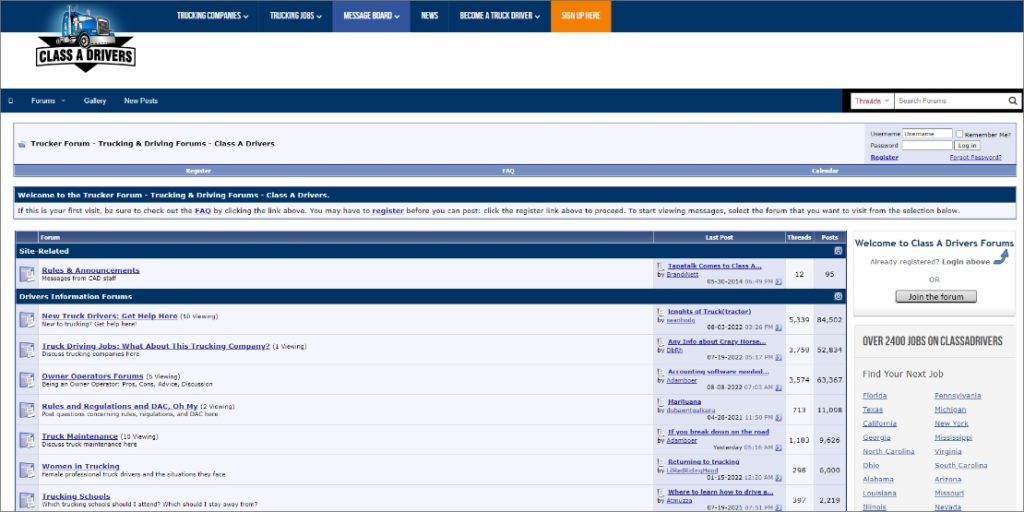 It is one of the most active delivery driver forums with 46,000 active members. The recent posts are always on the top. And Class A Drivers forum has categories such as Employment Resources, Drivers' Information, and Family to organize the discussions among all the delivery or truck drivers.
You get to see who is online and what sub-forums they are in. It will help you direct your questions or discussions with the online members accordingly.
For example, suppose you are an independent driver looking for a team driver to be part of your operations. In that case, you can put your request or look for candidates available to be hired for the same over this forum by choosing the "Employment" category.
4. Quora Spaces
Quora is not a dedicated truckers' forum but a question-and-answer platform where seekers ask questions and experienced individuals leave their answers to share insight.
Even though it is not a specific forum for the trucking industry, many newcomers still rely on Quora to get answers to their delivery driving questions. There are very trending discussions live over Quora that will help the newcomers to this industry.
5. ExpeditersOnline.com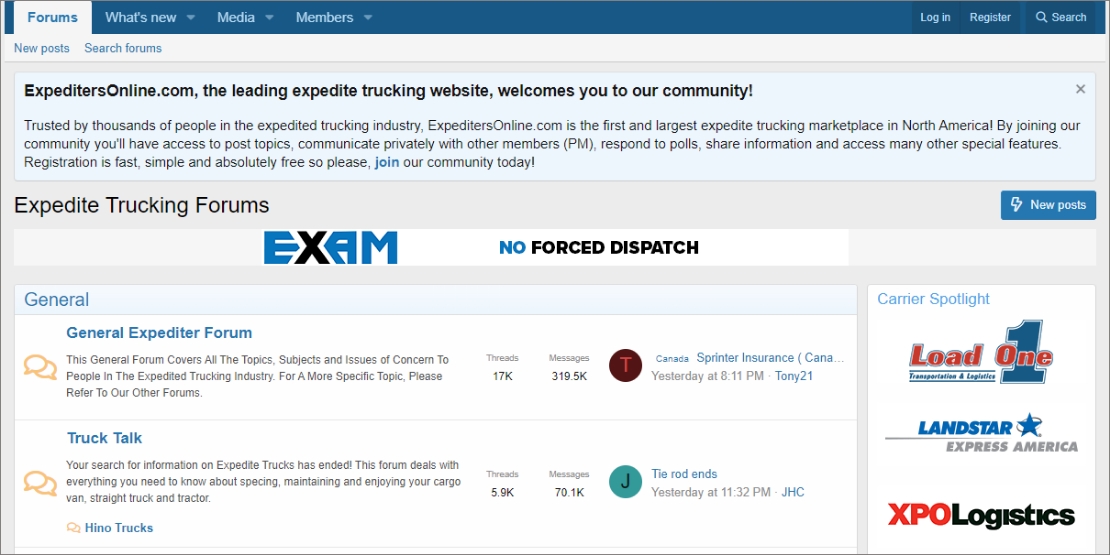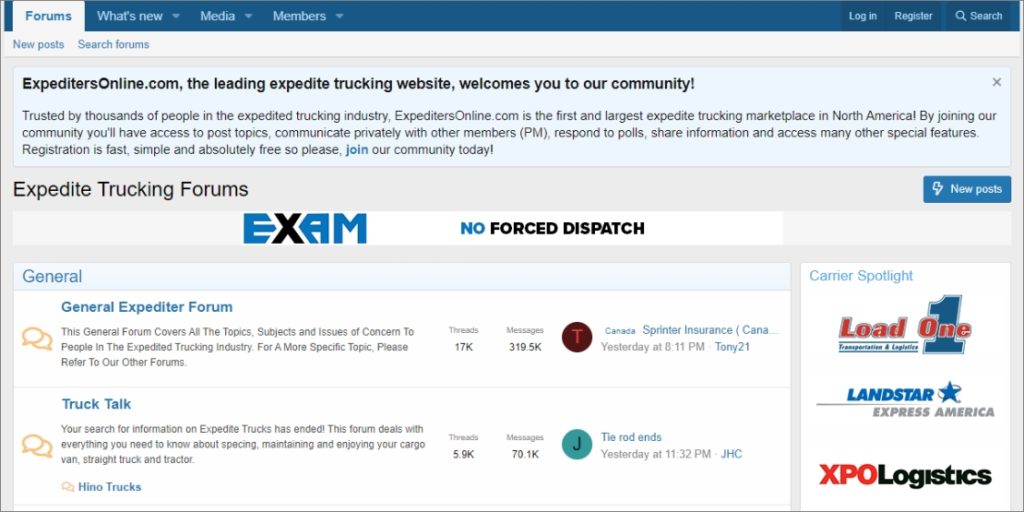 The forum page of ExpeditersOnline started in 1999 and has over 22,000 active members. The current thread count on this trucking forum is 56,000 and has more than 730,000 messages.
Truckers and delivery drivers can check how recent a message is and connect with online members. Irrespective of whether you are signed up with the services of ExpidersOnline or not, you still have access to their forum.
6. Team Run Smart
Team Run Smart is yet another popular forum for truck drivers. It currently has more thanthe 69,000 members, and majority of them are trucking companies. So, you will always have someone to help and guide you with the solution you seek.
Team Run Smart is divided into three sections: Business Smart, Live Smart, and Truck Smart. You can also consider it a blogging or podcast platform where you get elaborate explanations on specific topics.
Most of the video and text content are created by real drivers or the professionals at Team Run Smart. The members of this forum are requested to post helpful comments with a blog discussion idea. Someone might provide a solution in the comments, or Team Run Smart might create a blog on that topic with a solution to help fellow truck drivers.
How Does Upper Route Planner Streamline Service Operations for Delivery or Truck Drivers?
Upper Route Planner is a helpful software for a truck driver. Just like you, we are also on most of these trucking forums to study and determine the root problems of truck or delivery drivers.
We have mostly found people complaining about how their routes were longer and not planned. There are numerous problems listed on these forums stating the inappropriate routes.
Upper Route Planner is the solution to all route-related hassles. It creates an automated route, the shortest possible option for multiple stops. You can seek optimization of the automated route, even after it is prepared to set the priority deliveries.
Automated notifications will enable the customers to give them tracking details of where the package is. So, the drivers needn't worry about attending customer calls to confirm their status at the moment.
Whether you are a firm or an independent driver, you can work with Upper Route Planner. Go ahead with our 7-day FREE trial of Upper Route Planner and explore its features to decide on the profitability it can generate for your brand.
No Unnecessary Stopping for Drivers
Now complete your delivery assignment without making unnecessary stops. Get an Upper Route Planner for effective routes and reach the delivery location quickly.
Get Started Now

FAQs
An online driver forum is an informative resource for truck drivers or delivery companies. They use it to gain knowledge from the experiences of others. These platforms consist of discussion threads on specific topics and also promote new discussions from active members at all times.
A truck driver or a delivery company can access the forum to get answers to their industry-related questions. Different forums have varying categories that they specifically focus on. Depending on that, you can choose the forum that answers your questions on employment, drivers' training, or others.
Yes, one can use a Facebook group and Reddit for trucking information.
Forum discussion is a meeting where you can exchange opinions and ideas on specific topics. Such discussions are called community conversations, where the experiences of an individual or a business becomes a guide for a newcomer to the industry.
The things that you must consider on priority while choosing your driver forum are:
Active users:

More active users will ensure that there is a frequent flow of daily posts.

Easy navigation:

The website or forum home page should be easy to navigate.

Mobile-friendly design:

Most drivers or businesses will access the forums through mobile phones. So, the forum website should have a mobile-friendly design.

Up-to-date

: The information on the forum website should be latest. The discussions should be based on what is happening currently on the ground.
Summing Up
Trucking or delivery forums cover almost all topics that you can think of. You must look for the right thread under relevant categories in a reputed forum. Individual delivery drivers leverage the maximum potential out of these forums by acquiring delivery opportunities from companies.
If you are a delivery business owner, you can also post your driver requirement under the employment or equivalent categories on these forums. Mention your requirements, and eligible candidates will get in touch with you.
The most common problem of truckers, as discussed in many threads in these forums, is the lack of optimized routes. Upper Route Planner offers an automated mapping solution for delivery routes to solve this hassle.
It allows you to add multiple stops in a single route to set the shortest path for completing all the deliveries. The algorithm considers all the traffic and road construction aspects while deciding on the routes.
Ultimately, you save your fuel costs and time, improve on-time delivery KPI, ensure customer satisfaction, and get off the duties sooner. These perks are something you would love to implement in your firm or delivery driving career. So, go ahead and buy your subscription for Upper Route Planner.