By now, GPS systems are a popular feature, either included in each vehicle or available as an add-on post-market. One part that you might hear about from time to time is multi-destination routing. This is the ability to have multiple destinations in one optimized route. You enter more than one destination point, and the GPS will ask which one is to be the final destination, then plans the trip based on the most optimal route in order.
Some GPS systems can plan a route around multiple destinations automatically. Two manufacturers have implemented this technology into their GPS devices. These companies are well-known in the industry and manufacture many of the tools drivers purchase every year. Therefore, we decided to title this article "Rand McNally vs. Garmin Multi-Destination Routing." This is where we're going to compare some of the top products so you can pick the routing system that's right for you.
Features to Look for in a GPS
Before we get started, there are several features that one may want to look for in a GPS. The list below is a sample of features that one may want to look for, but it is by no means exhaustive:
Identifying Speed Limits: Knowing the speed limit for vehicles is critical to avoid tickets, of course.
GPS Navigation System: The primary feature for users is to know the directions.
Traffic Information: GPS systems collect traffic flow data from observation points and offer real-time traffic alerts.
Screen and Display Settings: Access to a variety of settings. Examples include the display of distance, unit choice, and others.
Waypoint and POI Identification: Look at the database of places and POIs installed, for instance, the nearest gas station or even knowing where to find specific landmarks and buildings.
Highways: Information on the position of primary and secondary roads.
Driver Properties: A device may offer a person control over the driver settings; this means users can use their profile for each drive.
Smartphone Integration and Alerts: Some may want to have integration with a smartphone.
Performance: It is safe to assume a user wants the lowest number of errors and problems possible.
Frequent updates: A function of the high-quality device is a constant update scheme. Without this frequency, maps can get out of date, which leads to poor directions.
There are more features and considerations to take into account. We have written a few articles on these topics, including the one below.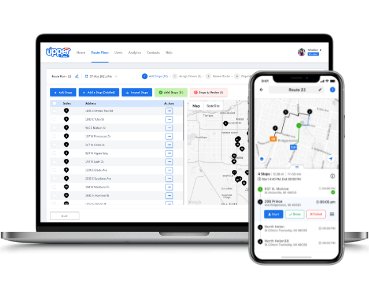 Upper Route Planner
A Simple-to-use route planner that every one is talking about.
Save up to 95% of planning time
Save up to 40% of time on the road
Plan 500 stops at once
Rand McNally – A Closer Look
Rand McNally is a company that specializes in navigation and mobility technology. Founded in 1856 in Chicago, Illinois, it is one of the oldest technology companies in American history. It delivers innovative products and services with the utmost quality, efficiency, safety, and connectivity. The company does not disclose its revenue, but it has a 50% market share in GPS truck systems and 60% in the RV category.
Rand McNally has plenty of products on the market, all categorized by use (Trucking, Commercial, RV, etc.):
In terms of its trucking GPS systems, its most popular device is the TND 740. It features a trip planner that lets you see complex upcoming junctions, live traffic, live weather, custom warnings for road hazards, and even calculates tolls for the most optimized routing—this a great way to blend GPS with route optimization.
The Rand McNally Road Explorer 7 is one of the top-selling systems for cars. It has advanced lane guidance, calculates tolls, and allows you to choose between primary and alternate routes. You can even use it to calculate fuel economy. Systems like this are great, but they can run you a lot of money.
In all of Rand McNally's GPS systems, you will find simple and easy-to-understand user interfaces:
Select the "Choose Destination" option, then click "Multi-Stop Trips."
Select "New Trip," then enter a name for your trip to save it.
From there, you open the folder for your trip and save as many addresses as you need. You can add new addresses by search, from your history, from an address book, or search for points of interest.
Garmin – A Closer Look
Garmin is another company that is famous for its navigation and mobility technology. This company is not as old as Rand McNally, but it should not be considered any less influential. It specializes in GPS technology for automotive, aviation, marine, outdoor, and sports activities. Its market share is slightly smaller, around 15% for automotive and mobile, but its smartwatch devices had a 52% market share in the outdoor and fitness market in 2019.
Garmin has plenty of products that are also top-of-the-line:
The Garmin Nuvi has several models (some are discontinued, but some are still widely available) and are very popular among new GPS owners. For instance, the Nuvi 2539LMT is popular and has lifetime map updates, traffic updates, lane guidance, and comes in two sizes (5″ and 6″).
The Garmin DriveSmart 61 NA LMT-S is a more advanced model with live parking, Bluetooth, voice activation, smart notifications, and plenty of other advanced route planning features. As said before, a system with this many features is very convenient but can get very expensive. The Garmin Drive series has a trip planner app that trip planner app can utilize for preplanning routes with multiple destinations. For specific questions related to the software, you can check out Garmin Support Center. It is a great resource.
Garmin's trip planner technology is so advanced that you can input new locations while you're already en-route to your original location:
Start the GPS and set your first stopping point.
Once you have started the trip, you can go back to the first menu and add another stop to your trip the same way you added the first stop.
The Garmin trip planner will ask if you would like to set the inputted address or location as a new destination or a via point; select "Via Point," and it will add the new stop between your starting point and the final location.
Alternatives: Route Planning Apps
For a lower price, there are other GPS routing options. The simplest and cheapest would be a route planning app. Upper Route Planner is an example of a route planner that lets you create a route with multiple addresses to execute that route. It is primarily marketed toward delivery drivers and courier services, but anyone can use it. Unlike a GPS device, you don't need to purchase a third-party product to start routing. Sign up with an email address, set your start point, and be on your way. The map is highly intuitive and lets you input destinations while already on your way, so if you need to search for gas stations or rest stops, it's not an issue.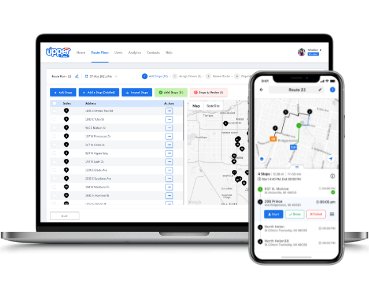 Upper Route Planner
A Simple-to-use route planner that every one is talking about.
Save up to 95% of planning time
Save up to 40% of time on the road
Plan 500 stops at once
FAQs
The route optimization technology will then take all of this data and create the most direct route to all of your destinations. While you're driving, the GPS will show a map of where you are and where your next stop is, just like any GPS.
The GPS will show you a live map of where you are and where your waypoints are so you have an overview of your entire route. They even offer Garmin Traffic, a service that gives directions with detailed and up-to-date traffic maps to avoid congestion!
---
Take a Look at Prospective Options
Purchasing a GPS device can be expensive, especially if it's a GPS with route planning. Using an alternative route tool such as Upper might be a better option for you. It allows you to set up a map with multiple routes for optimizing your path at a lower price. You can create a multi-stop trip convenient for small courier companies, truckers, those in fleet management, etc.
Overall, if you're in the market for a route planning device, we recommend using an Upper service to plan your trips before making a huge purchase for a GPS with multiple destination routing.