A good delivery driver is important for any delivery business as you spend plenty of hours providing services. The goal of delivery service is to ensure a smooth process resulting in happy customers.
A bad delivery experience may lead to customer complaints, re-deliveries, and lost revenue. To retain your customers and keep your business profitable you want deliveries to be quick and professional.
But how to be a good delivery driver? The answer is simple – by following best practices.
Whether you are new to the industry or have been a delivery driver for years. The below tips will help you to become a good delivery driver.
9 Effective Ways to be a Good Delivery Driver
Multiple strategies can be followed to be a good delivery driver. However, we have filtered the result-oriented 9 best ways.
1. Know your responsibility
Not everyone can be a great road driver at every point. Some drivers speed; some drift into other lanes while texting–and others try to keep too close or make sudden changes without signaling.
According to the NETS, accidents in the United States cost employers over $72.2 billion in expenses like liability, medical care, and lost productivity.
You can't control the irresponsible actions of other drivers, but you should divert the danger caused by other drivers' mistakes. Following different defensive protocols can help you become a responsible driver during delivery operations and avoid mishaps or road rage.
For example, you should use hands-free controls for accessing mobile phones while driving and focus on setting navigation before starting a trip.
Also, responsible and good delivery drivers avoid distractions like chatting on the phone, eating, texting, or changing the music while driving. You should detect aggressive drivers, be quick in predicting what they might do, and make the modifications ahead of time.
It can help you minimize the chances of accidents, traffic jams, or other time-wasting incidents that hinder smooth delivery operations.
2. Prioritize the safety of delivery orders
A successful delivery service relies on safe driving and on-time delivery operations. You should ensure that your employer retains their customer because of safe delivery completion.
Take special care of the delivery packages during transportation and effectively handle fragile delivery orders. Ensure customer satisfaction by avoiding breakage or damage to the delivery orders.
If the customer receives a damaged product, they'll file an order to return, increasing the pressure on the delivery companies and shrinking the profits. Chances are you won't get great incentives or decent payouts after completing your service delivery.
3. Be aware of your delivery vehicle
Being a good driver is a necessary skill for a delivery job, but you should also know how to deal with your vehicle if something goes downhill.
Good delivery drivers know how to operate their vehicles and how to react in case of emergencies. So, keep the details and current scenario about the delivery vehicle in your mind at all times.
Ask yourself:
Is the delivery vehicle powerful enough to carry out overtaking safely?
How hard do you apply the brakes to stop the vehicle completely?
Is the company vehicle fitted with anti-lock brakes (ABS)?
Understanding the vehicle and handling minor difficulties will be essential when you're on the road. It will help you save time and effort during your delivery operations. Also, it can maintain your vehicle in good condition.
Even if something unfortunate happens during the delivery operations, you should be prepared to handle the situation and ensure on-time deliveries for a better customer experience.
4. Deliver customer satisfaction
An important aspect of your delivery driver skills is effectively delivering the end product. You should ensure a great customer experience to help the business grow because you represent the delivery company.
Be friendly, give attention to the details, and improve your skills to deliver excellent customer service.
With increased competition in the delivery industry, customers won't hesitate to switch to another brand if they are unreliable, don't get the correct orders, or have poor communication skills.
Strive to be patient and calm, and leave a positive impression even if you face a difficult customer. Keeping customers aware of delays and updating them with real-time ETAs is a great method for elevating your deliveries.
Sometimes even a modest gesture makes a difference. For example, use digital proof of delivery or e-signature apps to make the process more convenient. Use a professional delivery route planner like Upper to provide real-time ETAs to your customers and take digital proof of delivery.
5. Avoid late arrival
Everyone's time is valuable, and customers appreciate it if you don't waste theirs. On-time delivery should be your top concern, but sometimes traffic and poor weather can derail even the best thought-out plans.
You can use a professional route planner like Upper to get the optimized and fastest routes to process your day's delivery schedule.
Nothing beats delivering an on-time package and seeing a customer smiling at the door. You have to ensure you're punctual; that's one way to keep them happy with your service.
Timely delivery shows that you value your customers' time and can be trusted for future delivery orders.
6. Organize your work
If you don't organize your day or your routes, it will become hard to build a successful delivery driver's career. Many delivery drivers enter the industry expecting the work to be straightforward and become overwhelmed quickly.
Many new delivery drivers believe they'll drive around, complete a couple of deliveries, and then return. But in reality, you won't be making a few deliveries per shift. The number will be higher, which increases the importance of being well organized.
If you don't organize your work time efficiently, it'll result in a poor customer delivery experience and loss of money.
7. Win your client's trust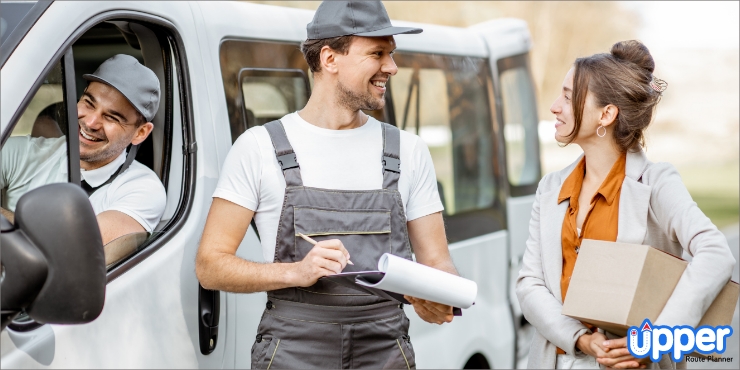 Being transparent with your employees and maintaining trust and healthy relationships are necessary for long-term work associations.
You should have high ethical standards to ensure you build a successful delivery driving career.
For example, don't use corporate vehicles for personal use, don't deviate from the prescribed delivery route, and ensure you're not slacking during work hours.
Also, be honest with your customers and don't fool around. Avoid making lousy excuses in case of late deliveries or other scenarios.
Honest and excellent communication skills are vital, and you should have a positive attitude and confidence while handling your delivery operations.
8. Do performance analysis
The only way forward to a successful delivery service is by improving your delivery operations and optimizing your existing delivery results.
Using professional delivery optimization software can help you analyze your delivery history and examine different metrics to understand your overall delivery results.
Utilize your delivery time most efficiently and effectively and ensure you unlock your best potential to rise the ranks in your career.
9. Switch to an automated route planning process
Effective route planning can help you remove the guesswork when you are behind the wheel and processing the delivery operations.
Planning your delivery routes beforehand can increase delivery efficiency and ensure on-time deliveries by avoiding traffic jams.
Generally, drivers rely on manual route planning processes and fail to deliver great results during the delivery execution. Manual route planning delivers inaccurate results, increases the chances of human errors, and doesn't provide detailed delivery operation reports for optimization.
Therefore, it is better to use a professional route planner like Upper to streamline your delivery operations and get shorter and optimized delivery routes within a few clicks.
The delivery route planner can help you keep track of your delivery schedule, analyze your daily performance, and help you get digital proof of deliveries as well.
Checklist for Delivery Drivers
You must follow the good delivery driver checklist to ensure you improve your delivery driver operations and minimize the inefficiencies in your delivery operations.
1. Check the delivery vehicle condition
Before hitting the road, you should thoroughly check the vehicle's condition to avoid delivery troubles and hiccups. Check the brakes, fuel tank, engine oil, clutch, and other important aspects of a delivery vehicle.
The initial check before you start your delivery operations can help you process the delivery order on time and without trouble. Set up routine maintenance to improve the life and efficiency of your delivery vehicle.
2. Keep delivery instructions in mind
You should follow the instructions provided by your management team or the delivery route planner to increase your output efficiency and streamline the business flow.
Don't deviate from the instructions or path dedicated route planning delivery apps provide. Deviating can increase the chances of untimely deliveries and leave a poor customer experience.
3. Communicate with the management team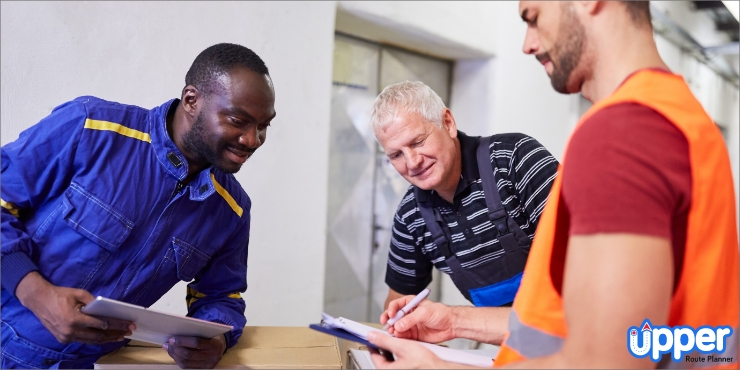 Remain transparent with your team and provide detailed information about the on-road situation. Communicate with the management team if you get stuck or face troubles during the delivery operations.
Minimize the friction and increase your work effectively to achieve your desired delivery results.
Following these checklists can enhance your overall delivery results and minimize your troubles. Now let's check the effective ways to become a great delivery driver and improve the customer experience.
Enhance Your Driving Performance With Upper
Upper Route Planner is an excellent delivery route planning and optimization software that helps you increase your delivery operation efficiency in a short time.
You can use Upper to schedule your daily deliveries, follow optimized routes and get digital proof of delivery once you deliver the product to the buyer.
The software can help you manage hectic delivery schedules and offer a better user experience to your clients.
You can manage multiple-stop deliveries with fewer hassles and achieve great delivery performance results by taking a closer look at delivery reports.
You can analyze your delivery reports and take necessary action for better business results.
Try the 7-day free trial and utilize the powerful delivery route planner for a successful delivery driver career.
Get Fastest Driving Routes On Upper
Take the stress out of route planning while performing multistop deliveries. Let Upper help you reach your location quickly by providing efficient routes.
Find Optimized Routes Now!

FAQs
Being a delivery driver, you should follow the basic checklist to minimize errors and inefficiencies during delivery operations. You can integrate a professional delivery route planner into your operations to maximize efficiency and automate the processes of delivery scheduling and route planning.
You require multiple skills to become a professional delivery driver, as mentioned below:
Having good communication skills

Being organized

Great driving skills

Being disciplined
Delivery driving tasks require multiple skills and professionalism from an individual. But it can get hectic and stressful if you don't have professional software integration or don't love your job. You should only choose the profession if you like driving and want to make a living while delivering products to the customers.
Yes, the delivery driver career can be great for you. The average delivery truck driver's salary is around $37,050 per year. If you can optimize your delivery operations, you can scale up to $50,000 annually. But if you want to work as an independent operator with food delivery companies, the average payout can range between $10 and $20 per hour.
You can improve your delivery driver operations by integrating professional route planning software and automating the route planning task. You can use the software for job scheduling and managing your delivery operations. The software can also assist you in tracking your delivery history to streamline your operations and achieve maximum efficiency with your results.
Takeaways
A good delivery experience can help to convert your clients to permanent customers. But, being an independent delivery contractor comes with many challenges like manual delivery route planning. Following these 9 tips will ensure to build a long-term relationship with your customers.
Hence to resolve these issues the best option is to adopt a route planner like Upper. Upper helps to streamline your delivery operations, change the delivery results and accomplish the business goals. The software also ensures making deliveries on time for a better experience.
To learn more about the features of Upper Route Planner, you can book a demo now.