The global gig economy is a $204 billion industry, with 40% of workers in the U.S. generating a significant portion of their income through the sector.
So, what does that mean for you as an independent contractor? It means many jobs for people who desire the flexibility to work on their own schedule. One such job is to become a Grubhub delivery driver.
Food delivery is expected to grow by an annual rate of 8.90% between 2022 and 2027, resulting in a projected market volume of $96.50 billion by 2027. That's a lot of money and opportunity for people looking for food delivery service jobs.
If you're ready to join the growing number of people leveraging flexibility and money, then you must know how to become a Grubhub driver.
What is Grubhub?
Grubhub is one of the most popular food delivery apps in the United States that allows you to order from thousands of local restaurants and delivers your meal directly to your door.
Grubhub was founded in 2004 and is based in Chicago, Illinois. It has since expanded to over 1,500 cities across the country, with more than 80,000 restaurants on its platform.
The company currently employs over 7,000 people nationwide, more than double its two years ago.
What is the Role of Grubhub Delivery Drivers?
Let's briefly look at the role of Grubhub drivers providing food delivery services:
Grubhub drivers are their own bosses. So, you work in various capacities, including delivering food orders, making grocery store deliveries, and taking care of restaurant pickups.
As a Grubhub driver, you'll be responsible for delivering food from local restaurants to customers. You'll also be responsible for ensuring the order is correct and that the customer receives their food on time.
You are also expected to be friendly and upbeat in your customer interactions as you'll be representing the Grubhub food delivery platform.
Grubhub Driver Requirements
Here are the driver and vehicle requirements to become a Grubhub food delivery driver:
Driver Requirements
1. A car or bike in selected areas.
2. A valid driver's license and auto insurance for drivers.
3. A Valid state ID.
4. Valid driver's license if you're using a motor vehicle.
5. A smartphone that can run the Grubhub app.
6. All drivers must pass a background check to ensure that they can provide excellent customer service, customer safety, and comfort.
Vehicle requirements
Similar to other delivery apps, if you're ready to be part of the Grubhub family, you need to meet these requirements:
Your vehicle must be a car, truck, or van no more than 20 years old. It also needs to be in good condition with no cosmetic damage.
Your vehicle must also be free of commercial branding.
You can begin the sign-up process online if you meet these requirements and want to become a Grubhub driver. The sign-up procedure is simple and will only take a few minutes of your time.
How to Become a Grubhub Driver?
In order to become one of the Grubhub delivery drivers, you must apply on the Grubhub website. Here is the step-by-step guide for you.
1. Sign-up with Grubhub and apply
If you want to drive for Grubhub, you must prove that you meet the minimum requirements. You're qualified if you can prove your passion for delivering food and submit the required documents.
Visit the Grubhub website and click on the blue button. You will be asked to submit your driver's license and vehicle insurance card.
2. Ensure you have a vehicle
To be a Grubhub app driver, you must stick with the discussed vehicle and licensing requirements. You must have a vehicle that fits the requirements. Having a car is ideal, although some areas allow the use of a bike. But it's best to check with Grubhub's website to see if your site is one of them.
3. Cover your vehicle with insurance
You must apply for a driver's license with a two-year validity and active car insurance.
The first step is to ensure your driver's license is valid for at least two years and that your car insurance is active.
Then, go to the Grubhub website and click "Apply Now."
4. Choose your working hours
One of the advantages of working as a Grubhub driver is you can control your own schedule.
You can decide when you want to work and how many hours you want to work each day. Make sure you schedule blocks of time that work with your life and your family's needs.
When it's time to start delivering, head to the website and toggle Taking Offers!
5. Fill up payment details
Your balance will be sent directly to your bank account every Thursday if you choose to be paid through direct cash deposit.
If you choose Instant Cash Out, you can make money daily instead of waiting for Thursday weekly.
Optimize Your Routes for Grubhub Delivery
Get the most optjmized delivery routes with Upper Route Planner and get home earlier.
Try Upper for Free

Pros and Cons of Becoming a Grubhub Driver:
If you're already a Grubhub driver, you know this gig has many advantages. But if you're still on the fence about becoming a Grubhub driver.
Pros:
Extra Money: With Grubhub for drivers, you can make extra money and treat the job as a side hustle.
Immediate, competitive pay: You can set your own hours and choose how much time and effort you want to put into your job. You get paid immediately after each delivery.
Meet new people: Driving for Grubhub is also a great way to meet new people from all walks of life. Whether driving through the city or delivering to an office building, you'll have the opportunity to meet new people daily.
Low age requirement: By allowing people as young as 19 to work for them, Grubhub guarantees that you can make money with their food delivery services quickly and easily.
Career growth: When you sign up to be a Grubhub driver, you can be confident that there will always be plenty of customers ordering food through the app and that there will always be plenty of restaurants in your city.
Cons:
Wear and Tear on Your Vehicle: You're responsible for maintaining the interior and exterior of your car. It can be costly, especially if driving an older vehicle requires frequent repairs.
Compiling with taxes: As a self-employed worker, you must file quarterly tax returns with the Internal Revenue Service (IRS).
Inconsistent pay: You can earn $20 an hour in one week, then $6 the next. Your earnings fluctuate based on how many orders you get, how many of them you accept, and how long it takes you to deliver those orders.
Penalty for missed orders: If a customer places an order but then cancels it before you arrive, you still have to pay for gas to drive there and back. In traffic, the customer might assume it's your fault and leave negative feedback on your profile.
Dealing with a difficult customer: You'll have to deal with multiple customers every single day. And some of them might turn out to be a little difficult. These situations will test your patience and teach you not to take everything personally.
Also Read: How to become a Walmart Spark driver?
How Much do Grubhub Drivers Make?
Now the question on your mind is, "how much do Grubhub drivers make"? Well, Grubhub drivers can earn $12-20 an hour, which means Grubhub drivers can earn $23,000 – $40,000 per year. The more proficient you become at driving, the more you can earn.
Drivers are paid a flat rate of $3.50–$4 depending on the market, plus $0.50 per mile from the restaurant pickup to the delivery location.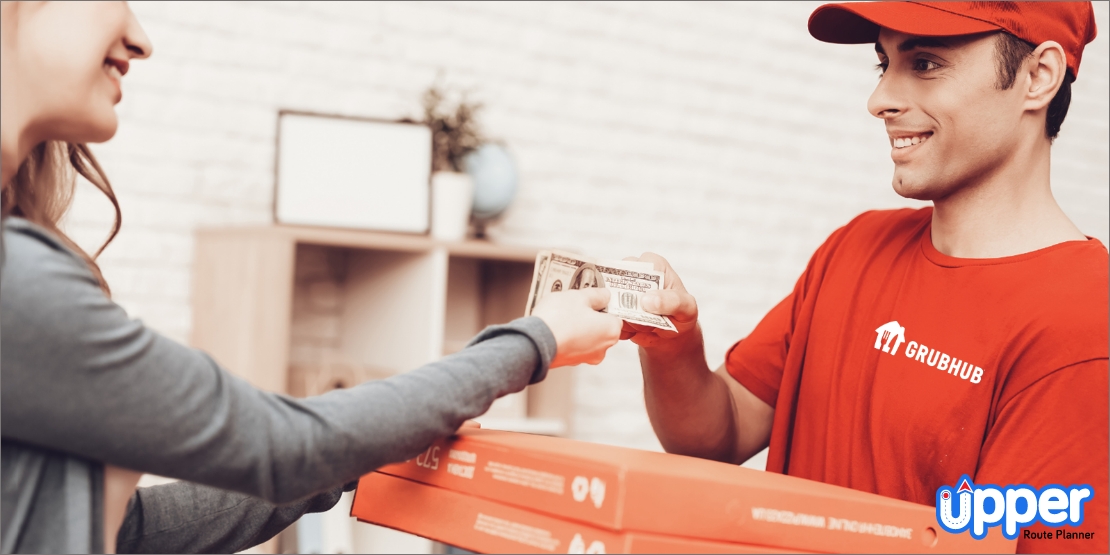 As a Grubhub delivery driver, you'll earn money for each delivery you complete. The more orders you complete, the more money you'll make.
The amount delivery partners earn will depend on a few factors:
How far away is the customer?
What kind of order they're placing (pick-up or drop-off)?
How big is the order?
Grubhub also offers drivers bonuses and promotions so that you can earn even more money on top of your base wage and tips. The average Grubhub driver makes under $17 per hour.
They also get 100 percent of tips left by diners, which are automatically added to your order by Grubhub's app.
On top of that, drivers who meet specific requirements can earn guaranteed pay up to $10.50 per hour worked, which means that you'll always get paid for your time behind the wheel!
Find Optimized Driving Routes Easily on Upper
As a Grubhub delivery driver, you know that every second counts. And when you're on the clock, it's imperative to get where you're going as quickly and cheaply as possible. Upper Route Planning and Optimization Software is explicitly designed to achieve the same.
With Upper, you can optimize your delivery routes with just a few clicks. Not only optimize routes but also dispatch and share them with drivers simultaneously.
Upper Route Planner will help you:
Save time by avoiding traffic jams and finding the best way to get to your customer's location.
Save money by finding the quickest possible route to deliver food with the lowest fuel usage.
Set up multiple stops on each route to maximize deliveries per hour.
Set delivery priorities
At Grubhub, the most critical part of our job is ensuring you get food on time to your customer's location and stay satisfied with your delivery experience.
That's why we've made it easy for you to mark your food deliveries as low, medium, or high priority, so you can keep your food hot and fresh throughout your delivery.
We also know that no two deliveries are alike, so we've built-in options for adding multiple stops or even adding special notes about the order or service time for yourself. It's important to us that you have all the tools you need to do a great job!
Optimized routes within seconds
As a food delivery driver, you know that your service quality is directly related to your ability to deliver on time. Unfortunately, it's easy to get distracted or complacent when providing something as simple as food.
Using Upper's sophisticated algorithm, it will be easier to plan and optimize your routes in a jiff.
Delivery proof
Upper enables you to record proof of delivery via e-signatures and photographs of successfully delivered items. This inevitably increases your accountability and reliability in your management's eyes.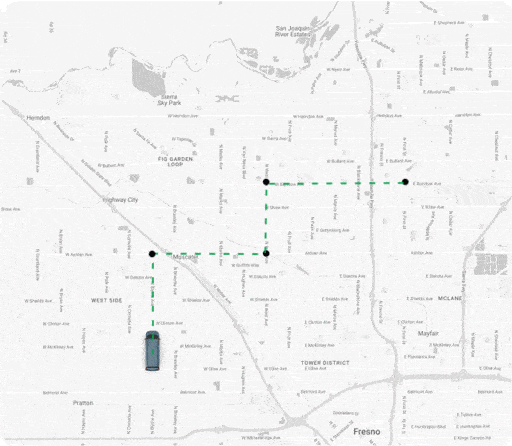 FAQs
Grubhub drivers don't get paid every day. Instead, Grubhub pays once a week via direct deposit.
If you want to get your money faster, you can sign up for Grubhub's Instant Pay program. With this program, you can cash (instant cash) out your earnings each day—which means that instead of waiting until the end of the week to get paid, you could have your payments in your account as soon as tomorrow!
Delivery partners don't have to wear uniforms while delivering. You can wear what you want. But please make sure you are wearing PPE that is per CDC guidelines.
There are three levels: Partner, Pro, and Premier.
You need to complete 20 or more deliveries to get a program level. Past 30 days deliveries are taken into consideration for the program level. The program levels are updated every Monday.
Conclusion
For food delivery partners or aspirants, a well-established company like Grubhub may be the perfect fit.
Grubhub drivers are typically 19 or older and have a valid driver's license, clean driving record, and iPhone or Android mobile device. You don't even require any previous delivery experience.
Grubhub drivers earn money by delivering food from restaurants to customers. When you drive for Grubhub, you enjoy a flexible schedule, direct deposit of your delivery earnings every week, competitive Grubhub pay, and more.
To prove your worth when driving for Grubhub, you must stand out. That's where route planning and optimization software like Upper comes in. Upper helps you with efficient routes so you can spend less time on the road. Don't just believe us, try a 7-day free trial.