In any business, it's critical to act strategically. The success of a company will depend on its ability to generate profits and grow. A vital part of that process is planning. Whether you're a salesperson earning commission or a company that relies on professional salespeople to drive profits, finding ways to optimize this process is crucial.
This article will answer the frequently asked question, "What is Sales Routes Planning?" Many articles, such as this one from Chron, talk about how to plan a sales route. In this article, we want to give a concise yet useful view of how you can enhance logistics with a better plan. The purpose is to increase efficiency and productivity. Let's get to it!
The Basics of a Sales Plan
In the simplest terms, what we are talking about is the process of determining the order in which you'll head to specific destinations that are most efficient. For example, if you needed to visit five clients in different parts of town during a workday, planning the most efficient route would involve selecting the order that you'll head to each one.
The goal of a route plan is to find an optimized path. Usually, there are several factors to consider for sales route planning, including proximity of the destinations to each other, traffic patterns throughout the day, and similar things that could impact how quickly a salesperson can move from one spot to the next. The more efficient that one can quickly gather data, map their stops, and execute, this means more customers, and ultimately more money, sales revenue, and profitability.
The Many Ways to Optimize Routes for Sales
Usually, you can focus on a few approaches when you plan and optimize your selling efforts.As written in this scholarly article,there are many ways to optimize or create the fastest route using algorithms. The first option is to use the "shortest distance" algorithm. A tool will take the data inputted and create a map with the shortest path that does not require backtracking. This limits total mileage that the rep covers.
The second approach concentrates on time optimization. For example, UPS doesn't always take the shortest route when making deliveries. Instead, they choose paths that limit the need for left-hand turns. Left-hand turns aren't only considered unsafe; they also lead to more idling, traffic build-ups, and delivery delays. By focusing on right-hand turns, the route moves faster while reducing accidents, saving fuel, and more.
Optimization is not a simple task. There are many other data points to consider. For instance, a user could want to consider other data such as toll roads, traffic updates (and other relevant data). Then an algorithm will map the best route according to these parameters.
In some cases, one route gives you both benefits. Since these routes aren't as intense as package delivery ones, it's possible to optimize distance and time.
Plan quickly, deliver faster, delight customers and get home early.
Everyone deserves to have simple and easy route planning.
Why are Planning Routes Important?
The Importance of a Solid Approach
Without a proper approach, a salesperson might not have a fully optimized day. They may select destination addresses on a whim or based on criteria other than what is ideal. In some cases, they could hesitate to settle on a place to go. That means they are wasting time trying to determine where to head next.
Cumulatively, the issues above could make it more challenging for them to finish their tasks for the day promptly, ultimately hindering productivity. In the worst-case scenario, it may lead to missed appointments. Not only does this mean failing to seize a potential opportunity, but it also harms the company's reputation.
That's why a plan is so vital. By having a plan, you can avoid all of those potential issues on a map, making any time spent managing those logistics worthwhile.
Benefits of Proper Implementation
When you accurately map out your sales route planning, you accomplish several goals. First, you can select efficient paths. It will take less time to hit all destinations, allowing salespeople to spend more of their day focused on profit-driving activities.
Second, it automates part of the sales rep's day. They don't have to spend time deciding where they will go and when. The sales route plan already has that figured out. Since they are spending less time choosing where to head, they can redirect their energy elsewhere. They can spend more time speaking with clients or pursuing new ones. More of their day could be spent on lead generation, allowing them to connect with more potential buyers.
The third benefit is more from an organizational standpoint. Field sales managers can get sales insights for accounts, calendar integration, payment processing (such as Apple Pay, and google payments), website access service, schedule by territory, track solutions, and resources.
Finally, if properly implemented, there can be support and learning for the field salespeople, such as sales tips, sales process reviews, training videos, and services like digital meetings.
When is it Necessary?
The only time where you need to create optimized route plans aren't necessary is when the number of destinations and activity is incredibly low. For example, if your salesperson is familiar with the local area and is only heading to three places, they might not need a formalized plan or efficient routes. Their knowledge alone may be enough to develop a reasonable order.
However, if your sales rep is new to your city, then it's often smart to do some sales route planning or mapping stops even if they are only doing a call or two. Mapping routes can help them with turn-by-turn navigation in an unfamiliar area with greater ease. Plus, it will help them get over a tedious process and achieve maximum efficiency, and that can make them more economical over time.
Sometimes you want a map view, add notes on the areas you want to visit, and to have apps to log history of activity. So this may still warrant the use of a device and apps (such as the ones available on Mac, or Android). In some cases, a spreadsheet may be adequate.
Choosing The Best Route Planning Software
For most companies and sales reps, it's clear that planning enhances productivity and saves time. However, it is not always easy to choose the right solution to make planning your routes simple.
Ultimately, you have several sales route planning software to choose from, each with its advantages and disadvantages. One of the most cumbersome methods is creating a route manually. Usually, this involves field sales reps reviewing maps and selecting a destination order. But, since they don't benefit from real-time traffic data and traffic delays, the results aren't typically optimal.
In most cases, a route planning app is the better choice. For example, you could use Google Maps to plan routes. This approach is convenient since the app is free, and many people use it already. However, while it can create a path, Google Maps isn't adept at optimization as a mapping software. While it may give you the shortest route, that isn't always the best, so it's essential to keep that in mind.
Many specialized applications may be more worthwhile to consider. As a result, it may be better to pursue an option that is designed specifically with business needs in mind. This could include a dedicated sales route planner app or enterprise-grade routing software, depending on the size and requirements of your company. That way, you get a solution that prioritizes optimization and is of an appropriate scale, ensuring your salespeople can reach new peaks of productivity.
For more information, check out: Best Route Planner App in 2020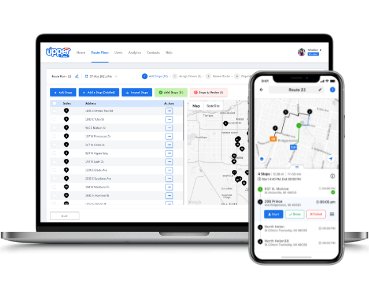 Upper Route Planner
A Simple-to-use route planner that every one is talking about.
Save up to 95% of planning time
Save up to 40% of time on the road
Plan 500 stops at once
No credit card details required
---
Frequently Asked Questions
When you want to do a plan for sales, there are two necessary steps.
Step 1 is to gather the customer data (business names, phone number, CRM data, location) to create a list of leads/prospects to visit.
Step 2 is to use a sales route planner to process that data to create an optimized map of the customers.
Step 3 is for the field activity team to sell, sell, sell. 😉
Sales management routing consists of creating most efficient sales routes for all the sales reps on the field sales teams. After this process, each of the sales teams should have a map of the optimized path for them. They can start visiting the locations of their contacts with the information provided by the mapping tool. Ideally, it would have a smartphone integration as well.
---
Conclusion
Ultimately, great plans will revolutionize your workflow and business. Optimization cannot be understated. Outside sales reps can spend less time on the road and more time working with existing customers as well as prospective customers. We've seen this happen in the United States and San Francisco in particular. It's a simple way to boost productivity and boost your bottom line. We hope we've made a convincing case that this is a must-do for any company or salesperson who wants to maximize their use of time and profitability. Contact us anytime to let us know if we've missed anything or if you want us to cover anything else!