The on-demand services sector has witnessed rapid growth from transportation, food and grocery delivery to even booking your doctor's appointment.
According to the survey by American Community Survey (ACS), the on-demand economy is attracting more than 22.4 million customers annually and $57.6 billion in spending. The primary reason behind this is the companies adopting new technology revolutions and upcoming trends, which bring convenience to customers and move their business productivity to the next level.
Here, we have highlighted on-demand delivery industry trends laying the groundwork for the on-demand service economy in the future years. Let's take a look at the trends.
6 Booming On-Demand Delivery Industry Trends
Before exploring the industry trends for delivery businesses, let's clarify the meaning of on-demand delivery services. The on-demand services make it easy for the users or customers to get what they want and when they want. It may be either a ride, groceries or even a meal. Now, let us highlight the best trends that will enhance the future of the delivery business.
Increasing Workforce in On-Demand Delivery Services

With the increasing popularity of on-demand services, you can start exploring your skills, knowledge, and even resources using on-demand applications. With the help of such on-demand apps, it becomes easy for you to offer regular and reliable additional income and even help to simplify searching for potential customers.

Save Your Valuable Time and Deliver More with Upper Route Planner

Upper Route Planner is a route planning and optimization software that makes it easy for you to create route plans with multiple stops.

On the other hand, your business will be ready to deal with the growing workforce by developing new on-demand apps and providing more service offerings to the customers. On-demand apps have a bright future for your business, and some of the best things about it are:

As per the Harvard Business Report, the on-demand economy is worth around $57.6 billions.
Helps start-up businesses to raise funds and rank better in market positions.
Convenience and ease of use in developing effective strategies for your business.
Possesses strong adaptability to deal with future technologies like AI, machine learning, and even Blockchain to adopt changing market scenarios.

More Industries Will Provide On-Demand Services

Together with the increasing workforce, you'll come across a rise in the number of industries that will join the on-demand service domain.

The best example of such an on-demand delivery business is Healthcare. After the global pandemic, the healthcare industry has added new services by making the first step to use such on-demand apps.

We are also very likely to see the expansion in many leading industries mentioned below.

eCommerce

The global e-commerce industry is expected to reach $16,215.6 billion by 2027. Some key trends hitting or will hit the market in the coming years with such potential growth are mentioned below.

One-time buyers: These are consumers that brands succeeded in acquiring once but could not keep or attract future purchases. As a result, it has become increasingly critical for online retailers and brands to be more aggressive and intelligent to retain and attract customers.
Online selling: The survey by Statista Digital Market Outlook states that by 2025, the revenue from eCommerce in the US will reach 563.4 billion dollars. It is just due to the ease and comforts online shopping provides to the customers. Also, mobile apps and websites with more user-friendly functionality will boom both the existing and potential markets for sure.
Customized packaging: Packing is one of the essential cornerstones of the eCommerce industry, and its demand is increasing to the next level. Packaging also accounts for the manufacturer's marketing efforts: the more excellent the packaging, the more likely to make more purchases in your business. Custom packaging creates a brand-new box specifically for every one of your shipment's contents.
Increase in mobile shopping: The rise in mobile shopping is another major trend. Mobile shopping allows your customers to shop from anywhere and anytime. The mobility helps eCommerce businesses to improve customer experience by providing convenience from shopping to payment processing.
Payment processing: You'll find many eCommerce businesses that accept digital wallets like Google Pay, Samsung or Apple Pay, and even PayPal. But, nowadays, the rising popularity of cryptocurrencies like Bitcoin will benefit your business in many ways, like low transaction fees and no reverse transactions. The best example is Overstock. It is using a Bitcoin platform to accept payments from customers.
Voice shopping: The smart speakers will be available to almost 75% of US households by 2025. Voice shopping can be challenging for someone who has been using websites for a long time. However, your customers just need to speak about the product they want to purchase and trust me; it is one of the most emerging market trends.

Transportation

The on-demand transportation market size will reach $304.97 billion by 2025. Let's highlight some of the best trends available for the transportation industry.

Electric truck fleet

More retailers and shippers will make significant orders for electric vehicles to be used on beverage routes, final-mile delivery, and short-haul distribution.

Amazon announced that it plans to buy 100,000 electric delivery vans in the coming years from startup Rivianwhile.

UPS, FedEx, and DHL have all bought electric trucks in smaller numbers.

Anheuser-Busch ordered 21 BYD electric semi-trucks this year, which looks like the most significant order for class 8 electric trucks in the United States.

Mobility as a Service (MaaS)

The Mobility as a Service (MaaS) Market is forecast to reach the valuation of USD 280.77 billion in 2027 from USD 52.56 billion in 2019, delivering a CAGR of 23.2%.

MaaS is a kind of service that provides a centralized digital channel for planning, booking and paying for various types of mobility services.

The growing emphasis on adopting a user-centric approach to mobility services as an integrated system fuels the MaaS model's growth.

Food Delivery

The on-demand food delivery industry market will reach $192.16 billion by 2025 during the forecast period.

Small meal delivery service

Also known by the name "small portion meal delivery service."

As the name suggests, it is a new delivery option, especially for customers planning to order small meals and lower delivery fees. In addition, this on-demand delivery option includes light bites and snack food.

The food delivery market is fueled by convenience in ordering food online and adapting to changing consumer behavior. However, the increasing threat posed by restaurant-provided on-demand food delivery services will provide a barrier to development.

Multiple orders from different stores in one delivery:

Initially, the customers needed to order food from only one place at a time. And only a few third-party delivery companies were available with food delivery from various market vendors.

But now, the current market scenario of the food delivery industry has completely changed. The top-notch food delivery services like Uber Eats, Postmates, GrubHub, and even DoorDash allow their potential customers to order their food from the selected restaurants.

On-Demand Grocery Delivery

The grocery delivery service involves delivering fresh groceries to your customer's doorstep within minutes of the order. As a result, it brings more convenience to the life of customers.

The customers have complete freedom to concentrate on other work rather than waiting in long queues at cash counters. In addition, they also do not have to move from one place to another just to buy products from the store. They are just addicted to hyperlocal delivery models— an on-demand business model where local suppliers meet the demands of small localities.

This business model will become an essential aspect for your grocery delivery business plan as it brings complete transparency in pricing and will provide customers with an assurance of quality and trust.

Several large eCommerce companies, including Amazon and Flipkart, have also entered the grocery delivery business due to the industry's popularity. Even after a pandemic, studies and extensive research indicate that online grocery delivery will remain popular.

Parcel Delivery

Post COVID-19 pandemic, the concept of on-demand parcel delivery came into existence, and it's going to be used for many more years.

It becomes easy for the customers to send and receive packages like small envelopes, files, documents, or something essential at their doorsteps.

For example, you are in the office, and suddenly it clicks in your mind that you left your laptop or essential document at your home only. In that case, a parcel delivery service can help you and deliver your items to your office premises.

These services provide consumers with the most incredible comfort and quickness. On-demand courier and package delivery solutions use cutting-edge technology to build parcel delivery applications that offer immediate estimates, real-time delivery, and time and money savings.

There are several other on-demand delivery service ideas that you can choose and explore.

COVID-19 Safety Measures and Sanitization 

The vaccination program reduces infection rates, but COVID-19 safety precautions must be taken care of very strictly. So, it becomes mandatory for all on-demand delivery services to adhere to all COVID-19 procedures and sanitization methods.

Contactless delivery is the best solution to such a problem. As a result, many on-demand delivery business owners have adopted contact delivery for their business and customer security.

Disinfection and sanitization services such as home sanitizing, commercial sanitizing, industrial sanitizing, office sanitizing, and building sanitizing will continue to be popular in the upcoming years. Furthermore, it declares that all non-porous surfaces will need to be sanitized.

Delivery Subscriptions

The next essential on-demand delivery trend that will help your business increase customer loyalty and retention is delivery subscriptions.

The global pandemic changed the overall market environment. It made people ready to order groceries and households online. As a result, many on-demand delivery firms started to deliver incentives and service offerings to the customers. And trust me, in the upcoming years, subscription-based delivery will become the de facto standard for many demand delivery companies.

Subscription services benefit both customers and companies. Customers can avail of the benefits such as free delivery, discounted prices, and more. Businesses, on the other hand, can quickly gain actionable insights to boost their sales and profits.

Drone Integration with On-Demand Delivery Apps

You'll be surprised to know that drones can also be used for delivering food or other packages.

Drones have previously been used effectively in remote areas to deliver medicines and medical equipment.

In the US, efforts were made to develop drones for food delivery. However, there are still technical and legal problems to be resolved. Nevertheless, despite potential challenges, we can see this trend becoming a part of the on-demand business.

One possibility is to provide drone delivery services through specialized applications. On-demand service applications may explore methods to include drones as one of the delivery choices available to customers.

Adopting Route Optimization Software

The primary goal for any distribution and delivery company is to reduce time on the road, save fuel costs, and, most importantly, improve customer satisfaction. Route planners or we can say route optimization software helps them achieve their goals.

Route optimization software helps your delivery driver reach the destinations by finding the most efficient path for multi-stop deliveries.

Let's say you are on a trip and you have twenty stops. So, on average, you will be having about 50 million possible routes available with you. For managing such an entire fleet, you need technologically advanced route optimization software to help you plan your route and find optimal delivery routes.

In fact, one of our clients Nathaniel Pool, Managing Partner at Chef Nicole, has adopted Upper Route Planner route planning software for his meal delivery business to make deliveries easier than before. The software helps him save up to 10 hours per week and delivers 3x more meals. Read complete story of our client and know how he got benefited using Upper Route Planner.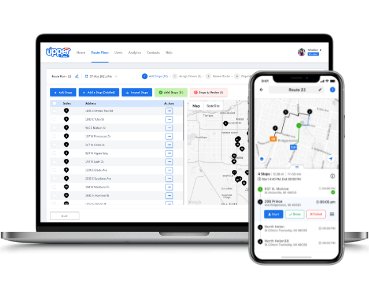 Upper Route Planner
A Simple-to-use route planner that every one is talking about.
Save up to 95% of planning time
Save up to 40% of time on the road
Plan 500 stops at once
No credit card details required
FAQ
Some of the trends that will change the future of online food ordering systems are:
Food ordering via tweet, smartwatch, smartTV, and even self-driving cars
Big Data analysis
Multi-delivery options
Delivery via robots, drones, and even parachute
Ghost kitchens
How Will You Adapt To These On-Demand Delivery Trends?
We came across a detailed analysis of the industry trends specifically for delivery businesses.
By adopting such innovative trends in your business, you can efficiently enhance business and employee productivity. In addition, various leading industries like eCommerce, transportation, food delivery, grocery delivery, and even parcel delivery can use such trends to improve their productivity level.
The good part is that such delivery businesses can even include route optimization software to help their delivery drivers find the best possible path. Upper Route Planner is one such software solution that allows you to make the work more accessible by providing your delivery driver with the best delivery routes to reach the destination.