Key Takeaways:
To simplify operations, pick a delivery service that works well with your POS system
Seek for a delivery service that charges appropriate commission costs to prevent cutting into your profits.
To guarantee that your consumers have a great experience, give priority to a delivery service that provides outstanding customer support.
Choose a delivery service that provides thorough analytics and data to assist you in making wise business decisions.
In recent years, the restaurant industry has been turned on its head, all thanks to the advent of food delivery apps.
Many ambitious operators also recognize the opportunities for a new food experience regardless of table availability.
The projected growth of the food delivery industry in the United States in the next five years is said to reach $42 billion, according to the survey conducted by IMARC Group.
So, if you're new to the food industry, we are here to assist your decision-making process. We have identified 10 top food delivery services along with their essential features. Let's dive deep into this topic.
The Basics of Delivering Food
At its core, delivering delicious meals is a courier service provided by restaurants and other food-based businesses. Here is a glimpse of the online food delivery process.
A customer place an order for the food they want to be delivered to a specified address.
The restaurant fulfills that order, including preparing the food, packaging it, and giving it to the customer.
Typically, the food deliveries are made by courier drivers that use motor vehicles, although delivery by scooter, bicycle, or even foot is not unusual.
Restaurateurs interested in adapting to this new reality will find many companies ready to woo them. It can be overwhelming and time-consuming to wade through all the options and figure out your business's best fit.
Just as technology has changed the retail landscape, it has impacted the restaurant industry. And customers' expectations have surged. For many restaurateurs, the only way to remain competitive today is to offer online food delivery.
10 Best Food Delivery Services
1. DoorDash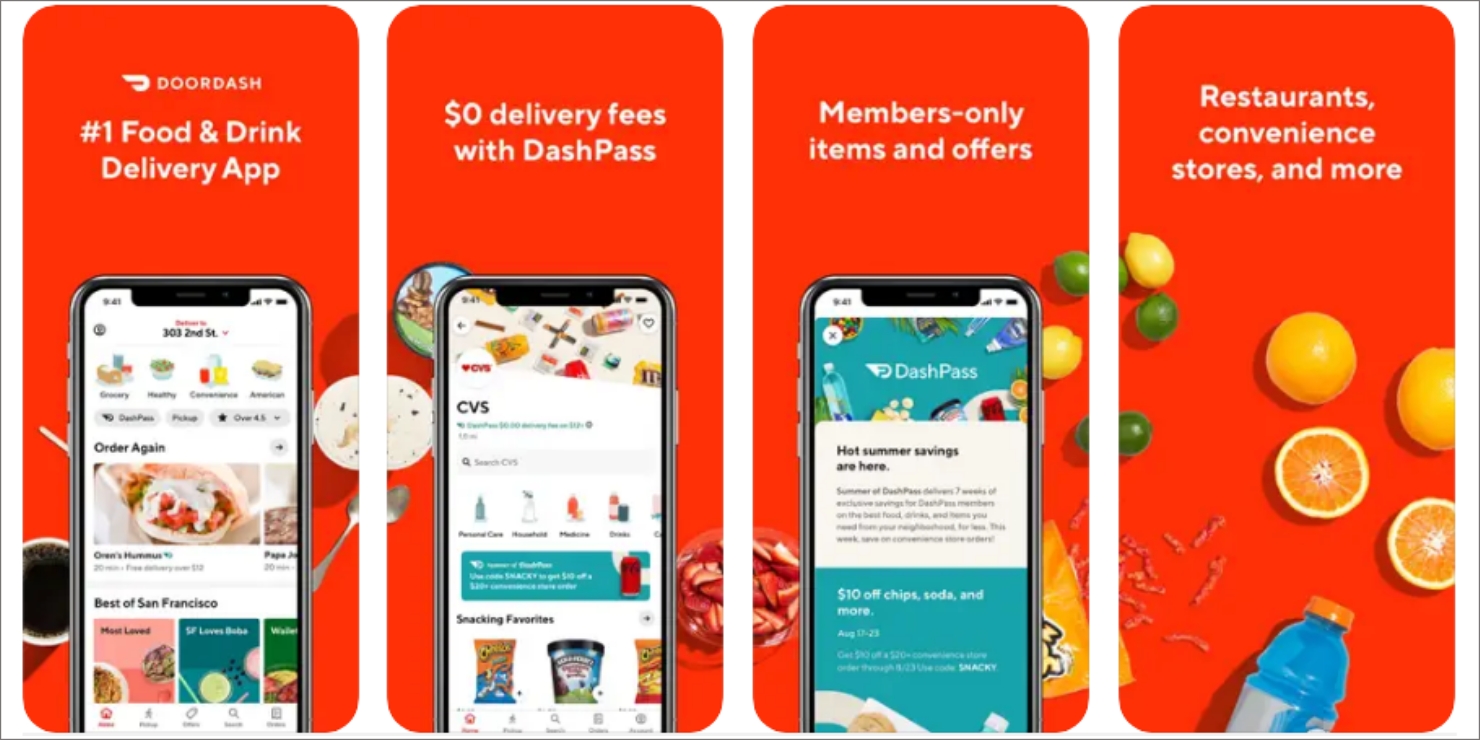 Specifications:
Service available in the US, Canada & Australia
Restaurants recommendation
Ready-to-eat meals and alcohol delivery
DoorDash is an aggregator platform that over 310,000 restaurants in +4,000 cities currently use. It matches local restaurants with local 'dashers' (i.e., freelance couriers) to not have to hire your couriers. It is one of the most popular food delivery services in North America, followed by other apps like Uber Eats, GrubHub, Postmates, Seamless, and Instacart.
DoorDash has also taken companies like Caviar under its wings. Caviar was initially started as a higher-end food delivery app. But since DoorDash acquired the company in 2019, you will find a diverse selection of balanced meals.
Pros
Useful for diner takeout orders or ready to eat meals;
Tracking of orders and progress;
Low minimum order amounts;
A monthly charge for no extra fees for delivery;
Subscription option: monthly or annually.
Cons
Customer service is dearth;
High prices.
Ideal for: Lunch & dinner options
2. Postmates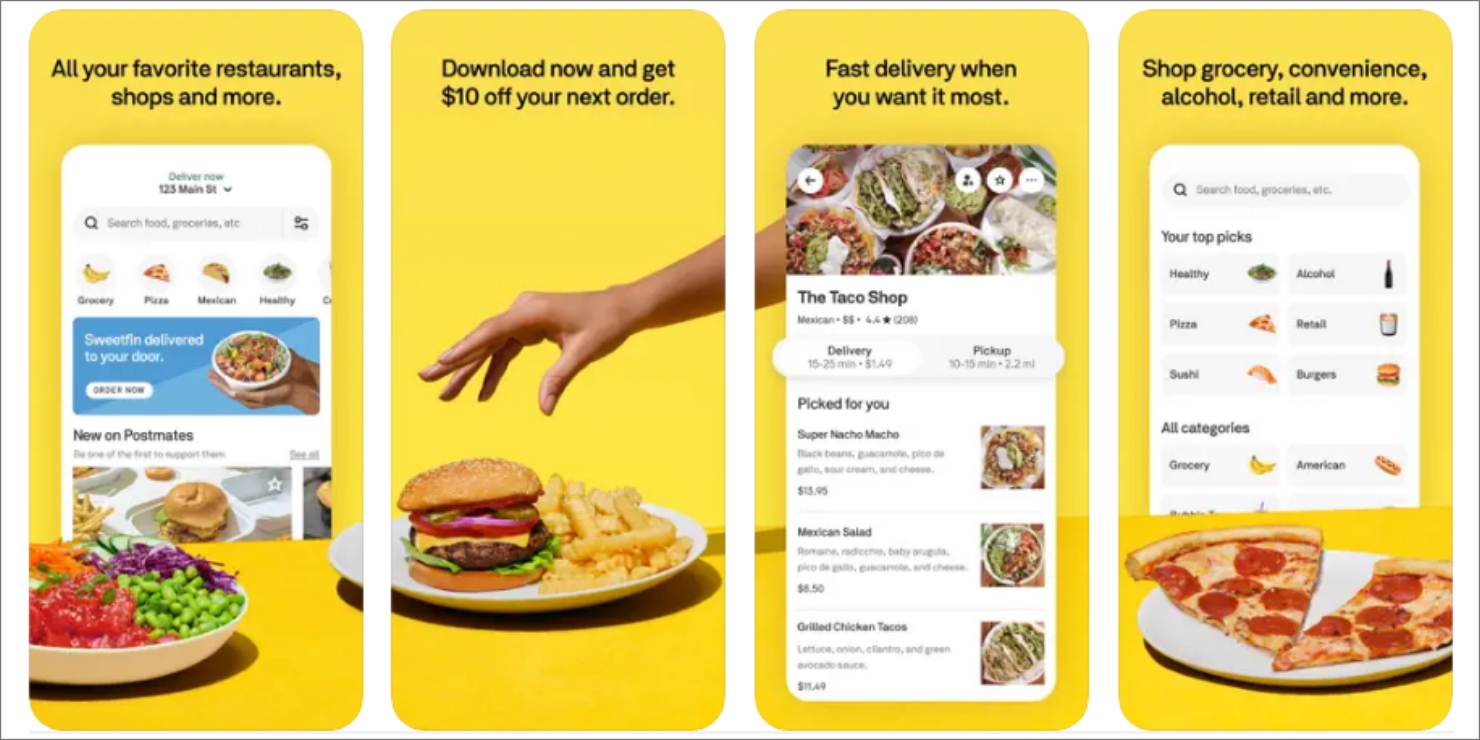 Specifications:
Offers 24/7 delivery service
No contact delivery
Subscription plan from $ 9.99 / month
Food, drinks, retail goods – you name it, Postmates can help get it delivered right to your customers' doors. Their mission says it all: "Our mission is to enable anyone to have anything delivered on-demand." Postmates, like many of its counterparts, uses a fleet of couriers to fulfill orders from local restaurant partners.
Pros
Low delivery fee and costs;
Restaurants can outsource the whole delivery.
Cons
The system of compensation is unclear for drivers;
Issues with delivery assignments.
Ideal for: Ordering midnight snacks
3. Uber Eats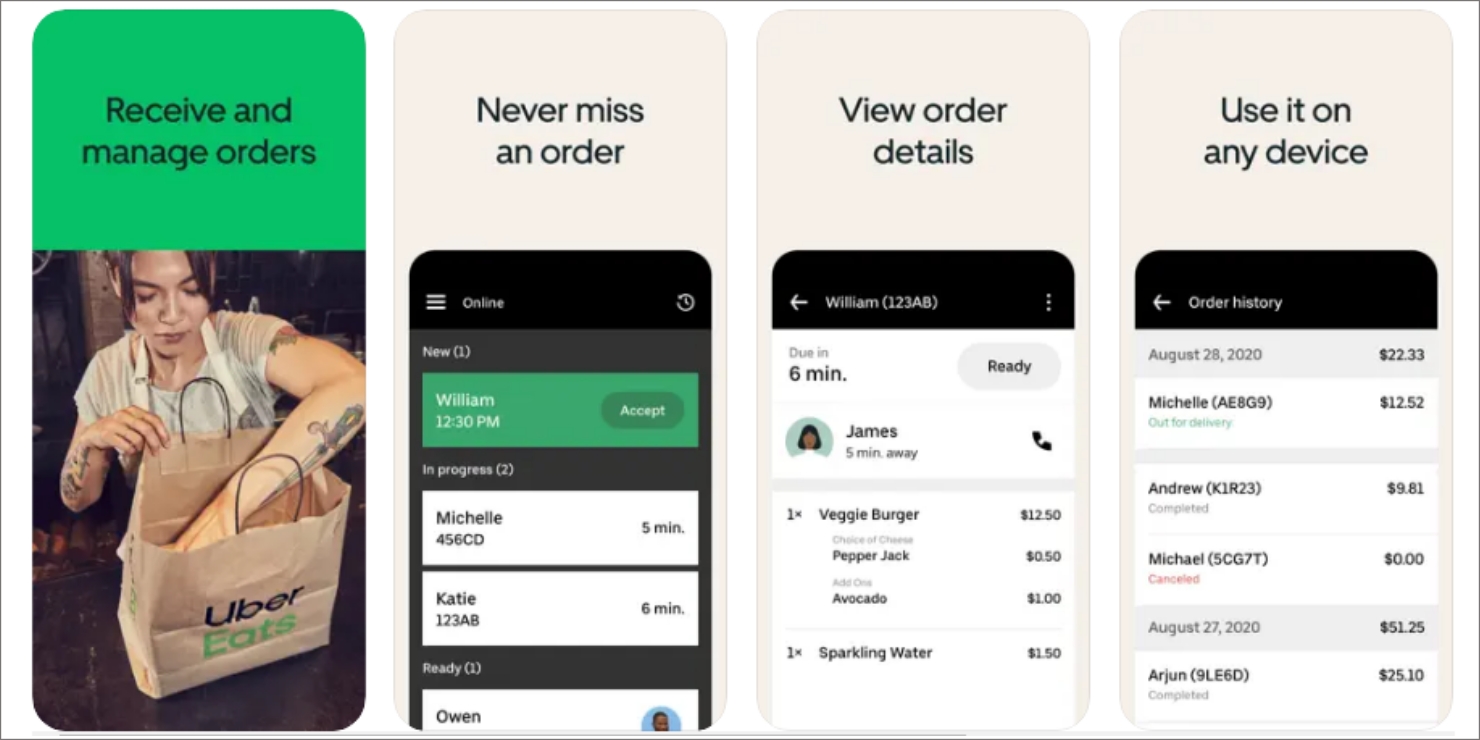 Specifications:
Service available in 24 different countries
Order fees up to 15%
Accepts cashless payments
Uber made a name for itself as an alternative to the traditional taxi experience, and now they're making their mark in the food delivery business with the Uber Eats app. It is one of the most favored apps in taxi and food delivery services.
Pros
Largest meal delivery platform (except China) in terms of Gross earnings;
Refined technology;
Business insights from data collection.
Cons
A delivery person receives fewer tips;
Service charges and delivery charges eating into revenue.
Ideal for: Uber-friendly users
4. GrubHub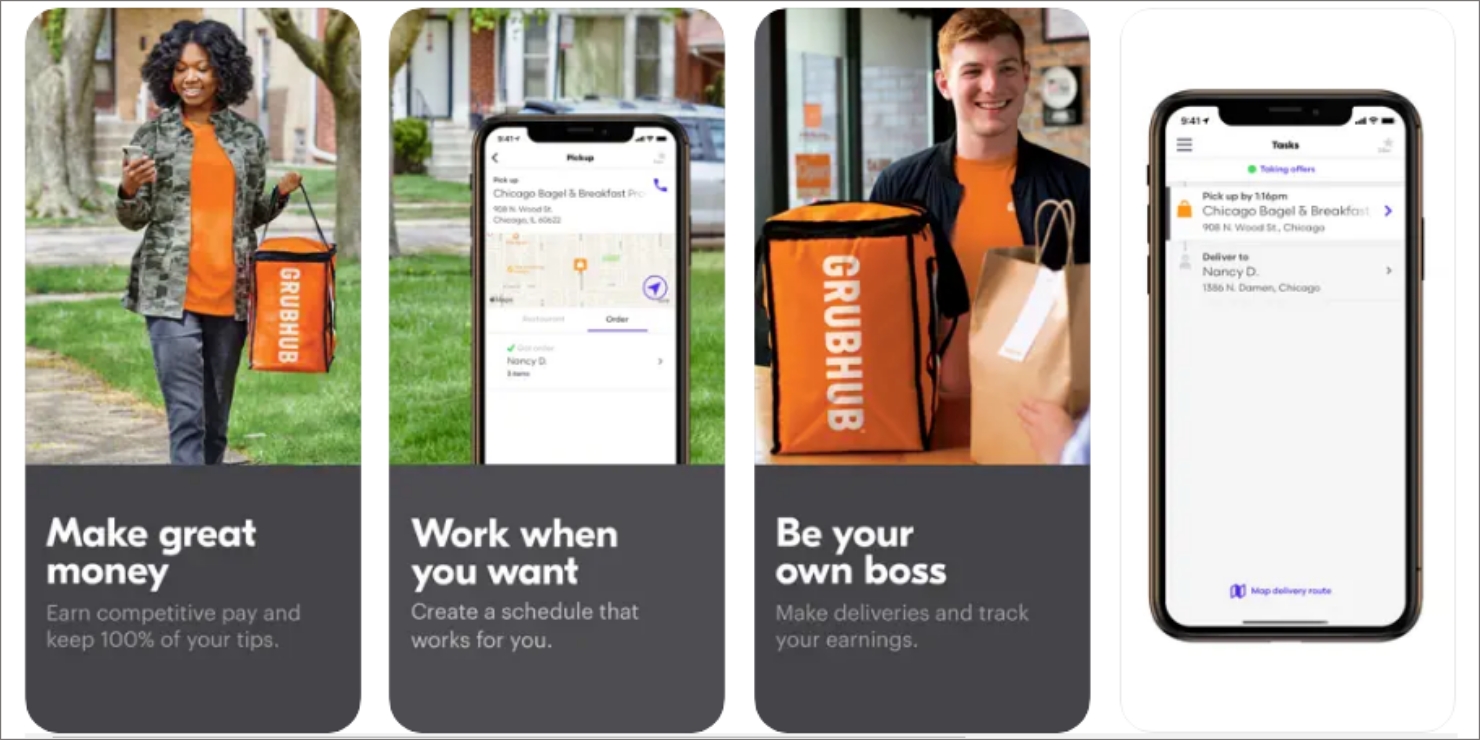 Specifications:
Available in 4000+ US cities
Supports multiple payment modes
Food tracking option
GrubHub claims to have the largest and most comprehensive restaurant partners' network, with more than 200,000 partnering restaurants in over 4,000 U.S. cities. GrubHub also owns Seamless. They share the same app.
Pros
COVID-19/coronavirus friendly pickup orders;
Simple subscription option and fee structure;
GrubHub is available on iOS and Android.
Cons
Bad reviews from delivery drivers;
High delivery fees and other costs relative to the competition.
Ideal for: Online food buyers
5. goPuff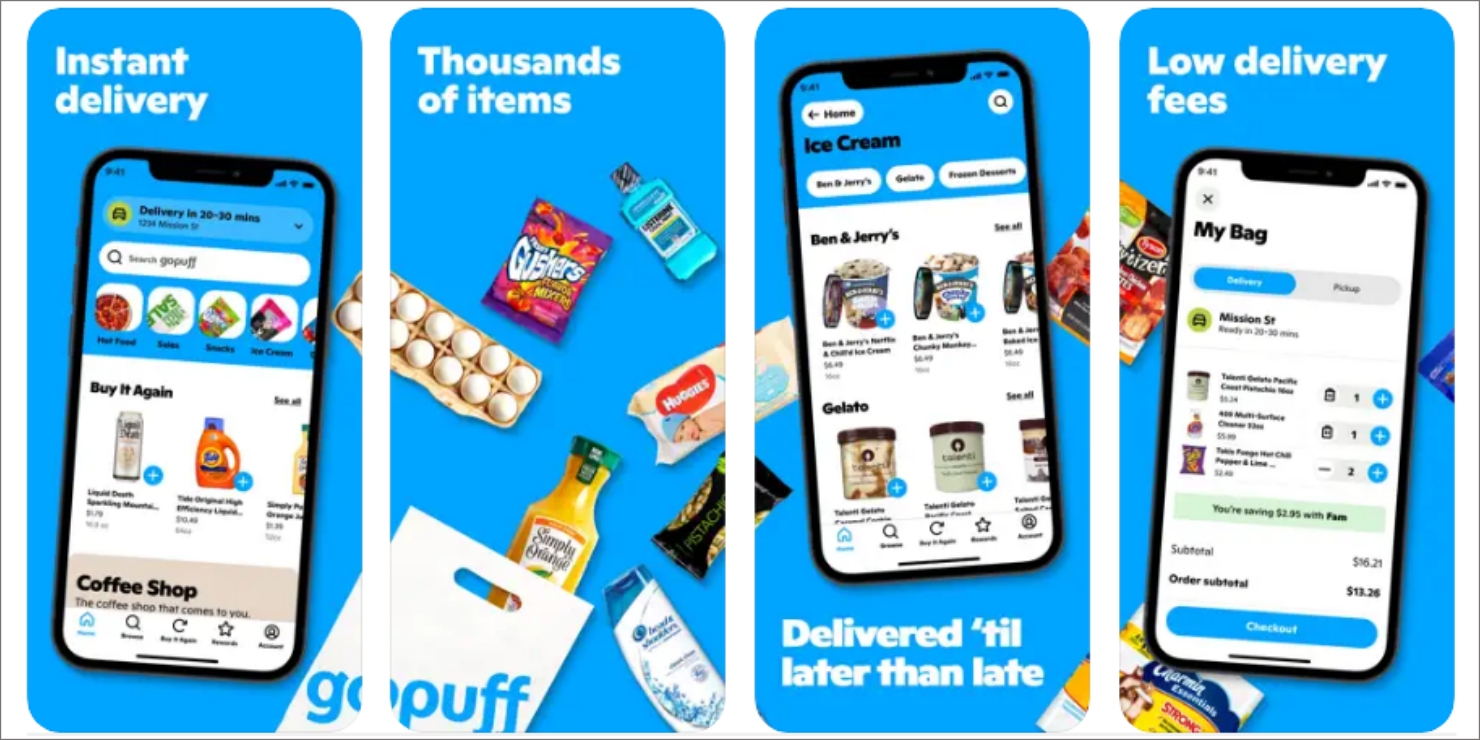 Specifications:
Available in 170+ cities
Charges extra delivery fees
Include cleaning supplies
goPuff is a really good delivery app for other services like snacks, drinks, groceries, and even over-the-counter medicine. The app delivers in more than 500 cities across the United States and is growing rapidly.
The unique thing about goPuff is that anything the customer orders does not get delivered from a store but from goPuff's own warehouses.
Pros
It goes beyond the menu, includes household essentials like grocery delivery cleaning supplies, over-the-counter medicine, and baby essentials;
Delivers in less than 30 minutes – from its micro-fulfillment centers to your home;
Superfast deliveries;
Has a flat delivery fee of $1.95 meals per week.
Cons
Delivers only quick meals, no restaurant meals from the restaurant;
Experiences of inaccuracy in deliveries.
Ideal for: Snacks
6. Skip The Dishes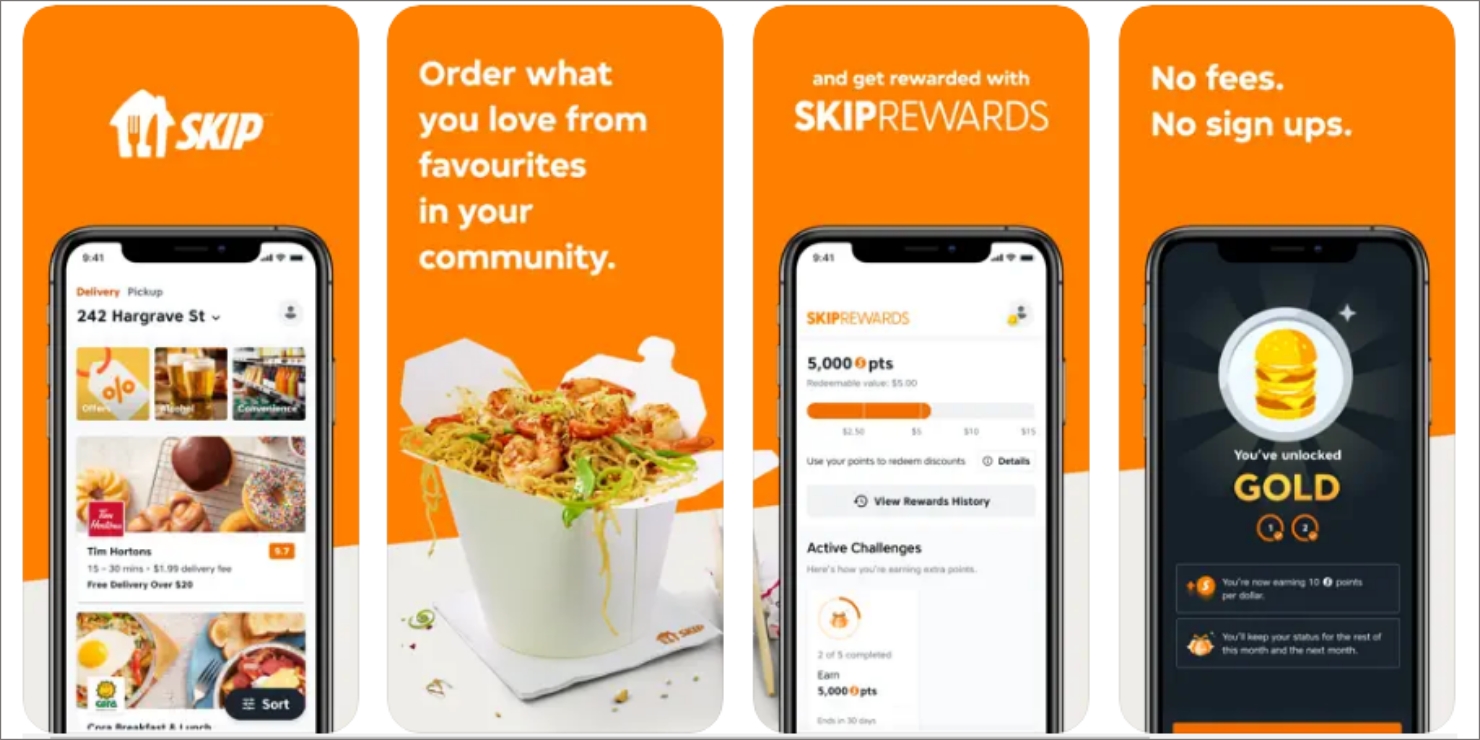 Specifications:
Available in Canada
Pick-up and drop-off options
Separate delivery fees based on order
Skip a lot of the extra work associated with introducing food delivery to your restaurant with SkipThe Dishes. The company will send its couriers to your restaurant to pick up orders and deliver them to customers. Skip The Dishes is used by many chains and fast-food restaurants, including McDonald's, Subway, KFC, and Wendy's.
Pros
Used by well-established merchants for breakfast, lunch, and oven-ready meals;
Available in many places and countries;
No subscription required;
Charges a delivery fee or service fee based on the order.
Cons
Issues with reliability;
Service charge cutting into restaurant revenues.
Ideal for: Fast food lovers
7. Instacart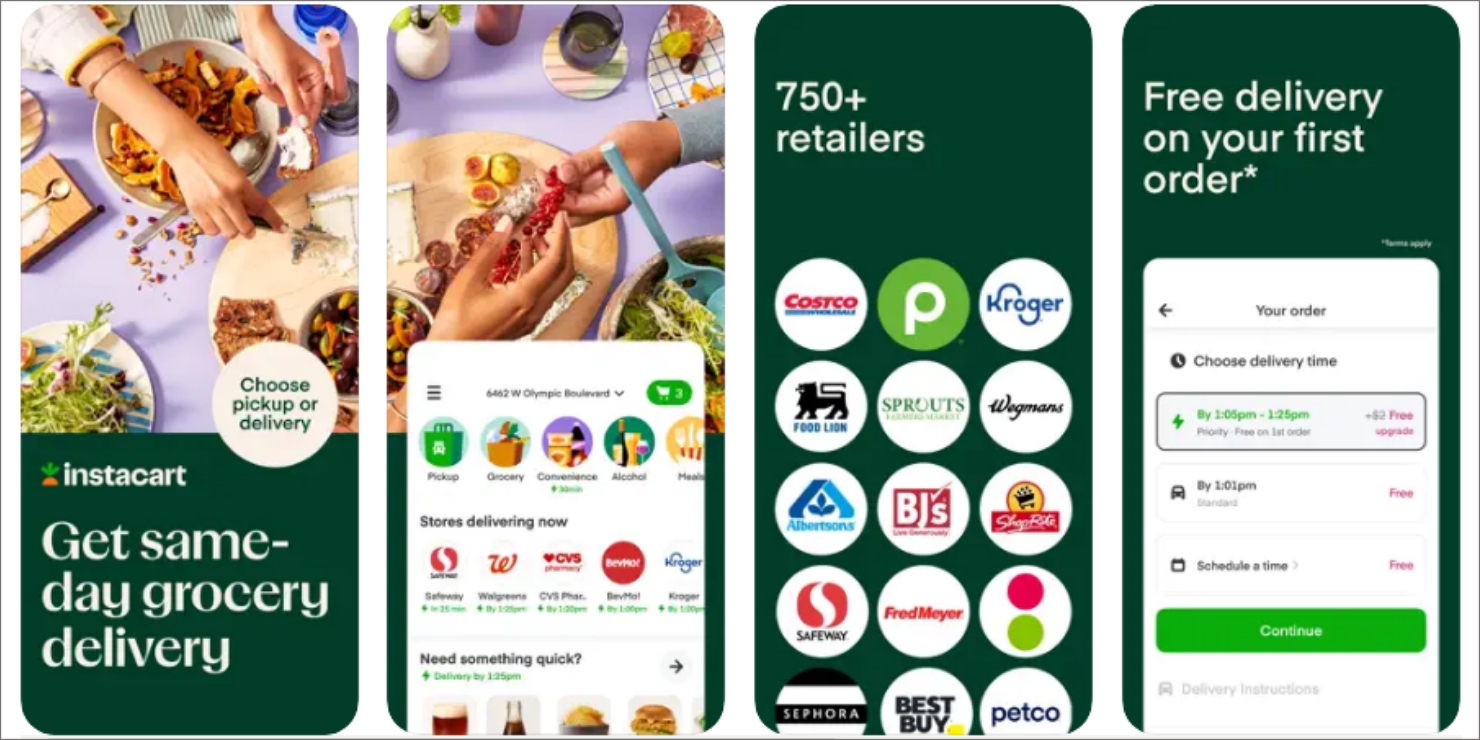 Specifications:
Service available in major parts of the US and Canada
It offers a wide range of options for grocery delivery service
Faster deliveries with Instacart express
Instacart is a platform that goes beyond restaurants. It provides online and mobile experiences to help shoppers select and order products. Customers can then pick up at the store or order delivery (delivery fees apply).
Pros
Order items from neighborhood grocery stores as well as favorite restaurants;
Coronavirus pandemic friendly contact-free delivery – leave at my door delivery option;
Scheduled delivery option.
Cons
The delivery app is considered glitchy or buggy;
Tip structure is not advantageous to a valid drivers;
No free delivery (there are varied delivery fees or custome fees).
Ideal for: Buying grocery items
8. Seamless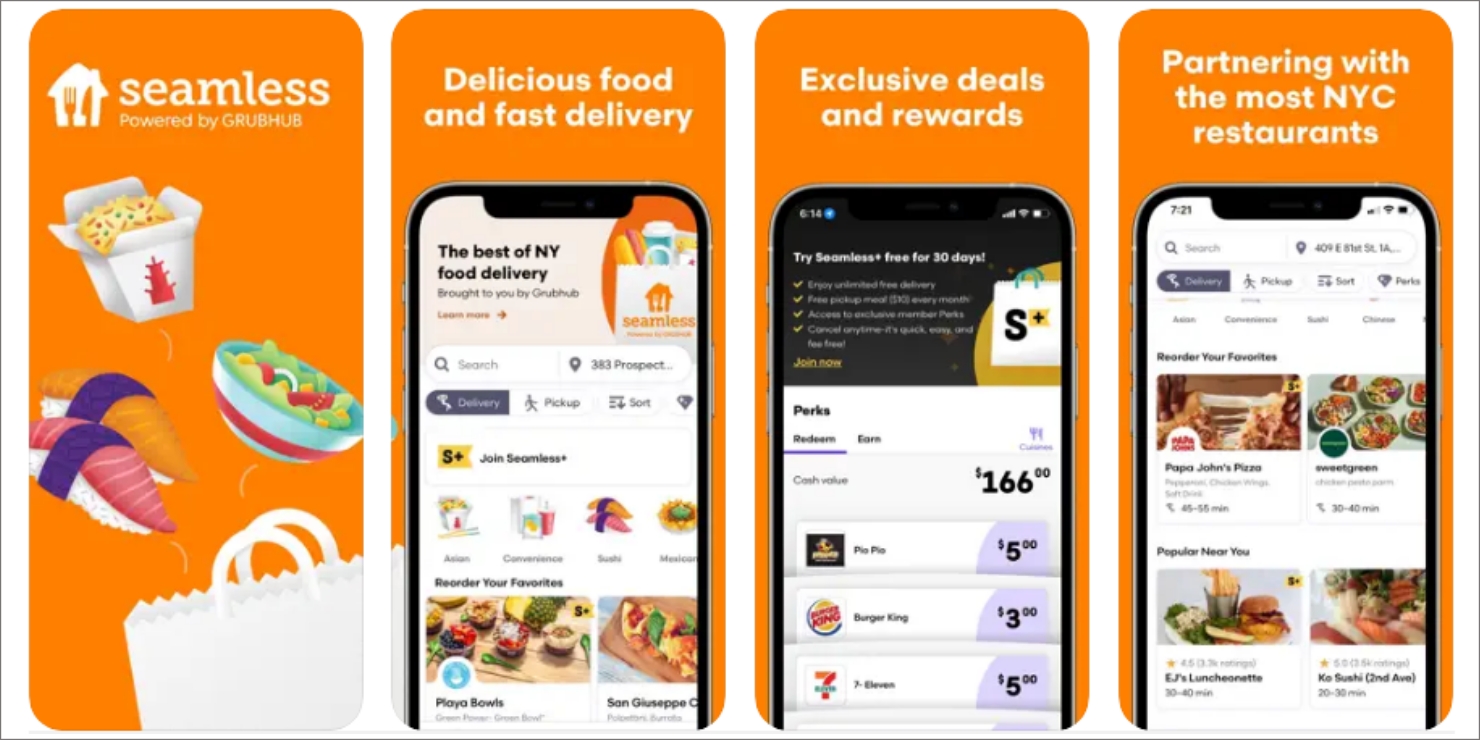 Specifications:
Available in major cities in US & UK
9.99/ month subscription fee
Restaurant fees charge may vary as per bill
It is the food delivery app that collaborates with Grubhub. The widely popular food delivery app offers a wide variety of meals without any extra charges. Moreover, the meal delivery company has now enabled the option for contactless delivery, where customers can ask for the delivery agent to deliver the food meal outside their doorstep.
Pros
Easy to pay bills with multiple online modes;
It doesn't include extra charges;
Multiple restaurants options.
Cons
Far-away restaurants includes delivery charges;
No live food tracking feature.
Ideal for: New York city's food lovers
9. Delivery.com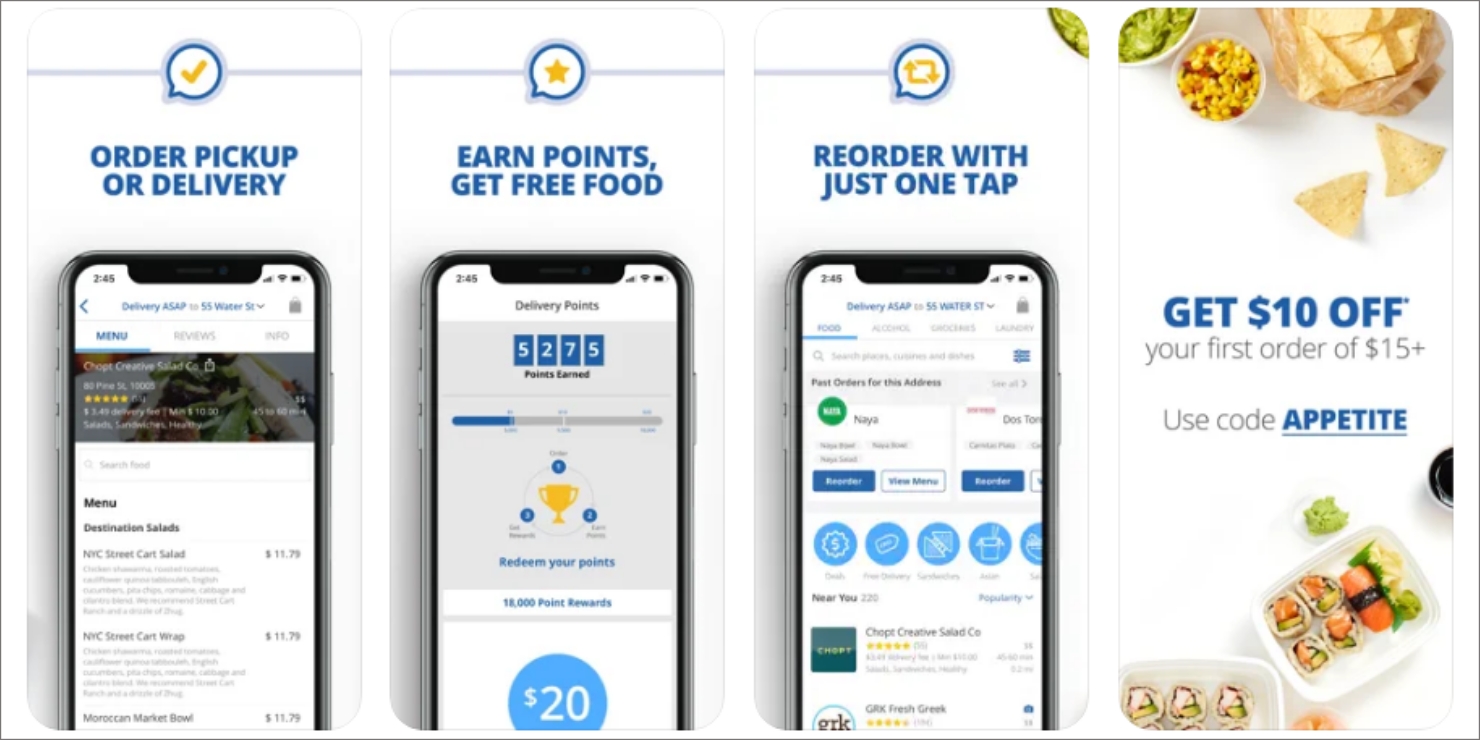 Specifications:
Available in more than 100 US cities
Rewards points program
Minimum order fees vary by restaurant
It offers an extensive delivery option to its users, which means you can even schedule your food delivery prior to the actual delivery time. Delivery.com allows you to select the pick-up and drop-off time as per your wish. It also delivers alcohol, wine, groceries, and tasty meals. Therefore, you can consider this app for multiple uses.
Pros
It has extensive reach;
Delivery of food and grocery items;
Rewards points for every purchase order.
Cons
Upcharge for food delivery;
It sends many spam messages through email
Ideal for: Contactless food delivery
10. Caviar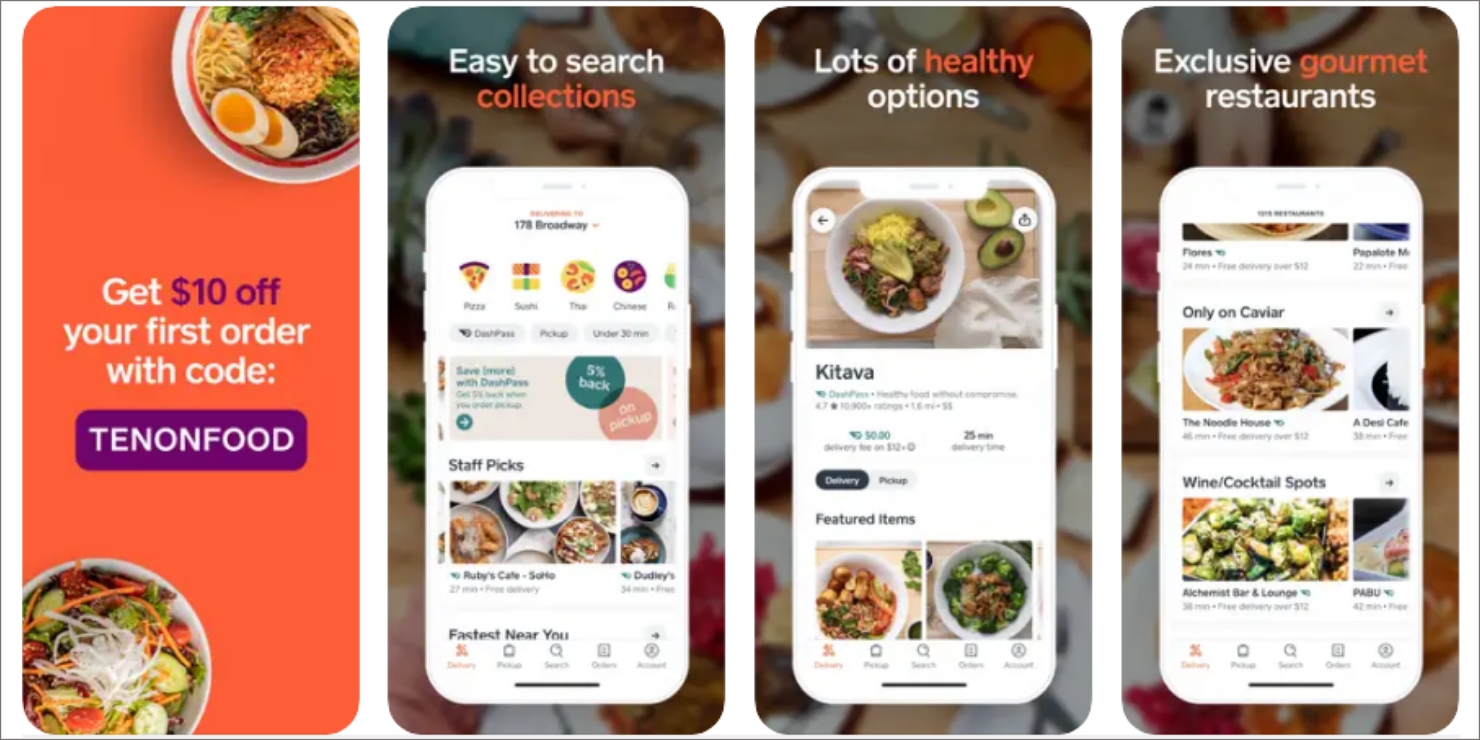 Specifications:
No subscription options
Delivery fees: up to $8.99
Available across 28 US cities
It became part of DoorDash, back in 2019, and it is currently open for food deliveries in more than 25 cities. Understanding the customer's demands, it has a rich collection of local restaurants and cuisines. Caviar allows its user to pick up their food or get it directly to their home via online food orders.
Pros
GPS-tracking for online food delivery;
No-contact delivery;
Option to add delivery instructions
Cons
It only focuses on nearby restaurants;
It covers limited areas for deliveries.
Ideal for: Healthy meals
What is Involved in the Delivery of Food?
In recent years, technology transformed meal delivery. Gone are those days when restaurants had to rely on the paper takeout weekly menu and manual management of the orders. Today's expectations are high with free delivery.
Nowadays, business owners offer easy-to-use food delivery apps and online menus where customers can browse plenty of options and place their orders. Many ordering platforms provide customers with an affordable option, such as requesting drop-off at a specific time. Below are the main involvements in food delivery apps.
Customers are often given the choice of paying online or upon delivery.
Ordering food with special diet plans like vegetarian options, low carb, gluten-free, or diabetes-friendly has easy with just a few taps.
They focus on each meal weekly plan with specific dietary restrictions.
A meal kit service uses high-quality fresh ingredients and saves your primary concern of grocery shopping and meal prep time.
The evolution of food delivery has provided exceptional opportunities for restaurateurs to reach new customers and grow beyond their physical location constraints.
Opt for a Safer and Simpler Way of Food Delivery
Want a food delivery app? Join Upper Route Planner to use advanced delivery routing features and streamline multiple food delivery orders.
Start using Upper

Essential Features to Consider When Choosing a Food Delivery App
Ready to explore the best food delivery service apps for your business? Whether you have an established food business or are starting a new meal-kit delivery service, you'll want to make sure you choose a platform that suits your needs.
Here are some of the key features of a food delivery app to consider at the time of making a choice.
Route Planning and Allocation: With proper route planning & optimization, restaurants can easily manage multiple drivers and meet customer expectations while reducing cost. It allows a manager or assigns orders to specific retailer drivers easily.
Easy and Secure Payment: Your chosen app must offer multiple payment options for your delivery orders. It is one of the most indispensable features. If it doesn't, there's a good chance you'll lose many customers at the 'place order' stage of the process. Include an online payment integration such as Square, Stripe, Apple Pay, or PayPal and cash or credit upon delivery for customers who are not comfortable making online payments. You'll also want to ensure that payment information provided by customers is safe and secure.
Flexible Delivery Scheduling: This feature will make things easier for the customer and the kitchen and delivery staff. Allowing customers to schedule for later in the day or even the next day ensures the user's ordering process is convenient. It can also help the kitchen and delivery team better plan for peak demand times by ensuring they have enough staff, organic ingredients, etc.
Live Tracking: Customers will appreciate this feature, which allows them to track in real-time. It can also help reduce the amount of time the delivery driver spends at each stop and provide managers with valuable information. Many popular delivery apps have a live tracking feature now.
User-Friendly Customer Interface: At the end of the day, what matters the most in every business is the customer experience. And if you're offering food transportation through delivery apps, your app represents the first interaction a customer will have with your restaurant. First impressions are essential, so make sure the app provides a user-friendly dashboard and seamless ordering process that is fast and intuitive. The best way to understand the user experience? Test each app out as a customer and see where you land.
User-Friendly Administrator Dashboard – Just like your customers, you're going to want a dashboard that's easy to navigate and allows you to do everything you need to do as a restaurant manager/administrator.
Order Management – This is another 'must-have' for any food delivery app. From the admin panel, the administrator should manage all orders, update customers on their order status, and manage payments.
Navigation and GPS Tracking – This feature will assist your delivery drivers in completing their deliveries more efficiently, which in turn will mean happier customers and the capacity to make more deliveries in each shift.
Upper: The all-in-one app for food delivery
From finding optimized routes to delivering the food in a timely manner, Upper has got all the necessary features to keep you on top of your business.
Sign Up for Free

FAQs
Popular food service may vary as per your location and service availability. Many Foodies consider DoorDash as the first pick for ordering a meal-delivery kit. While other spicy food lovers also choose Uber Eats or postmates to place an online food order.
Doordash is marginally ahead of Grabhub as it has an extended network across the US and other countries. Also, Doordash is cheaper as far as food delivery services are concerned. Hence, Grubhub comes out on top.
Since June 2020, DoorDash has covered 45% of the market share in the food delivery businesses. It is followed by Uber Eats, GrubHub, and Seamless. So, if we consider the current market position, DoorDash has a clear edge over Uber Eats.
Conclusion
One of the challenges for local restaurants today is solving the "straight to your door" problem. But with the changing trends offering new opportunities, it is up to restaurant owners and operators to grab it and take advantage of it.
We hope this article gave you some useful information in determining the right choice of meal delivery services. Here, we discuss the top 10 food delivery services, but you can also check out more popular options like Amazon Fresh, Freshly, and others to get nutritious meals.
In case you are looking for essential features in the food delivery app, book a demo at Upper to know how a multiple delivery route planner app can simplify food delivery operations.