The restaurant industry has been turned on its head in recent years thanks to the advent of food delivery apps. Once the domain of pizzerias and Chinese restaurants, a form of food delivery service is now offered by every type of dining establishment – from fast-food chains to independent cafes, upscale restaurants, and more.
Based on research by IMARC Group, the projected growth of the food delivery industry in the United States in the next five years is said to reach $42 billion.
Of course, many ambitious operators also recognize the opportunities that come with offering a new food experience that's not dependent on table availability. The key question is finding the best food delivery service for you.
To assist your decision-making process, we've identified 7 of the top food delivery services app in the U.S. We outline the pros and cons of each food ordering and delivery service, as well as which type(s) of restaurants for which they are the best suited. Ready to dig in and find your fit? Keep reading!
The Basics of Delivering Food
At its core, delivering food or takeout meals or meal kit service is a courier service provided by restaurant chains and other food-based businesses (e.g., fast food & grocery store). Customers place a food order to be delivered to a specified address. The restaurant fulfills that order, including preparing the food, packaging it, and giving it to the customer. Typically the food deliveries are made by courier drivers that use motor vehicles, although delivery by scooter, bicycle, or even foot is not unusual.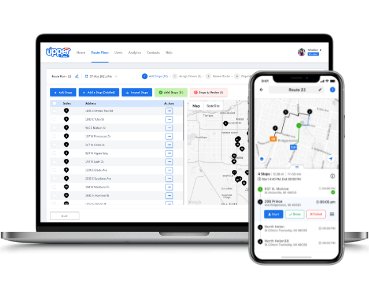 Upper Crew
A Simple-to-use route planner that every one is talking about.
Save up to 95% of planning time
Save up to 40% of time on the road
Plan 500 stops at once
No credit card details required
Restaurateurs interested in adapting to this new reality will find many companies ready to woo them. It can be overwhelming and time-consuming to wade through all the menu options and figure out your business's best fit. Just as technology has changed the retail landscape, it has impacted the restaurant industry. And customers' expectations have shifted just as rapidly as technology has evolved. For many new and established restaurateurs, the only way to remain competitive today is to offer delivery.
In the following section, we'll briefly review what these services entail and take a closer look at the features to consider when choosing a service for your restaurant/food business.
What is Involved in the Delivery of Food?
In many ways, today's tools look and feel the same as it has for many decades. But don't let the illusion fool you. In recent years, technology transformed meal delivery. Gone are those days when restaurants had to rely on paper takeout menus, a dedicated phone number, and manual management of the orders. Today's customer demand is high with free delivery (or lower delivery charges).
Today's providers rely on technology to manage almost every stage of the service. They offer easy-to-use food delivery apps and online menus where customers can browse options and place their orders. Many ordering platforms provide customers with several additional options, such as requesting drop-off at a specific time. Customers are often given the choice of paying online or upon delivery.
A consumer also has a meal kit delivery service where you are provided with all the fresh ingredients to prepare a meal. This service is perfect for a home chef. One good example is Purple Carrot. Purple Carrot is a plant-based meal kit delivery service that delivers plant-based meals with organic ingredients to your doorstep. These are either pre-prepped meals or they come with the option of having to prepare them for yourself with the help of a recipe card. They have some of the best vegetarian recipes. HelloFresh is another service that offers meal options and delivers ingredients and recipe cards for those meal options. You can choose to order through a weekly subscription that gets renewed. This can help you in meal prep as well.
Ordering food with special diet plans like vegetarian options, low carb, gluten-free, or diabetes-friendly has become quick and easy with just a few taps. They focus on each meal plan with specific dietary restrictions. These meal kits or oven-ready meals use high-quality ingredients and saves your primary concern of grocery shopping and prep time.
As you can imagine, the evolution of food delivery has provided exceptional opportunities for restaurateurs to reach new customers and grow beyond their physical location constraints. Many operators face new challenges as they add meal transportation to their business model, such as ensuring their food 'travels' well, sourcing space for vehicles, and adjusting their menu to suit at-home consumption. These challenges can be faced with the help of a route planner app for delivery drivers.
Try Upper Route Planner To Boost Your Food Delivery Orders
Upper Route Planner helps you scale your deliveries while optimizing multiple routes and managing multiple drivers at once.
Essential Features to Consider When Choosing a Food Delivery App
Ready to explore the best food delivery service apps for your business? Whether you have an established food business or are starting a new meal-kit delivery service, you'll want to make sure you choose a platform that suits your needs.
Here are some of the key features of a food delivery app to consider at the time of making a choice.
Route Planning and Allocation: With proper route planning & optimization, restaurants can easily manage multiple drivers and meet customer expectations while reducing cost. It allows a manager or assigns orders to specific drivers easily.
Easy and Secure Payment: Your chosen app must offer multiple payment options for your delivery orders. It is one of the most indispensable features. If it doesn't, there's a good chance you'll lose many customers at the 'place order' stage of the process. Include an online payment integration such as Square, Stripe, Apple Pay, or PayPal and cash or credit upon delivery for customers who are not comfortable making online payments. You'll also want to ensure that payment information provided by customers is safe and secure.
Flexible Delivery Scheduling: This feature will make things easier for the customer and the kitchen and delivery staff. Allowing customers to schedule a delivery window for later in the day or even the next day ensures the user's ordering process is convenient. It can also help the kitchen and delivery team better plan for peak demand times by ensuring they have enough staff, raw ingredients, etc.
Live Tracking: Customers will appreciate this feature, which allows them to track in real-time. It can also help reduce the amount of time the delivery driver spends at each stop and provide managers with valuable information. The best food delivery apps have a live tracking feature now.
User-Friendly Customer Interface: At the end of the day, what matters the most in every business is the customer experience. And if you're offering food transportation through delivery apps, your app represents the first interaction a customer will have with your restaurant. First impressions are essential, so make sure the app provides a user-friendly dashboard and seamless ordering process that is fast and intuitive. The best way to understand the user experience? Test each app out as a customer and see where you land.
User-Friendly Administrator Dashboard: Just like your customers, you're going to want a dashboard that's easy to navigate and allows you to do everything you need to do as a restaurant manager/administrator.
Order Management: This is another 'must-have' for any food delivery app. From the admin panel, the administrator should manage all orders, update customers on their order status, and manage payments.
Navigation and GPS Tracking: This feature will assist your delivery drivers in completing their deliveries more efficiently, which in turn will mean happier customers and the capacity to make more deliveries in each shift.
These are just a few of the crucial features to look for when choosing a food or meal delivery service. Other features are important to your business's specific needs, like a delivery fee. A delivery fee can prove to be an important feature that can decide the popularity of the app. Sometimes reading a customer review can help you find out if the service is suitable for you or not. That's why it's crucial to have a well-thought-out and realistic plan for your implementation before you even go shopping for an app or software that can assist you in executing your plan.
7 Top Food Delivery Services
1 – DoorDash
DoorDash is an aggregator platform that over 310,000 restaurants in +4,000 cities currently use. It matches local restaurants with local 'dashers' (i.e., freelance couriers) to not have to hire your couriers. It is a popular food delivery service in North America, followed by other apps like Uber Eats, GrubHub, Postmates, Seamless, and Instacart.
DoorDash has also taken companies like Caviar under its wings. Caviar was initially started as a higher-end food delivery app. But since DoorDash acquired the company in 2019, you will find a diverse selection of meals from Caviar.
Pros
Useful for diner takeout orders or ready to eat meals;
Tracking of orders and progress;
Low minimum order amounts;
A monthly charge for no extra fees for delivery;
Subscription option: monthly or annually.
Cons
Customer service is dearth;
High prices.
2 – Postmates
Food, drinks, retail goods – you name it, Postmates Unlimited can help get it delivered right to your customers' doors. Their mission says it all: "Our mission is to enable anyone to have anything delivered on-demand." Postmates, like many of its counterparts, uses a fleet of couriers to fulfill orders from local restaurant partners.
Pros
Low delivery fee and costs;
Restaurants can outsource the whole delivery.
Cons
The system of compensation is unclear for drivers;
Issues with delivery assignments.
3 – Uber Eats
Uber made a name for itself as an alternative to the traditional taxi experience, and now they're making their mark in the food delivery business with the Uber Eats app. It is one of the most favored apps in taxi and food delivery services.
Pros
Largest meal delivery platform (except China) in terms of Gross earnings;
Refined technology;
Business insights from data collection.
Cons
A delivery person receives fewer tips;
Service charges and delivery charges eat into revenue.
4 – GrubHub
GrubHub claims to have the largest and most comprehensive restaurant partners' network, with more than 200,000 partnering restaurants in over 4,000 U.S. cities. GrubHub also owns Seamless. They share the same app.
Pros
COVID-19/coronavirus friendly pickup orders;
Simple subscription option and fee structure;
GrubHub is available on iOS and Android.
Cons
Bad reviews from delivery drivers;
High delivery fees and other costs relative to the competition.
5 – goPuff
goPuff is a really good delivery app for other services like snacks, drinks, grocery delivery, and even over-the-counter medicine. The app delivers in more than 500 cities across the United States and is growing rapidly.
The unique thing about goPuff is that anything the customer orders does not get delivered from a store but from goPuff's own warehouses.
Pros
It goes beyond the menu, includes household essentials like grocery delivery cleaning supplies, over-the-counter medicine, and baby essentials;
Delivers in less than 30 minutes – from its micro-fulfillment centers to your home;
Superfast deliveries;
Has a flat delivery fee of $1.95, whether you order on a weekday or a weekend.
Cons
Delivers only quick meals, no restaurant meals;
Experiences of inaccuracy in deliveries.
6 – Skip The Dishes
Skip a lot of the extra work associated with introducing food delivery to your restaurant with SkipThe Dishes. The company will send its couriers to your restaurant to pick up orders and deliver them to customers. Skip The Dishes is used by many chains and fast-food restaurants, including McDonald's, Subway, KFC, and Wendy's.
Pros
Used by well-established merchants for breakfast, lunch, and all meals;
Available in many places and countries;
No subscription required;
Charges a delivery fee or service fee based on the order.
Cons
Issues with reliability;
Service charge cutting into restaurant revenues.
7 – Instacart
Instacart is a platform that goes beyond restaurants. It provides online and mobile experiences to help shoppers select and order products. Customers can then pick up at the store or order delivery (delivery fees apply).
Pros
Order items from neighborhood grocery stores as well as restaurants;
Coronavirus pandemic friendly contact-free delivery – leave at my door delivery option;
Scheduled delivery option.
Cons
The delivery app is considered glitchy or buggy;
Tip structure is not advantageous to drivers;
No free delivery (there are varied delivery fees or service fees).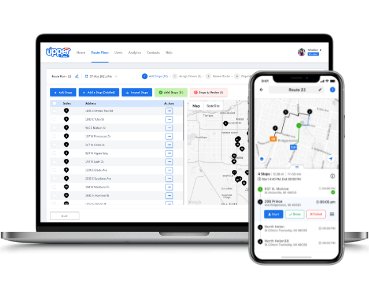 Upper Crew
A Simple-to-use route planner that every one is talking about.
Save up to 95% of planning time
Save up to 40% of time on the road
Plan 500 stops at once
No credit card details required
---
FAQs
The best meal delivery service is the one that dominates your area or delivery zone. In certain areas, one company could be more established and professional than others. There may be areas where an Uber Eats is preferred over a DoorDash. The critical thing is to explore the systems in your area. It is also determined based on the restaurants it covers and the delivery fee it charges. If you are looking for meal kit services, you will find several different options like Home Fresh, Green Chef, Freshly, and Blue Apron.
The question of the best food delivery options is subjective. We can say objectively that DoorDash has earned 45 percent of the market share of food delivery businesses in the United States as of June 2020. GrubHub and Seamless follow it. It depends on what kind of customer review you come across. There is a wide variety of popular food delivery service options depending on the location.
---
Solving The Doorstep Delivery Problem
One of the challenges for local restaurants & home cooks today is solving the "straight to your door" problem. The changing trends always offer new opportunities. But it is up to restaurant owners and operators to grab it and take advantage of it.
We hope this article has given you some useful information in determining the right choice of meal delivery services or food delivery apps for your restaurant. We haven't included all the options in this article, such as Chownow, eat24, SunBasket meals, Whole Foods Market, and more. Companies such as SunBasket and Marley Spoon offer meal kit delivery services that provide healthy meals (non-gmo recipe options & grain bowls) that are nutritionist-approved.
Then there is Snap Kitchen that works closely with chefs, personal trainers, and dieticians to produce all three meals of the day. These meals are high-protein, keto-friendly, delicious meals. Most of these services like Home Chef, Green Chef, and SunBasket, offer meals for an entire week for a fixed price. These services deliver to most cities on the East Coast like New York City and some cities on the West Coast like Los Angeles and San Francisco.
These meal service companies offer an easy way to offer great deals on grocery items and household items. If you would like us to cover another delivery app, please let us know! Otherwise, let us know how we can help you solve the "straight to your door" or any route planning problems you may have. At UpperInc, we are committed to working on solving route planning and optimization issues.