Key Takeaways:
In order to attract and keep delivery drivers, offer attractive remuneration and benefits packages.
Encourage a positive work environment and culture by giving people opportunities for advancement and recognition.
To assure driver success and lower the chance of accidents and injuries, put safety measures in place and implement training programs.
To increase driver productivity and job happiness, use technology and tools like real-time communication and route optimization software.
Did you know that losing a delivery driver and replacing a new one can cost your business around $2000 to 20,000? 
From conducting interviews to training a new hire, it takes a long process and a lot of capital to fill up the position of a delivery driver.
But what if you minimize the chances of losing a delivery driver? You'll save all the money, resources, and time hiring a new one, right?
So, let's find out how to retain delivery drivers and the different ways to achieve it.
Why Is it Important to Retain Delivery Drivers?
Retaining a delivery driver can be overwhelming for multiple online delivery businesses because of the limited skilled workforce available in the industry.
And with the rising demand in the logistics and transportation industry, you mustn't lose your on-ground assets.
Retaining delivery drivers can help you:
1. Maintain a healthy work environment
Hiring and firing culture can create instability in the working environment of your delivery business. Other employees can feel scared to work and remain happy at their workplace.
A tense and unhappy work culture can degrade your workforce productivity and poor customer delivery experience.
Retaining your delivery drivers and ensuring that they feel happy and productive working for your business is the best thing to create a healthy work environment.
Many potential drivers would love to work for your organization because of the culture and incentives you offer to the delivery drivers.
Who doesn't want to work in a well-balanced and happy workspace, right?
2. Channel your resources to business growth
Retaining your delivery drivers can save you multiple business resources by hiring a new one. You can utilize those resources in enhancing and scaling your business operations.
You can use the money to integrate the latest technologies to increase the productivity of your delivery drivers. You can create an ecosystem that minimizes the workload of your drivers and helps them maintain a work-life balance.
Streamlining your delivery workflow can save you money, cut your expenses, make the drivers happy, and create a productive ecosystem for your business growth.
3. Quick fulfillment of customer demands
The increase in industry demand and evolution in customer behavior has resulted in an exponential boost in the online delivery industry; you need a happy and productive delivery workforce to fulfill the requirements.
Retaining your delivery drivers means they know your organization's culture inside out and can help you complete quick and agile deliveries.
You'll be able to skyrocket your customer base, meet customer expectations, and outshine your competitors in the industry with the help of a strong driver fleet.
But sometimes, tense and undesirable situations can arise inside the business, resulting in employee loss, and you need to avoid those situations.
Over 89% of businesses believe that their employees quit their jobs because they want more money. In reality, only 12% of the employees resign because of this.
There can be multiple reasons that can cause a delivery driver to leave your company. We have filtered some result-oriented ways you can maximize the chances of retaining your drivers and ensuring your business remains on track with growth and success.
5 Ways to Retain Drivers
1. Incentivize drivers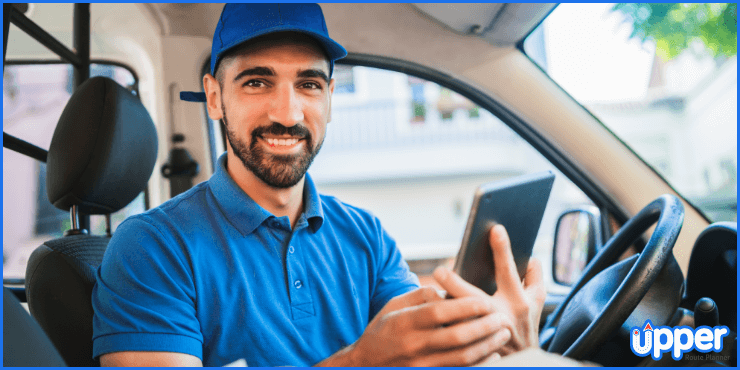 Trucking industry demands a lot of work hours, consistency, and concentration. The truck drivers want their employers to respect their work and appreciate them.
A survey found out that over 20% of the drivers want to switch because they feel the companies do not respect them.
If you don't want your drivers to switch to one of your competitors, saving yourself from a truck driver shortage for your business, you must create an incentive program for your employees.
There are multiple ways to implement these changes, like introducing employee of the month and offering a token of appreciation to the winner. Offering annual bonuses for their productivity can also prove handy.
These steps can promote productivity in your drivers, and they may feel your business is recognizing their efforts.
2. Promotion
Create an ecosystem and hierarchy in your business that makes the delivery drivers feel there's an opportunity to advance in the company and move to the higher ranks.
Over time, you can increase the responsibilities of your delivery drivers, considering their work rate and growth. You can initially promote them to supervisors or fleet management captains.
If they prove their worth in the position, they can climb up the local dispatcher or operation manager ranks.
It can create healthy competition in the drivers, and many drivers will be willing to put in an extra effort or go an extra mile to prove their capabilities and worth. The promotional program offers incentives that can push the driver to do more than the bare minimum and help you increase the work rate of your workforce.
3. On-time salaries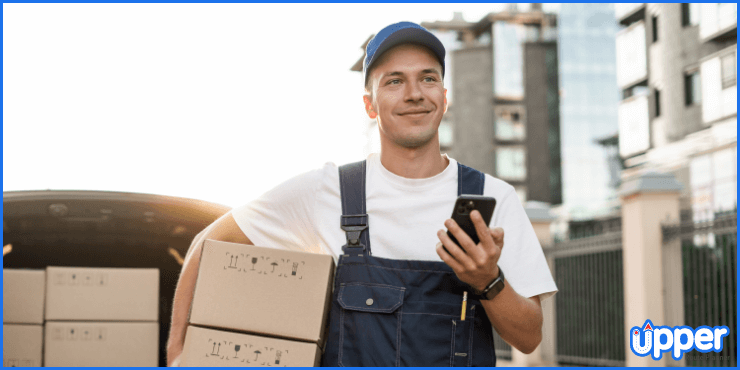 A big red flag is when businesses delay the drivers' salaries. You don't want to be in the situation where you become the villain that delays the monthly paychecks.
Even if your clients are not paying your money or you are under financial stress, you can't afford to block the salaries of your drivers. If you do, you might lose your best drivers, and that's the stress your business can't afford to take in the long run.
Blocking salaries represent a bad image of your delivery business in the industry, and you'll not be able to attract new talent. The overall scenario can crumble your business operations, and that's the thing you want to avoid.
Create a robust financial ecosystem to have a surplus amount to pay your employees' salaries for at least six months, even if you don't attract sufficient revenue. Take preventive measures to keep your best talent intact with your organization, and don't miss out on the payday
4. Listen to feedback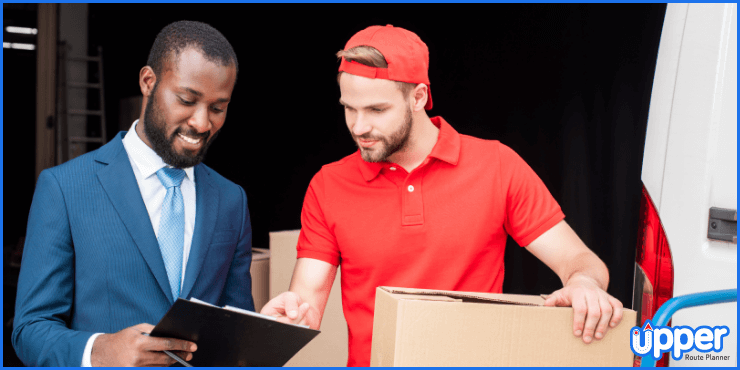 You need to listen to what your drivers want to say. Build a healthy relationship with your drivers by considering their suggestions and feedback rather than conveying that you know everything and their opinions don't matter.
Honest and open communication can help you get their perspective and make a well-informed decision and help them highlight their problems and issues whenever they feel uncomfortable working.
It can avoid the situations where the employees hold back their voices because of a strict working culture in the business and end up quitting. You need to fix the communication loopholes and roadblocks and listen to driver feedback before too late.
5. Proper tools and equipment
Increase the efficiency of your drivers and make them fall in love with the workplace with state-of-the-art technologies that can streamline your business operations.
Ensure that the vehicles they are driving are in the best condition to help avoid vehicle breakdowns that can cause them trouble and result in delayed or failed deliveries to your customers.
From communication to route management, you need the power of the advanced and best technology in the industry to remove human errors and ease the workload on the drivers.
You can help your drivers maximize the number of deliveries in one shift and cut the delivery span using proper tools and equipment.
Using dedicated route planning and optimization software can be one of the ideal solutions for your business.
Let's find out how.
How Can Route Planning and Optimization Software Help You Retain Your Delivery Drivers?
Route planning and optimization software help you bypass the hiccups caused by unorganized and manual routing. It helps automate the redundant processes and boost the efficiency of your workforce.
Your drivers can communicate with the fleet managers in real-time and take quick assistance to overcome dynamic hurdles or stressful situations during the delivery operations.
You can get real-time updates regarding the delivery processing and get a bird's-eye view of the different touchpoints. A route planner analyzes weather and traffic conditions, delivery priority, ETAs, vehicle and driver efficiency, and performance and delivers an optimized and shortest delivery path.
It helps to cut the operational cost, minimize fuel usage and help the drivers save time for a quality delivery experience to your customers.
You can upload multiple delivery addresses from different files on the route planner to get a quick delivery route plan. You can schedule the delivery shifts of your drivers in advance to avoid time-wasting and help the drivers to check their work timeline whenever they want.
A route planning and optimization software enable you to get detailed and in-depth reports to optimize your delivery operations and spot the time-consuming events in the process.
But not all route planners can be packaged to deliver all-around performance and functionalities. Out of hundreds of route planners, only a few are equipped to match the modern-day delivery process requirements and help you handle bulk deliveries.
So which is the best route planner app for your business?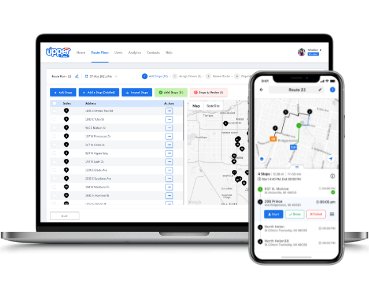 Upper Route Planner
A Simple-to-use route planner that every one is talking about.
Save up to 95% of planning time
Save up to 40% of time on the road
Plan 500 stops at once
---
FAQs
Providing a productive work environment and creating a healthy work culture in your delivery business can help to make the driver happy and ensure driver retention. Employees feel happy when paid well, mentored, challenged, promoted, involved, appreciated, valued, empowered, given a mission, and trusted.
There are multiple ways to retain drivers, such as incentives, promotions, on-time salaries, proper fleet management software, and equipment. It can help increase driver turnover and improve driver retention without compromising the quality of delivery operations.
Attracting qualified drivers depends on the work culture you create, and the image people perceive about the work environment from the outside. If everything is positive, talented professionals would love to work with your business and apply for different openings in the organization.
Hiring the right talent can be an overwhelming task if not handled professionally. You need to create a robust hiring flow where you can test different skill sets of the prospect required in the real-time scenario of your business delivery operations.
You can advertise on multiple social media platforms and other online and offline job-oriented platforms where the drivers can view the job openings and swiftly apply for the positions.
A route planning software plays a significant role in managing complex e-commerce logistics.
Suggesting the best way to tackle orders and schedule delivery with real-time problem-solving capacity is all done by the application.
Finding a suitable delivery route planner app becomes essential to ensure that the business stays upgraded according to changing market trends without facing loss.
Upper Route Planner Is the Tool Your Drivers Are Looking for
Upper Route Planner is one of the advanced and easy-to-use route planning and optimization software that can help you streamline your delivery operations. It can help your delivery drivers reach maximum efficiency and love the work process.
Combining a feature-rich dashboard and cost-effective pricing helps it stand out from the rest of the competitors and increase your workforce productivity by 40%.
The robust route planning algorithm of the tool cuts the route planning time by 95% and delivers you the shortest and most optimized multi-stop delivery path within a few clicks.
You can import up to 500 delivery addresses from an Excel sheet within a few clicks and dispatch multiple delivery paths to your team of drivers.
Upper Route Planner can help you create a modern-day delivery ecosystem that can hook your delivery driver to stay and strive to work for your delivery business.
So what's making you wait?
Get access to the 7-day free trial and transform your business with the help of one of the best route planning and optimization software in the market.