With digital transformation helping multiple business industries scale and create a substantial impact on the audience, the pharmacy industry is also one of those.
Online pharmacies have surged drastically over recent years, and the global impact of COVID-19 also fuels the growth. The online pharmaceutical market can grow at a compound annual growth rate of 20% by 2025.
So if you are wondering whether to grab the opportunity in the online pharmacy space or transform your local pharmacy with the power of delivery, then you are at the right place and at the right time.
We have helped you with the research phase and filtered out the top Pharmacy delivery business statistics & trends for 2022.
3 Important Pharmacy Delivery Business Trends
During and after the COVID-19 pandemic period, the boost on the online pharmaceutical industry has been staggering. These are noticeable trends in the pharma industry that can help you set the foundation for your next venture. Have a look:
1. Increase in spending on medicines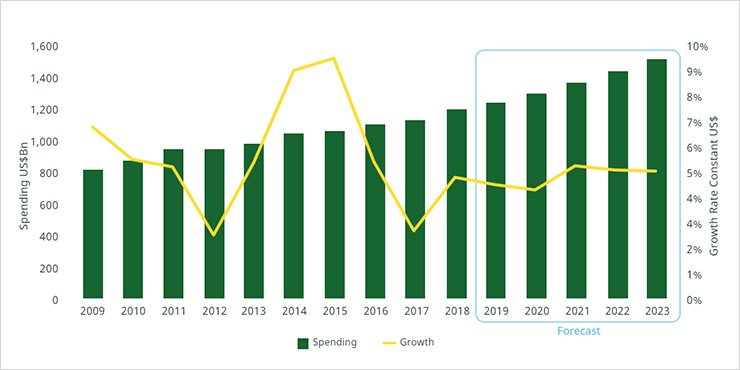 The growing spending on medicines globally during 2019-2023 is rising on an upward trajectory. People are buying medicines with the touch of their smartphones and can get easy access to medical equipment and medicines.
By the end of 2022, the spending will cross $1.4 trillion.
Staggering numbers, right?
Multiple reasons are responsible for the increasing demand for the online purchase of prescription drugs.
The ease of accessibility and home delivery of medicines has increased spending in the medical industry and paved the way for multiple businesses to enter and fulfill the demands of the industry.
Multiple online pharmacy businesses offer heavy discounts to the patients compared to online pharmacy stores, which also shifts the consumers towards online medicines.
These spending numbers are just the start of the new revolution in the pharma industry, and they will rise steadily in the future.
2. Importance of patient engagement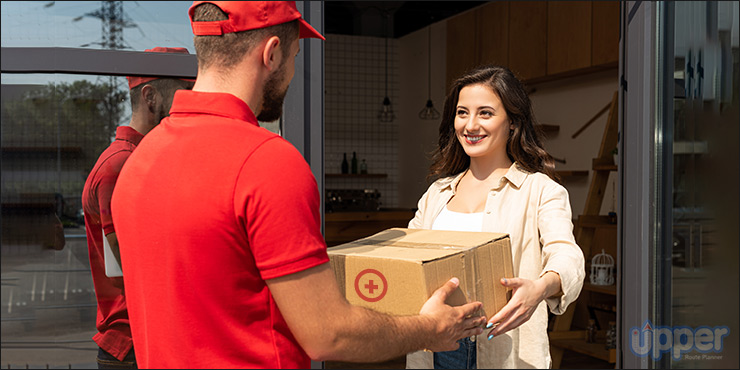 There is an increase in patient engagement as people use self-help platforms for getting different medical services and medicines. Patients can now search for doctors online and can access customer reviews.
The digitization of the pharmacy industry has helped patients bypass the barrier of medical access in their nearby areas and opened doorways to access medical services globally.
Multiple patient engagement tools can help reduce waste, lower costs, and minimize the burden on the medical staff.
With enhanced patient engagements, people can get better health outcomes with regular appointments and essential medicines.
3. Digital adoptions
The digital adoption wave has transformed the medical infrastructure of the world. With a swift last-mile medical delivery service, people can get instant medicines delivered to their doorsteps.
Patients can book appointments and get online prescriptions using their smart devices without the requirement of stepping out of their homes.
With increased digital penetration globally, the impact of digital adoption of patients will increase in the future. It will help online pharmacy delivery businesses to bridge the gap between the existing pharmaceutical industry and changing consumer behavior.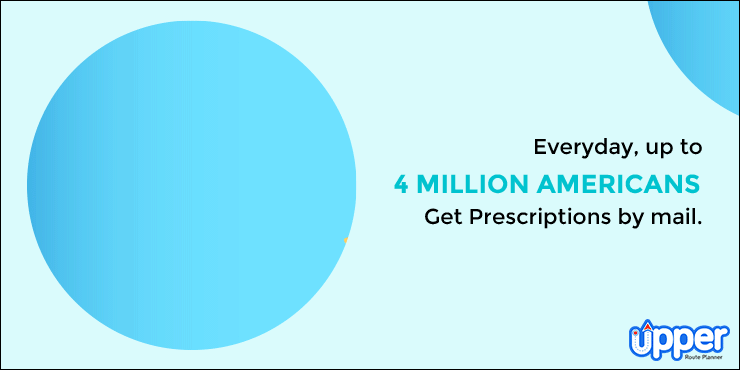 These are some key trends you can consider before tailoring a business strategy for your pharmacy delivery business.
Now let's understand the core elements of why pharmacy delivery services have become a real deal in the pharmacy business.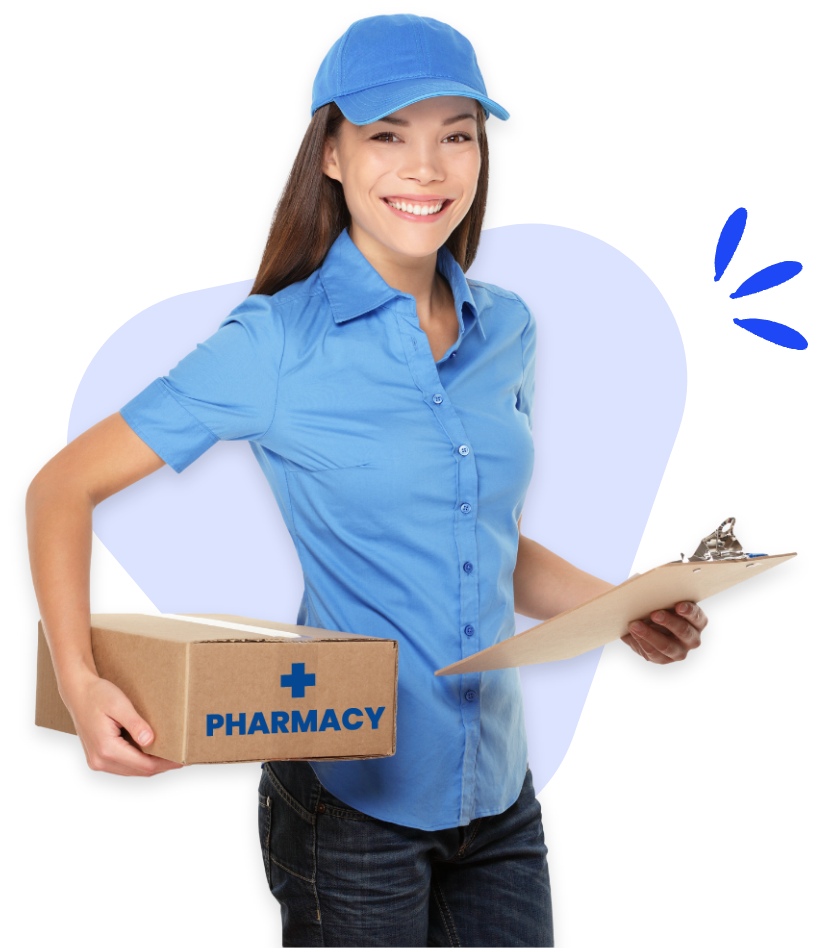 Plan Effortlessly, Execute Minutely!
Revolutionize your pharmacy delivery business with Upper to plan, optimize, and dispatch routes seamlessly.
Significant Reasons for Why Customers Prefer Online Pharmacy Delivery Service
There can be different reasons that have caused the digital adoption drive amongst the patients towards the purchase of medically prescribed drugs but here are a few of the significant ones:
1. Save time and get medicines delivered
The global pandemic forced patients to purchase medicines from the ease of their smart devices for same-day medicine deliveries. It has helped patients save time and energy to purchase their prescription medications cost-effectively.
The agility and accessibility to medicines have increased drastically, which has helped patients take care of their chronic conditions and get their supplies of generic drugs.
With the introduction of the latest technologies in pharmacy automation, pharmaceutical companies focus on delivering a personalized purchase experience that enhances the buyer's journey. With a few clicks, a patient can get their prescribed medicines at their doorsteps in just a few hours.
Who doesn't want that, right?
Much emphasis is also being paid to vital home delivery services to match the patient's expectations and adapt to the changing business ecosystem.
2. Heavy discounts and lower prices
Online purchase of medicines enables the patients to get heavy discounts and cost-effective medicines compared to offline retail pharmacies. Online delivery ventures focus on alluring the patients to become regular online purchasers by offering medications at a discounted price.
And the growing number of online pharmacy delivery business sales proves that businesses can achieve their mission.
But still, there's a considerable gap when it comes to quick and instant delivery of medicine. If you want to change the ecosystem, try focusing on minimizing the delivery time of the medications.
3. Improves accessibility
The accessibility of medical care and infrastructure has helped transform the world towards a better healthcare ecosystem and patient care.
Pharmaceutical companies are focused on building intuitive web and mobile-based platforms to improve their reach and availability to patients.
The aim is to minimize the store-to-home delivery span with an immediate purchase journey and enhanced logistics and transportation.
Healthcare providers are also focused on dispensing medications with increased warehouse space and numbers at different places to make lightning-fast deliveries for their patients.
4. Improve patient adherence
The improvement in patients' behavior in taking medication, making lifestyle changes, following a diet, according to the recommendation of a healthcare provider, can be witnessed because of digital adoption in the pharmacy business.
People get notified that they need to refill their medication stack if they face a chronic ailment. They can minimize the chances of skipping their medication and adhere to their doctor's prescriptions.
Patients can bypass the procrastination or feelings that prevent them from going to a physical pharmacy store to purchase their prescribed medication and get them delivered at their doorsteps.
The ease of availability and accessibility to online pharmacy stores has helped improve overall patient adherence.
5. Agile and contact-free delivery
People are looking to get their medical supplies within no time for a quality customer experience and address their health issues swiftly. With the global pandemic making people more prudent about their health, online pharmacy businesses are focused on agile and contact-free delivery.
Although many businesses can match the patient's expectations, there is still a massive gap. This gap is due to the rising demand in the pharmacy delivery sector and inefficiencies in the delivery process.
Many pharmaceutical businesses rely on traditional route planning and optimization strategies to deliver effective results but don't succeed in delivering the desired results to help their customers get the right medication.
That's where proper route planning and optimization come into the picture.
So why are delivery route planning and optimization important for the online pharmacy delivery business? Let's find out.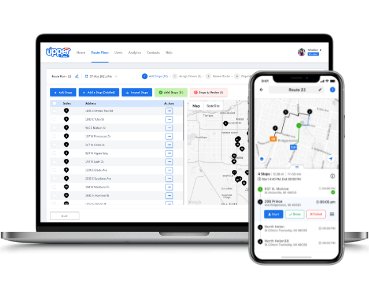 Upper Route Planner
A Simple-to-use route planner that every one is talking about.
Save up to 95% of planning time
Save up to 40% of time on the road
Plan 500 stops at once
How are Delivery Routing and Optimization Important for Your e-Pharma Business' Success?
The changing consumer behavior and industry demands have increased the demand for fast and effective medical supplies. People want to purchase their prescribed medicines from the quickest and most reliable online pharmacy store.
And dedicated route planning and optimization are critical to improved logistic and transportation processes.
Many businesses use Google Maps or just pen and paper to address the most vital and time-consuming part of the delivery process, but is it practical to match the modern requirements?
Of course not. With advancements in different sectors and adaptation to new technologies, route planning and optimization require advanced route planning software to deliver optimized routes in seconds.
A route planner helps you eradicate the drawbacks of traditional route planning methods and gives your drivers a holistic delivery path considering multiple elements beforehand.
The algorithm checks the weather and traffic conditions, destinations of multiple orders, priority levels, drivers' previous performance, and vehicle cost to minimize the delivery time and maximize delivery effectiveness.
It enables you to outshine your competition and fix patients' inconvenience due to slow and ineffective medicine deliveries.
But which route planning and optimization software is the best for you?
Out of hundreds of them, we have made things simpler for you and selected one tailored for your business requirements and effective delivery process.
FAQ
There are multiple ways to start a pharmacy delivery business depending on your target audience, niche of business, vision, and area of operation. But there are some fundamentals that you need to consider before starting your pharmacy delivery business:
Understand the competitors, industry, and customers
Finish with the legal process, permits, and licensing
Setup your online and offline setup
Work on the logistics and transportation aspect
Optimize your operations
There are multiple factors that depend on starting a pharmacy delivery business. Still, you need to concentrate on the online ecosystem building, logistics, transportation, storage, and procurement cost to set the basics of a pharmacy delivery business. But on average, you need around $300,000 to kickstart a robust pharmacy delivery business.
Yes, the pharmacy delivery business is profitable because of the rise in popularity and the added fuel of COVID-19. The profitability also depends because consumers find it easy, convenient, and cost-effective to purchase medicines online compared to visiting an offline medical store.
The pharmaceutical industry's future is bright because of the rise in healthcare infrastructure globally. People want an instant supply of prescribed medication with cost-effective purchase options at their doorsteps. Multiple new opportunities are being created in the pharma business because of modern technology and infrastructure penetration.
The trend in the pharmaceutical industry is the fastest last-mile delivery, pharmaceutical research, clinical trials, and connecting patients to the best medical facilities within a few clicks. Modern technologies play a vital role in the popularity of these trends in the pharma industry.
Upper Route Planner is Your Savior!
Being a leading route planner, Upper Route planner is an advanced, robust route planning and optimizing tool that can help you get an optimized shortest route path for multiple medical product deliveries.
Your logistic and transportation team can work in sync with complete control over the operation and communication for increased productivity of your pharmacy delivery business.
With features like
Proof of delivery to record digital proof of successful deliveries
500 delivery address exported from Excel sheets
Optimized route planning within seconds
Advanced route planning
Easy to learn and use dashboard and functionalities,
You can stand out from others and create a significant impact in the pharmacy delivery business. So if you want to satisfy the constantly changing consumer behavior and provide the fastest medicine deliveries to your patient, Upper Route Planner is what you want.
Get access to the 7-day free trial and transform your pharmacy delivery business with finesse.